This easy chicken liver recipe is tasty and nutritious. Pan-fried with thyme, garlic and sweet balsamic leeks, the livers are superb in this simple dish.
---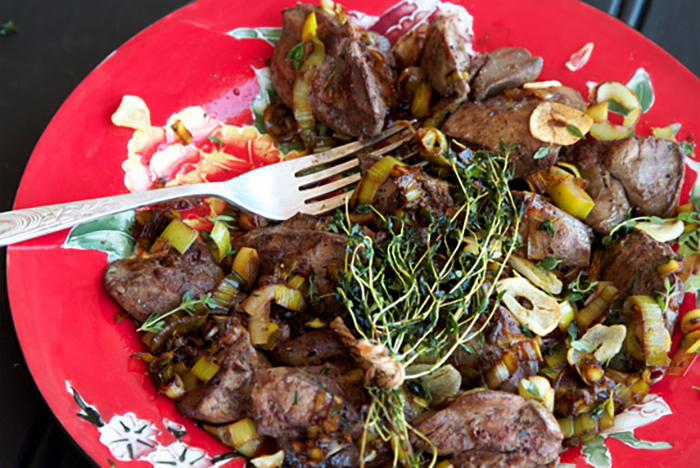 Sick of chicken, beef, pork and lamb as your staple protein options? It might be time to diversify your meals with something more adventurous. If you're new to eating offal (aka organ meats), the best place to start is with a tasty, paleo liver recipe. In today's post, I will share with you my go-to dish using chicken livers. 
Why Eat Chicken Livers
Chicken livers, and other types of liver, are very affordable, highly nutritious and quite sustainable, as you pay homage to the whole animal rather than see those parts go to waste. Nutrition wise, liver is very high in vitamin A (pregnant women should consume in smaller amounts), B vitamins (it's like getting a vitamin B12 shot), iron and lots of essential minerals. You can find it in most supermarkets and at your local butcher. Read more about why liver is so good for you here.
Chicken livers have a very distinct, strong flavour and they go amazingly well with fragrant ingredients such as garlic, onion, herbs and a little bit of sweetness and acidity. My mum often made chicken livers sautéed with butter and onions, and I have fond memories of eating it when I was a child.
This liver recipe goes well with side of green vegetables like broccoli or simple sautéed cabbage or cauliflower rice that can soak up all the juices. This recipe is AIP friendly (omit the pepper), and for Whole30 and keto modifications, simply change the aged balsamic vinegar (which is a bit sweeter and thicker) to regular balsamic vinegar or some lemon juice.
Recipes Notes
When preparing the liver, you will sometimes find that they will still have the fat and sinew attached. You can ask the butcher to remove those, or you can easily do it yourself. Perfectly pan-fried chicken livers should be tender and buttery, and slightly pink on the inside (but nor raw). You can toss them through salads, serve it with bacon or puree it with some butter and herbs into a spreadable pâté.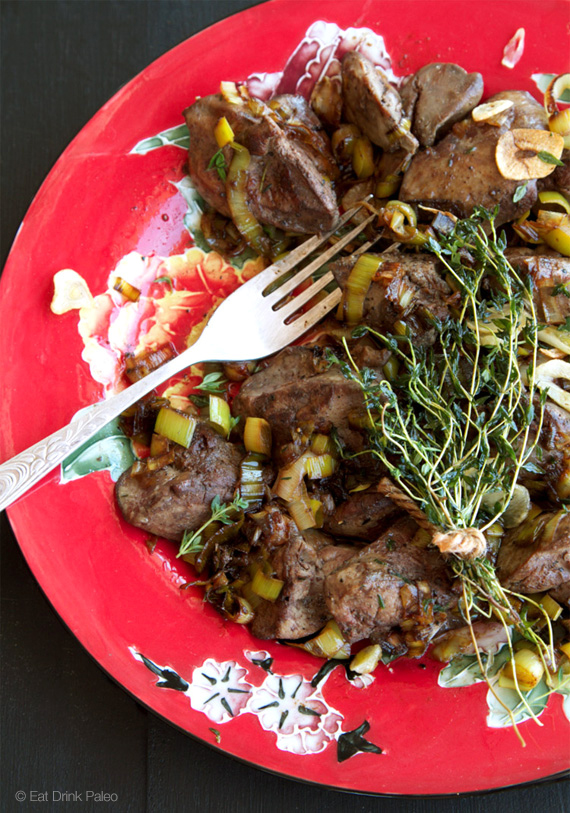 Print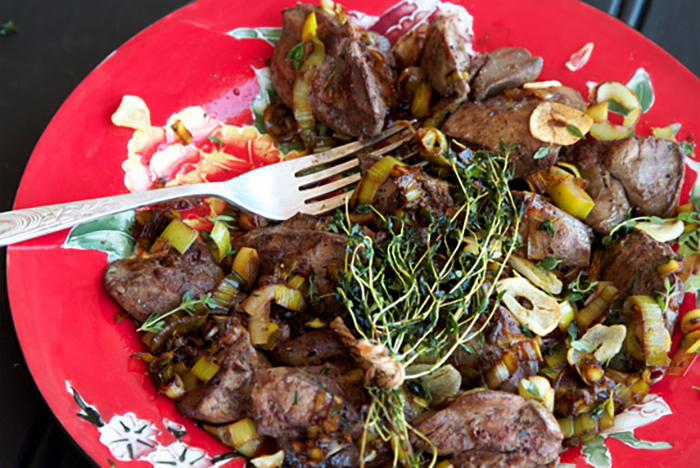 Paleo Chicken Livers With Thyme, Garlic & Leeks
Author:

Prep Time:

15 mins

Cook Time:

15 mins

Total Time:

30 mins

Yield:

2

1

x
---
450g

/1 lb of chicken livers, sliced into halves

2/3 teaspoon

sea salt
Generous pinch pepper

2 tablespoons

coconut oil or olive oil

1

leek, white and pale green part sliced

1 tablespoon

aged balsamic vinegar

2 1/2 tablespoons

of ghee, or butter if you tolerate it well

8

–

10

sprigs of fresh thyme

3

garlic cloves, sliced

2

–

3

tablespoons dry cherry or port (optional but very nice)
A few extra sprigs of thyme for garnish
---
Instructions
To prepare the chicken livers, remove any connective tissue from the meat, cut in halves, rinse and pat dry with paper towel, or leave to air-dry. Make sure the livers come to room temperature to ensure even cooking (take out of the fridge for 15 minutes). Sprinkle with half a teaspoon of salt and some black pepper.
Heat coconut oil, or olive oil over medium-high heat. Add the leeks and sprinkle with a generous pinch of salt and some pepper. Sauté for 4-5 minutes, stirring a few times, until softened and golden brown. After 5 minutes, drizzle with balsamic vinegar, stir through and remove to a bowl.
In a clean frying pan, heat ghee until hot and fry the thyme sprigs and garlic until just slightly golden brown. Remove the garlic and the thyme to a plate to prevent them from burning, but leave the infused ghee over medium-high heat.
Add the chicken livers to the hot pan with the ghee and fry for 2 1/2 minutes on each side. What you're after is crispy and browned on the outside, yet soft and velvety on the inside. If you overcook the liver, it turns sandy and tough. Finally, add the dry cherry to deglaze the pan together with the livers (basically swirl it around on high heat so it bubbles away a little) and then add the leeks, garlic and thyme back to the pan and turn off the heat. Stir everything through and sprinkle with another pinch of salt and pepper, to taste really.
---