These protein-rich ground chicken rissoles (or patties) are topped with zesty mango salsa and served with an Oriental shredded cabbage for a complete paleo meal.
---
I love sharing my whole meals with you guys, and today I have a new item for your dinner menu: my super simple chilli and garlic chicken rissoles with mango basil salsa and Napa cabbage salad. If you're doing my paleo plans, feel free to add this dish to your meal plan.
I have separate recipes for the mango salsa here and the Napa cabbage salad here, but for convenience, I've combined them all into one set of ingredients and instructions in this post. Let's quickly break this dish up into key components.
Garlic & Chilli Chicken Rissoles
These are SO EASY to make and I always do a bigger batch than I need, so I can freeze a few for when I'm feeling lazy and need a quick dinner. These are egg-free and nut-free, and make a great addition for kids lunchboxes.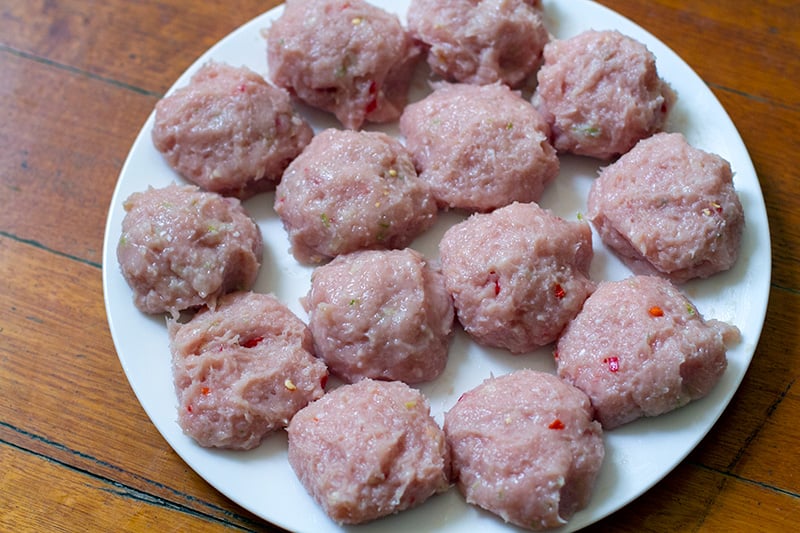 I used free-range ground up chicken mince (turkey mince can also be used) and flavoured it with grated garlic, lime zest and little red chilli. I used the less hot long red chillies but you can easily add some dried chilli flakes, cayenne pepper or omit it altogether. Hey, cracked pepper will do the job! The recipe also calls for a tiny bit of honey, which can be omitted.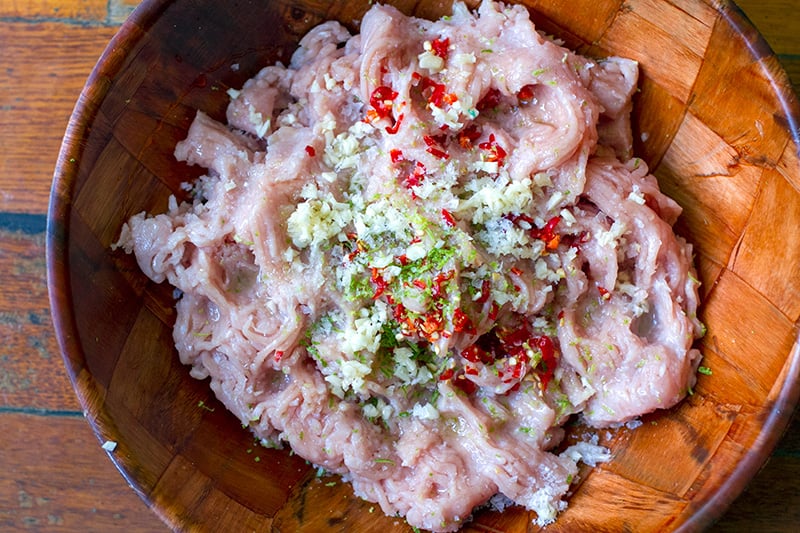 Make ahead/freezing tip: Once you've shaped all the rissoles, place the ones you want to freeze on a flat plate or a small tray, wrap with glad wrap and pop in the fridge for an hour. Once they harden in the freezer, they will be easier to stack in a container or a Ziplock bag without sticking to each other. Freeze for 2-3 months, defrost overnight in the fridge before cooking.
Mango Basil Salsa
I know mangoes are not always in season, so you can easily replace it with diced peach, nectarine or pineapple. Sweet and tart fruits work really well in salsas for poultry or fish, so feel free to experiment. Another option is diced avocado and strawberry. Basil can be replaced with mint or fresh coriander/cilantro.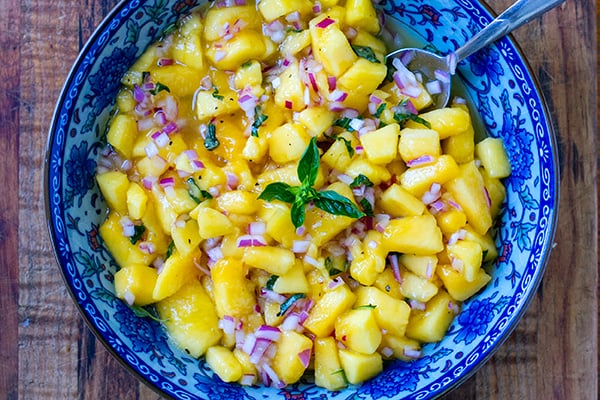 Napa cabbage salad
I opted for a Chinese cabbage slaw salad as our side dish but you can prepare any kind of vegetables you like. Cauliflower rice and Asian greens would work well, and if you want something more starchy, roasted sweet potato chips would be nice too. Napa/Chinese cabbage can be replaced with regular white cabbage or purple cabbage, or shredded Cos lettuce.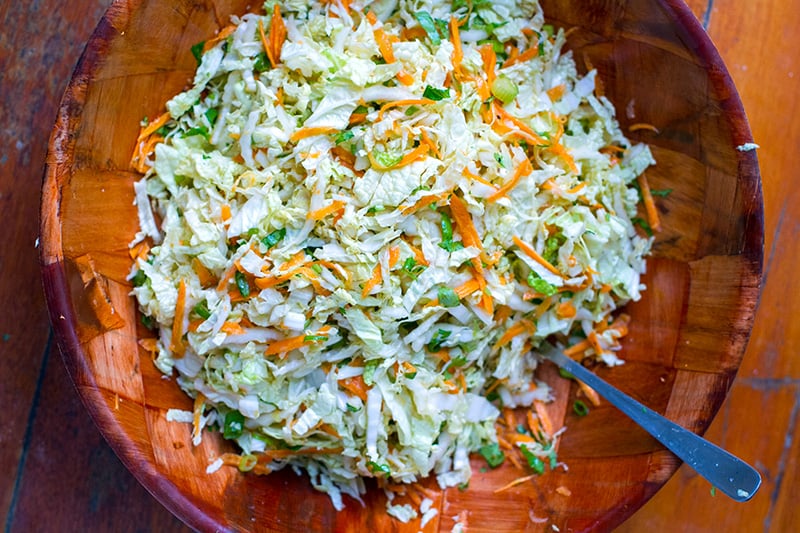 The order of preparation: make the patties and while they are cooking, make the salsa and the salad. Seriously, it doesn't take too long! You can also pre-make all three dishes ahead of time and store them in the fridge overnight. Don't dress the salad until serving though!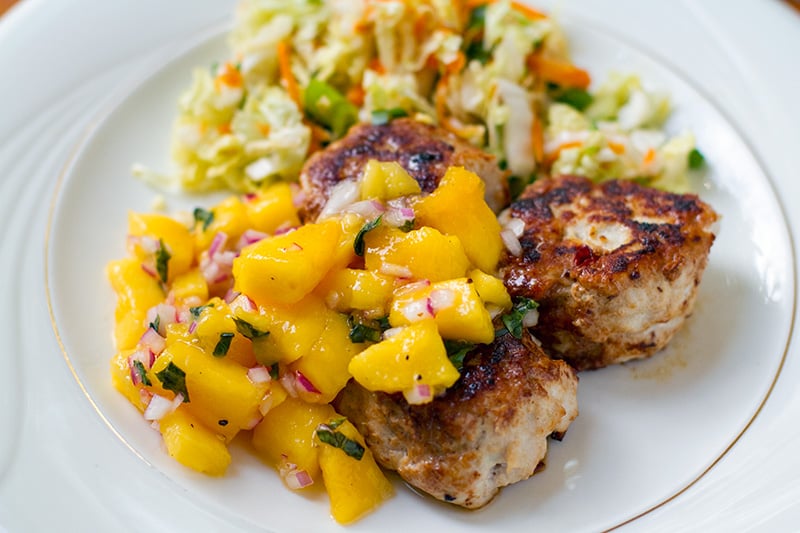 Print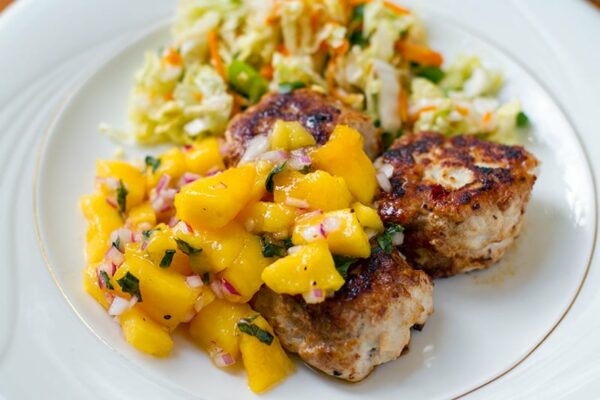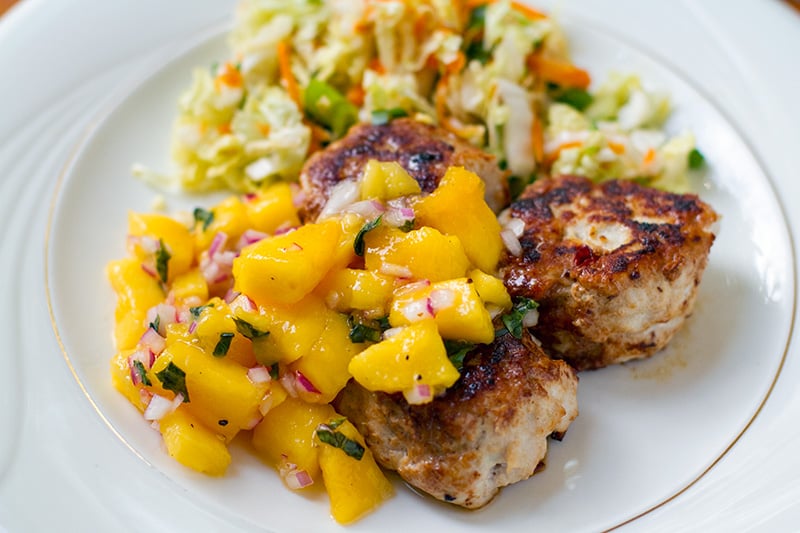 Garlic & Chilli Chicken Rissoles With Mango Salsa
Author:

Prep Time:

30 mins

Cook Time:

12 mins

Total Time:

42 mins

Yield:

18

patties (serves 4 + leftovers)

1

x
---
For chicken rissoles
1

kg / 2.2 lb free-range chicken mince (ground chicken)

1/2

long red chilli, finely diced

3

cloves of garlic, finely diced or grated
Zest of

1

lime
Juice of

1/2

lime

1

+

1/2 teaspoons

sea salt

1 teaspoon

honey (optional)
Coconut oil, for cooking (don't add to the mixture)
Mango Basil Salsa
1/4

red onion, very finely diced

6

–

8

fresh basil leaves, very finely chopped
Juice of

1

lime

1

+ 1/2 large mangos, diced into small cubes (not too ripe!)
Pinch of salt
Pinch of cracked black pepper
Napa cabbage salad
1/2

Napa cabbage

1

medium carrot, grated

1

long green onion/scallion, finely chopped
Handful of fresh coriander/cilantro leaves, chopped

1/2 teaspoon

sea salt
For the salad dressing
1 teaspoon

grated ginger
Juice of

1

lime

1 tablespoon

of honey (can be omitted or replaced with coconut syrup or rice malt syrup)

1 teaspoon

sesame oil

2

+1/2 tablespoons olive oil
---
Instructions
Make the chicken rissoles. Combine the chicken and the rest of the ingredients in a large mixing bowl. Form into small patties, using wet hands (you might have to wet your hands a few times as the chicken mixture gets very sticky). Set aside the patties you want to cook and freeze the rest (freeze on a plate or a tray covered with Gladwrap until firm, then pop in a container)
To cook, heat 1 tablespoon of coconut oil in a large frying pan over medium-high heat. Add the patties, leaving a little bit of space in between (1 cm). Cook for 1 minute on medium-high heat and then reduce the heat to medium and cook for 5 more minutes. Turn the patties over and repeat the same process. Remove to a plate once cooked.
Make the mango salsa.While the chicken is cooking, prepare the mango salsa. Simply combine the mango salsa ingredients in a bowl and set aside. If you find the onion too bitter, soak it in a bowl of cold water for 10-15 minutes before using (salsa will keep in the fridge for 2-3 days).
Prepare the cabbage salad.Cut the cabbage half into two long quarters and then slice the leaves into thin shreds. You can leave some of the firmer, white parts closer to the root and use them up in a soup or a stir-fry. Combine the shredded cabbage with carrot, onions and coriander and sprinkle with salt. Set aside. If making this ahead of time, don't add the salt until you want to serve the salad as it will draw the moisture out of the cabbage and produce some juice.
Whisk the salad dressing ingredients in a bowl and pour over the salad. Toss through with your hands and serve.
Serve the chicken rissoles with a few tablespoons of the mango salsa and cabbage salad on the side. Enjoy!
---
---
Follow me on Instagram and show what Eat Drink Paleo recipes you're making in your kitchen. Tag @eatdrinkpaleo or use hashtag #eatdrinkpaleo.
---
SHARE THIS RECIPE ON PINTEREST