I love creating dinner meals and changing up the classics with some interesting ingredients and flavour combinations. In this meal (which was delicious!) I swapped a creamy based mushroom sauce with a little medley of mushrooms, caramelised onions and dried apricots, and instead of a regular potato mash I made a little parsnip and cauliflower number with garlic butter. Total comfort food – just a little healthier for you.Dried apricots in a savoury dish? Hells yeah! There is a reason why apricot chicken became such a heat in the 80's. Dried fruit features in many savoury dishes around the world – think Moroccan tagine – and in our case the dried apricot is paired with mushrooms because they share similar earthy and woody characteristics. Apricots add a little sweetness to the medley sauce, which compliments that savoury, sea salt seasoned meatiness. Give it a go and see what you think.
Here is the recipe for the Parsnip & Cauliflower Mash with Garlic Butter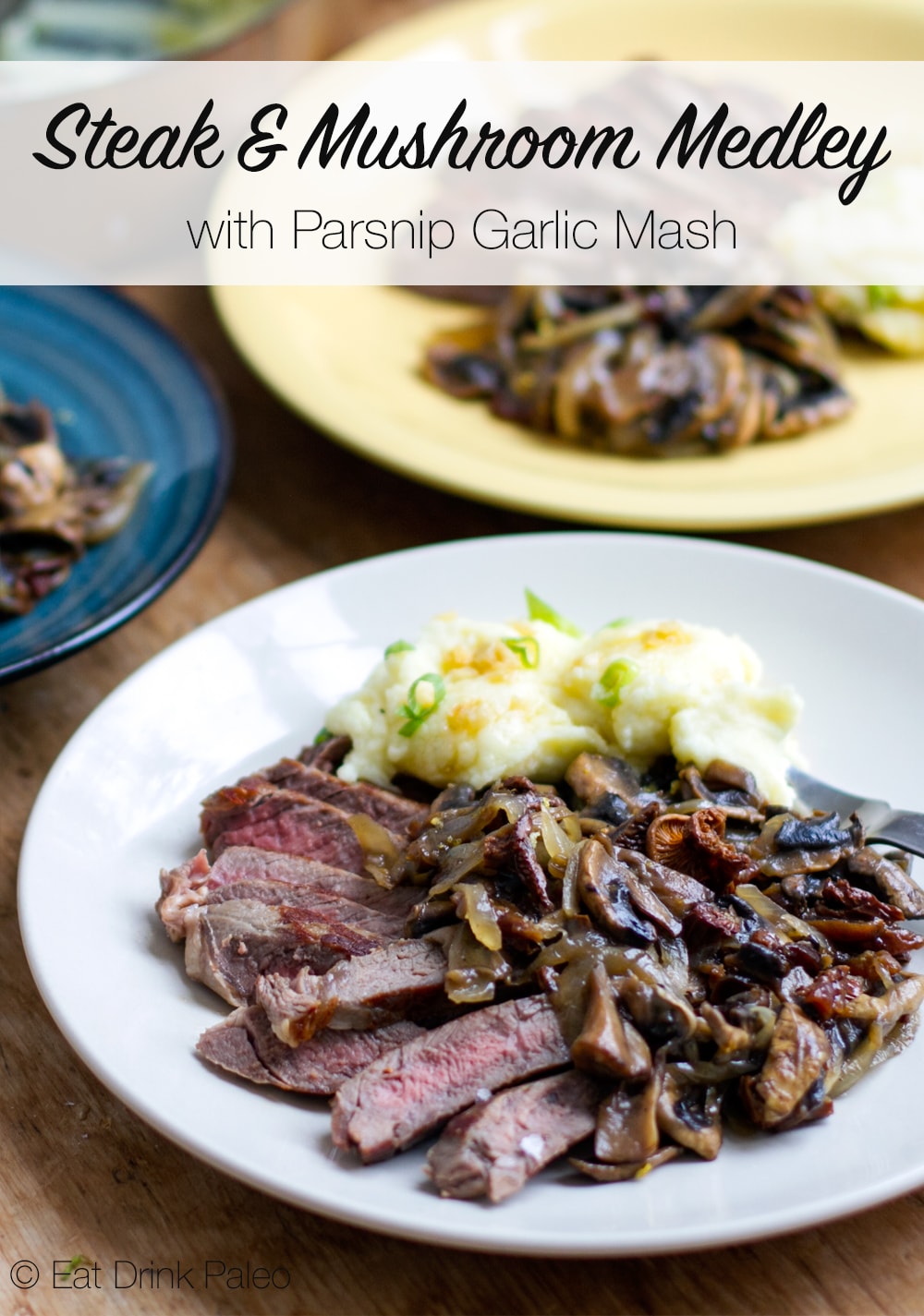 Print
Grilled Steak with Mushroom & Apricot Medley
Prep Time:

15 mins

Cook Time:

20 mins

Total Time:

35 mins

Yield:

2

1

x
---
2

large rib eye beef steaks
sea salt
coconut oil

1/4 cup

dried wild mushrooms (porcini, chanterelles or the likes)

1/2 cup

boiling hot water

2 tablespoons

ghee or butter

1

large brown onion, thinly sliced

2/3 teaspoon

sea salt

8

large button mushrooms

4

dried apricots, sliced thinly
zest of

1/2

lemon
juice of

1/2

lemon
pinch of black pepper
pinch of nutmeg (optional)

2/3 teaspoon

arrowroot powder or tapioca flour
---
Instructions
Remove the steaks from the fridge, rinse and pat dry with paper towel. Sprinkle with sea salt on each side and set aside.
Cover dried mushrooms with boiling hot water in a small bowl and set aside for 5 minutes.
Heat butter in a large frying pan over medium heat. Add the onion and sprinkle with salt. Cook over medium heat for 3-4 minutes, stirring occasionally, until the onion is slightly softened.
Slice up the rehydrated dried mushrooms and reserve the soaking liquid. Add all the mushrooms (fresh and rehydrated) and the sliced apricots to the frying pan and stir through. Add lemon juice and lemon zest and stir through. Cook for 5 minutes over medium-high heat, stirring occasionally, then add the reserved mushroom water (1/2 cup) to the mushrooms, stir and cook for a further 5 minutes, covered with a lid. Stir a couple of times.
Finally, add the arrowroot powder to a small ramekin or a bowl and cover with about a tablespoon or two of water. Stir to dissolve the powder and then add the arrowroot liquid to the mushrooms and stir through until well incorporated. This will thicken the liquid in the mixture. Set the medley sauce aside or remove the mushrooms to a bowl and prepare a clean frying pan to cook the steaks.
Heat a lashing of coconut oil in a large frying pan or a grill plate over high heat.Add the steaks and cook for 3-4 minutes on each side for medium doneness. Remove to a cutting board and rest for 2 minutes. Then slice thinly and serve on plates with a side of mushroom and apricot medley.
For a complete meal, prepare my parsnip and cauliflower mash with garlic butter.
---