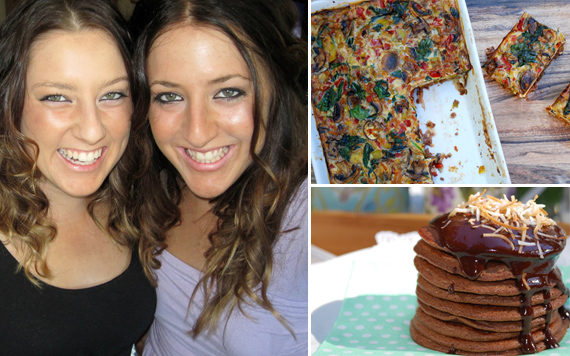 Let's me introduce Emma and Carla (E & C as they call themselves) – two food and fitness loving chicks from Australia's capital city of Canberra (also, where my family lives). I first learnt about them through their tasty looking Instagram pics and over time I have come to love their passion and positive attitude to life. And so it was only a matter of time before we got in touch and decided to share our stories and recipes with each other. If you're into delicious, healthy food and lifestyle , you should definitely check out their website The Merrymaker Sisters: Fit + Healthymade (make sure to have a looksie at their upcoming ebook too) but for now here is a day in their life told through cooking and tasty recipes.
A day with The Merrymaker Sisters
When we first started living a paleo lifestyle we only saw the 'no list'. No grains, no refined sugar, no dairy, no! No! No! This was super daunting…like 'what are we going to eat?!' Not only daunting but it seemed kind of boring. A few google searches here and there, as well as some Instagram trawling, and we quickly changed our minds (clearly, paleo IS NOT boring, you only have a look around at the blog you are on!)
Even though we have our own blog with plenty of paleo recipes, we still get asked 'but what do you eat?' Well, Irena was kind enough to let us share 'a day in the life of a merrymaker's belly'. Paleo isn't boring OR hard, it's just a matter of keeping an open mind and lots of experimentation (this includes paleo faileos…where our amazing, brilliant, splendid idea doesn't turn out so amazing, brilliant…or splendid).
So let's start with breakfast…the most important meal of the day.
Lately, we have been enjoying a simple 2 egg scramble with half an avocado. This is a quick during the week breakfast. But when we have time, we can't look past pancakes. We have several kinds! Banana, sweet potato or pumpkin, take your pick!
Let's move on to dinner meals (yes we skipped lunch, as lunch is almost ALWAYS left over dinner from the night before. Left overs rock, just make sure you buy extra ingredients and serve out lunch at the same time you serve dinner, to avoid going back for seconds/thirds/fourths and eating tomorrow's lunch by accident…we are speaking from experience here).
What's for dinner…more like what's not for dinner?! We struggle to decide what to cook every night (because there's too much choice). Our all-time favourite dinner would have to be (okay we get to choose two) our paleo meache or our greek style chicken with caramelized pumpkin (and a green salad).
Between breakfast + lunch and lunch + dinner we usually have a snack of some sort too. This can be a merrymaker bite (tastes just like a lamington) or something more simple like a bowl of berries (yum!)
But what about dessert you ask?! Well we have that covered too. In fact (unfortunately) we are sweet treat addicts. You really can't go past our sweet potato brownies. These babies have been given the tick of approval from family, friends, friends of friends and most importantly people we haven't even met!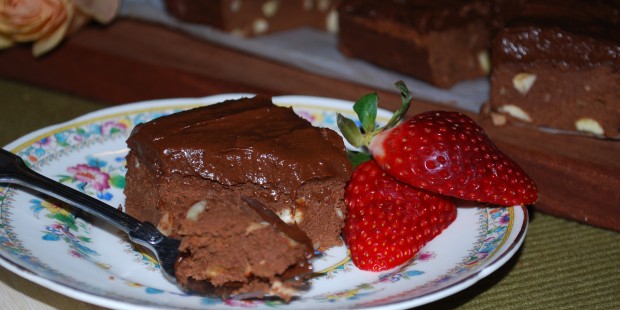 A day in the life of a merrymaker's belly is pretty swell.
Thanks to Irena for having us, we just love Eat, Drink.
Always merrymaking,
e & c
And now for something tasty… The Merrymaker Sisters spinach +leek meache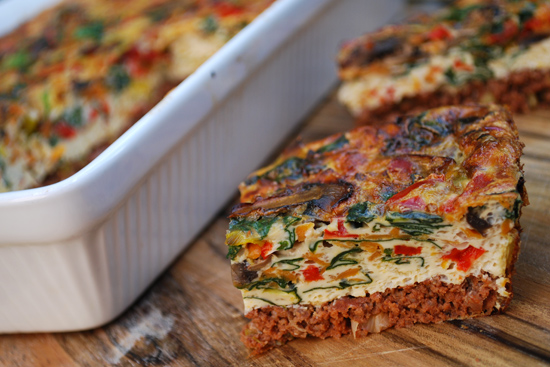 What's meache? Glad you asked. Meat + quiche = meache. Once you taste it, meache will forever be in your vocabulary as a completely normal word. This recipe will be featured in our upcoming eBook (a special sneak peak for Eat Drink readers).
serves: 6 prep time: 15 minutes bake time: 55 minutes
Ingredients
For the base
4 shallots finely sliced.
500 grams mince (we used grass-fed beef).
½ cup tomato paste.
salt + pepper.
For the filling
1 sweet potato, peeled + grated.
1 large leek, trimmed, halved, washed + thinly sliced.
1 red capsicum diced.
200 grams button mushrooms sliced.
100 grams baby spinach.
8 eggs.
¼ cup almond milk.
½ cup water.
coconut oil for the pan
Instructions
Prep: preheat oven to 180 degrees Celsius + grease a large deep baking dish with a little coconut oil.
In a large mixing bowl, place the shallots, mince, tomato paste, salt + pepper. Mix until well combined.
Press the mince out into the baking dish, covering the base. It should be about 1 cm thick.
Place the dish into the oven for 15 minutes.
Meanwhile, melt the coconut oil in a fry pan on high heat. Add the grated sweet potato, sliced leek + diced capsicum. Cook until all ingredients are soft.
Turn the heat off + add the mushrooms + spinach. Give this a final stir.
In another bowl, whisk the eggs, almond milk + water.
Once the meat base is cooked, take it out of the oven.
Evenly place the sautéed vegetables over the meat base, then pour over the egg mix.
Place the meache into the oven for a further 30 minutes. Turn off the oven + allow to sit for 10 minutes inside the hot oven.
Cut into slices + enjoy. This is great served cold too and perfect for meal prep!