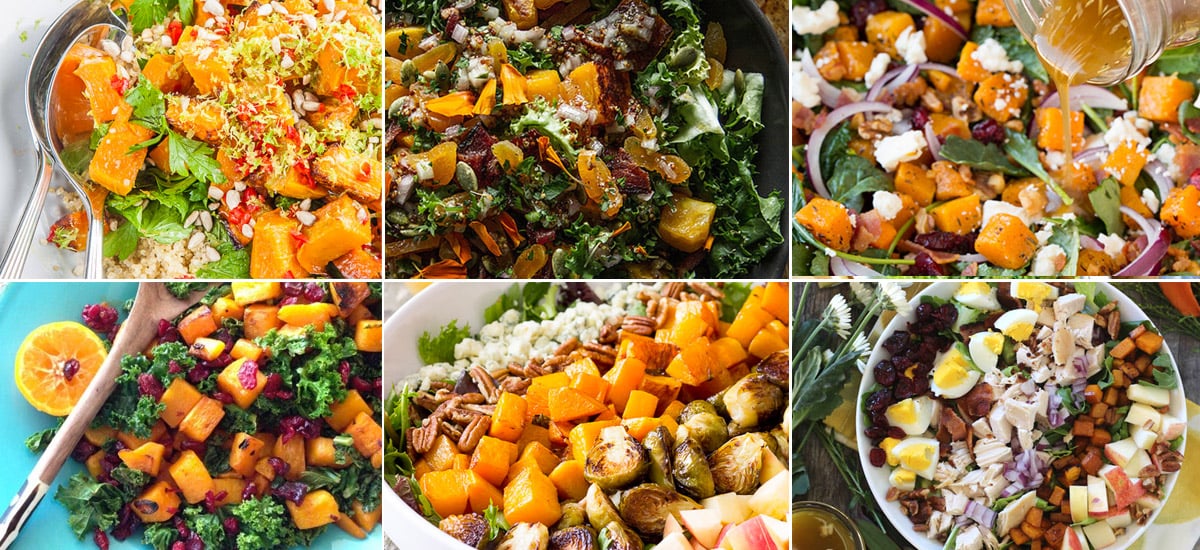 Today's roundup of nourishing pumpkin salad recipes is all about using one of the most versatile vegetables out there. Pumpkin, otherwise known as winter squash, or squash, is used around the world in desserts and savoury dishes, it's cooked during most seasons and is great as the central feature or as a side to a dish. Another bonus of this fabulous vegetable is how easy and efficient it is to cook. You can make a batch of it and use it in many different and interesting ways. Pumpkin works just as well in salads!
In addition to its delicious flavour and versatility, pumpkin is also very nutritious. It contains several compounds and minerals that assist in maintaining good health. It's particularly rich in Vitamin A, which is important for eyesight, and is rich in carotenoids, which the body converts to a form of vitamin A. Pumpkins are also a good source of fibre; they contain antioxidants; and are high in potassium and vitamin C. Pumpkin seeds are also very nutritious and are rich in the mineral zinc, which is one of nature's best antioxidants.
Our favourite pumpkin salad recipes
Superfruit Fall Salad With Pumpkin from StefanieGoldMarie.com

This is a vibrant and beautiful pumpkin salad power-packed full of fruits, vegetables and nuts. There are so many goodies in this salad. I like the addition of the fruits, raspberries and fig, and pecan nuts, all of which are high in essential minerals. There is mozzarella cheese in this dish – but it can be left out. This is a German Blog but the recipe is in English as well.
Roasted Acorn Squash with Dates, Pumpkin Seeds and Goat Cheese from De
liciously Organic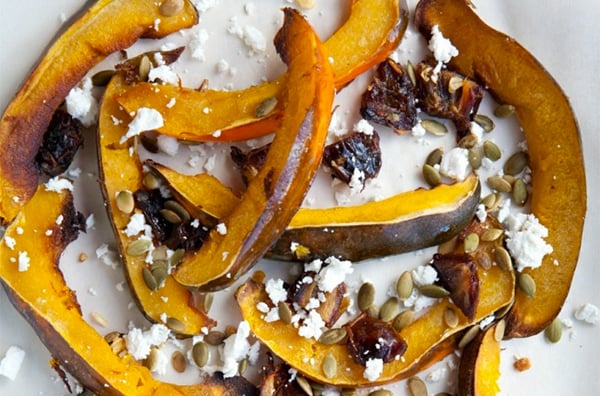 This is a super simple salad, that could be made at any time of the year and would go well with a variety dishes. It has four main ingredients – pumpkin, dates, goat's cheese and pumpkin seeds – all simple and nutritious. The goat's cheese can be left out or included. I particularly like the use of dates in this recipe as their texture and sweetness combine well with pumpkin – but they are also great for our digestive health.
Kale Butternut Squash Winter Salad Recipe from Ciao Florentina

This is a simple and rustic winter salad that combines pumpkin well with super food kale. The dish also contains maple syrup, cranberries and paprika which would give a lovely sweet and smoky flavour. Paprika is a great inclusion as it's very high in vitamin A and carotenoids. This salad would go well with a hearty winter roast, or a rich rustic winter meal.
Roasted Pumkpin and Peach Salad from Green Kitchen Stories

This recipe is a slightly sweet twist on a summer pumpkin salad. The sweetness from the yellow peaches, roast pumpkin and honey in this dish would be well balanced by the earthiness of the almonds, the fresh aniseed flavour of the fennel and acidity of the lime juice. It looks delicious. I love the inclusion of peaches in this dish which are so fresh in summer but also rich in vitamins A and C.
Lime, Chilli and Roasted Pumpkin Salad from Delicious Everyday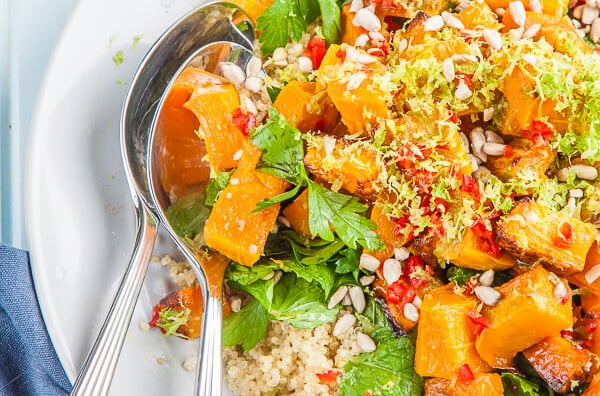 This is such a fresh looking summer salad, which would go perfectly with a fish or seafood meal on a hot summer's day. It's a zesty twist on a pumpkin salad and uses in season summer ingredients like chilli, lime, parsley, mint and sunflower seeds. This salad is full of goodness, particularly in the sunflower seeds which are a great source of vitamins B and E and the chilli which is very high in vitamin C.
Roasted Butternut Squash & Brussels Sprouts Harvest Salad with Maple Cider Vinaigrette from The Wholesome Dish

Both roasted pumpkin and Brussels sprouts are fabulous together, especially with a little strong cheese like blue or goat's feta, although it can easily be left out. Crisp apple adds freshness and crunch. Pecans and the dressing provide healthy fats for your body to absorb the fat-soluble vitamins in the veggies. Great Thanksgiving or Christmas salad!
Butternut Squash & Bacon Salad with Maple Rosemary Vinaigrette from Cooking Classy

This is a another gorgeous salad with salty cheese but with the addition of Vitamin C packed dried cranberries and heart loving walnuts. Once again, the cheese can be omitted as the bacon will still provide those lovely, salty hints in each bite. Red onion is a fantastic source of prebiotics (beneficial type of fibre for your gut health) but if you find it too strong raw, simply pickle it in the dressing for 10-15 minutes before tossing through the salad.
Curried Butternut Squash Salad from Food Faith Fitness

This pasta like salad is a clever and creative way to use butternut pumpkin. The pumpkin and apple are spiralized into noodle-like ribbons and baked until just fork-tender. I love the warm spices like curry, cinnamon and allspice, and the sweetness of dates. Packed with nutrients and delicious.
Fall Harvest Chopped Salad with Apple Maple Vinaigrette from PaleOMG

This wouldn't be a salad round up without a chopped, cob-style salad and this fantastic bowl of goodness certainly delivers. Protein, essential fats, healthy carbohydrates and fibre are all present, making this a fabulous one-bowl meal. Make a big batch for dinner and lunch boxes.
Pumpkin Tahini & Harissa Salad from Lady Homemade

This Middle Eastern inspired pumpkin platter salad is incredibly simple to make. Pumpkin is sweet and subtle and goes really well with stronger flavours like tahini and harissa. Great as a side dish with a meaty roast or some grilled fish.
Escarole Bacon & Roasted Butternut Squash Salad from Heather Christo

Escarole is a bolder version of frisee salad leaves but you can use any leafy salad greens you like. Although pumpkin is heavily featured in this salad, it is just as much about the other lovely ingredients. If you're a sucker for sweet and salty mixes, this is your gem. You will love the contrast and zing of the sweet and sour dried apricots and the bacon, plus crispy little toasted pepitas. And it's good for you!
Quince, Pumpkin, Eggplant Quinoa Salad from Little Big H

This is a colourful and rich salad, which would be at its best in Autumn/Fall when quinces are in season. The salad combines an interesting mix of strong, earthy flavours and is inspired by a recipe from Movida Restaurant in Melbourne. I love the use of quince in this dish, not only does it have a uniquely sharp flavour but it is rich in vitamins A, B and C.
Crisp Duck, Pumpkin and Plum Salad from Gourmet Traveller Australia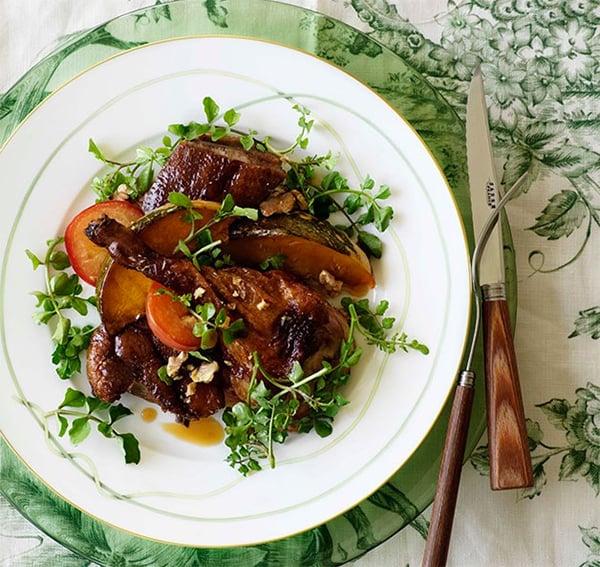 This is a great Asian twist on a pumpkin salad. It's full of deliciously rich flavours. The pumpkin is coated in Mirin and Sake before being baked to give a subtle Asian flavour, and the dish is dressed with caramelised vinegar plums, walnuts and walnut oil. The sugar used to caramelise the plums could be replaced with honey, and the vegetable oil used to fry the duck could be replaced with coconut oil, which would be healthier.
Related posts
Paleo Pumpkin & Cauliflower Dal
20 Ways To Cook With Pumpkin/Winter Squash
Spicy Pumpkin Coconut Soup Recipe
Do you have a favourite pumpkin salad recipe? Share with us in the comments. If you want to save this list for later, you can pin it from here.