In this healthy paleo spaghetti Bolognese recipe, I share my tips and tricks for making the tastiest meat sauce that you can spoon over crunchy zucchini noodles for a low-carb version of everyone's favourite Italian classic. You can also serve it with gluten-free or regular pasta if you like. The sauce is gluten-free, Whole30, nut-free and egg-free. Serve with or without Parmesan on top!
---
Who doesn't love a bowl of good, hearty spaghetti Bolognese? It's tasty, filling, simple to make and the whole family loves it. And while the methods for cooking spaghetti don't vary too much between kitchens, the meat-based Bolognese sauce is a different story. I mean, it's all about meat sauce!
Originating in Bologna, Italy (hence, the name), this meat ragu sauce can be made in many different ways and each family and cook seem to have their PERFECT recipe. I've made hundreds of Bolognese sauces and over the years I've perfected my version. I will share with you my secrets to a rich, hearty Bolognese sauce that is suitable for those following a gluten-free, paleo, and Whole30 diets. It takes a little time to cook and a few extra ingredients but it's worth it!
My Secrets To A Good Paleo Bolognese Sauce
Okay, let's break it down this Italian recipe into key components and I will tell you what I like to use and why.
Best Meat For Bolognese Sauce
This is not a secret but many people don't know that the tastiest Bolognese sauce is made with a mix of ground beef or veal and pork.
Many recommend half and half ratio but it can taste a little too 'porky' for some people and I found that having less pork than beef works well for my tastebuds. My recommendation is to use grass-fed beef and free-range pork meat if possible. Trust me when I say that you can taste the difference! Plus, you'll be getting a healthier ratio of Omega-3 to Omega-6 fatty acids and more nutrients.
Many people add bacon but I like some chopped pancetta, which is cured Italian bacon similar to prosciutto. It adds saltiness and umami flavour to the sauce. If you're a little more adventurous, you can try adding a little chopped chicken liver, which adds more complexity, depth and nutrients.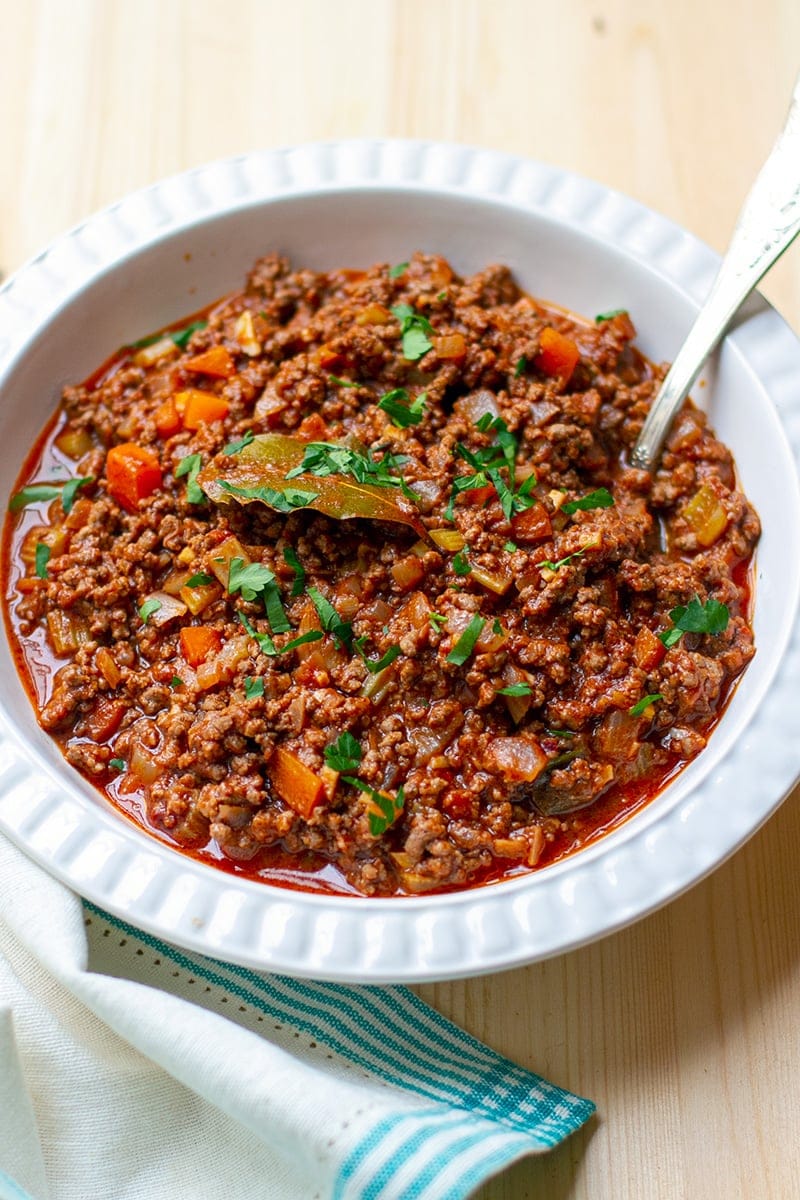 Bolognese Sauce Texture For Zucchini Noodles
Traditional Bolognese sauce is served with spaghetti or another type of pasta which holds the sauce quite well. That means that having even slightly runny sauce still works well.
Because the vegetables, especially zucchini, are quite moist already, having runny sauce can make the whole dish a little soupy. I prefer a very thick sauce that holds well and coats every fork-full of zucchini noodles without slipping off back into the bowl.
To get a rich, thick sauce I cook my sauce for a long time and I let most of the liquid evaporate until it's thickened, slightly caramelised and sticky. Slow cooking and thickening the sauce helps to enhance the flavours, as does adding a dollop of butter right at the end if you tolerate it.
Another reason I like a thick Bolognese sauce is that I can use left-overs to make Shepherd's pie, Mexican naked burrito bowls or mix it with some sweet potato or grated zucchini for super-quick patties.
Other Sauce Ingredients
In addition to the classic ingredients such as onion, carrot, celery, wine and tomatoes, I like to add a few flavour enhancers such as cinnamon and star anise to heighten the rich meat taste, port or dry sherry and nutmeg for depth, lots of garlic and pungent winter herbs and a little chilli for a kick. You can experiment and adjust the amounts depending on your own palate and pantry inventory.
Batch-Cooking & Freezing
Bolognese sauce is one of the best things to make ahead of time and freeze. It holds its texture well and the flavours will keep for many months. I like to make a large pot of the sauce, use some for dinner and lunch and put the rest in Ziploc bags or containers in the freezer. It will keep for 3-4 months. More tasty freezer-friendly meal ideas here.
Zucchini Noodles
To make the zucchini spaghetti noodles, you need a vegetable spiralizer or a peeler that shave the vegetable into strips. I usually use 1 medium summer green zucchini with skin per serving but you can use less or more. Spaghetti squash is another low-carb, grain-free alternative to pasta or you can use some zero-carb shirataki noodles or konjac noodles.
Print
Paleo Spaghetti Bolognese With Zucchini Noodles
Author:

Prep Time:

20 minutes

Cook Time:

2 hours

Total Time:

2 hours 20 minutes

Yield:

6

-8

1

x

Category:

Main

Method:

Slow Cooked

Cuisine:

Italian
---
Description
Using a few special (easy to find) ingredients, my paleo spaghetti Bolognese is rich, hearty, complex and irresittably delicious for the whole family. Serve the meat sauce over zucchini spaghetti noodles or regular or gluten-free pasta.
---
Bolognese meat sauce
3 tablespoons

virgin olive oil

4

–

5

pancetta slices, finely diced (bacon rashers are fine)

1

large onion, finely diced

1

large carrot, finely diced

1

celery rib, finely diced

1.5

lb / 700 g grass-fed beef mince

0.6

lb / 300 g ground free-range pork mince

4

garlic cloves, peeled and finely diced

1 cup

dry red wine

800 g

or

2

cans tomato passata or chopped tinned tomatoes

1 tablespoon

tomato paste

30

ml / 1 fl oz. port or dry sherry

2 tablespoons

Worcestershire sauce (it should be gluten-free)

2.5 teaspoons

salt

0.5 teaspoon

black pepper

1 teaspoon

paprika powder

1

star anise (1 star pod, this is my secret ingredient)

1

cinnamon stick or

1 teaspoon

cinnamon powder

0.5 teaspoon

red chili flakes

0.5 teaspoon

ground nutmeg (optional)

2 teaspoons

fresh thyme leaves

3

bay leaves
To finish: 1 tablespoon butter or ghee (optional)
For zucchini noodles
4

medium green zucchinis

1 tablespoon

olive oil
Zest of

1/2

lemon

A good pinch of salt

You will need a veggie spiralizer or a peeler to make noodles
---
Instructions
Heat two tablespoons of olive oil in a large heavy saucepan. Sauté onions, pancetta, carrots and celery on medium heat until golden and soft. Remove to a bowl.

Add another tablespoon of olive oil, ground beef and pork to the saucepan and turn the heat up to high. Break the meat apart into the small piece using a spatula or potato mash (that's my little trick). Cook on high heat until the colour changes from red to desaturated brown. Stir frequently to make sure all bits are cooked evenly. This should take about 8-10 minutes and some of the juices will evaporate in the process. 

Keeping the heat high, add garlic and red wine and cook for 2-3 minutes. Add back the sautéed vegetables and all remaining ingredients except for butter/ghee. Stir and bring to boil then turn the heat down to a simmer (medium-low). Cook covered with a lid for 1 hour. Stir through every 20 minutes or so. 

After an hour, remove the lid and cook uncovered for another hour, stirring occasionally. Finally, bring the heat up to medium-high, add a dollop of butter or ghee, if using, and let the sauce bubble away for 5 minutes to complete the thickening of the sauce. If not using, turn the heat off let the sauce stand for a bit to settle.

In the final 30 minutes of the sauce cooking, prepare the zucchini noodles or zucchini spaghetti. You can use a spiralizer or a carrot peeler to shave them into ribbons, which will be more like fettuccine rather than spaghetti. 

Heat a large frying pan with 1 tablespoon of olive oil to sizzling hot. Add the lemon zest and zucchini strips and sauté on high heat for 30 seconds. You want to warm the zucchini noodles but not cook them, as want a slightly crunchy, 'al dente' texture. If you cook them for too long you'll end up with soggy vegetables. Season with a little salt right at the end. 

Serve zucchini 'spaghetti' with Bolognese ragu sauce and some fresh thyme and lemon zest scattered on top. You can grate some Parmesan or Pecorino cheese if you eat dairy or sprinkle the dish with nutritional yeast flakes or homemade paleo Parmesan (check out this recipe form a fellow blogger).
---
Notes
This recipe makes a large batch of the sauce so you can use the leftover for lunch the next day or to make other dishes; you can also freeze it for 3-4 months.
Nutrition
Serving Size:

1 cup sauce

Calories:

591

Sugar:

9.5 g

Sodium:

1397.6 mg

Fat:

38.4 g

Saturated Fat:

12.8 g

Carbohydrates:

16.3 g

Fiber:

4.7 g

Protein:

39.9 g

Cholesterol:

122.3 mg