From quick smoothies and protein bowls to hearty egg fry-ups, these high-protein breakfast ideas and recipes, will give you the right fuel to establish stable blood sugar levels and to power you throughout the day. I have included vegetarian, vegan, low-carb, sweet and savoury options.
---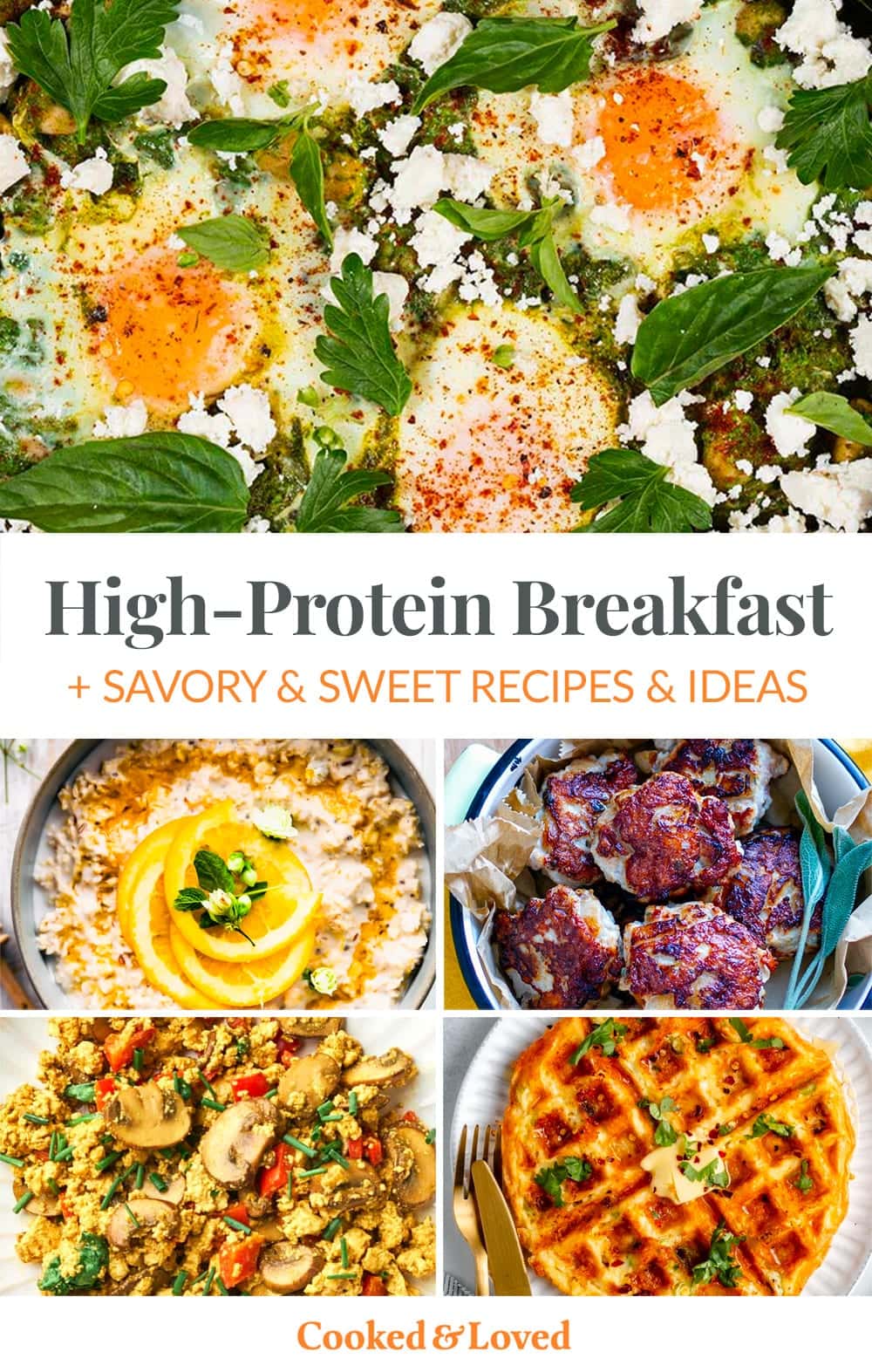 ---
High-Protein Breakfast Ideas
For a high-protein breakfast, you should be aiming for 20-30 grams of protein per meal (it can be more). This can come from one or multiple protein foods, animal or plant sources. Here are some quick ideas:
Two large eggs cooked any way you like with baked beans, a slice of turkey breast deli meat, sourdough or high-protein bread toast, a piece of fruit of your choice.
Protein smoothie with whey protein, banana, mixed berries, peanut butter and yoghurt.
Cottage cheese and yoghurt bowl with granola and mixed berries.
Ground meat breakfast sausage, potatoes and wilted spinach.
Steak & eggs
Tuna and cheese toastie, tuna melt sandwich or cheesy tuna quesadilla.
Omelette with ham, cheese and veggies.
Breakfast burrito wrap with eggs, bacon, beans and guacamole.
Paneer fritters, pea fritters with eggs
Huevos rancheros – fried eggs with Mexican tomato beans
Protein smoothie with whey or plant-based protein, banana, mixed berries, peanut butter and yoghurt.
Quinoa porridge with nuts, seeds and fruit and Greek yoghurt.
Protein oats – oatmeal porridge with protein powder and peanut butter.
Plant-based sausages, baked beans, avocado on toast with tomatoes.
Scrambled tofu with pesto, roasted tomatoes and potato hash brown.
Omelette with mushrooms, cheese, sun-dried tomatoes and high-protein bread toast.
---
High-Protein Breakfast Recipes (Savoury)
Here are some inspiring recipes suitable for lunch. You can make these ahead of time or on the day, especially if working from home.
This is an ever-growing collection of high-protein lunch ideas and I will be adding more recipes to this post in the coming weeks.
---
Sweet High-Protein Breakfast Recipes
Here are some sweet or at least not savoury breakfast options such as pancakes, porridge, smoothie bowls and so on.