With these high-protein lunch ideas and recipes, you will get long-lasting energy to power through the day. From quick salads and mixed bowls to make-ahead stews and soups, these easy and delicious lunches can be enjoyed at home or packed up to bring to work.
---
---
High-Protein Lunch Ideas
For a high-protein lunch, you should be aiming for 25-30 grams of protein per meal. This can come from one or multiple protein foods, animal or plant sources. Here are some quick ideas for lunch meals.
A plate of hard-boiled egg, cheddar cheese, hummus, crackers, carrots and cucumber sticks. You can also make a super quick egg and ham salad.
Mixed salad with a can of tuna, sardines or salmon topped with avocado and your favourite healthy dressing.
Rotisserie chicken salad or use leftover cooked chicken to make Asian salad with mixed vegetables, rice noodles and oriental dressing.
Tex-Mex inspired cooked quinoa with black beans, sweet potatoes, avocado, coriander & tomatoes.
Greek yoghurt with cottage cheese, walnuts, diced apples and honey drizzle.
Make ahead bowls: meatballs, brown rice and roasted vegetables.
Make ahead bowls: ground turkey, bean and sweet potato chilli with sour cream and avocado.
Make ahead bowls: grilled beef fajitas with red and green bell peppers, corn chips and salsa.
Tuna and cheese toastie or tuna melt with sauerkraut or side salad
High-protein wrap: tuna mayo and corn with salad.
High-protein wrap: chicken, sun-dried tomatoes, avocado and Cheddar.
High-protein wrap: grilled tofu, hummus, salad, red onion, satay sauce and coriander.
Quick protein smoothie: Whey or plant-based protein, frozen berries, banana, peanut butter, water.
---
High-Protein Lunch Recipes (For Omnivores)
Here are some inspiring recipes suitable for lunch. You can make these ahead of time or on the day, especially if working from home.
This is an ever-growing collection of high-protein lunch ideas and I will be adding more recipes to this post in the coming weeks.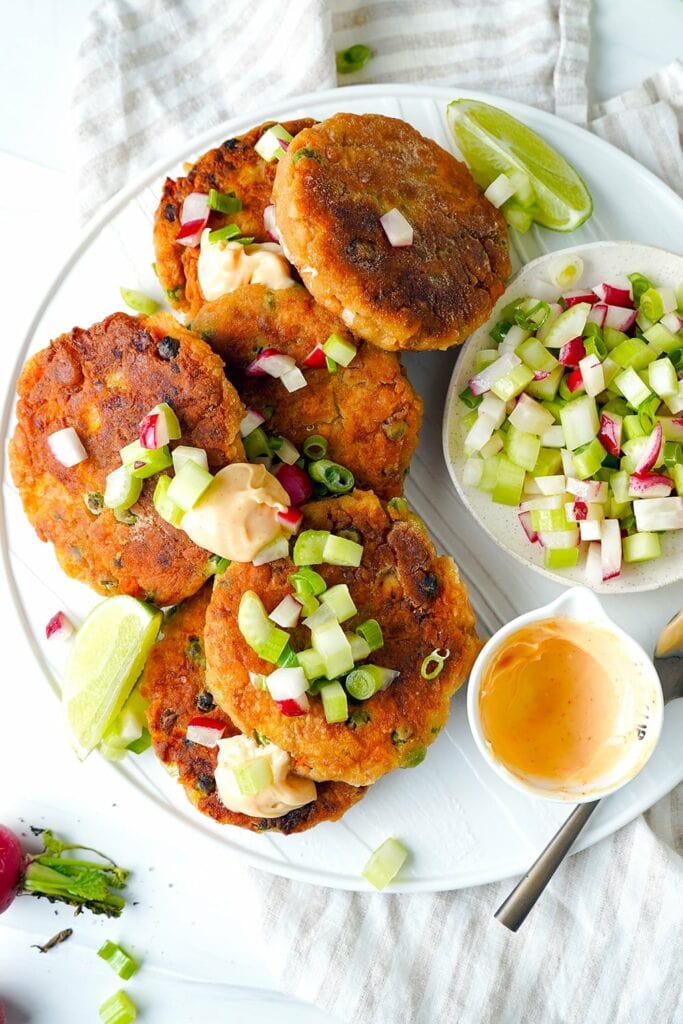 Cals: 582 Protein: 29 grams Carbs: 42 grams
These salmon fish cakes with sweet potatoes and peas are great for lunch, dinner, or as a quick snack out of the fridge! Served with spiced aioli and celery radish salad but you can pair them with a variety of sauces and side dishes. Get the recipe here.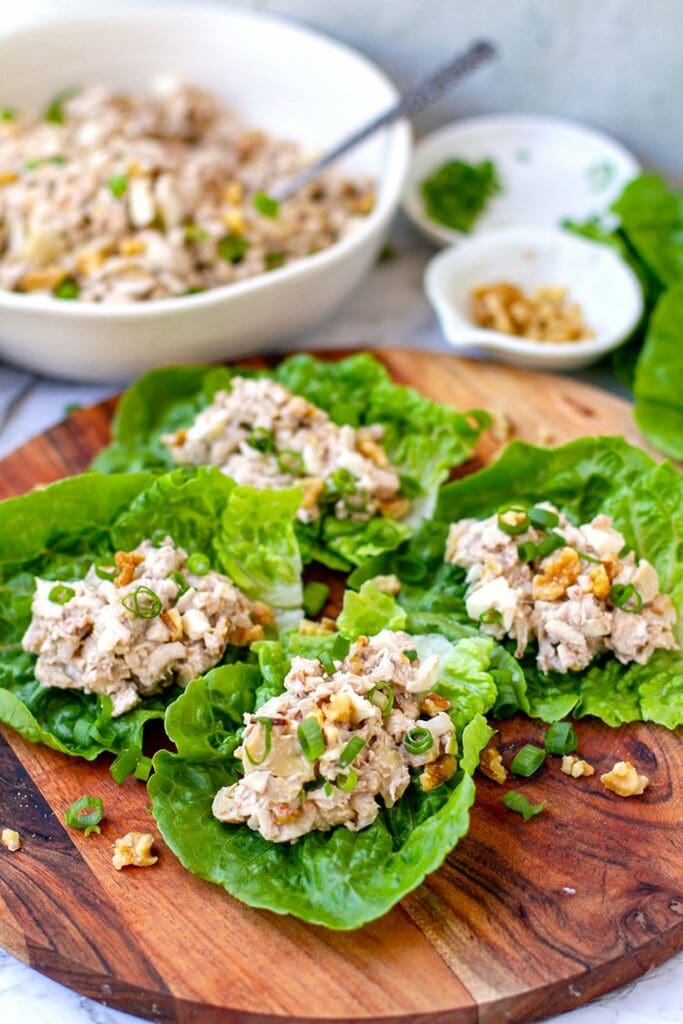 Cals: 479 Protein: 21 grams Carbs: 11 grams
This paleo and keto-friendly creamy chicken salad comes with sliced marinated mushrooms, eggs and walnuts in a mayonnaise dressing and is super simple to prepare. Serve in lettuce cups or over shredded leaves. Get the recipe here.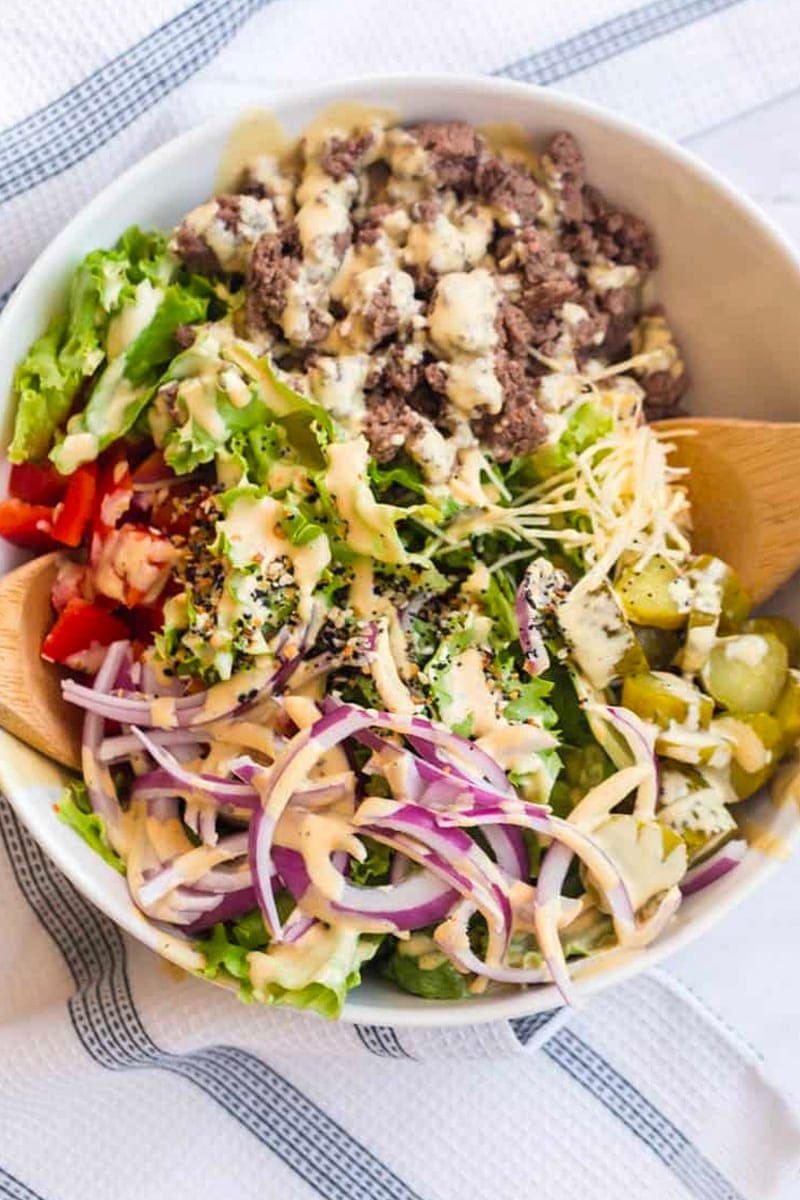 Cals: 435 Protein: 20.5 grams Carbs: 73 grams
Feel like a cheeseburger and a healthy lunch at the same time? How about this easy and delicious cheeseburger salad with extra veggies. From Randa Nutrition.
Cals: 428 Protein: 44 grams Carbs: 41 grams
This easy meal-prep honey-sriracha chicken and broccoli dish, which can also be served as a main dish, is made on a sheet pan and comes together quick! From Skinny Taste.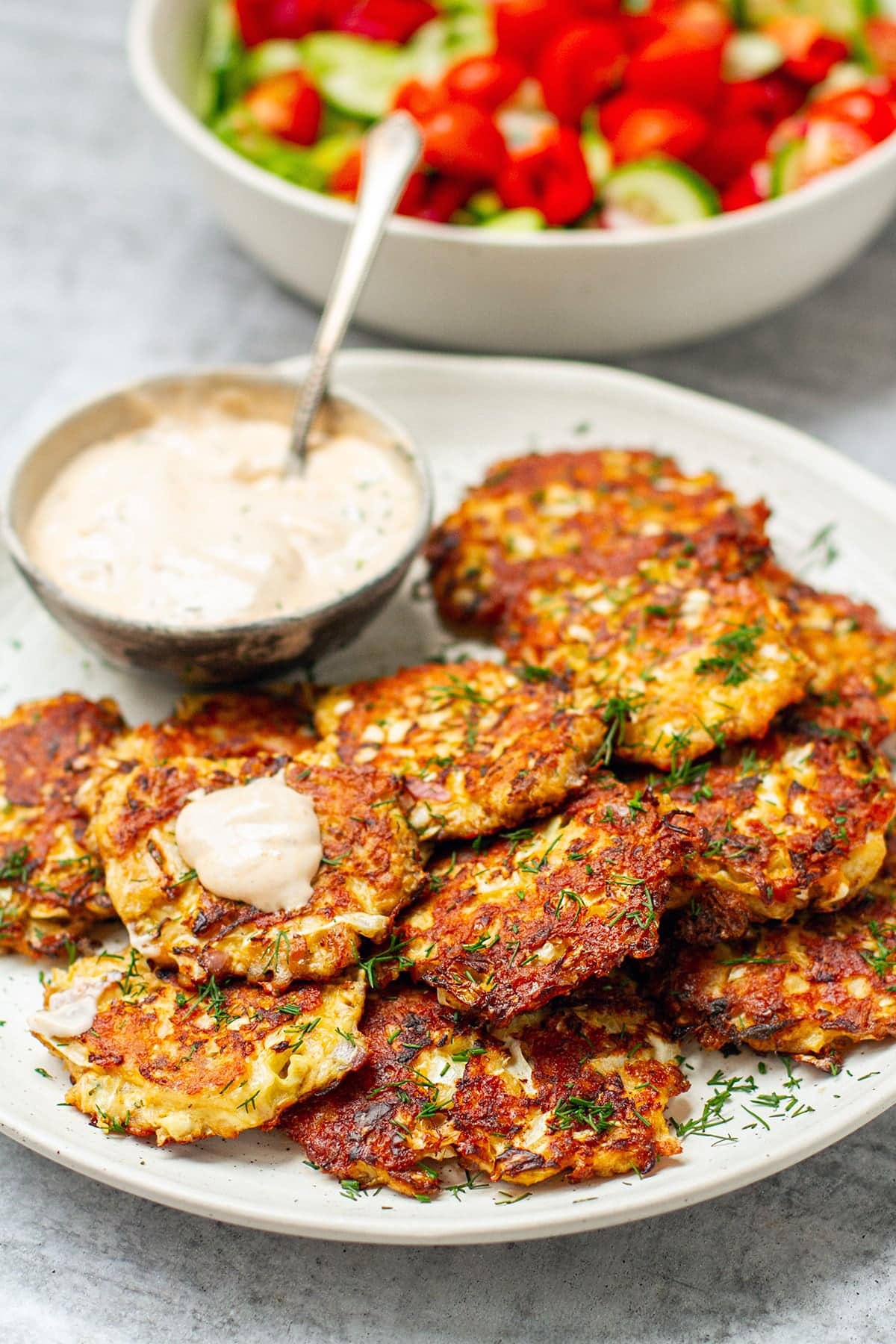 Cals: 480 Protein: 27 grams Carbs: 5.9 grams
Make these crispy, cheesy tuna cabbage patties ahead of time. Served with spicy garlic mayonnaise and a simple salad, they make for a satiating, nutritious lunch. Macros above are for fritters with sauce only. Get the recipe here.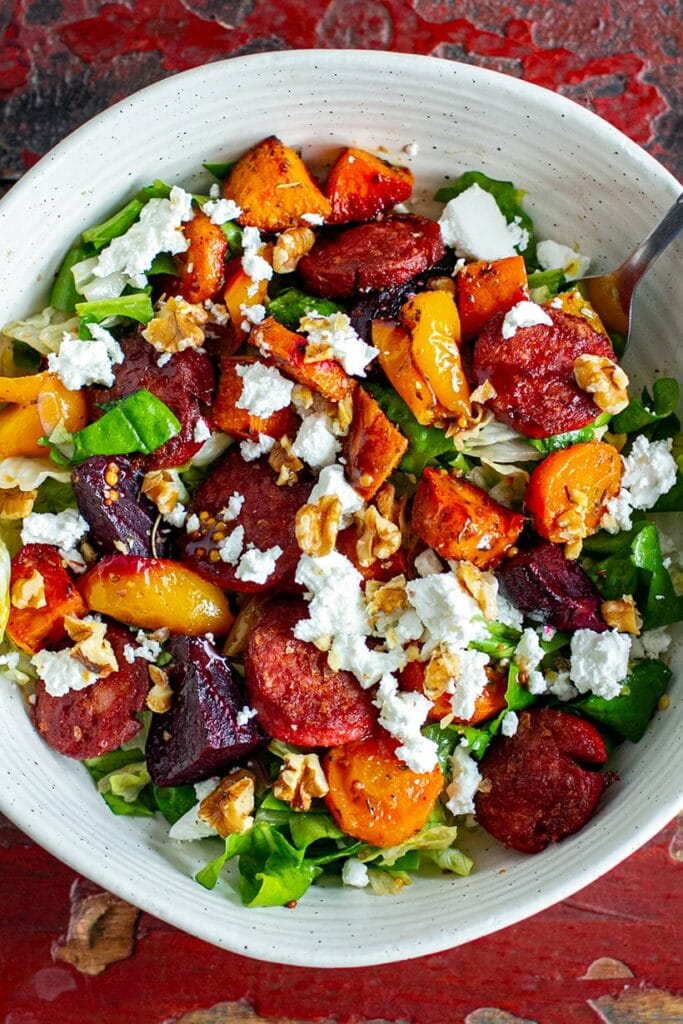 Cals: 652 Protein: 21 grams Carbs: 29 grams
This is filling salad featuring roasted vegetables like beets, sweet potato and carrots, all of which can be done ahead of time. Plus, pan-fried chorizo or other sausage, feta and pomegranate dressing. Get the recipe here.
Cals: 516 Protein: 43 grams Carbs: 17.7 grams
Get extra Omega-3s healthy fats with canned salmon, crunchy vegetables and curry-spiced mayonnaise dressing in this easy lunch meal (also great for a light dinner). Low-carb, Paleo, Whole30 friendly. Get the recipe here.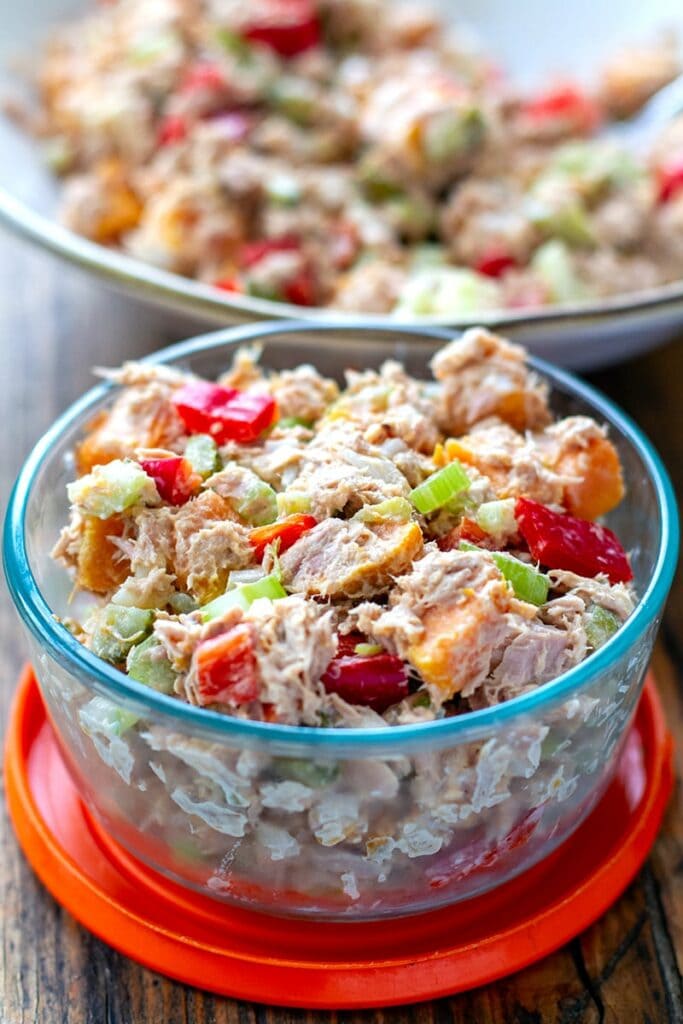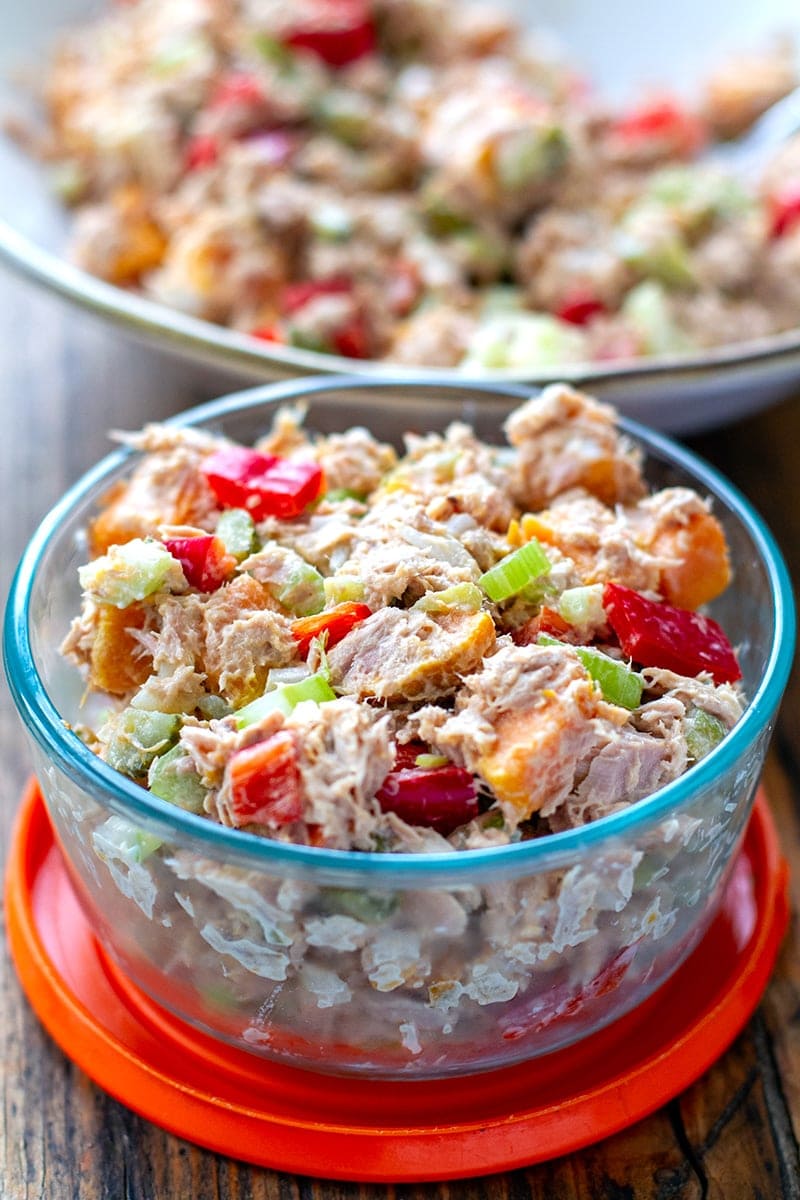 Cals: 427 Protein: 30.6 grams Carbs: 19 grams
Another filling salad featuring canned tuna and cooked sweet potatoes with a creamy mayo dressing. This one is a little higher in carbs so it's great before or after a workout. Also Paleo & Whole30 friendly. Get the recipe here.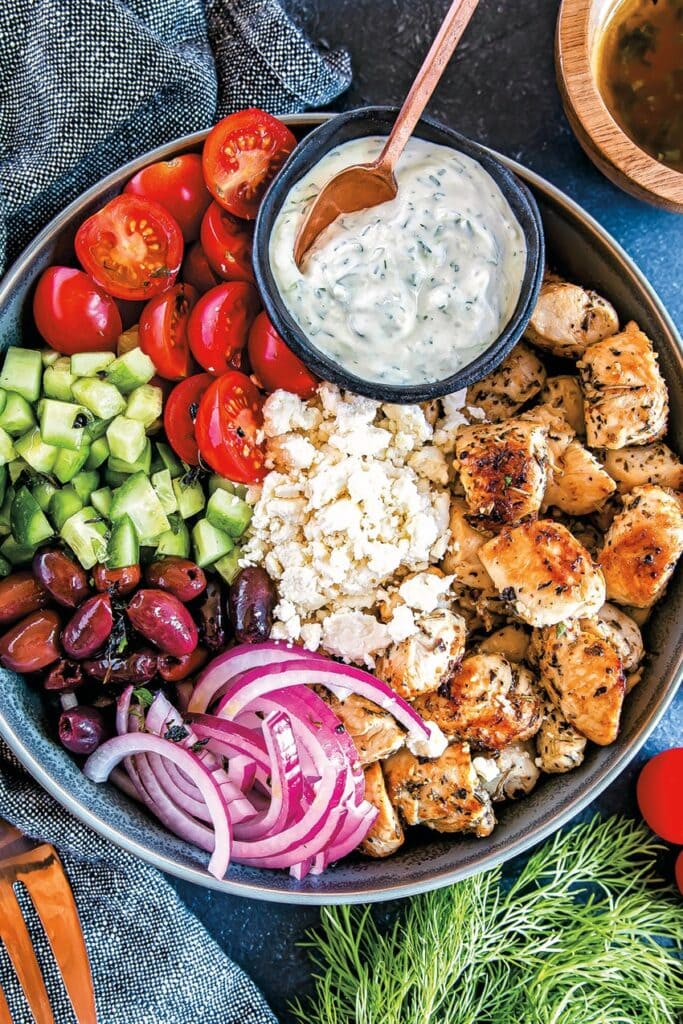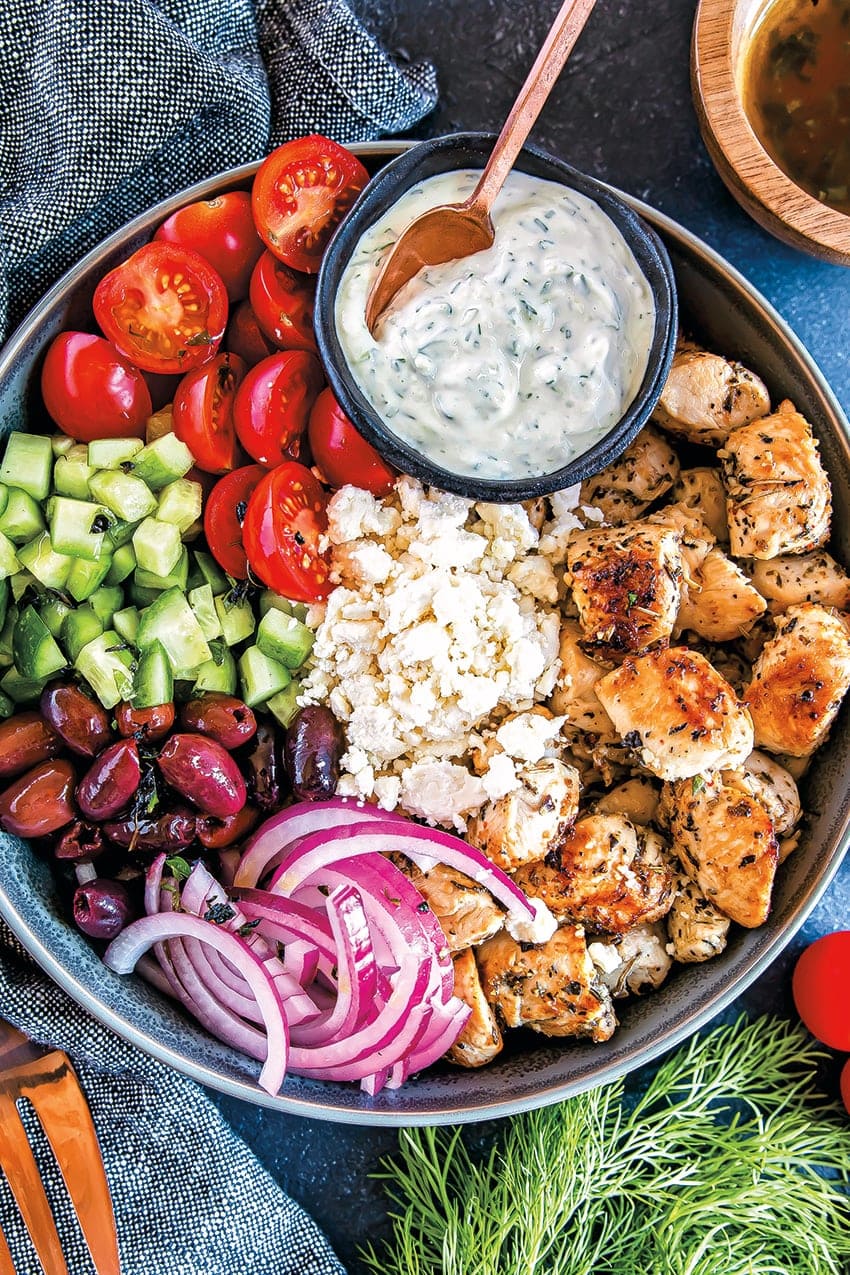 Cals: 496 Protein: 40 grams Carbs: 12.6 grams
Greek salad meets Mediterranean grilled chicken in this high-protein lunch salad. It's also low in carbs but you can add some quinoa, roast potatoes or sourdough croutons to up the carbs. Get the recipe here.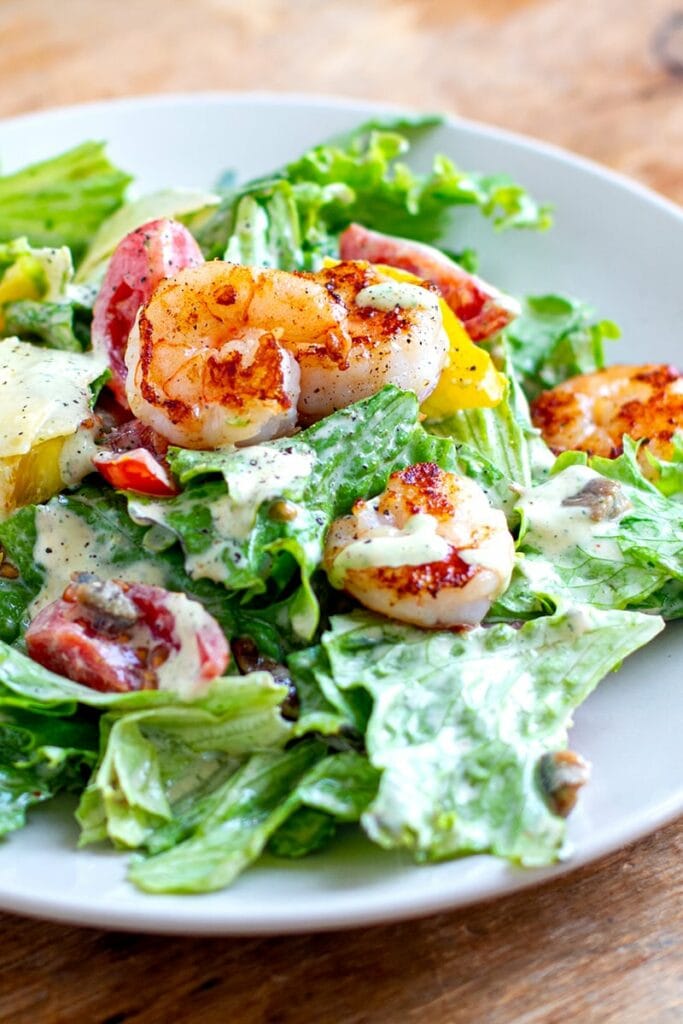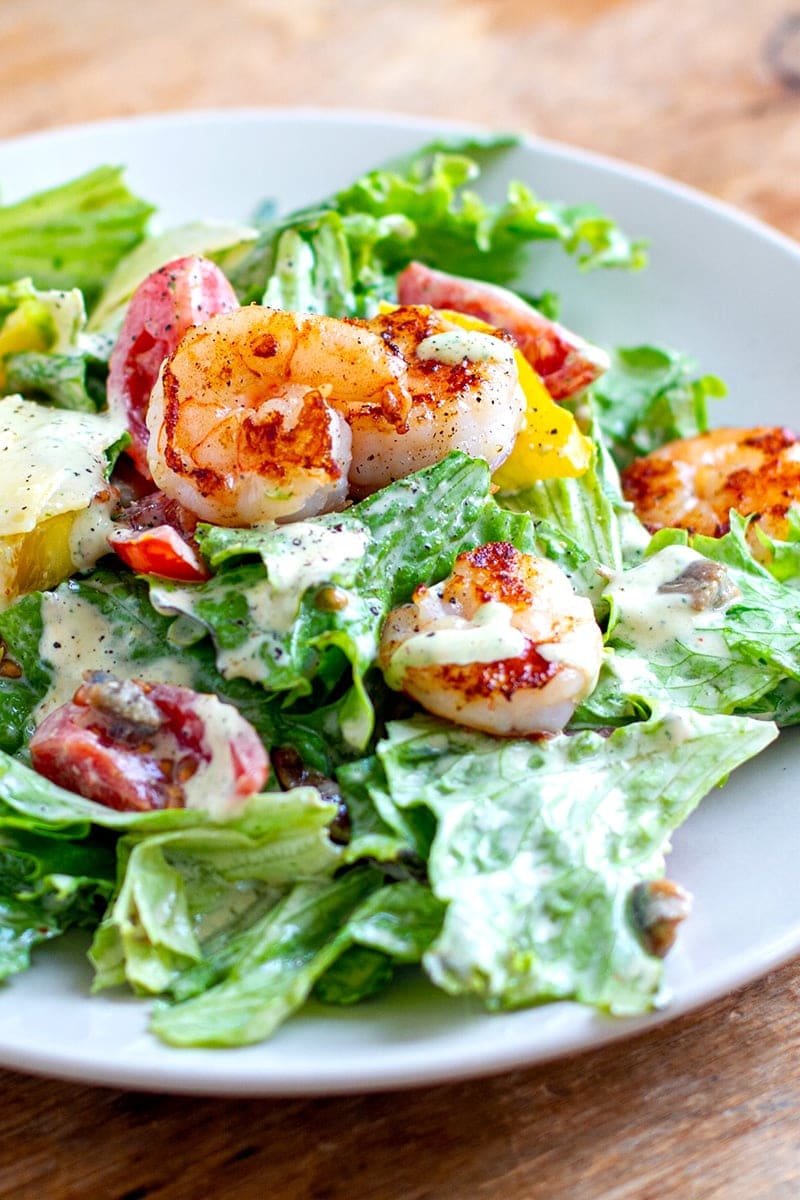 Cals: 560 Protein: 36 grams Carbs: 15.3 grams
Tasty, protein-rich grilled shrimp Caesar salad is quick and easy to make. It features crispy lettuce, bacon, sweet bell peppers and cherry tomatoes. The best part is the creamy umami dressing! Get the recipe here.
Cals: 316 Protein: 25 grams Carbs: 30 grams
For a delicious on-the-go lunch that is packed with protein and veggies, you will love this Buffalo chicken wrap. It's is made with our famous buffalo chicken, blue cheese, and tons of veggies. From Fit Foodie Finds.
Cals: 463 Protein: 22 grams Carbs: 39 grams
Tuna burritos are easy to make and use leftover rice, canned tuna and pantry staples. Enjoy them for an affordable, filling, nutritious lunch (or dinner) that is easy to make. From Happy Foods Tube.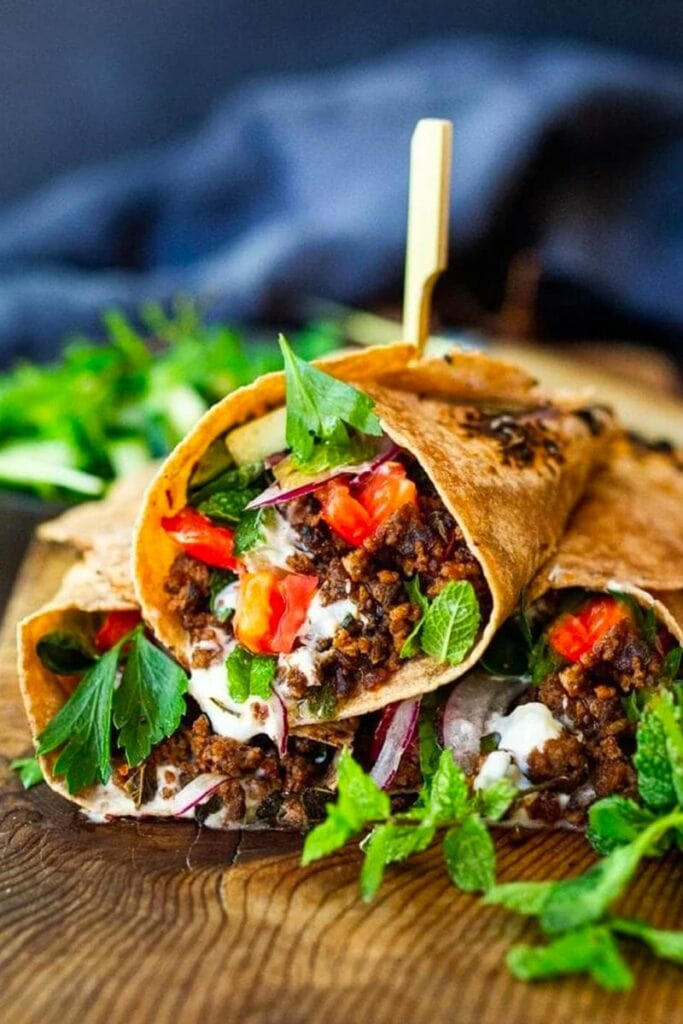 Cals: 595 Protein: 32 grams Carbs: 41 grams
These flavourful lamb wraps are made with savoury ground lamb seasoned with Turkish spices, wrapped up in a tortilla with labneh, cucumbers, tomatoes, mint, parsley and peppery watercress. From Feasting At Home.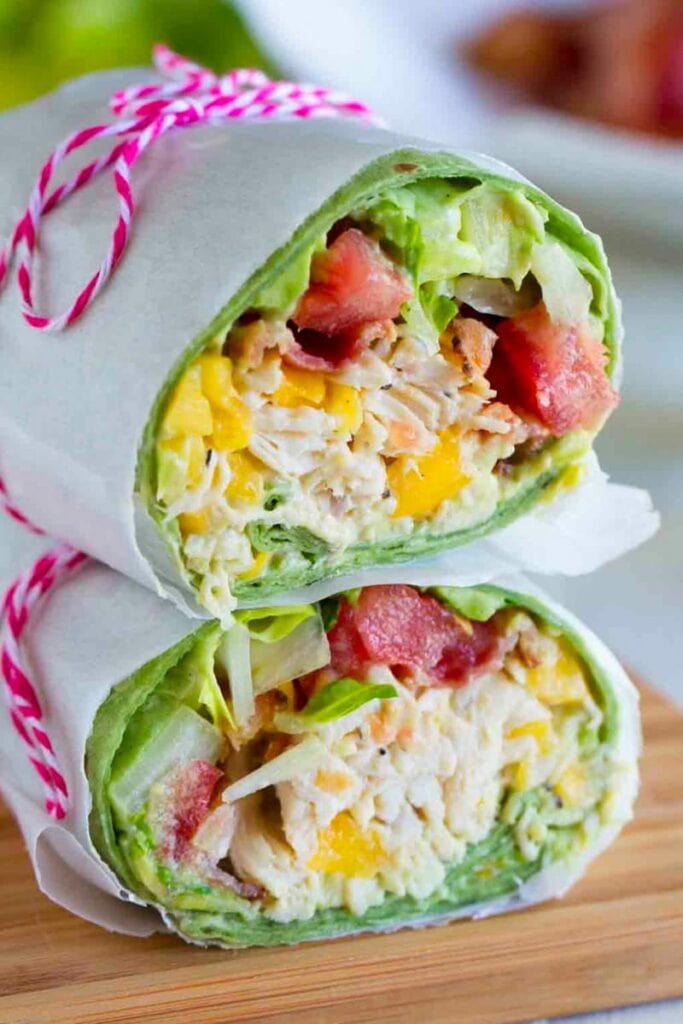 Cals: 665 Protein: 32 grams Carbs: 54 grams
Shredded chicken, mango, avocado and bacon are the stars in this easy California Club chicken wrap that is perfect for a satiating lunch. You can make it in a lettuce wrap or low-carb wrap. From Taste & Tell.
Cals: 489 Protein: 27 grams Carbs: 19 grams
Mexican salpicon de res is a colourful, fresh salad made with shredded beef, crispy vegetables, and lime juice dressing. I love that you can make the beef and dressing ahead of time to quickly toss this meal together. From M.A. Kitchen.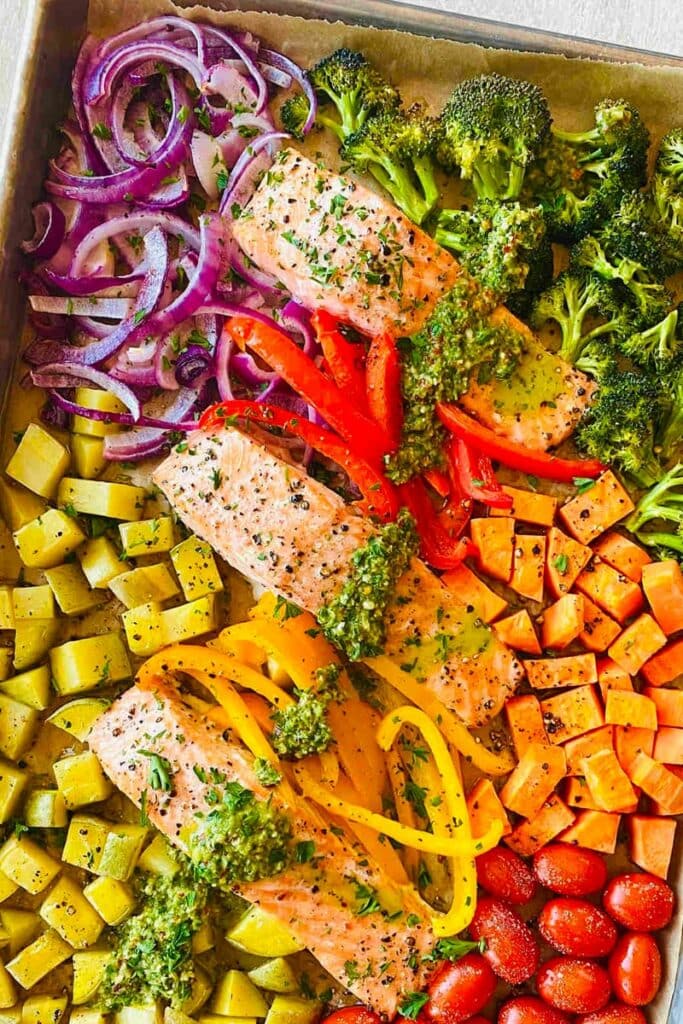 Cals: 500 Protein: 48 grams Carbs: 20 grams
This sheet pan salmon and veggies is the perfect healthy lunch meal that can be made as part of meal prep with lots of flavour variations. Pack into individual containers for easy-to-grab lunch. From Aubrey's Kitchen.
---
High-Protein Vegetarian Lunch Ideas
Cals: 500 Protein: 20.5 grams Carbs: 73 grams
This bowl has many hallmarks of a taco salad, minus the fried bowl. Loaded up with pico de gallo, fresh coriander and avocado plus an easy hummus dressing to drizzle on top. From Eating Well.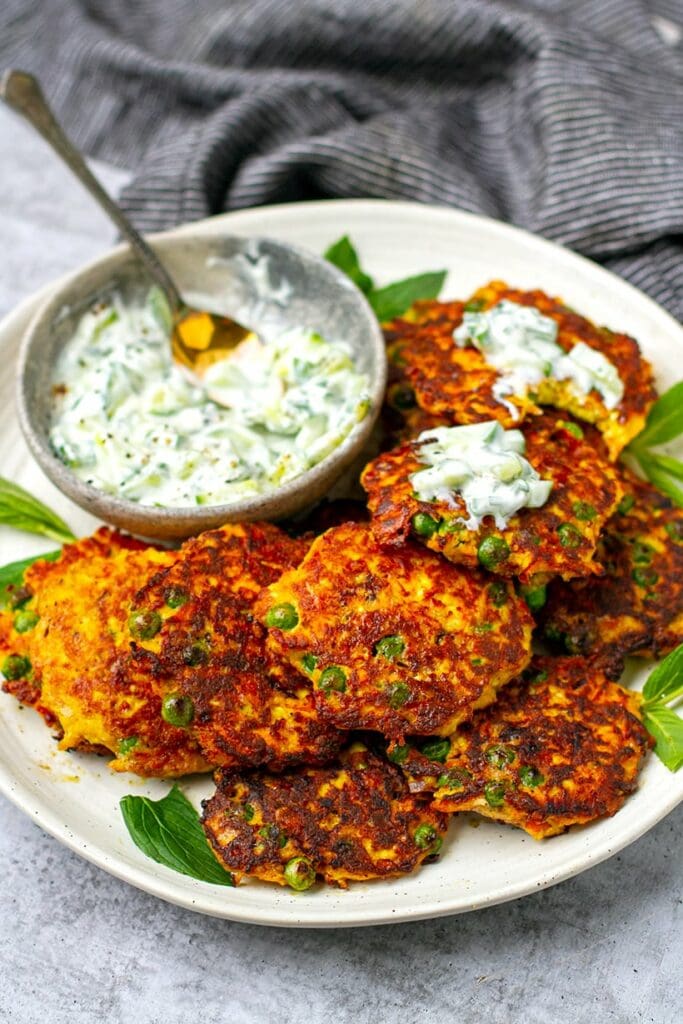 Cals: 335 Protein: 17.1 grams Carbs: 11.2 grams
These vegetarian fritters feature paneer cheese, peas, carrots, eggs, Cheddar cheese and Indian-inspired spices. Serve with a side salad and a few nuts to get to 20 g of protein. Get the recipe here.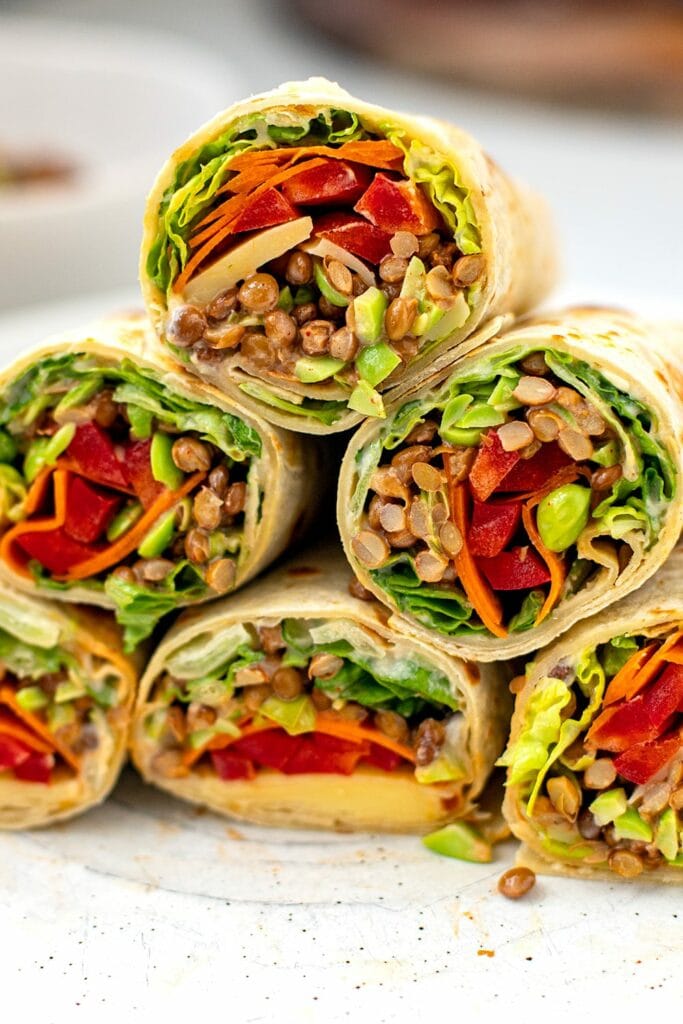 Cals: 650 Protein: 37. grams Carbs: 65.8 grams
The best veggie wrap made with a special filling of lentils, edamame and sun-dried tomatoes wrapped in a high-protein tortilla along with creamy hummus and colourful vegetables. Perfect for those gains day! Recipe on my blog here.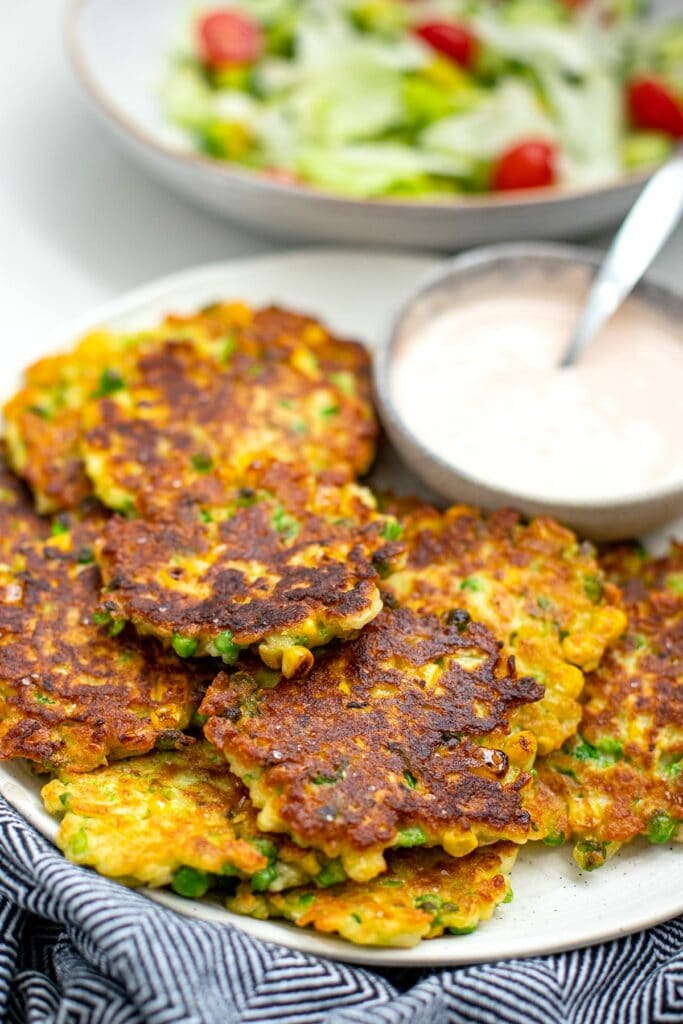 Cals: 502 Protein: 24.3 grams Carbs: 25.6 grams
Try these protein-packed, vegetarian-friendly corn, pea and halloumi fritters. Served with a simple tomato aioli and a salad, these fritters are great for a healthy lunch. Recipe on my blog here.
Cals: 195 Protein: 6.5 grams Carbs: 17 grams
These vegetable hummus wraps with added legumes and edamame beans are made with low-carb, gluten-free wraps and are full of nutrients and fibre. Nutrition above is for one wrap and you'd want at least two for a filling lunch. From Bianca Zapatka.
Cals: 570 Protein: 27 grams Carbs: 72 grams
Mediterranean lentil veggie wraps with lemon tahini sauce and hummus make for a protein-rich lunch or supper. You can make all the fillings and the sauce ahead of time and use regular, gluten-free or low-carb wraps. From UpBeet Kitchen.
Cals: 536 Protein: 37 grams Carbs: 92 grams
This root vegetable and lentil stew is a hearty, high-protein, carb-rich vegetarian dish that will perk you up on a cold day. Veggies, lentils, and peas are cooked in a delicious tomato broth. You can keep it as is or add some grated cheese on top. From Plant-Based On A Budget.
Cals: 427 Protein: 16 grams Carbs: 52 grams
Roast vegetables, egg and creamy tahini dressing make for a wonderful vegetarian lunch bowl. Everything can be made ahead of time! You can add extra protein with 1/2 cup of chickpeas, tofu, edamame beans or cottage cheese for a non-Whole30 version. From Well Plated.