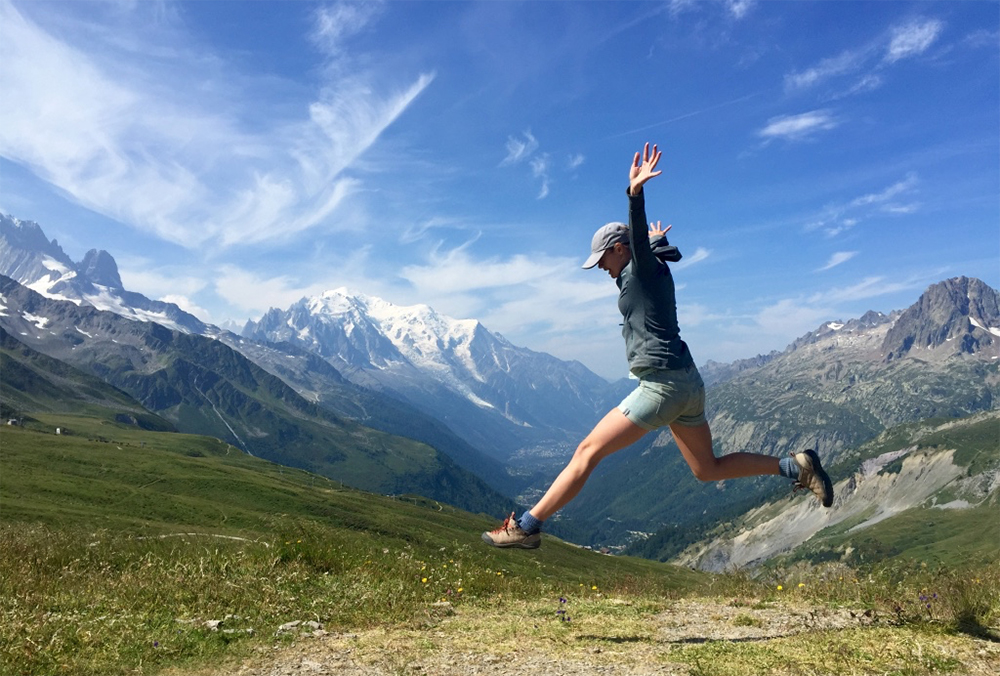 Although most of you come to Eat Drink Paleo for the recipes, you will sometimes find my musings about travel and lifestyle, which I see as contributing factors to my overall health and wellbeing. In order to stay healthy, I try to focus on good sleep, stress management and staying active, preferably outdoors. One of my favourite outdoor activities is hiking and I especially enjoy long-distance, multi-day hikes that involve changing scenery and exposure to local cultures and people.
This week I returned from Chamonix, France ,where I completed one of Europe's most popular trails – the 11-day Tour Du Mont Blanc. I've been 'off the grid' for most of it but I did manage to post a few photos on Instagram and Facebook, which resulted in some people asking me to share about my experience. So here I am, writing this post the morning after my return, while the experience is still fresh in my mind. If you have any specific questions about the trek, or if you're thinking of doing it yourself, please leave a comment below and I will reply with more information.
Why Tour Du Mont Blanc?
Although I do shorter hikes as part of my rock climbing adventures, I haven't done a multi-day hike since Everest Base Camp a few years back (it was a 12-day return hike). I've been itching to do another long trekking trip and Tour Du Mont Blanc was one of those trails that always came up whenever I researched 'the best hiking trips'.
The Tour Du Mont Blanc (also known as TMB) is one of the most popular long-distance trails in Europe. The traditional 11-day hiking trip circles the Mont Blanc massif (Mont Blanc is the tallest mountain in Western Europe at 4,807 m (15,771 ft) and goes through France, Italy and Switzerland. It covers the distance of about 170 km (110 miles), which doesn't sound very long, but that includes about 10 km of ascent/descent and some physically challenging variants through high passes. It can be done in a shorter amount of time (there is an annual mountain marathon in which the route is completed in 24-48 hours), but trust me that it is much more pleasant in 10-11 days.
I really wanted to do it because I've never hiked in the Alps and I was tempted by the idea of walking through three countries in less than two weeks. After some research, I also knew that it's one of the easier hiking trips when it comes to travel logistics and there are plenty of accommodation options along the way, so I wouldn't have to carry any camping gear.
In a nutshell
The whole trail is absolutely amazing and I can't recommend it highly enough. The landscape and the scenery change constantly and you walk through forests, grassy hills, rocky moon-like passes, beautiful flower-filled meadows, past waterfalls, rivers and alpine lakes, and the vistas of snow capped mountains, rocky peaks and glaciers are breath-taking.
The best time for this trail is July and August, although June and September are also optional with less stable weather and less people. I think July is perfect because August can get very busy with the Europeans enjoying their month off. The trail is busy but you usually pass people at the start or at the end of the day, and we went through long stretches of time of not bumping into anyone.
The traditional route circles the Mont Blanc in an anti-clockwise direction starting in Les Houches, France (20 mins bus from Chamonix) and finishing back in Les Houches or in Chamonix. It goes through France (about 3-4 nights), Italy (3 nights) and Switzerland (3 nights), then back in France for a couple of nights at the end.
You can stay in refuges (remote mountain huts/hostels with communal dining and dormitory-style rooms and shared showers), B&Bs and small hotels while passing through small towns and villages; or, you can also camp along the way (the downside is having to carry the camping gear with you). We did a combination of refuges and B&Bs and treated ourselves to a nice hotel on 3 occasions, which I highly recommend if the budget allows it, as you can do all your washing, have a nice shower and get a good night sleep. We also met people who did a combination of camping and accommodation.
You can also do the whole route in the opposite direction and we certainly met a lot of hikers and groups doing so. Having seen and done the trail, I would suggest going the traditional way (anti-clockwise) simply because of the way the scenery unfolds and what you get rewarded with towards the end. I think some of the high passes on the variant routes we did were a little easier going the anti-clockwise way.
You can walk the trail as part of an organised tour group or you can do it alone or with friends. My personal view is that in true TMB spirit, the trail should not be done as part of a tour group; but, it is an individual preference. All I can say is that it's easy to navigate around using a good map and a guidebook such as The Tour of Mont Blanc – Complete Two-Way Trekking Guide by Kev Reynolds, and by following the well-signed paths along the way. I went with two friends and we organised everything ourselves. We also met some solo hikers that used a 3rd party company to organise the itinerary and bookings for them, but they actually hiked on their own. That's a good in-between option.
You can pre-book all of the accommodation ahead of time, and I highly recommend doing so. Start at least 2 months in advance, so you don't miss out on the popular refuges. The earlier blogs and guide books imply that you can book the places a few days in advance over the phone, but trust me when I say, it is no longer so as the trail seems to have gain more popularity recently. Pre-booking means less flexibility but a lot less stuffing around and worrying about where you will stay during the trek. Just pre-book! This website is very comprehensive and useful for when you start planning your route http://www.autourdumontblanc.com/
Yes, it is physically demanding, especially if you're not used to walking for 4-8 hours a day, mostly uphill or downhill, on an uneven terrain and in altitude above 1000 meters, in many parts above 2000 meters. However, I think most people can do it as long as they do some walking/cardio training and if they are prepared to tough it out in some parts.
It can get very hot with a lot of sun exposure and it can get dusty, especially on the way down. It can also get cold and windy and start raining – in fact, you should be prepared for the rain on some days. We got extremely lucky with the weather this year, and although it was a little too hot at times, it didn't rain until the very last day of our trek.
You will have to sleep in dormitory-style rooms, possibly next to some creepy snoring dude and you will have to share communal showers, which are actually much better than you think. If personal space and privacy are essential to you then maybe this is not a trek for you. Alternatively, you can choose to do only certain parts of it and stay in more private hotels and B&Bs, or you can camp.
Your feet and joints will ache at the end of each day and you shoulders will get sore from caring the backpack. Anti-inflammatories get passed around like candy! Pack light, get good shoes and yes, those lame looking trekking poles will become your best friends.
You have to keep washing your clothes and you certainly get sick of wearing the same stuff every day, but it's amazing how little you actually need.
Depending on your personality, you might feel like you're a bit over it towards the second part but just as you think that, some new lake appears or you spot a wild ibex on top of a hill and all is exciting and new again.
The Food
This is probably the trickiest part of the trip, if you're following any kind of diet. While food options in small towns and villages are more flexible and you can find paleo and gluten-free choices on the menu and in a supermarket, this changes as you enter the more remote areas and stay in refuges, which get their food delivered by a helicopter. Let's just say that you are hiking through the land of Savoyard cuisine (bread, potato and cheese), and your breakfast options are almost entirely based on bread, butter and jam unless you're staying in a hotel or B&B that also offers yoghurt, ham, cheese and boiled eggs.
In refuges it works this way: you accommodation price usually includes communal style dinner and breakfast and everyone gets served the same food (vegetarians would get more cheese and eggs). Dinner is usually a 3-course meal – some sort of soup with bread, some kind of stew or protein dish with hearty potatoes, polenta, pasta or rice dish, and simple vegetables like carrots or peas; and a simple dessert like a cake or fruit and ice-cream. Some of the meals are very basic but still nice, while some refuges were definite stand outs in the food department, as they also served salads or more interesting meals (see where we stayed further down).
You have the following options:
Forget about your diet for 10-11 days or at least while you're staying in those remote places where you eat what you are given. Make up for it when you go through small villages where you can load up on more veggies and salads.
Let all the places know that you are either a vegetarian or gluten-free ahead of time and hope that they remember and understand what that means. The vegetarian option is easier as there are usually at least few other people with similar requirements. Trying to explain to a local that you don't eat grains, potatoes and dairy is rather challenging, so it's totally your call.
Bring extra supplies with you. I carried trail mix, GF bars, beef jerky and some apples for snacks along the way but I chose a lighter pack over strict paleo guidelines. Having said that, if you have a serious gluten intolerance, you can stock up on things like 2-minute white rice packs that you can ask the cook to heat up for you at dinner time and some small tins of tuna, terrine or even dehydrated food. I saw a guy logging around a packet of corn thins and his own  bread. I also brought with me mini tins of liver pâté, nut butter and cream cheese so I would have those with bread instead of having jam. You could also carry some GF oats or granola as yoghurt is often on offer and milk is always there. It's a case of beggars can't be choosers, so you have to make small and big compromises along the way.
I ended up eating way too much bread and cheese for my liking (I went with option 1) but at least the bread was almost always freshly baked at the refuge, and the cheese was from the local pasture-fed cows. The amount of energy you burn each day (up to 2000-3000 calories) will require more food and those extra carbohydrates do get used up pretty quickly. Yes, I often felt a bit bloated and lethargic after those meals, but I also enjoyed fresh alpine air and clean mountain water and I walked on average 30,000 steps per day. I got fitter, I used little technology, I did crosswords and Sudoku daily, I raised and went to sleep with the sun, I swam in alpine lakes, I picked and savoured wild raspberries and blueberries, and I lived with minimal stuff and no to-do lists. My point is that there is no need to obsess about your diet (unless you do have a condition) when you get so many other benefits from a trip like that.
Tour Du Mont Blanc Hike Day By Day
Day 0. Arrive at Les Houches
We flew into Geneva, Switzerland and took a bus to Les Houches (about 1-1.5 hours). We stayed at Hotel Slalom with a great owner Tracy (she is British), very comfy room and excellent breakfast. Get enough money at the local ATM to last for a week. Most refuges take cash only, although B&Bs and hotels will take cards. Euros can be used in the Swiss parts of the trek.
Day 1. Les Houches to Les Contamines – about 5 hours
There were a couple of surprisingly steep and hard ascents for day one but the route eventually goes through the forest and by the river. A lot of people took a variant route via a high pass but we thought that might be a bit much for day 1 so we stuck with the regular TMB route. Take some lunch as you might get caught out with nowhere to eat on this leg, unless you want a very early lunch.
Les Contamines is a nice little town with a supermarket and a few shops and restaurants. It's the last stop to stock up on food supplies and money before heading into the wilderness.
We stayed at La Ferme Du Bon Papa – a cute B&B with a lovely owner and a great room for 3 people, but the breakfast was a little bread and jam heavy. I suggest getting some eggs and asking the host to boil them for you in the morning.
Day 2. Les Contamines to Refuge de la Croix du Bonhomme via Col Bonhomme (2329m) – about 7 hours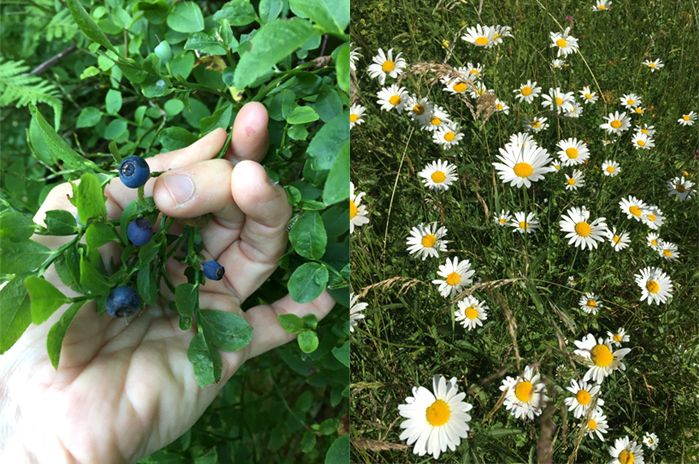 This was a long, interesting and varied day of multiple ascents and descents, crossing the pass at Col Du Bunhomme and rocky alpine landscape. Regular route continues to Les Chapieux in the valley below, but a lot of people, us including, stay at the top at Refuge de la Croix du Bonhomme, which is one of the most remote on the trek.
This will be the first refuge on the trail and it's very basic with strange shower rules and average food, but don't let it put you off the idea of communal living as they do get better. Luckily, we got to sleep in a yurt outside, with only 8 people who where very quiet and considered. If you can, take a sneak peak at the stars in the middle of the night, when nature calls.
The kitchen does pre-packed lunches, which you can order the night before. It's usually a sandwich, muesli bar, apple and something else. Dinner was vegetable broth soup, polenta with beef stew, local cheese, and some sort of cake but we skipped it.
Day 3. Croix Du Bunhomme to Reifugio Elisabetta via Col Des Fours (variant) – 7-8 hours
On this day, we took our first variant of the tour and decided to go via Col Des Fours instead of descending into the valley. This would theoretically cut our route by about 1 hour but would be more physically challenging. We loved this variant route and it's one of our top 3 days of the trek. It re-joins with the regular TMB route at the La Ville des Glaciers.
We got up really early at 6am and set off at 6:30am to hike up to the Col Des Fours (2665m and one of two highest points on the trek), from which we enjoyed the sunrise over Mont Blanc. Don't bother with the extra 20-minute hike to the higher hill as apparently it wasn't worth it.
This was followed by a VERY long descent down a rocky, gravely mountain but with some amazing waterfalls cascading all around us. We eventually reached the valley and had a decent break and some food before undertaking the second ascent of the day to Col de Seigne (2510m), which is where we crossed into Italy. As you reach the top, you get amazing new views and the downhill walk -although long – is very pretty with little wild marmots running around. This is the day when two of us got sun-burnt as it was such a long route. Remember to re-apply!
We finally reached Rifugio Elisabetta, which is situated in the most stunning location, with a huge glacier and waterfalls just behind it. It was cosy, the staff were friendly, had decent showers and simple but good Italian dinner (simple vegetable and mushroom risotto, pork with gravy, peas and potatoes and some random chocolate cake). When booking, if you get a choice, pick a smaller room with 5 beds instead of the dormitory. This refuge gets booked out quickly, so book it before others. Breakfast was very Italian – coffee, bread, jams and cookies. That's when those food supplies would come in handy!
Day 4. Rifugio Elisabetta to Courmayeur – 6 hours
Fairly easy start with lots of flat road in the beginning and then ascending through the hills with amazing views of the glaciers and mountain peaks, including the Mont Blanc. The hardest part of today was the final 1-2 hours descent into Courmayeur town, which was hot, dusty and steep and our knees were not happy.
The town is the Italian version of Chamonix – it's affluent, pretty, with lots of restaurants and great gelato. Good place to stock up on food and money. Some people make a rest day here. We shared a room for 3 at Hotel Croux, which was very comfortable and we managed to do all our laundry (there is a clothing line and pegs outside in the garden). Good wifi to catch up on your social media and excellent buffet breakfast with non-bread options. Hallelujah! Yes, we wrapped some food to take with us for lunch.
Day 5. Courmayeur to Rifugio Elena – 8 hours
This leg usually goes from Courmayeur to Rifugio Bonatti, which is a very popular place to stay on the trek because of its location and reputation. Unfortunately, we couldn't book it in time, which meant that we had to walk for extra 2 hours to the next refuge. It was one of the longest days but meant that the next day we had 2 hours less to walk.
The route itself was great, with a slow gentle hill from the town towards a more steep ascent up the hills and then a lovely, almost flat walk through the meadows and forests with amazing mountain views. We stopped at Rifugio Bonatti for a break and then continued to Rifugio Elena in the heat of the day.
To our surprise, Rifugio Elena was actually really good, with great dormitory rooms that had lots of space and some privacy, good showers, excellent location and views, and good Italian dinner (ham and bocconcini cheese starter, simple tomato pasta with cheese, pork with vegetables and gravy, and a chocolate muffin thingy for dessert). Breakfast was again very Italian – haven't you heard of eggs people???
Day 6. Rifugio Elena to La Fouly – 5- 6 hours
The day started with a long and steep ascent to Grand Col Ferret (2537m) and it was very windy the whole way up. This is where we crossed into Switzerland and followed with a long descent into the valley. We finished with a gentle walk into the village of La Fouly, which is small but very pretty. This was a short day and we got some much deserved rest.
We stayed at Auberge Des Glaciers, where we got a private room but with shared showers. Dormitory rooms are also available. Switzerland is much more expensive and the price of accommodation is almost doubled, but the quality is also better. We had salads for lunch and the communal dinner consisted of cauliflower soup, big salad with some cold meats, roast chicken with chips and gravy, and berries with ice-cream. So far, this was our favourite dinner, mainly because of the amount of vegetables present. Breakfast was basic but there was yoghurt, cheese, cold meats and some fruit. A big improvement from the Italian refuges.
Day 7. La Fouly to Champex-Lac – 4-4.5 hours
This is an easy 4-hour walk, which goes through a few small villages and finishes with a bit of an ascent through the forest into Champex-Lac. Many people skip this leg and get a bus from La Fouly to Champex-Lac, which is a good option if you're short on time. We really enjoyed the walk, as we passed through traditional Swiss villages, where people still live the way they did a 100 years ago. Old wooden houses, vegetable gardens, narrow village streets – it's a very quaint walk.
Champex-Lac is a small town situated right on the lake and you have a choice of hotels, camping or refuges. We treated ourselves to a very nice hotel right on the lake called Mont Lac. Once again, this was so we could do our washing properly, have long showers, wash our hair and have a lovely rest day before the next leg, which was meant to be hard.
We had lunch and dinner in town and went for a dip in the lake, which was very cold but very clean and soft on the skin. We stocked up on some food supplies and lunch for the next day or two.
Day 8. Champex-Lac to Trient via Fenêtre d'Arpette (variant) – 8 hours
The regular route goes from Champex-Lac to Trient via Bovine, which is shorter and easier. We opted for the variant, which we knew would be much harder, but would take us up to the second highest point of the tour at 2665m. It's also known as the true mountain pass (as if the others ones were not hard enough).
In a nutshell, this leg is tough – 8-9 hours total. You start with 4 hours of uphill, with the last 2 hours going through a chaos of boulders and no clear path, you simply climb over boulders and look for a painted TMB signs on the rocks. It was also hot all the way to the pass and even the top wasn't much cooler as it normally should be.
We had a long break and lunch at the top of the pass, before taking on 'the longest, steepest, hottest and dustiest' descent in history (or at least my hiking history) – about 3 hours. The redeeming features are the gorgeous vistas and the fact that you have a view (a pretty close one) of the 4.5km long Glacier Du Trient the whole way down.
We finally arrived in the small town of Trient, where we stayed at Le Grande Ourse – a very nice, clean refuge  with good dinner (celeriac and orange soup, chicken curry and fruit and ice-cream) and a simple breakfast. All three of us were super tired and went to sleep very early after taking a few anti-inflammatories to dull down the pain in our feet and joints.
Not many people do this variant because you need clear, stable weather and it's a tough one, but it's absolutely worth it. A real sense of achievement at the end!
 Day 9. Trient to Argentière/ Tré-le-Champ – 5.5 hours
This was a fairly short day with a gentle uphill walk to Col De La Balme (about 2-3 hours). This is the point where you start feeling a little bit over it. We were still tired from the day before and the route uphill was pretty but nothing new, EXCEPT, when reached the top, we suddenly got treated to a completely new vista and a view of the Mont Blanc massif, which has been out of sight for a few days. We also reached the boarder back into France, where it all got started, and from the top of this mountain you can see Chamonix down in the distance in the valley. You suddenly realise that you are coming to an end and it gets a little sad. We sat on the top for a while to enjoy the moment and have some food.
The walk down was hot and dusty but we finally found our small refuge Gîte-refuge Le Moulin. We arrived too early and couldn't check in, so we dropped our bags and walked into the small town of Argentière to find some lunch. By pure accident we stumbled on a small café Tete-A-The, that had an interesting looking 3-course lunch menu. As we sat down, we realised it was a vegetarian/real-food café and we got treated to some of the best food on the trip – 14 euro for 3 dishes (cold gazpacho soup, truffle oil poached egg over vegetables and rice and lemongrass white chocolate mousse). Highly recommend it, they also do very nice tea and coffee.
The refuge we stayed at that night turned out to be one of the best. It's small and very unassuming but has decent-sized rooms and showers, good wifi and it's very cheap. Surprisingly, we got one of the best dinners too. We got a big bowl of salad with fennel and apple, roasted pork ribs and potatoes with hot mustard and a fig tart. Everything tasted like a proper French home-cooked meal and we went to bed well fed and happy. Breakfast was basic but there was yoghurt and the croissants and bread were freshly baked.
Day 10. Tré-le-Champ to Lac Blanc – 4-5 hours
This was meant to be a fairly short day but somehow we took a variant route and ended up doing a fairly long ascent up the hill before we reached the alpine lakes. The views along this route are magnificent and we got seriously lucky that the stormy clouds didn't roll in until after lunch so we got to enjoy the vistas.
It was fairly hot so when we reached the lower lakes (Lacs Des Cheserys) and saw a couple people in their swimmers, we got pretty excited about taking a dip in the lake. The water turned out to be much warmer than expected (warmer than Lac De Champex and definitely warmer then the Lac Blanc later in the day), so we ended up swimming around for a bit while enjoying the snow capped mountains in the background.
Then it was a short ascent to the top of Lac Blanc, which is very popular with both tourists and locals – it is absolutely stunning. There are two lakes – a smaller one by the refuge huts and a bigger one just behind the hills – and both are terrific blue colour with those gorgeous reflections of the hills and mountains. We had some lovely, cheesy lunch before checking in for the night.
Most people continue down to Refuge La Flégère but I highly recommend staying at the lake refuge if you can. Once the tourists leave after lunch, the serenity of the place sets in and you have the most beautiful, unspoilt scenery all to yourself and a few other hikers staying at the refuge. We saw a couple of tents up on the hill as well. We waited for a quick sunny spell and ran down to the lake for a quick (very cold) dip.
Dinner was a simple vegetable soup with amazing local cheese, followed by red wine beef stew and pasta, and poached pears with chocolate and almonds. After dinner we sat outside on the rocks to enjoy the sunset and to watch wild ibexes patrol the lake and the hills around us. This was our TOP day of the trek and happened to be the most amazing finale.
Day 11. Lac Blanc to Chamonix and Les Houches – 4 hours (kind of)
The last leg usually goes from La Flégère to Les Houches via Col du Brévent (2368m). A lot of people get the gondola from Le Brevent mountain down to Chamonix and finish there, as that last descent to Les Houches is long and boring.
We weren't so keen on that last long walk downhill (well our knees weren't keen) but the weather decided for us. On the morning of Day 11, as we were half way descending from Lac Blanc to La Flégère, the skies opened up with the most impressive downpour and even some hail. We managed to find shelter in a small shepherd's hut and waited out the heaviest part of the rain. We walked down the rest of the hill and finally turned up (a little soaked) at the chair lifts of La Flégère, where we found multiple hikers and rock climbers stranded by the rain, waiting to go back down into town.
The lifts were not operating until the rain stopped but then it turned out there was a technical fault as well. Our plan of getting the lifts back down changed and we decided to walk the rest of the way to Chamonix village. And so we arrived at our hotel by 2pm on Day 11 having walked around 300,000 steps and climbed 1,900 flights of stairs (according to our iPhones). We didn't walk the last descent to Les Houches, but we also didn't take any buses or chair lifts, so I call it even!
We stayed in Hotel Heliopic Sweet & Spa right near the gondola that goes to Agiuille Du Midi. It's a little pricey but we shared a room and it was totally worth it, as we enjoyed the free pool, jacuzzi and sauna. The facilities of the hotel, the rooms and service were excellent. Highly recommend it! We had dinner at Chez Constant – also very good, modern French and Asian fusion and enjoyed a little retail therapy in the town of Chamonix.
One last thing you must do in Chamonix!
On Day 12, we got up at 6am to catch the first gondola to Aiguille Du Midi (3840m) for the closest and most intimate views of the Mont Blanc massif and the surrounding mountains. You are above the clouds and getting up this early means you can watch the sun rise over the peaks. The top is cold and windy so rug up and make sure to walk around all of the viewing platforms to enjoy the best views. We saw many climbers walk out onto the snow with crampons and axes and hike towards either rock or ice-climbing or to train for the Mont Blanc ascent, which I got very inspired to do one day. This little adventure to the top of the world is not cheap (58 euros) but is worth it. Do try to get there early as the weather changes later in the morning and the day.
Some handy tips:
Get good hiking shoes and wear them in well before attempting the trek.
Bring hiking/trekking poles, even just one, as they will save your knees and joints, and will generally protect you from falling to your death.
You can leave the rest of your luggage in a hotel you stayed at when you arrived. I only brought my backpack but my friend had some extra luggage, which we left at the hotel in Les Houches and picked up by a local bus when we finished the trek.
Sunscreen up the whole time and wear a hat that shades your face if possible. You'll be surprised how strong Alpine sun is.
Start early each day, this way you get the trail to yourself (at least for a little while), you avoid the heat of the day and you get to arrive at the refuges early to enjoy the showers, wash your clothes and so on.
Pack light – I have provided a list of what I carried below – as you have to carry everything for 4-8 hour a day for 11 days.
Learn some basic French – it goes a long way. English is spoken in most refuges and hotels but it's always respectful to start the exchange in the local language and French is the official TMB lingo. Learn the basics of "Hello, my name is XXX and I have a booking here. Do you speak English?" as well some food items and numbers and you will be fine.
Embrace it all – it's the only way to truly enjoy it!
If you can't do the whole 11 days, here is what I recommend to skip

Skip Les Houches to Les Contamines leg and get the bus between the two;
Skip La Fouly to Champex leg and get the bus;
Maybe even skip Trient to Tre-Le-Champ and get the bus from Switzerland to France;
Go from Tre-Le-Champ to Lac Blanc and have lunch there and then down to Le Flegier and get the lifts down to Chamonix, so you skip the last leg.
Packing list (for summer, no camping)
1 guidebook. We had it on a Kindle.
1 large scale fold out map
1 pair of good hiking shoes. I have 5.10 climbing approach shoes which are somewhere between trail running shoes and hiking boots, they don't have the high ankle support but this actually helps to strengthen your ankles over time. My ankles seemed to be ok without the high support but then again I do a bit of walking in those shoes.
Trekking poles/sticks (at least one)
30-33 litre backpack, I love my Osprey bag as it has lots of pockets and compartments and good back support
2-3 litre water camelbak and a small water bottle for evenings
1 bra (I had a semi sports-bra for the trip which I washed a couple of times)
3 pairs of underwear (washing continuously)
2 good hiking socks (get the ones with some padding, washing after 2 wears usually as they will get super dusty)
1 pair of shorts (whatever you like but something you can wash once or twice, you will wear these most of the time)
1 pair of long but light hiking pants
3 singlets/t-shirts (you will get very sweaty so I would rotate them and wash every second day or on shorter days)
1 long sleeve warm jumper/fleecy top
1 rain and windproof shell (Gortex shell is the best)
1 beanie or warm hat (my friend had a hiking scarf called Buff which you can use as a scarf, sleeping eye mask and a hat when it's cooler)
1 summer hat/cap (make sure it provides shade for the face)
1 pair of sunglasses
1 pair of swimmers
1 back pack rain protector (optional but handy)
1 head torch (handy at Lac Blanc refuge where the light goes off at 9pm and it's pitch black)
1 disposable rain poncho
1 phone charger with European converter
1 wallet/pencil case with a pen, passport, money and credit cards, some paper for journaling, I had some saved newspaper crosswords and puzzles
1 small book to read (there will be books on the way)
A few clothes line pegs and a carabina to hook things off the bag (like your flip flops)
1 plastic bag for dirty clothing
For the evenings:
1 pair of leggings or bumming around pants for the evenings, I had thin leggings, which I also slept in if it was cool at night
1 pair of light, evening socks
1 long-sleeve shirt to swap into each evening
1 simple summer dress (I have a soft, non-wrinkle sporty dress that came in handy a few times when we had shorter days and wanted to go into town for lunch of dinner)
1 pair of flip flops/thongs (although most refuges provide crocks as you are not allowed to wear your hiking boots inside)
1 light, quick drying towel
1 sleeping bag liner (I have a silk/cotton one) – all refuges provide pillows and blankets but for hygienic reasons it's best to have a bag liner to sleep in. B&Bs and hotels are fine.
Toiletries – here is what I had
Sunscreen, lip balm, small travel container of moisturiser, travel size shampoo, conditioner and shower gel that we shared, travel size toothpaste and a toothbrush, razor, small sewing kit, tiger balm or other heat balm, anti-inflammatories, some vitamin C, travel size hand sanitiser, a couple of packets of tissues, ear plugs, Band-Aids and some strapping tape.  As we stayed in some hotels, we used their toiletries as well. Should you bring make up? You will sweat it off in the first hour of each day.
---
Finally, I have to give a huge shout out to my friends Maxine and Josh for being such amazing hiking buddies. Your company is what really made this trip so memorable. I am missing you guys already!
And that is a wrap my friends! If you read this to the end then I think I got you a little bit hooked on the idea of doing the TMB. All I can say is DO IT! It is a great adventure that you will remember for the rest of your life.
Let me know if you have any questions in the comments.