Last week, Jo of Primal Living shared a very poignant post on her Instagram account. It was about killing their first chicken. More importantly, it was about our culture's disconnection with food, where it comes from, and what it takes for us to have meat on our tables.
It made me think about how many people consume meat mindlessly. I used to eat meat that way, and on occasions I still do, but I am learning to be better. I choose to eat meat for nutritional, health reasons but I try do so very consciously and intently.
This post is not about paleo vs vegetarianism, or which is more sustainable – there are many solid arguments pro and against for both – but it's about making better choices and being more mindful about what you eat.
What does it mean to eat meat more mindfully?
First and foremost, it's about making a conscious decision to choose meat and poultry from the right source. Grass fed, organic, and free-range are more expensive but you get what you pay for.
Secondly, it's about eating a little less and getting the most out of the meat you buy, which is what today's post is about.
And lastly, it's about honouring the whole animal that gave its life so you could have protein on your plate. This means going beyond the premium, lean cuts of meat and poultry and using up as much of the whole animal as possible – bones, offal and all.
The best example I can give today is how to eat chicken in a more sustainable, and more economical way.
1 Chicken – 3 Meals + Some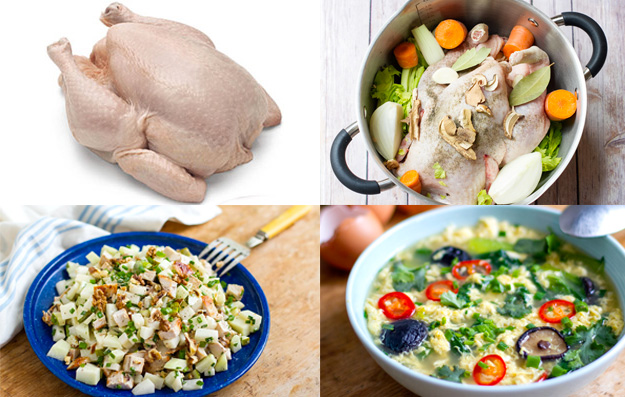 I buy a whole large chicken on the weekend. It's free-range and organic, and yes it's pricey, but by the time I'm done with it, I would have served three solid meals for two people, and then some. Here is what I usually make from one whole chicken.
1. Chicken soup for two + leftovers
2. Chicken salad for two
3. Egg drop soup with chicken broth for two
1. Save chicken breasts for later
Picture from Cherry Capital Foods
Separate the breast meat from the carcass. Season the chicken breasts with salt, pepper and some dried herbs and store in an air-tight container to use in the chicken salad in a day or so. You can also grill the breasts and store them cooked to save time later on. Otherwise, freeze the meat for later.
2. Make the chicken soup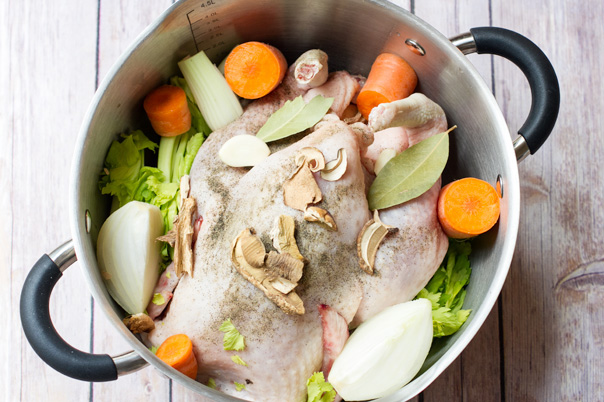 You can follow the recipe for my Fall Off The Bone Chicken Soup, and use the whole chicken minus the breast meat, or follow my instructions below.
Cut the rest of the chicken into two thighs and break the carcass in half if needed, so that you can fit all of it in a large pot with cold water. I usually use 1.5-2 litres of water. Add an onion, some celery, garlic, bay leaf, ginger, carrot, black pepper, salt, and juice of ½ lemon to the soup. You can add some dried mushrooms as well. Bring everything to boil (remove some of the scummy foams that floats to the top at the beginning), then cook for 1-2 hours on low-medium heat, covered. Strain the stock into a large bowl and transfer the chicken pieces and bones to a plate to cool down. Reserve the cooking vegetables for later.
Add the stock back to the pot and add some chopped up fresh celery, carrot, kale, some diced sweet potato or white potato, more garlic, chilli and ginger (you can add some lemongrass if you like), star anise, a little fish sauce, and pepper. Bring to the boil and cook together for about 5 minutes. Then add some broccoli or cauliflower florets, and taste for salt. Add more salt, you can even use some wheat free tamari sauce or coconut aminos.
By now, the chicken would have cooled down enough to handle. Strip away as much meat from the bones as possible, tear it into strips and add to the soup. Reserve the rest of the bones and leftover meat to make chicken bone broth.
Finally, cook the soup with the chicken and added broccoli or cauliflower for a few more minutes. Add a large handful of fresh coriander or parsley, and an extra squeeze of lemon or lime juice. If you eat white rice, you can add some pre-cooked rice noodles or buckwheat soba noodles. You should have enough for 4 serves.
3. Make the chicken bone broth
Add the leftover chicken bones, meat and skin to a slow cooker or another pot. Add the leftover vegetables, plus some extra fresh onion, garlic and ginger. Add another bay leaf, some pepper and salt, and a tablespoon of apple cider vinegar or lemon juice. Add 1.25-1.5L of cold water and bring to the boil. Then cook on LOW for at least 12 hours, 24 hours is better. If you don't have a slow cooker, you can do this on the stove on very low heat, covered with a lid.
Once cooked, strain the stock into a glass jar or another air-tight container and store in the fridge for 3-4 days. You can drink the broth as is with some fresh coriander or added fermented miso paste, or you can use it in stews, curries, braises and other soups. See my suggestion for an egg drop soup.
Check out this recipe if you're making chicken bone broth using an Instant Pot pressure cooker.
4. Make a chicken salad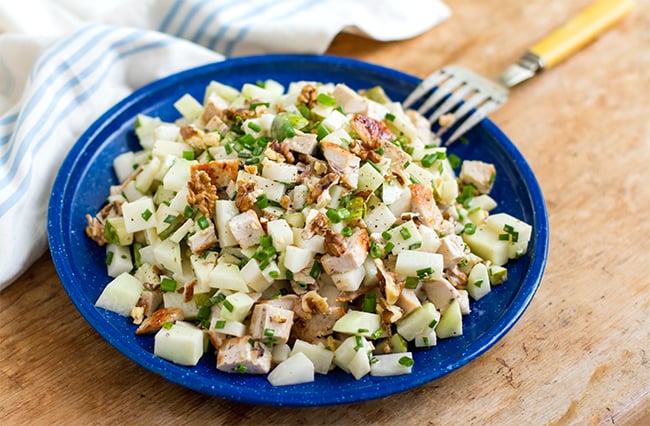 You can try my Chicken, Kohlrabi & Pear Salad or my Warm Chicken & Avocado Salad. Both are great as lunch or dinner meals and will serve 2-3 people.
5. Make my chicken broth egg drop soup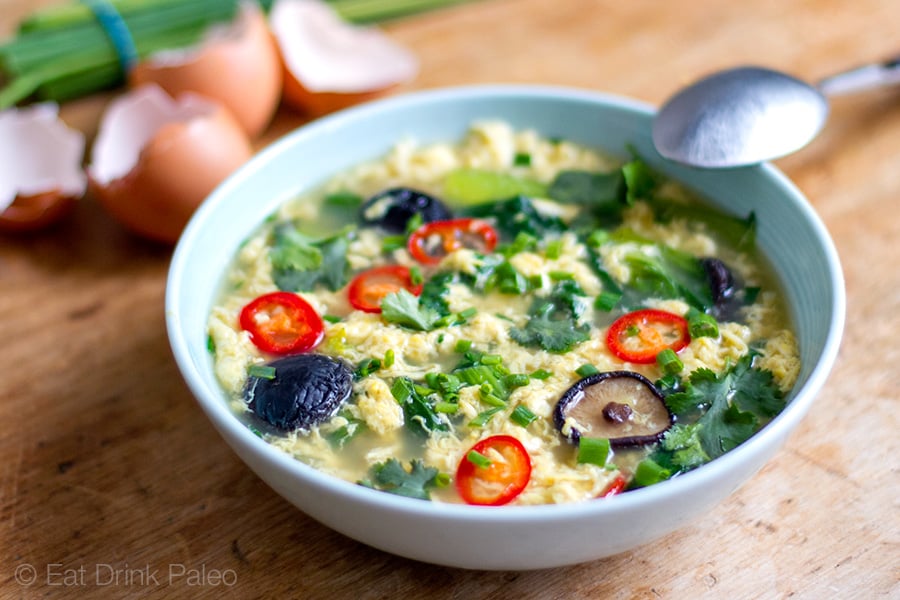 Follow my simple recipe for a Chinese Inspired Egg Drop Soup. I love using leftover chicken broth in this soup, and I add some mushrooms and greens to complete this wonderful meal. My recipe is for 1 person, but you should have enough chicken broth to make two serves.
Another great alternative is to do a chicken roast. Eat some meat as part of the roast meal with lots of veggies on the side, make a gravy with leftover juices and sticky roasting tray goodness, use some meat in a salad the day after, and make a bone broth with leftover bones and carcass.
---
So there you go my friends – that's how you can cook with the whole chicken in a more sustainable way. I'd love to know your tips and tricks for eating meat more mindfully and sustainably. Share with us in the comments below.
---