Learn how to prepare artichokes and cook it using boiling, steaming, roasting or grilling methods. In this post, I show you how to peel an artichoke and clean up the hearts, which is the meatiest, tastiest part of this wonderful vegetable.
---

As you can tell by this photo, I am a big fan of artichokes. Come spring, I often buy a whole bunch of pretty globe flower heads as they are much, much cheaper then. I love them cooked in many ways but my favourite is grilled or roasted with olive oil and sea salt. I'm also partial to a bit of garlic butter as a dipping sauce. 
WHAT ARE ARTICHOKES?
Artichokes, also known as the Globe artichokes, are often associated with Mediterranean cuisine but the vegetable is widely grown and consumed in the Middle East and parts of South America as well as in Australia and the US. It's most commonly found as canned, marinated artichoke hearts used in salads and on top of pizzas. Fresh artichoke is also widely available but many people are intimidated by its peculiar shape and hardy leaves.
What does artichoke taste like?
There are two edible parts in the artichokes. The heart has a semi-firm texture, a little fibrous and in some ways similar to firm mushroom or barely cooked butternut squash. There is also a hairy bit called the choke, which needs to be discarded. Also, the leaves closer to the heart will have a softer, fleshier part to them. The top part of the leaves is not edible, however, you can suck the flesh off the bottom.
Artichoke tastes somewhere between asparagus and mushroom with nutty undertones. It's mild, a little grassy and savoury and goes well with bold flavours like lemon, garlic and herbs. Salted butter tends to bring out those nutty flavours of the artichokes.
It's a strange vegetable because although it is quite large and impressive looking, only a small part of it is edible. However, what is edible is really good and that's why it is worth learning how to prepare an artichoke as there are many delicious ways you can enjoy it.
Fresh whole artichokes are usually in season in spring but in some regions like California, they are available all year round. Whenever they come into season, their price drops dramatically and that's when you should take advantage of them.
ARTICHOKE NUTRITION
Artichoke has one of highest reported antioxidant capacity for vegetables in a form of phytonutrients Cynarin and Silymarin, which have strong positive effects on the liver. Most of the antioxidants are in the leaves, so it's worth saving those that have a little vegetable flesh on them.
Artichokes are low in calories and fat, have some carbohydrates, mostly in the form of fibre, and decent amounts of Vitamin C, potassium, folate and magnesium.
HOW TO PREPARE AN ARTICHOKE
Your artichoke preparation steps will vary based on how you want to cook this vegetable.
If you can want to cook the whole globe, you have to cut off the stem and peel off the first 2-3 layers of the leaves. You can also slice off the top half of the globe as there is no edible flesh in the top of the leaves.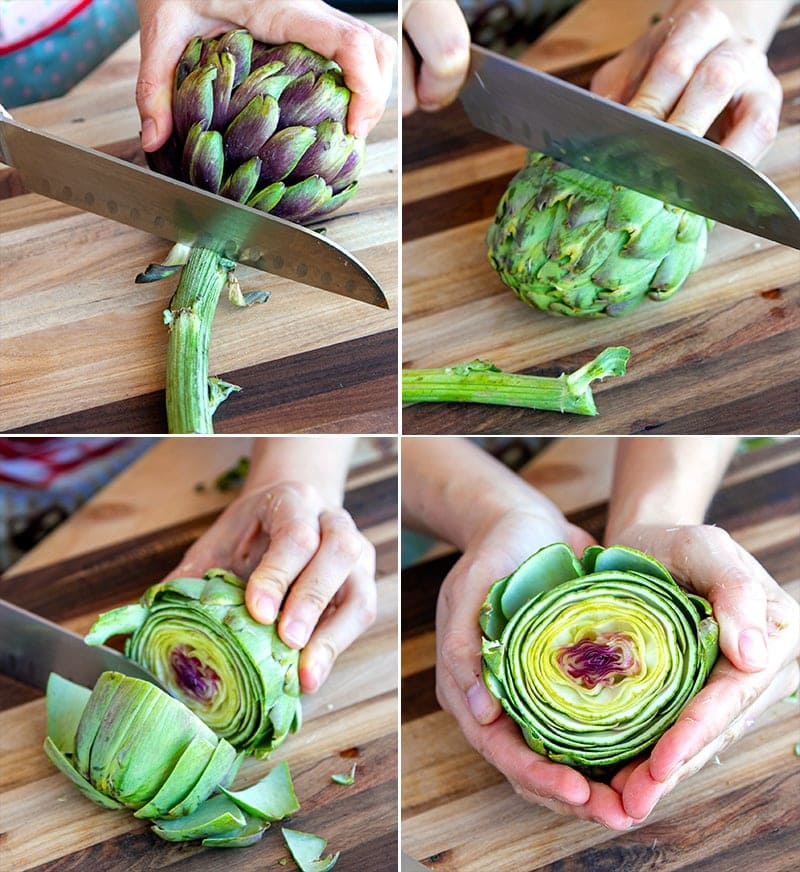 Leaves closer to the core (or the heart) have a pale, fleshy part on the bottom. Once cooked, this part of the leaves can be eaten and is often dipped in sauces like hollandaise, vinegar, butter, mayonnaise or aioli.
You can also cut the artichokes in two halves and remove the fuzzy choke centre. Place prepared artichokes in lemon water while doing the rest to stop discolouration.
How to prepare artichoke hearts
Alternatively, you can peel off all of the leaves and only use the hearts. Once the outer leaves are off, use a peeler to peel the stem, you want to expose the pale part of the artichoke head.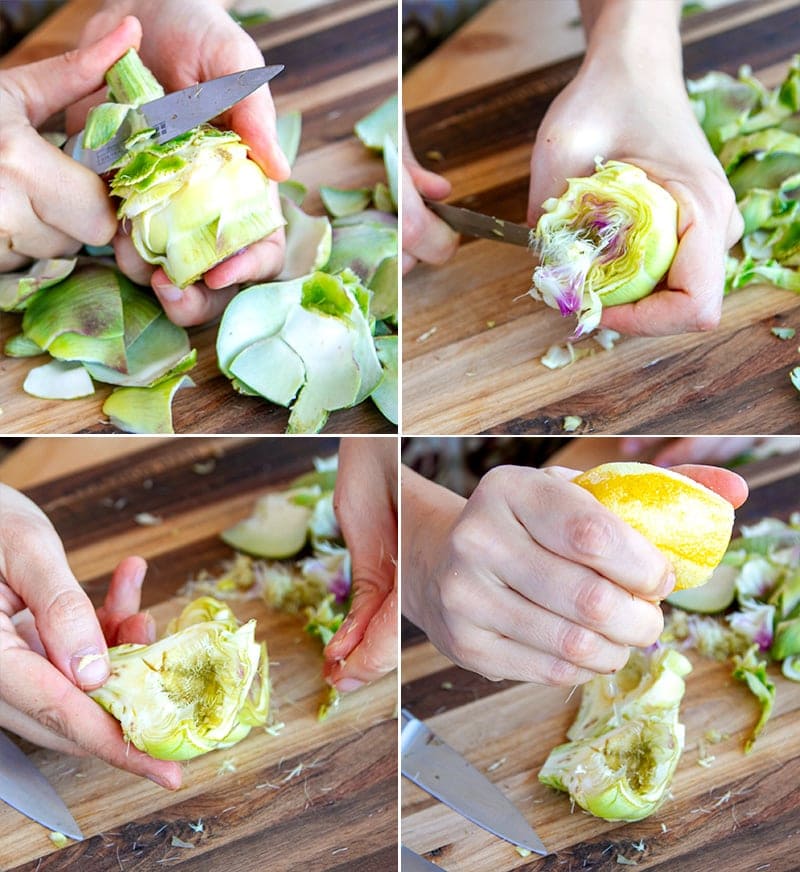 Now remove the hairy, fuzzy choke in the centre of the heart using a knife or a spoon. You can also cut the artichoke in half or quarters and then cut out the fuzzy choke.
Artichoke has a tendency to brown quickly. You can drizzle or rub the heart with lemon juice to stop discolouration or you can submerge the whole artichokes in a pot of water with some lemon juice or vinegar.
HOW TO COOK ARTICHOKES
You can cook the whole artichokes or hearts. Artichokes can be baked, fried, steamed, boiled or grilled. You can stuff them with fillings such as nuts, herbs and garlic, ground meat, cheese and cook in the oven. Cooked artichokes can be used in salads, bakes, casseroles, to make pesto or dips.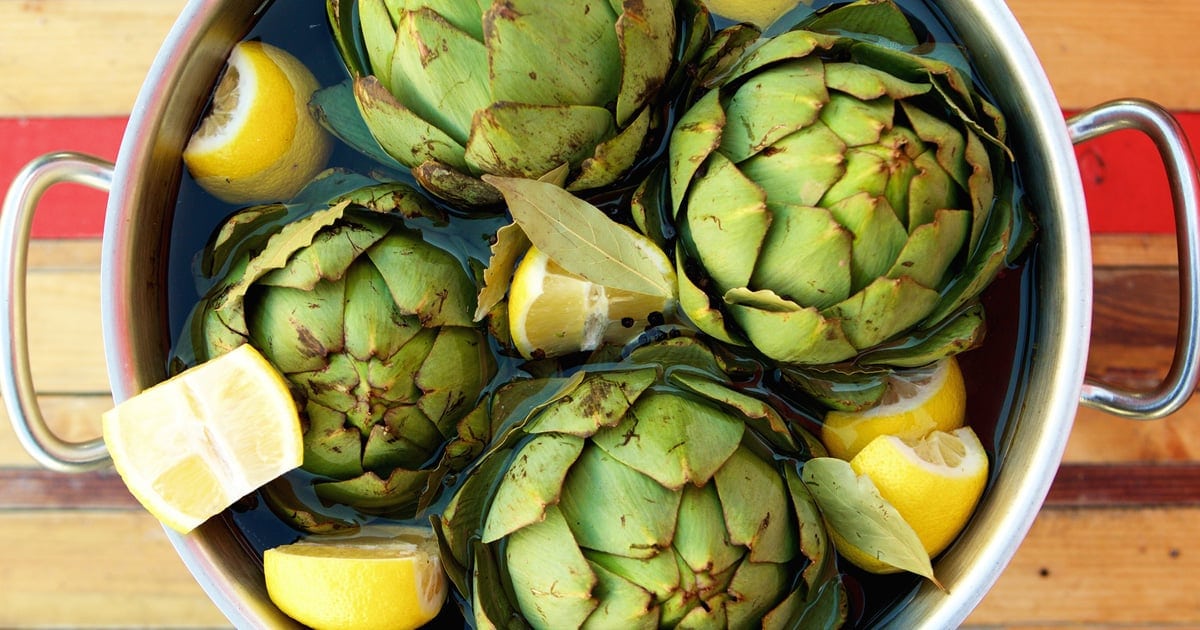 Steaming artichokes
Bring a pot of water to a boil. You can add aromatics such as herbs, garlic and lemons. Place a steaming basket over the top and add the artichokes. Cover the pot and reduce the heat to simmer. Steam for 30-40 minutes, depending on size, turning the artichokes over halfway. If steaming just the hearts, only 5-10 minutes is needed.
Boiling artichokes
Bring a pot of salted water to a boil and add the artichokes. You can also add some lemon juice, garlic, bay leaf or other herbs. Submerge the artichoke and turn down to simmer. Cook for 15-30 minutes, depending on the size of the artichoke. If boiling just the hearts, only 3-4 minutes is needed.
Learn how to cook artichokes quickly using an Instant Pot pressure cooker here.
ROASTING ARTICHOKES
Coat prepared whole or halved artichokes with olive oil, salt, and pepper. Place in the oven tray cut side down and roast in the 200 C/400 F oven for about 25-30 minutes until tender.
Grilled artichokeS
The best way to grill whole of halved artichokes is to steam them for 15-20 minutes first. Then brush with olive oil and cook on a hot grill for 5-10 minutes until lightly charred. Season with sea salt and pepper.
Artichoke hearts can be grilled without steaming. You will need 5-10 minutes in a frying pan or over a hot grill on your BBQ.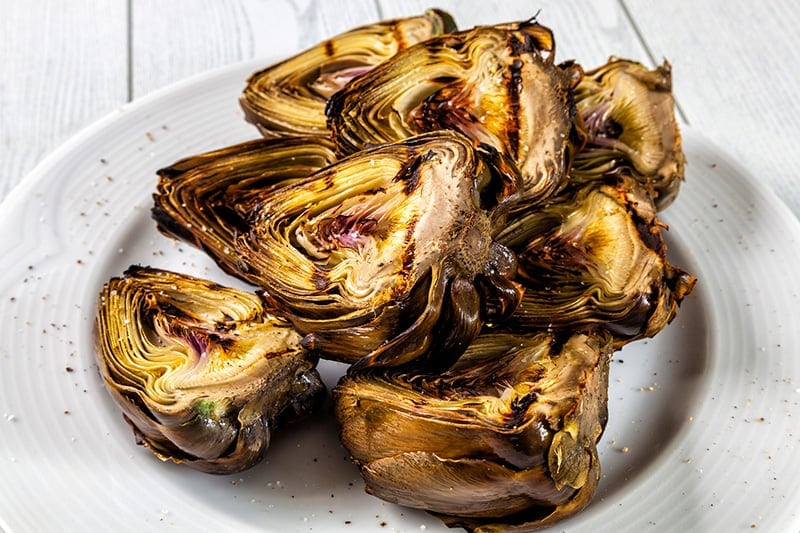 EATING ARTICHOKES
The heart is eaten when the inedible choke has been peeled away from the base and discarded. The thin leaves covering the choke are also edible.
To enjoy the whole cooked artichokes, simply pull out the leaves, dip the ends in a dressing of choice (melted butter, garlic butter, lemon butter, balsamic and olive oil, hollandaise, aioli, lemon juice) and place between your teeth. Pull the soft, meaty flesh of the leaf with your teeth, it should be very soft, like overcooked asparagus.
Once you get to the heart, it will be firmer and you can it all of it as long as the fuzzy choke is removed. The fibrous upper part of each leaf is usually discarded.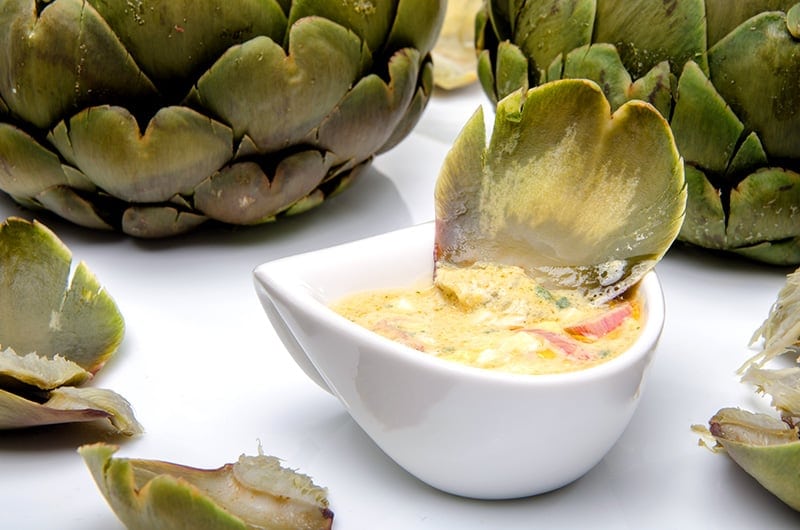 Artichoke hearts are much meatier and can be eaten whole, so they are often used in pasta, salads, on pizza, pulped into a dip or pesto. Try my grilled artichoke hearts with lemon and garlic recipe.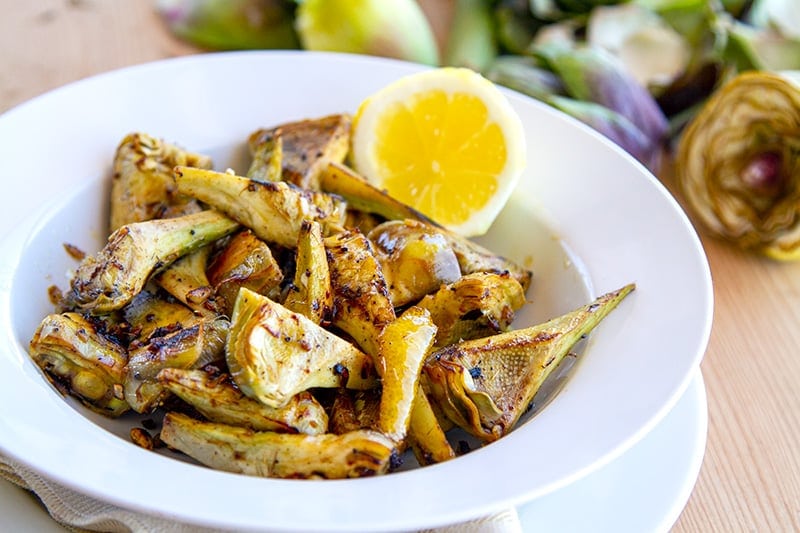 TRY THESE ARTICHOKE RECIPES
Artichoke pesto
Roman-style artichokes (you could replace breadcrumbs with nuts)
Artichoke Spanakopita with Za'atar
Artichoke & potato soup
Grilled artichoke pesto zucchini wraps
Braised baby artichokes with chestnut honey and thyme
Pickled artichoke salad
SAVE THIS ARTICHOKE GUIDE TO PINTEREST