From hearty stews and soups to baked casseroles, I have put together some of the best Keto & Low-Carb Winter Recipes that are comforting, cosy and healthy. Enjoy these winter warmer recipes in your belly well into spring. Total and net carbohydrates provided.
---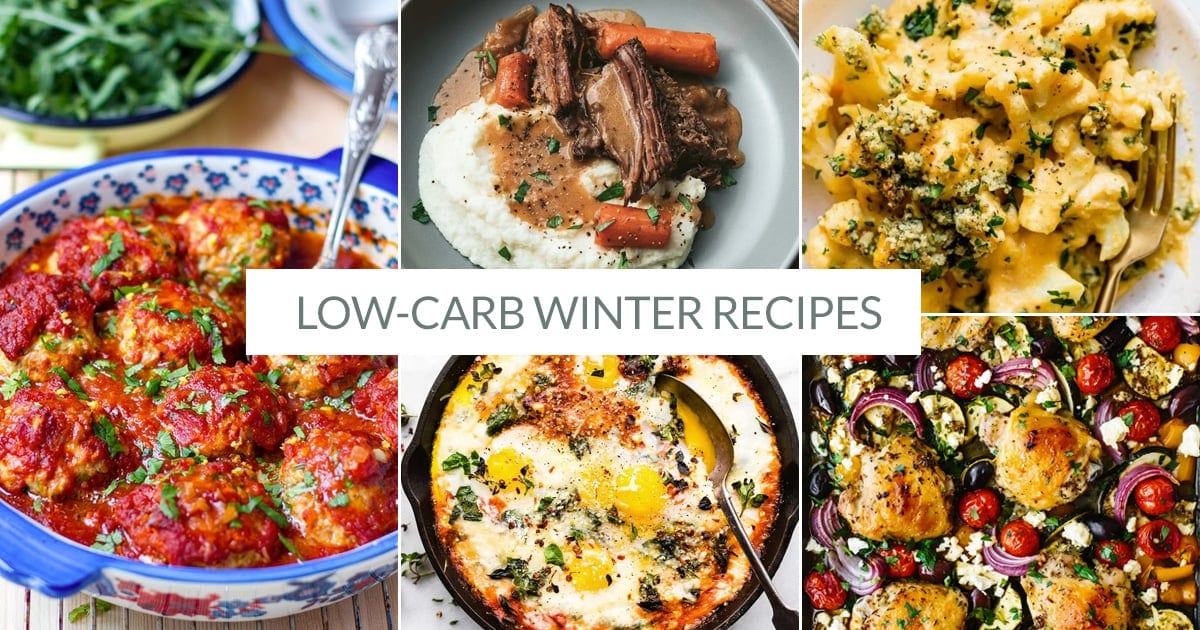 Comfort food is the best way to combat winter blues, although it is welcome all year round. Once the temperatures drop, winter favourites grace our table: a soul-warming bowl of soup, pot roast, slow cooker stew, or a bubbling bake. Winter produce like citrus, pumpkin, potatoes, carrots, beets and cruciferous vegetables make a regular menu appearance.
What Are Go-To Winter Recipes And Foods?
Dishes that use seasonal winter produce.
Recipes that are roasted or baked in the oven, because we can all with a little more heat. Sunday roast, anyone?
Anything soupy or stewy so that we can warm up with a tasty broth.
Hearty skillet meals and sheet pan baked meals, casseroles and bakes, slow cooker and pressure cooker favourites, spicy curries, and warm salads.
Warm porridge and hearty egg dishes for breakfast.
Saucy, gooey, rich desserts, lots of pumpkin spice and citrus flavours too.
---
Best Low-Carb Winter Recipes
When the air gets crisper and the days get shorter, it's time to bring out those autumnal and winter dishes to warm you up. When it comes to comfort food for the soul, these low-carb winter recipes are on high rotation in our house.
---
Low-Carb Winter Soups
A good soup warms the body and soul so it's naturally the first dish you think about in winter. Soups are typically veggie-heavy so they will have more carbohydrates than animal-based meals, but I've selected a variety of hearty and warm recipes to choose from. Find more of my soup recipes here.
This dairy-free chicken tortilla soup comes with added kale for extra nutrients. This Mexican favourite doesn't have any tortilla chips but the pumpkin seeds provide extra crunch. You can top it with extra cheese or sour cream for extra satiating fats. Total carbs: 34.1 (net: 23 g).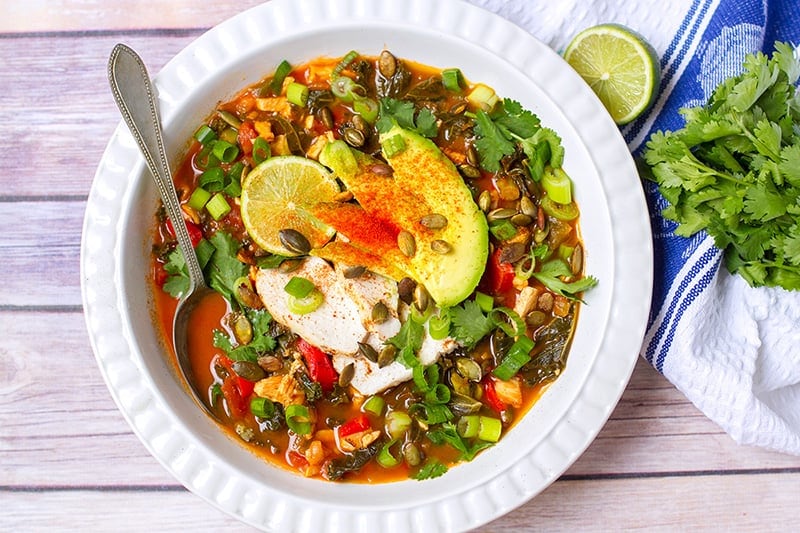 Cooked with creamy coconut milk and anti-inflammatory turmeric spice, this zucchini soup is healing and nutritious, perfect for those with digestion or gut-health issues. It's low-carb and vegan-friendly. Total carbs: 25.8 (net: 20 g).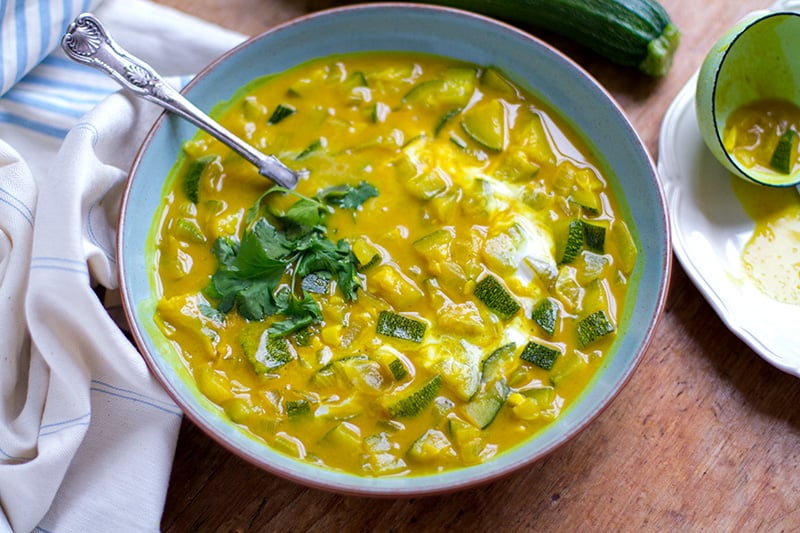 This easy low-carb chicken soup recipe is packed with chicken meat, vegetables, fresh herbs, and plenty of flavour. It's like a hug in a bowl. Recipe from Sugar-Free Londoner. Total carbs: 10.2 (net: 8 g).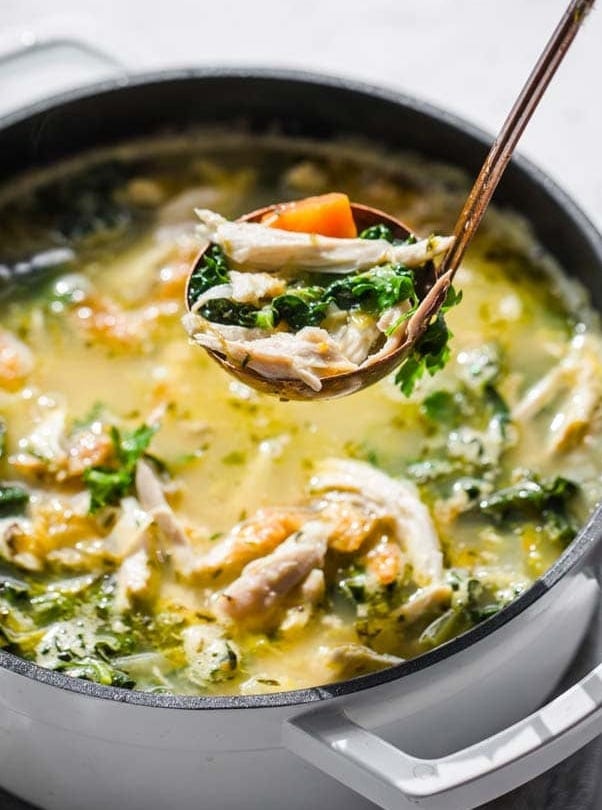 This Hungarian vegan mushroom soup is rich, creamy and makes the perfect healthy lunch or light dinner. It's a lighter, dairy-free, and vegan-friendly version of cream of mushroom soup that is also low on carbs. Total carbs: 10.2 (net: 2 g).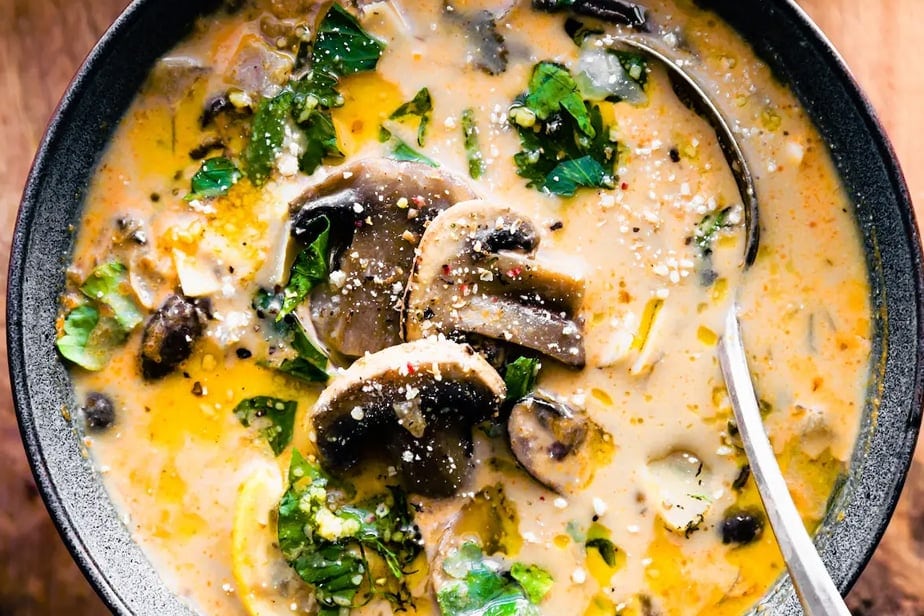 Low-carb and keto-friendly creamy taco soup is warm and comforting. It's packed with veggies and topped with fresh avocado and lime juice and is the perfect way to enjoy tacos without the added carbs! From Gimme Delicious. Total carbs: 5 (net: 4 g). 5 g / 4g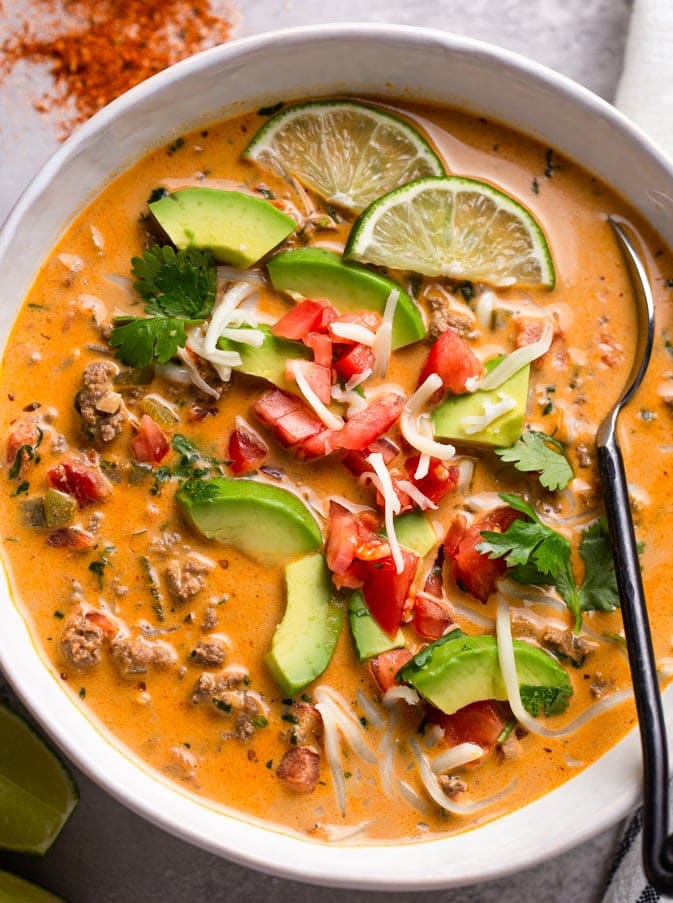 This roasted cherry tomato soup with creamy mascarpone isn't keto but is still low-carb and is super decadent and delicious. It's Bisque-like, tangy and a little sweet. Top with roasted chicken or grilled paneer or tofu for extra protein. Total carbs: 21.3 (net: 15 g).

---
Keto & Low-Carb Stews
Here are some of my favourite saucy stews, braises, and curries that are keto or low-carb friendly. With most stews, I serve them with cauliflower rice, zucchini noodles, cauliflower mash, or pumpkin mash. If not aiming for very low-carbs, I would do some sweet potato or a little quinoa on the side. You can also make low-carb, keto bread rolls.
This hearty coconut lamb curry is a bit of fusion but is primarily Indian in flavour. It's very easy to make and can be done in a slow-cooker, Instant Pot or on the stove. It's great for freezing. Serve with cauliflower rice! Total carbs: 17.4 (net: 13.3 g), can be less without carrots.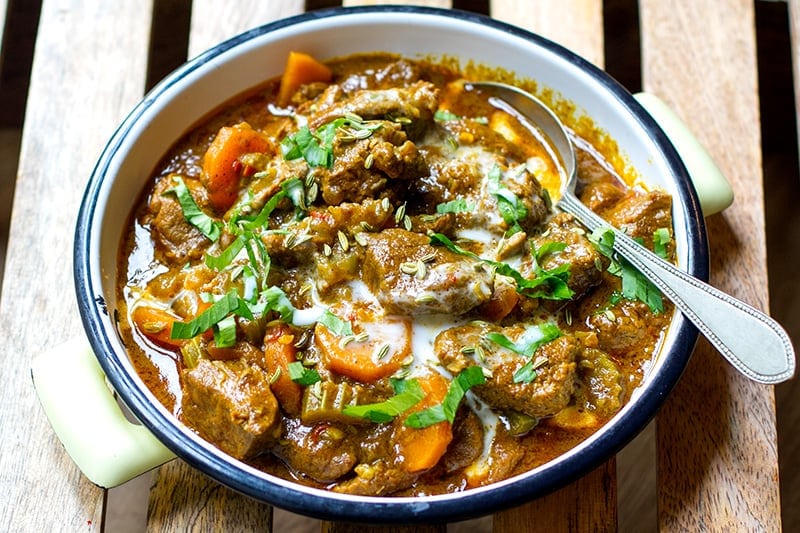 This is Italian-inspired nutrient-dense shredded beef ragu is hearty and delicious. You can serve it with sweet potato noodles for a slightly higher carb meal or with zucchini noodles, cauliflower rice or baked vegetable cheese casserole for a lower-carb, more keto-friendly meal. Total carbs: 38.3 (net: 30.9 g), including sweet potato noodles.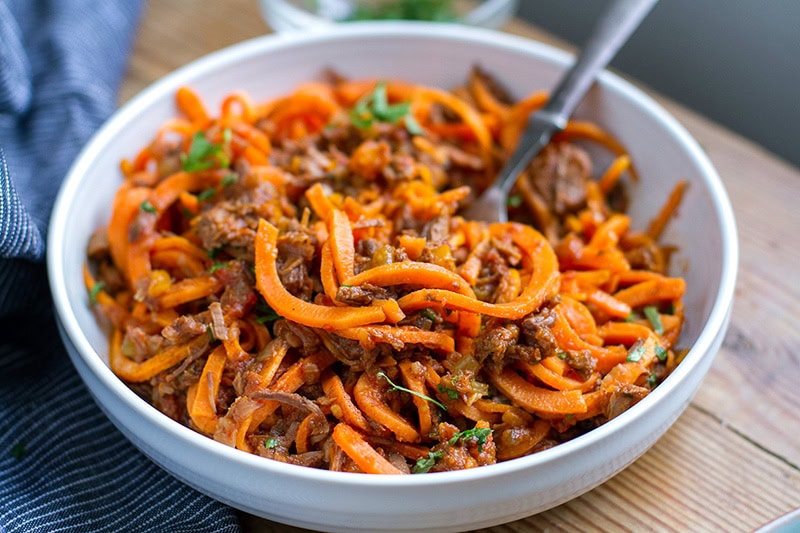 Beautifully rich and colourful, pisto is a Spanish vegetable stew with eggplant, zucchini, tomatoes and peppers. It's rich in olive oil so it's very satiating. Serve with a fried egg on top or with a side of cheese and cauliflower rice or low-carb bread rolls. Total carbs: 10.5 (net: 6.5 g).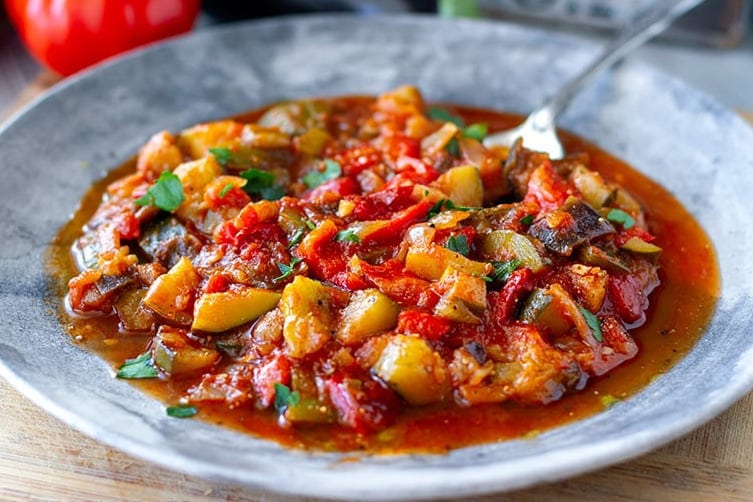 This keto-friendly white chicken chili is the ultimate comfort food. Quick, easy, and packed full of flavour, it's perfect on cold days or when you just need a filling, low-carb meal. Recipe from Easy Healthy Recipes. Total carbs: 7 (net: 6 g).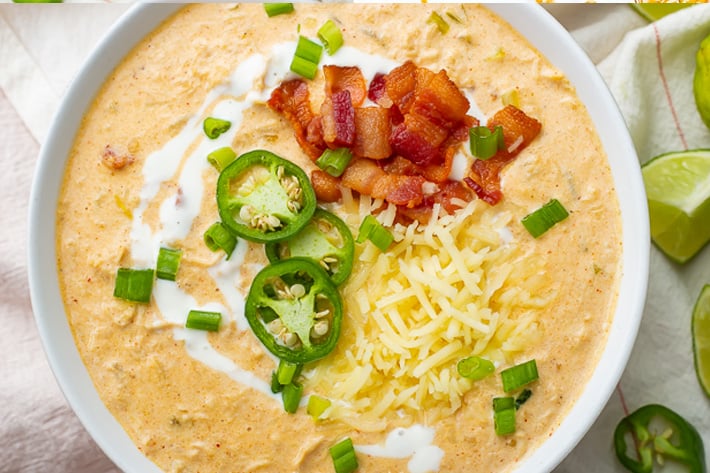 Creamy Thai green curry with juicy chicken and sweet roasted vegetables is perfect for warming up the belly and can be done on the stovetop, in the Instant Pot or slow cooker. Paleo & Whole30 friendly, too. Recipe from I Heart Umami. Total carbs: 16 g (net: 11 g).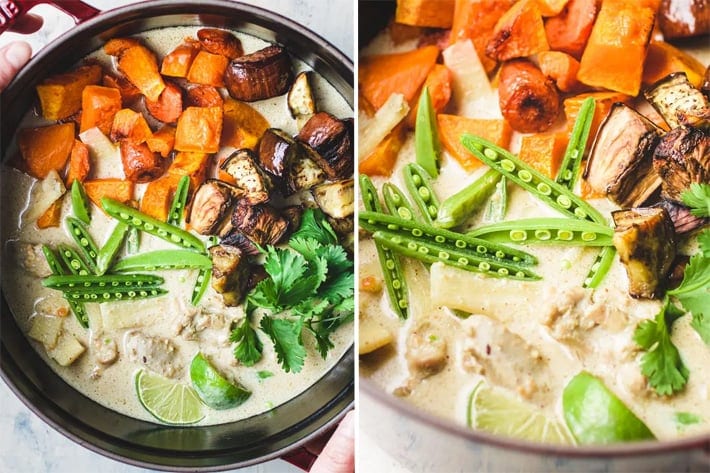 This healthy, grain-free, dairy-free adaptation of a traditional dal (or dahl, dhal) is made with pumpkin and cauliflower and no legumes. This stew-like Indian-inspired dish is nutritious and full of fibre, plant-based and low-carb. Total carbs: 29 (net: 24 g).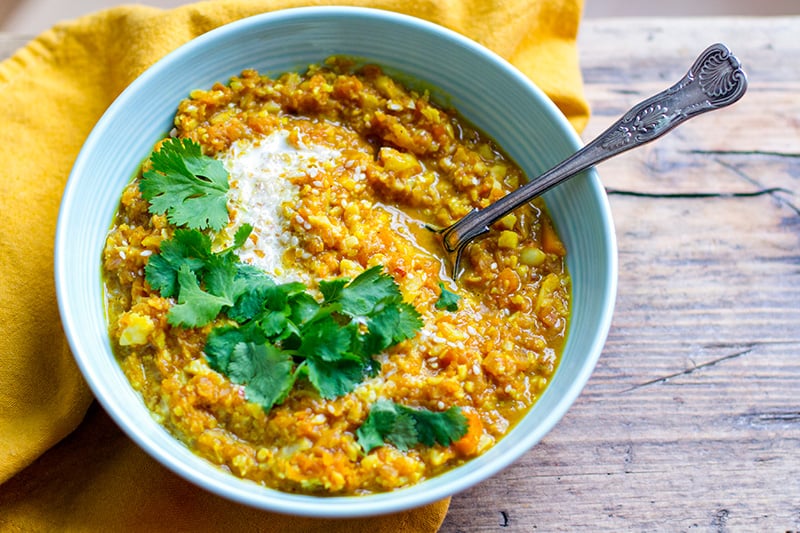 ---
Low-Carb Casseroles & Baked Dishes
Who doesn't love a good casserole or baked dinner in the winter? It's a classic cold-weather dish that represents all that's great about the stick-it-in-the-oven-and-forget-about-it thinking. From saucy meatballs and enchiladas to baked pizza, these are bookmark-worthy recipes!
Tender, juicy and delicious, these baked chicken meatballs are filled with hidden veggies and cooked in a lightly spiced tomato sauce. Can be done dairy-free or finished with grilled cheese on top. Total carbs: 6g (net: 4 g).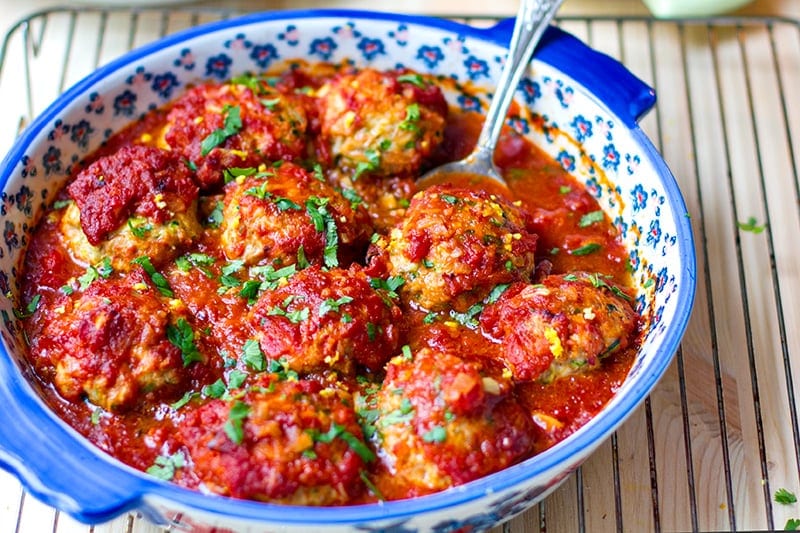 This creamy chicken broccoli casserole is super easy to throw together and is perfect for a winter night as it's rich, cheesy and comforting. Recipe from My Keto Kitchen. Total carbs: 6g (net: 4 g).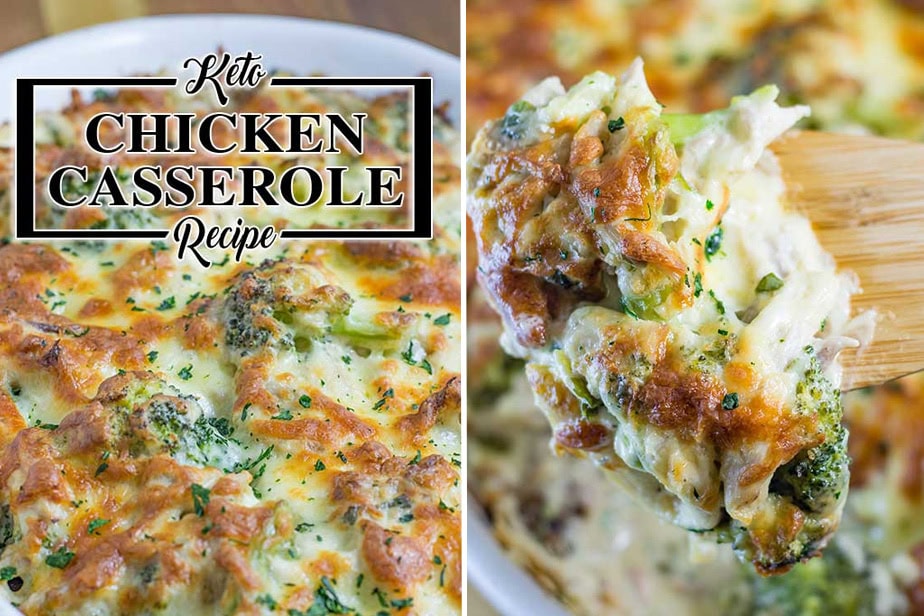 This amazing family-friendly lasagna dish is filled with healthy vegetables like zucchini, mushrooms and spinach and layered with nutritious grass-fed beef sauce. Top with ricotta and melting cheese or go dairy-free. Total carbs: 26.3g (net: 17 g).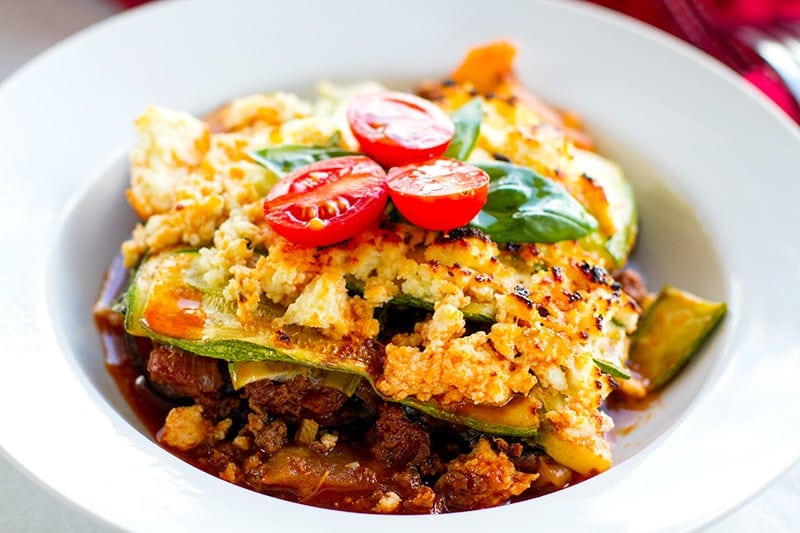 Low-carb green chicken enchiladas are the comfort food of comfort foods. You can make these entirely from scratch or opt for the easier method with store-bought low-carb ingredients. Recipe from Step + Spoon. Total carbs: 26g (net: 18 g).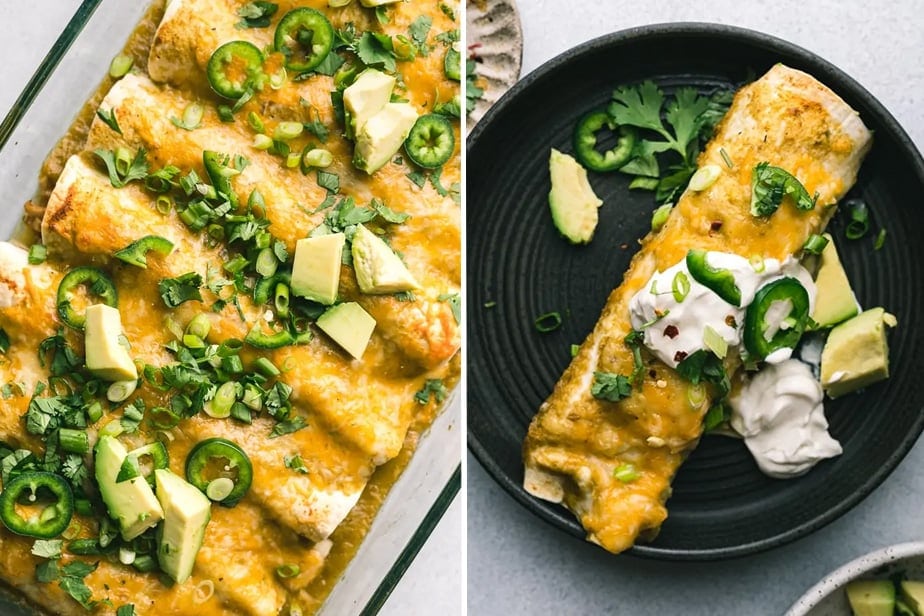 This low-carb spaghetti squash and shrimp bake is the perfect comfort bake. All the buttery, warm and delicious flavours of garlic shrimp scampi are paired with tender spaghetti squash noodles and a touch of cheese (optional). Total carbs: 7.2 g (net: 6 g).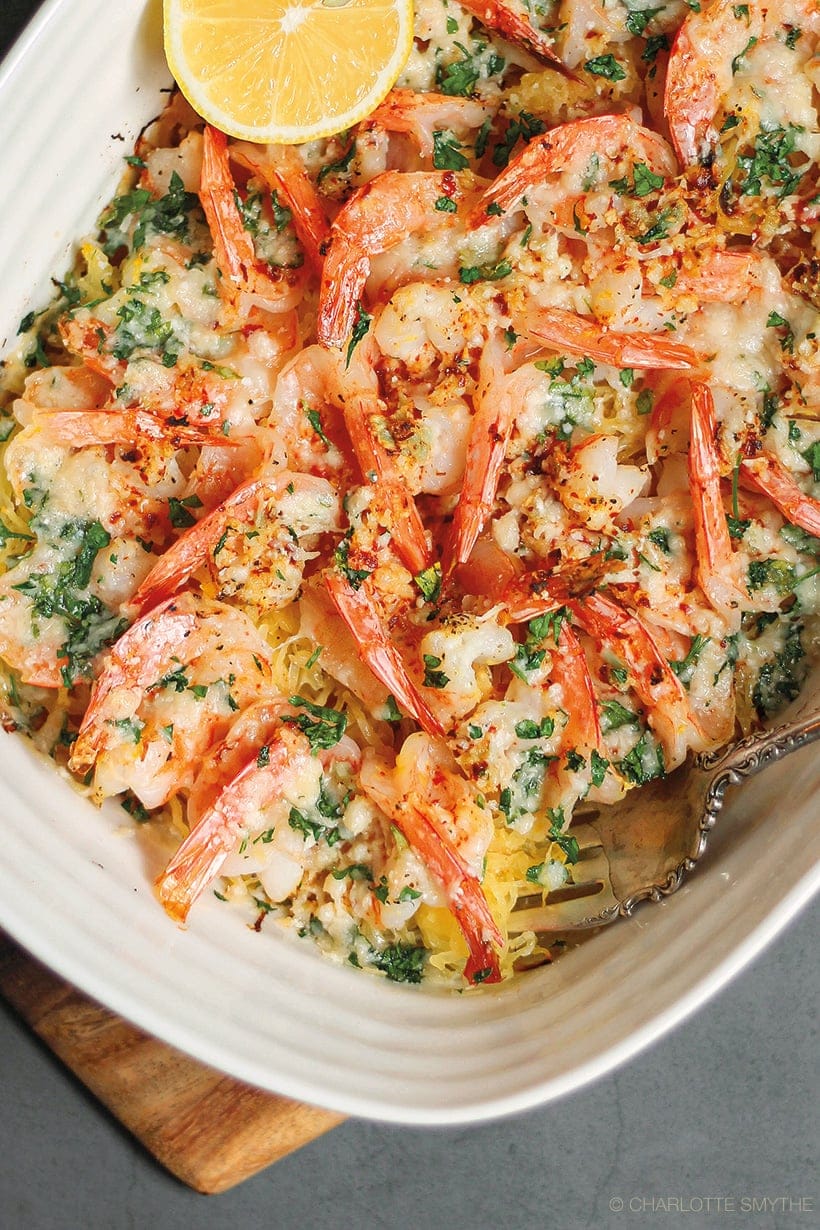 Creamy, ultra cheesy, and super indulgent low-carb mac and cheese prepared with cauliflower, bacon, and cheddar cheese! Recipe from Diethood. Total carbs: 13g (net: 10 g).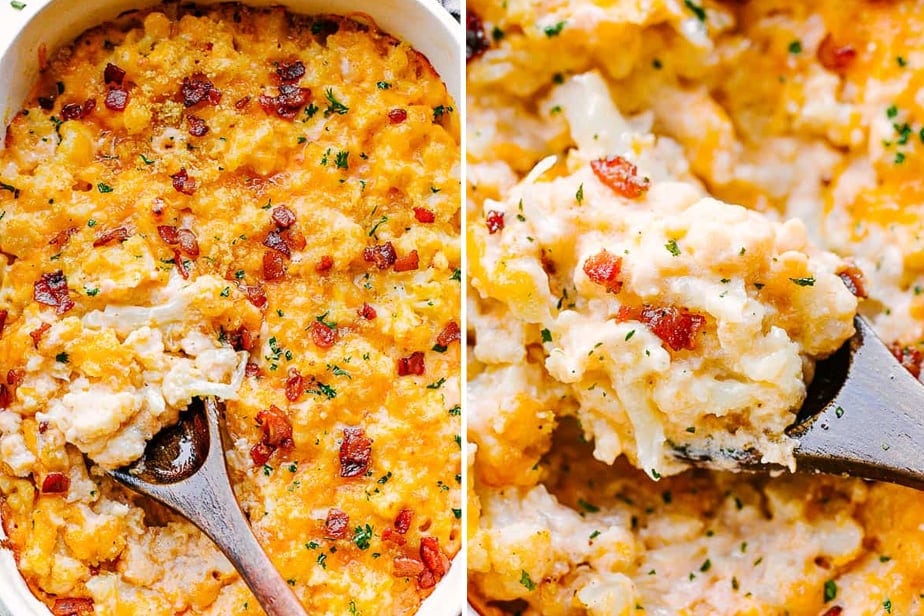 What about a low-carb mac and cheese without cheese, butter or cream? Try this creamy, veggie-packed, vegan cauliflower mac and cheese recipe that's dairy-free AND grain-free. Recipe from The Real Food Dieticians. Total carbs: 21g (net: 18 g).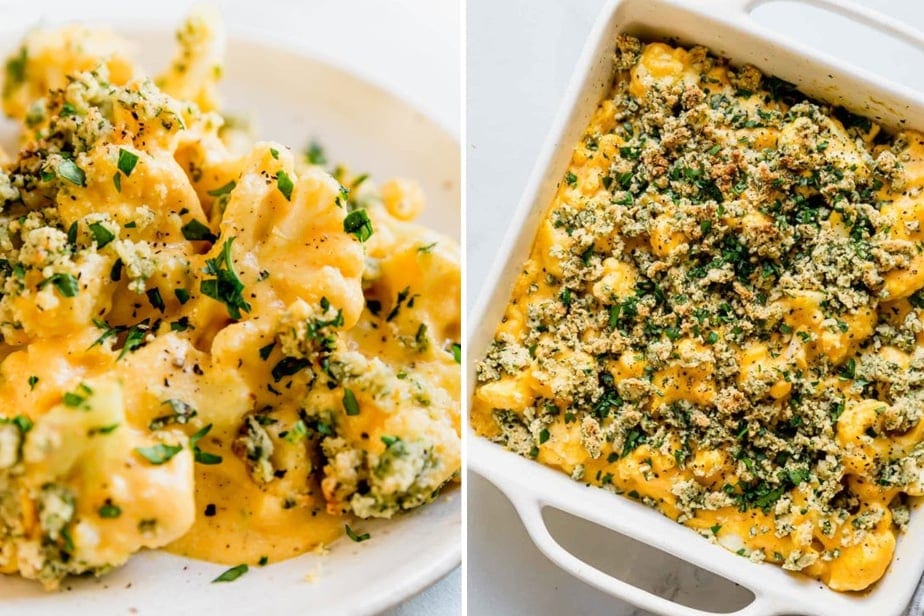 Baking pizza in the oven is a fun winter activity for the whole family! Learn how to make the best keto pizza using a simple dough that makes a chewy and golden crust! No yeast and no cauliflower needed, ready in 20 minutes! Recipe from Big Man's World. Total carbs: 6g (net: 2 g).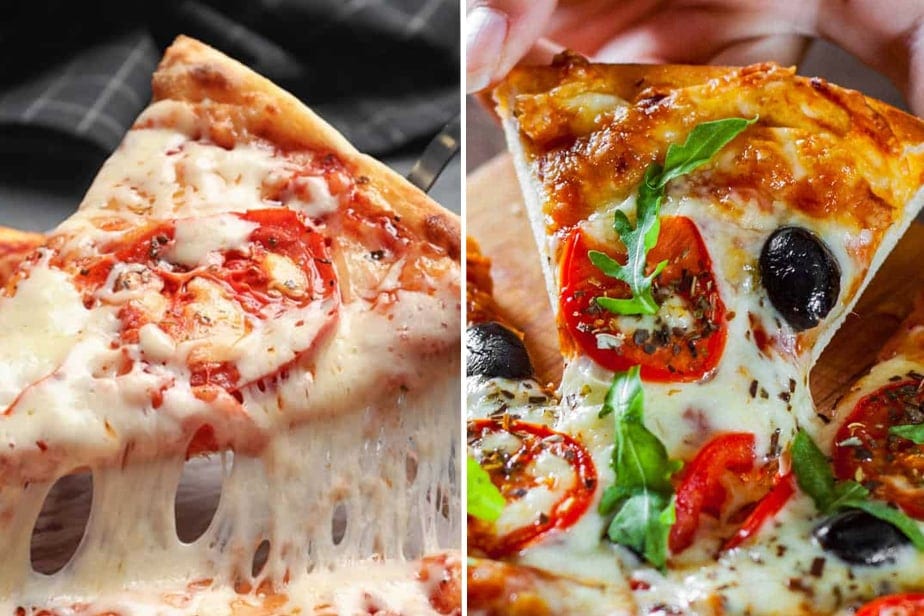 This keto-friendly casserole is packed with fresh spinach, beef, and cheese, then combined with cauliflower rice and baked. A meal the whole family will love. Recipe from Diethood. Total carbs: 13g (net: 10. g).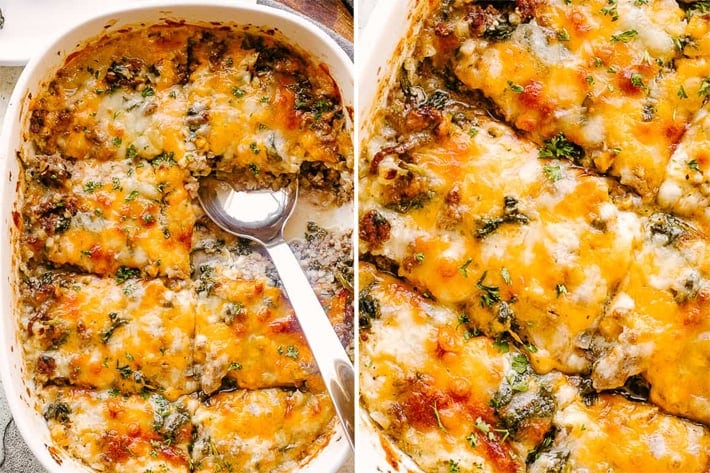 ---
Hearty Low-Carb Roasted Dishes
From Sunday roast chicken and vegetables to slow-cooked lamb or pork, these low-carb friendly recipes are perfect for the oven. Cook dinner and warm up the kitchen at the same time!
This oven-cooked brisket is braised in the balsamic and Worcestershire broth that is then caramelised and the meat is browned during the roasting process, resulting in the most succulent meat full of flavour. Total carbs: 11g (net: 10.1 g).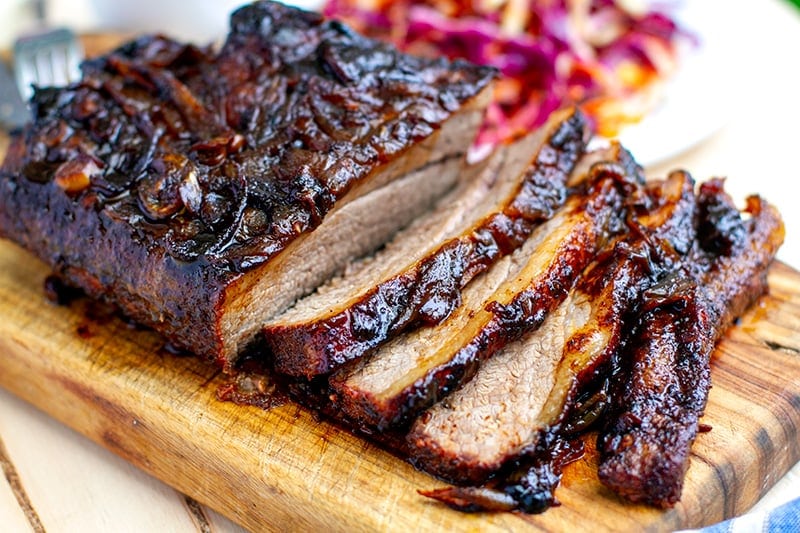 Pot roast is a classic weekend meal, and this low-carb version skips the potatoes for a delicious, clean and keto pot roast recipe that will not disappoint! Serve it with cauliflower mash and a flavorful gravy made from the pot roast juices for an epic Sunday night dinner. Recipe from Stem + Spoon. Total carbs: 3g (net: 2 g), but I think the cauliflower mash isn't counted there.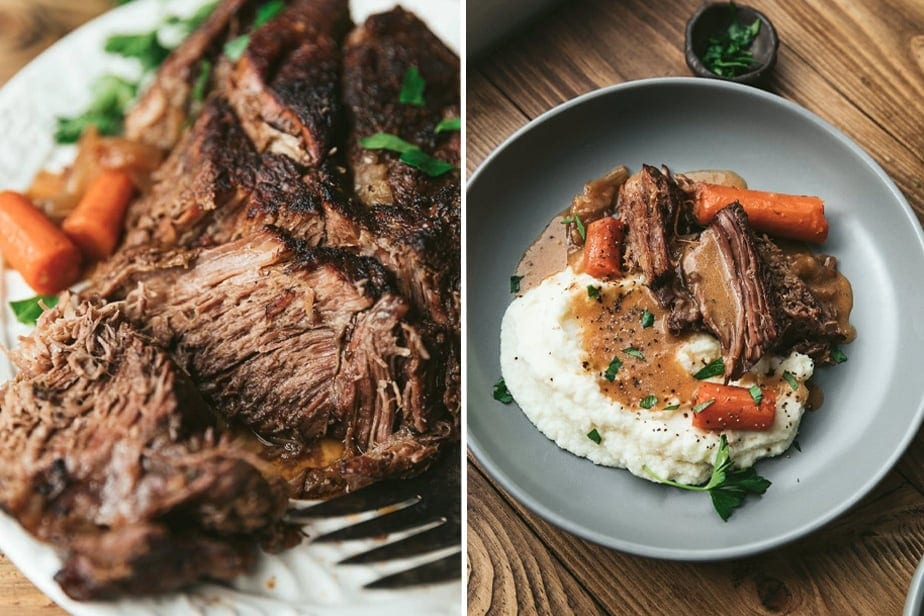 This Greek-style roasted lemon garlic chicken is perfect for a weekend dinner and can be done with whole or half chicken, or smaller pieces of poultry. Total carbs: 1g (net: 2 g)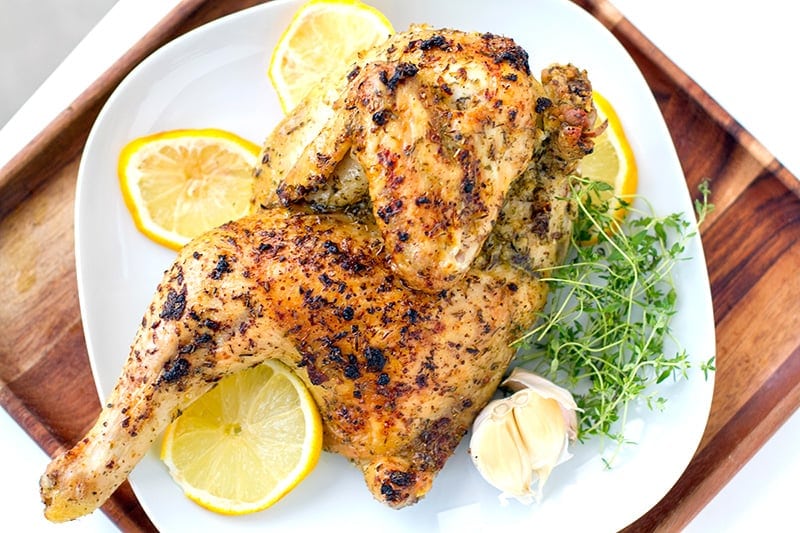 ---
Low-Carb Sheet Pan Recipes
Sheet-pan meals are all the rage and with good reason—simple prep, easy cleanup. Pick a protein, vegetables, and healthy fast, arrange on a thin baking tray or sheet pan, season, and bake. Here are some low-carb-friendly options! 
I love a sheet pan meal in the winter. They are quick and easy to prepare, get your oven nice and hot and require minimal cleanup. More time to put your feet up in front of the fire or Netflix! Total carbs: 12.3 g (net: 8.5 g)
This healthy and nutritious sheet pan-baked salmon with herb & garlic sauce and green vegetables is easy to assemble and takes little time to cook. Total carbs: 14.8 g (net: 9.3 g)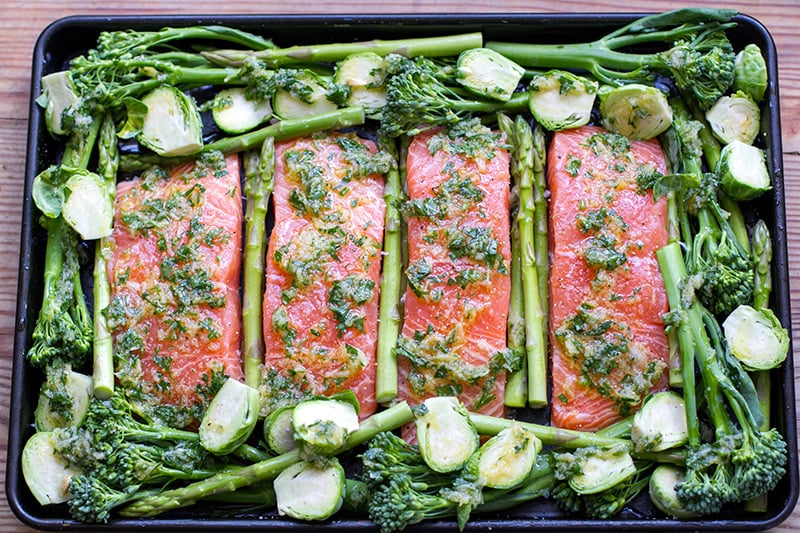 Greek sheet pan chicken is an all-in-one meal with succulent chicken thighs nestled around vibrant, caramelized vegetables. Recipe from Downshiftology. Total carbs: 10 g (net: 7 g)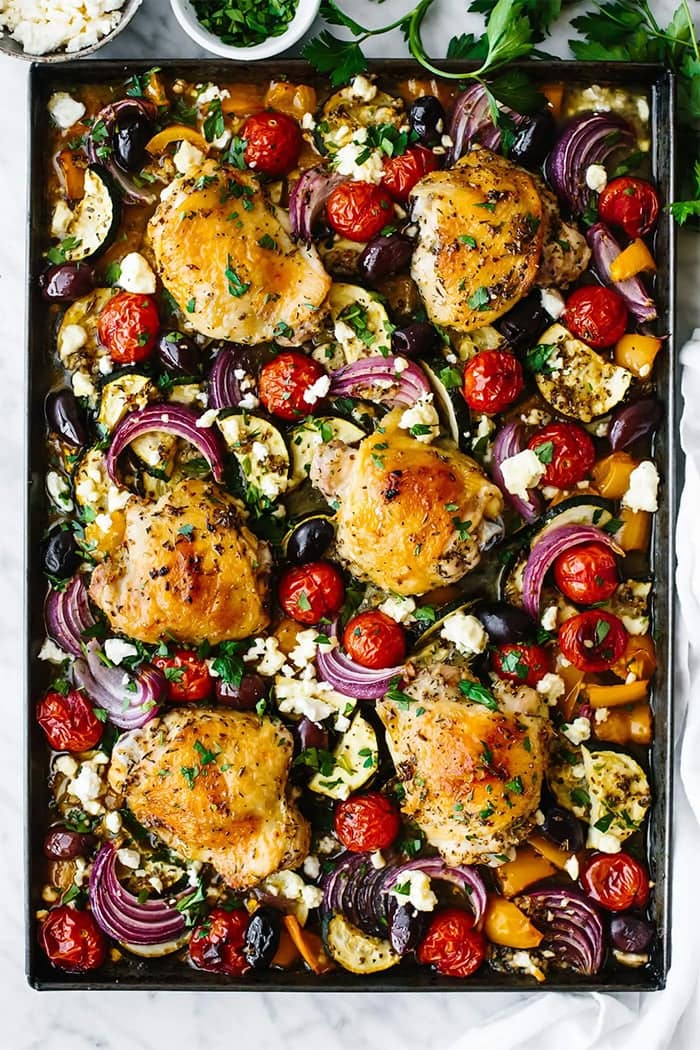 Low-carb harissa chicken thighs with roasted vegetables is an easy and flavorful sheet pan served with creamy lemon-coriander Greek yoghurt. Recipe from Stem+ Spoon. Total carbs: 13 g (net: 10 g)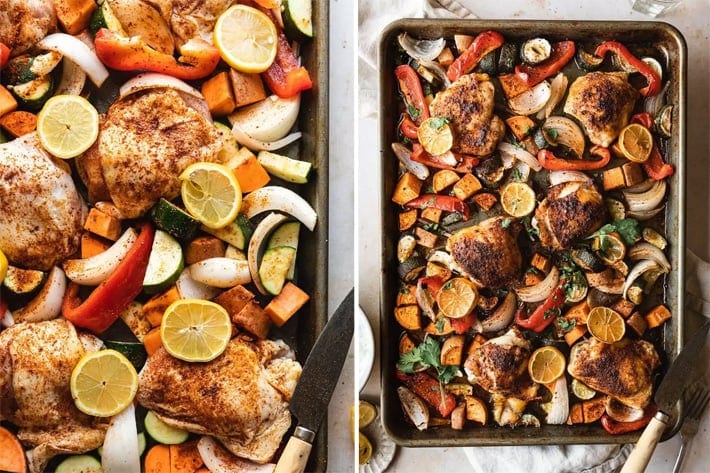 ---
Low-Carb Skillet Recipes
One-skillet meals are the go-to when you need a fuss-free dinner. A cast-iron skillet is best but you can also make these recipes in a regular large frying pan.
Cauliflower risotto shrimp skillet is an easy peasy low carb dinner. Make this recipe in one pan in only 20 minutes! Recipe from Cotter Crunch. Total carbs: 8.1 g (net: 6 g).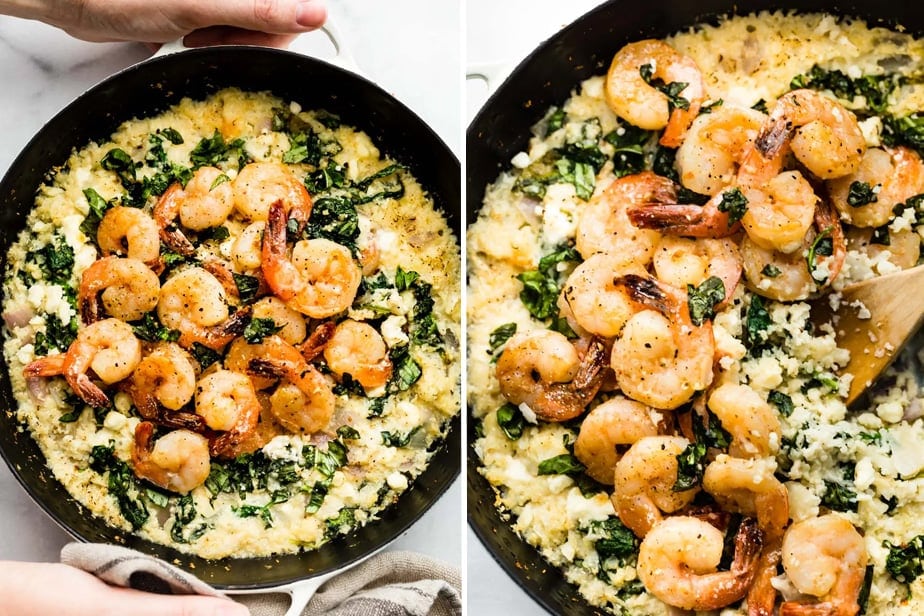 These garlic butter burgers with zucchini noodles make a delicious low-carb/keto dinner you'll remember for a long time. A super twist on the classic beef burger. Recipe from Eat Well 101. Total carbs: 12.5 g (net: 9.7 g), please note the nutritional label on the actual recipe is incorrect. I recalculated the macros and got the right numbers.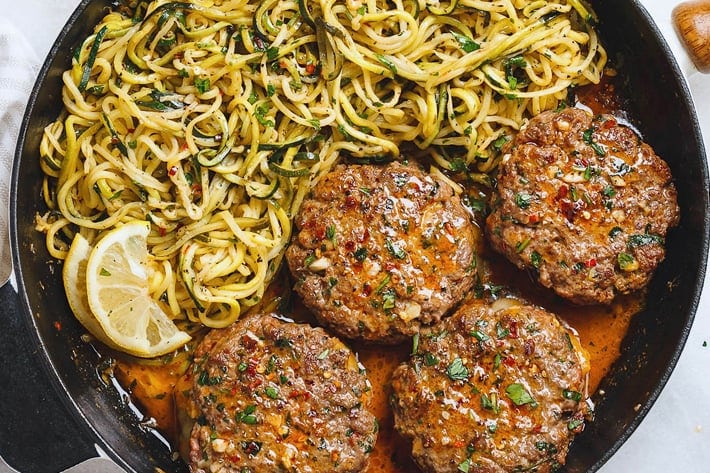 Enjoy a fresh, light, and flavorful meal with this Creamy Garlic Parmesan Salmon recipe. It is the perfect way to prepare salmon without drying it out. Recipe from Gimme Delicious. Total carbs: 4 g (net: 3 g).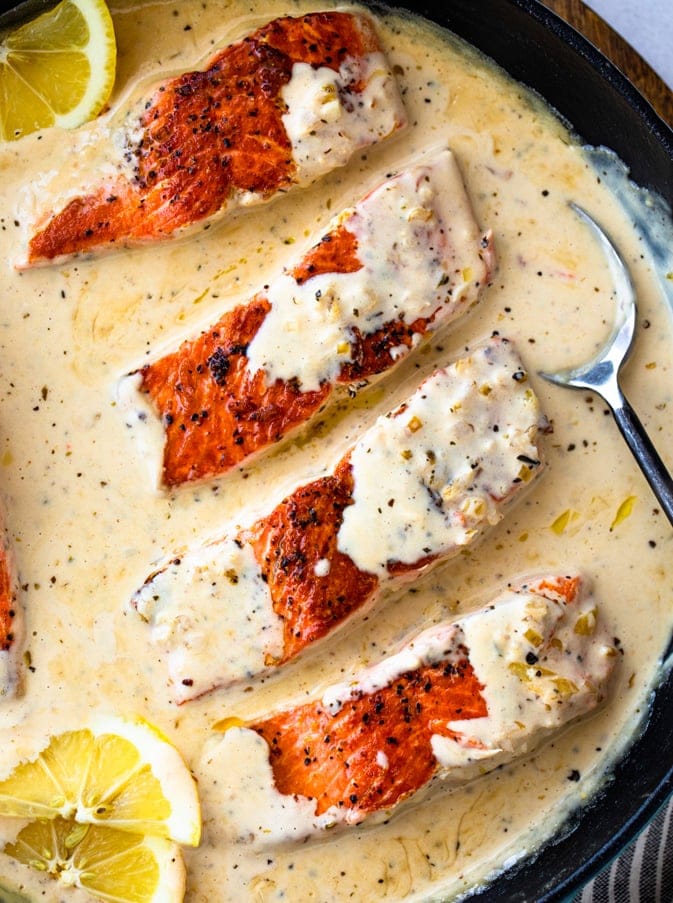 This Greek chicken skillet is an easy, one-pan meal made with seasoned chicken breasts simmered in a delicious sauce made with tomatoes, olives, and feta. Recipe from The Endless Meal. Total carbs: 16 g (net: 13 g), but can be reduced by omitting honey or using just 1 teaspoon.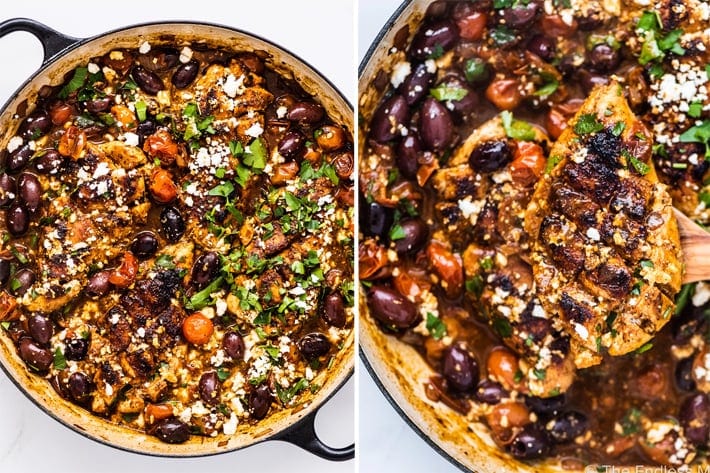 Chicken and asparagus is a winner for dinnertime. This keto skillet meal has so much flavour and is easy to throw together. Recipe from Eat Well 101.Total carbs: 8.2 g (net: 5.9 g), once again the nutrition label on the actual recipe gives incorrect macros, use my numbers as I have recalculated.
---
Healthy Winter Salads
Salads aren't just for summer!!! Using roasted vegetables, warm protein and seasonal winter produce, you can enjoy satiating salad meals that are heavy on vitamin-rich veggies to keep your immune system in top-notch over winter.
You will fall in love with my roasted vegetable chorizo and feta salad with pomegranate dressing. Total carbs: 29.4 g (net: 24.6 g).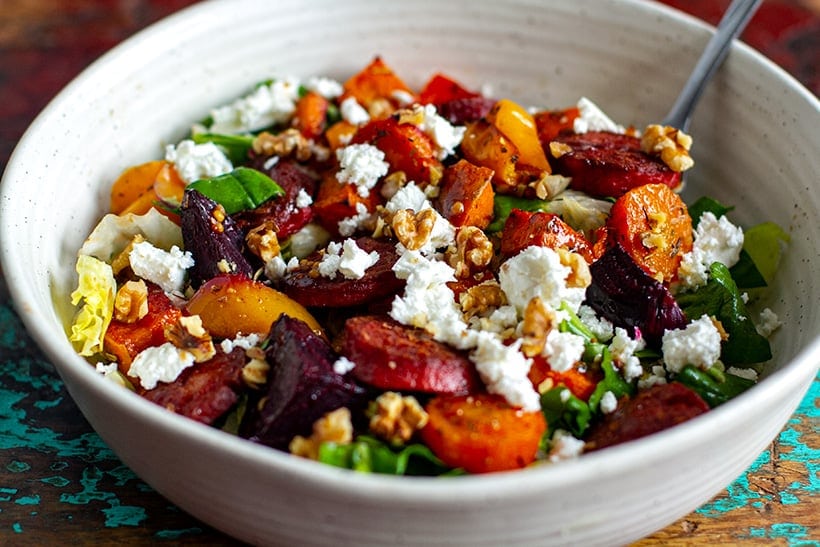 This lemon garlic roasted broccoli salad is topped with feta, pine nuts, pomegranate seeds and avocado and dressed with a delicious balsamic dressing. Recipe from Half Baked Harvest. The carb count is not available on her blog but should be relatively low.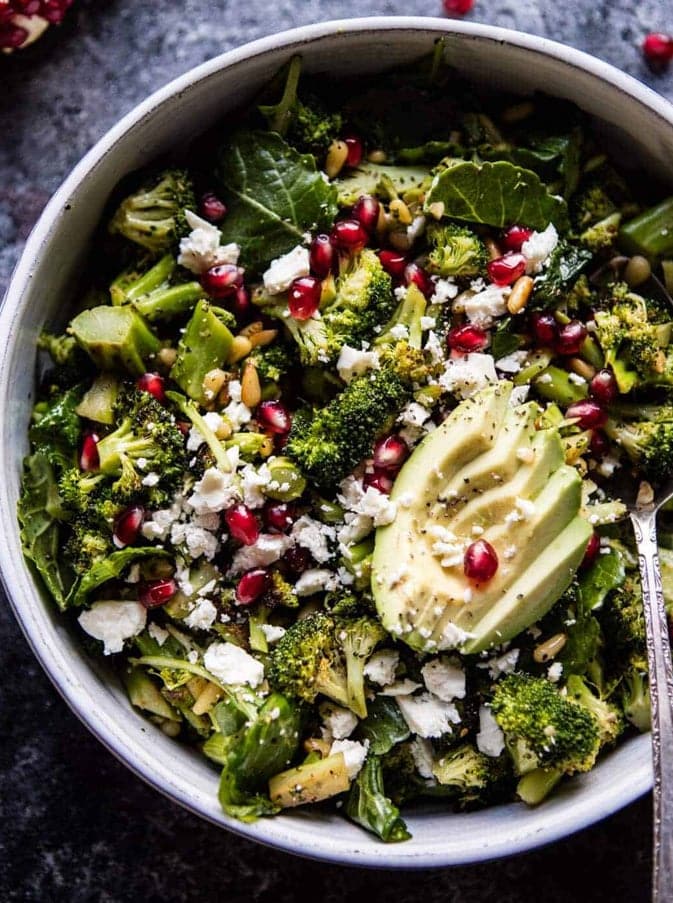 This warm winter Salad is made on a sheet pan with roasted cauliflower, carrots, fennel and chickpeas, topped with spinach, drizzled with tahini sauce and sprinkled with fresh dill and Dukkah. Recipe from Feasting at Home. Total carbs: 26.9 g (net: 18.5 g), cab be lower if you omit the chickpeas.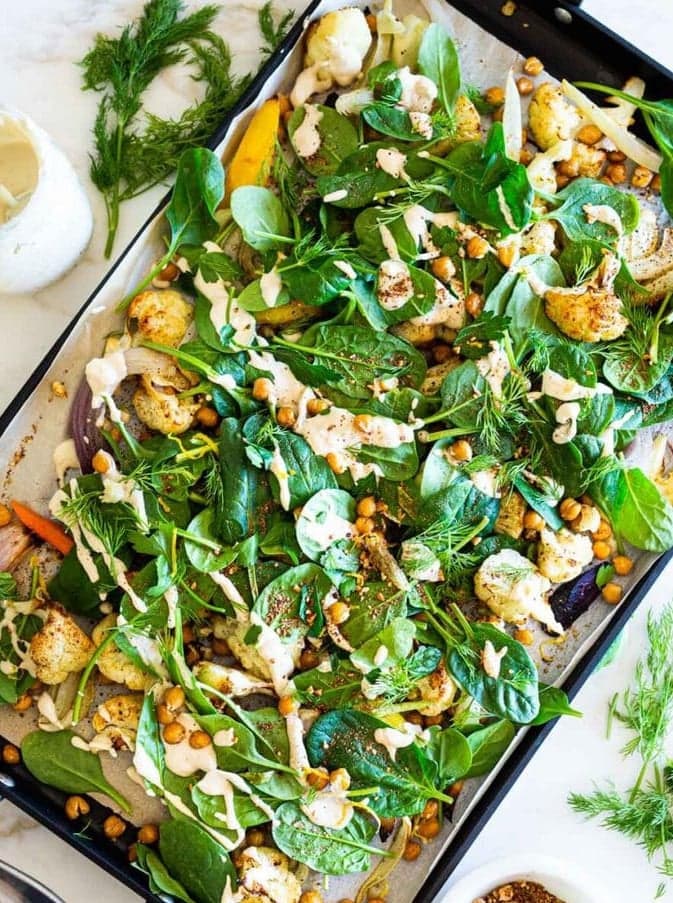 ---
Slow-Cooker & Pressure Cooker Recipes
Delicious and hearty beef cheeks braised in tomato and red wine sauce until fall-apart tender. Serve over cauliflower mash or cauli rice or with zucchini noodles. Recipe from Instant Pot Eats. Total carbs: 10.7 g (net: 8.5).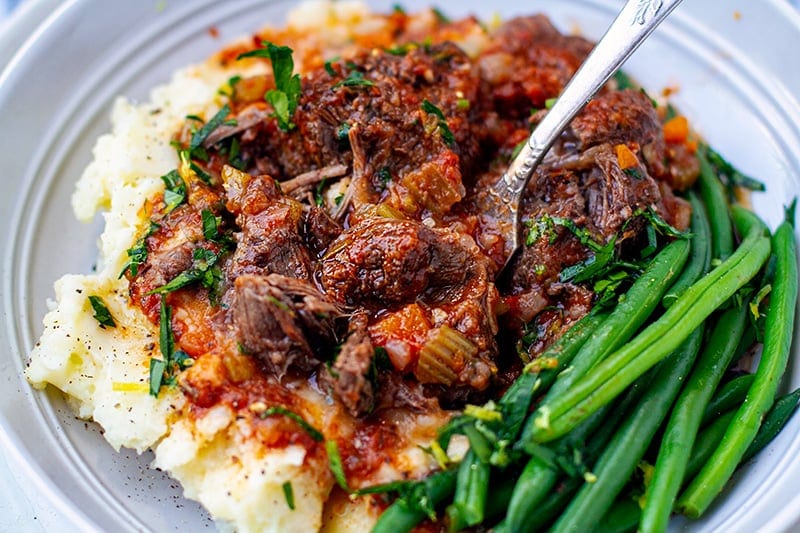 Fall apart beef smothered in a creamy Stroganoff sauce with buttery garlic mushrooms, it's made with economical stewing beef yet tastes like a million dollars! Can be done in the pressure cooker or slow cooker. From Recipe Tin Eats. Total carbs: 12 g (net: 10), can be reduced by using less flour/liquid to thicken the stew.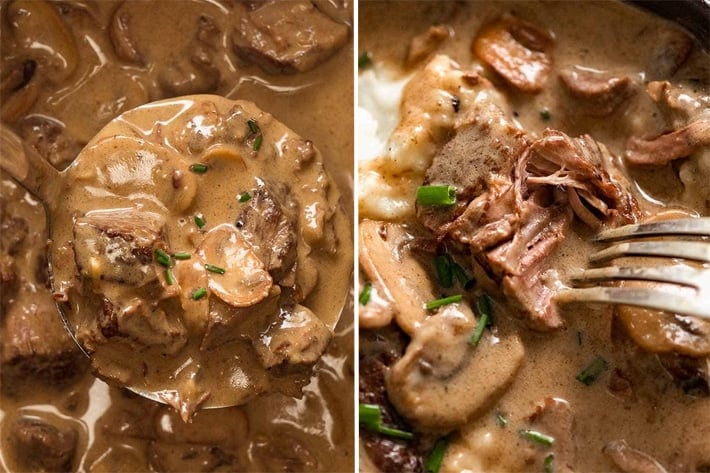 This chicken stew with mushrooms is hearty, creamy, and delicious. Using a pressure cooker, it's a quick and easy dinner for the whole family. Recipe from Instant Pot Eats. Total carbs: 9.9 g (net: 8.4).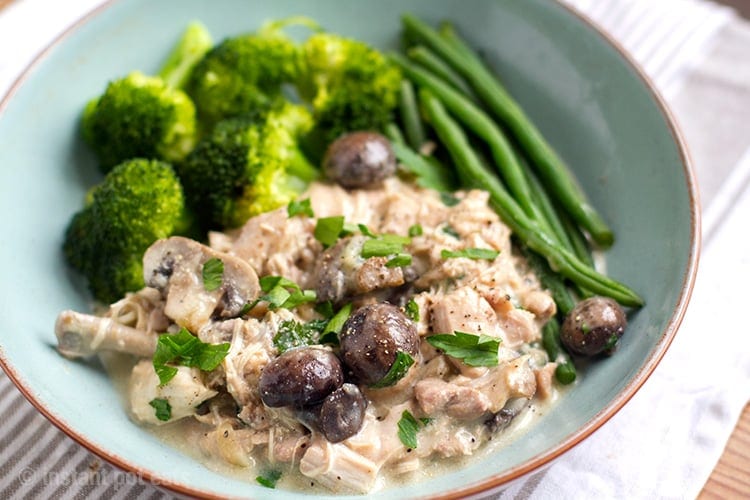 You will love these Italian-style slow cooker meatballs in a hearty low-carb Marinara sauce, perfect for the crockpot or Instant Pot. Serve with zucchini noodles or other vegetables. Recipe from Country Hill Cottage. Total carbs: 3 g (net: 2).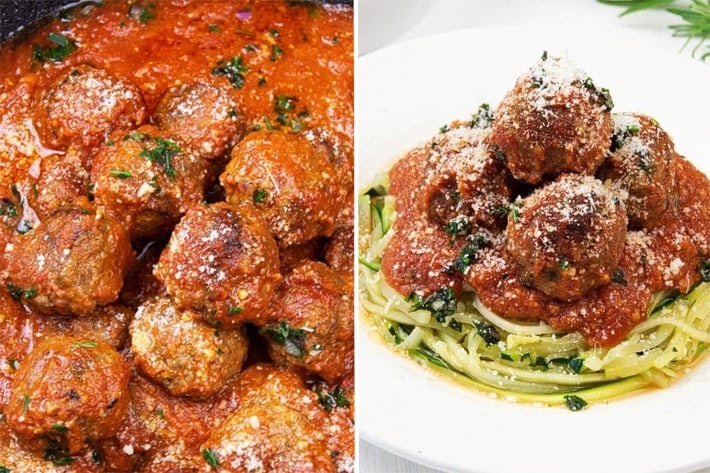 Hearty and filling chorizo chili con carne made with ground beef and chipotle peppers. This chilli is made in a slow cooker but you can easily make it on a stovetop or in the oven. Total carbs: 8.5 g (net: 6.4 g).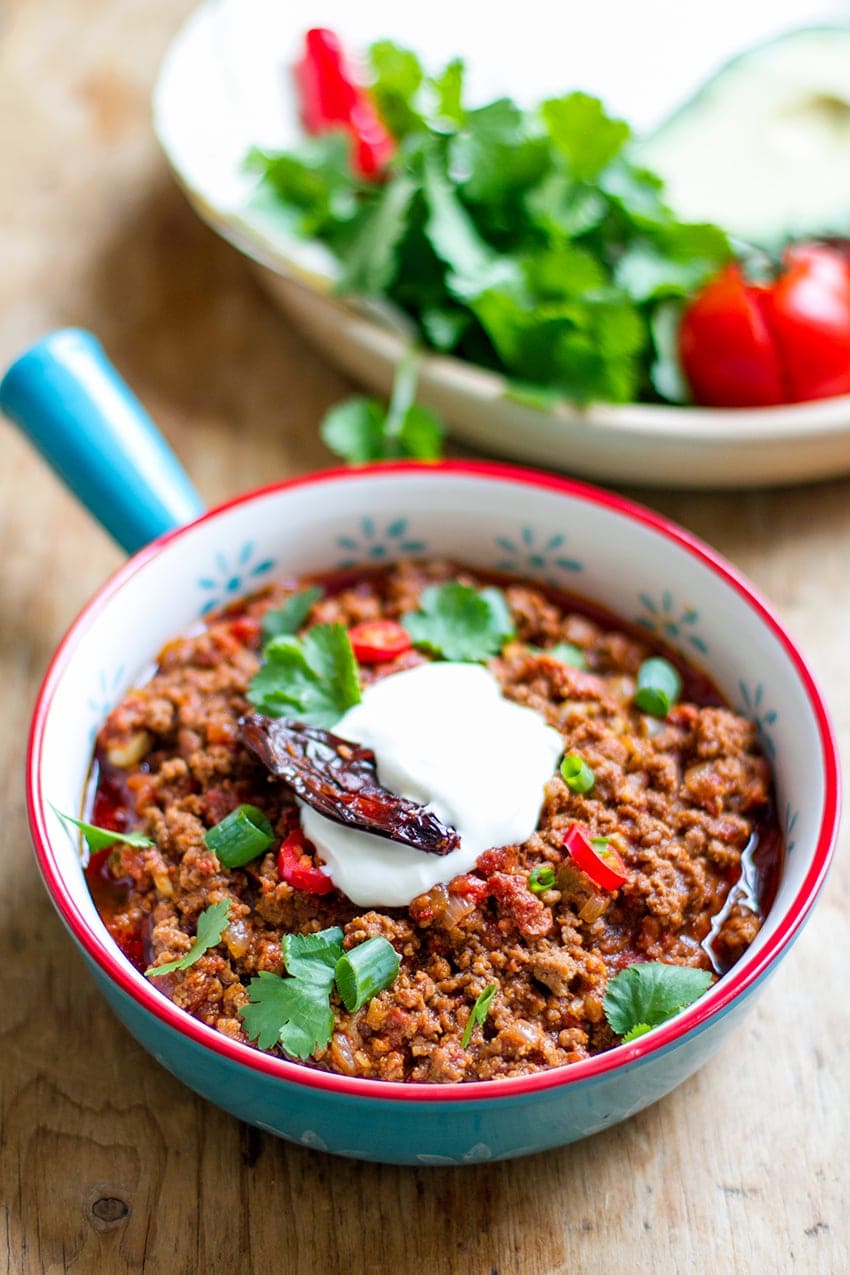 ---
Low-Carb Winter Breakfasts
From warm, saucy baked eggs to grain-free porridge, there are ways to make your winter breakfast low-carb and healthy without compromising comfort.
This skillet-based egg recipe is a delicious low-carb dish you can also enjoy for brunch or dinner. Made with cheesy baked eggs, crispy pancetta, fresh vegetables, and Italian seasonings, all simmered up in a zesty tomato sauce. Recipe from Cotter Crunch. Total carbs: 0.7 g (net: 0.6 g).
This hearty breakfast casserole is packed with delicious meat, cheese and veggies. Prep this egg bake ahead to have easy breakfasts all week. Recipe from The Toasted Pine Nut. Total carbs: 4.5 g (net: 4 g).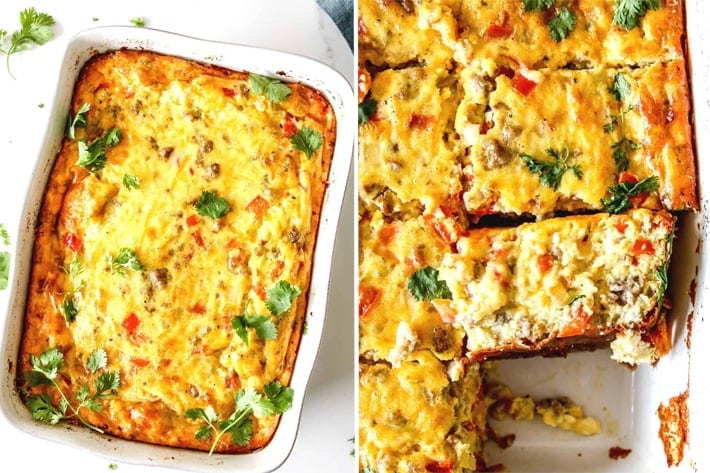 Noatmeal (aka Low Carb Oatmeal, which is actually oat-free porridge) is a hearty warm breakfast that can be made on the stovetop or in the microwave for a healthy, quick breakfast. Recipe from Healthy Sweet Eats. Total carbs: 15 g (net: 5 g).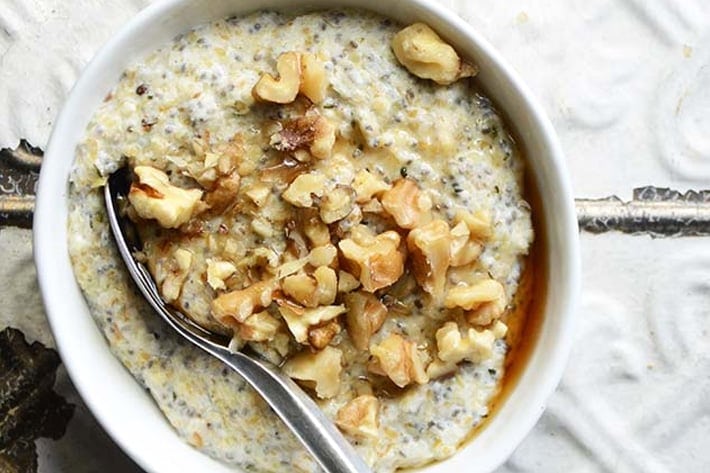 ---
Low-Carb Winter Desserts
From baked apple slice to warm brownies and chewy cookies, these desserts are made for cold winter nights.
This delicious baked apple slice with nut butter and maple drizzle is perfect for an afternoon tea or as a low-carb dessert. Total carbs: 20 g (net: 15 g).
These brownies from Cotter Crunch are made with healthy avocado and are refined sugar-free, grain-free and delicious. Total carbs: 10.5 g (net: 9.5 g).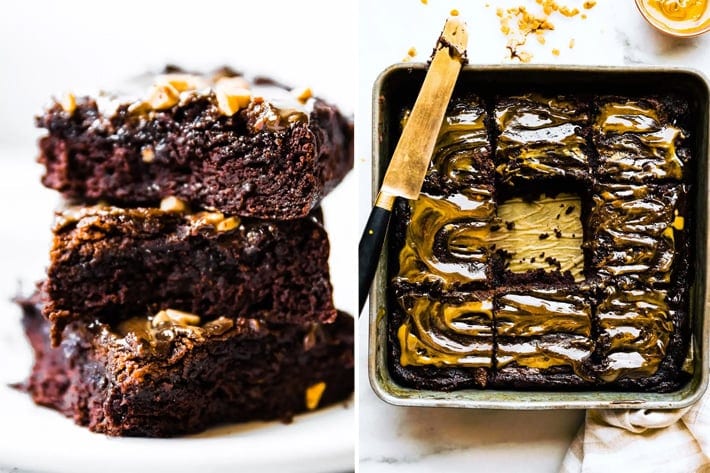 This keto lava cake is pure sugar-free chocolate heaven! It's really quick and easy to make. Enjoy it straight from the oven and swoon over that how gooey centre. Recipe from Sugar-Free Londoner.Total carbs: 3.4 g (net: 2.8 g).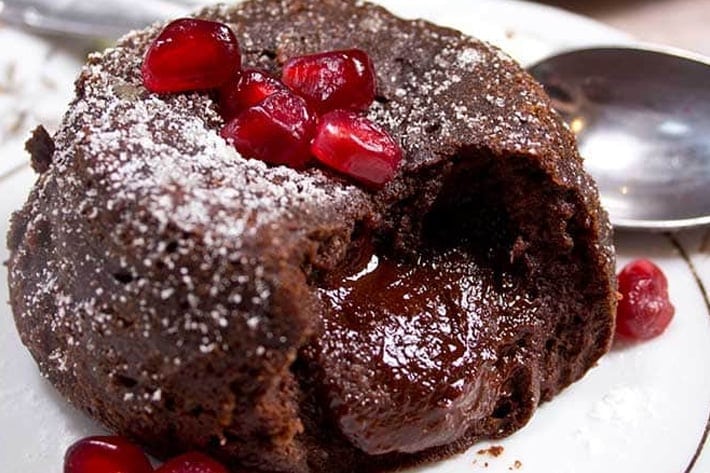 The smell of cookies baking in the oven is wonderful any time of the year but especially on a cold, rainy day. These are soft, chewy, and full of chocolate chips, you won't believe they are low carb! Recipe from Big Man's World. Total carbs: 5 g (net: 2 g).