Choosing a low-carb diet does not mean you have to miss out on comfort food. This keto spaghetti squash and shrimp bake is the perfect example of that. All the buttery, warm and delicious flavours of garlic shrimp scampi are paired with tender spaghetti squash noodles – perfect for a healthy, low-carb dinner. You can also substitute with zucchini noodles. This fabulous dish is a guest recipe from One-Pot Keto Cooking cookbook by Charlotte Smythe (more on that below!). Enjoy!
---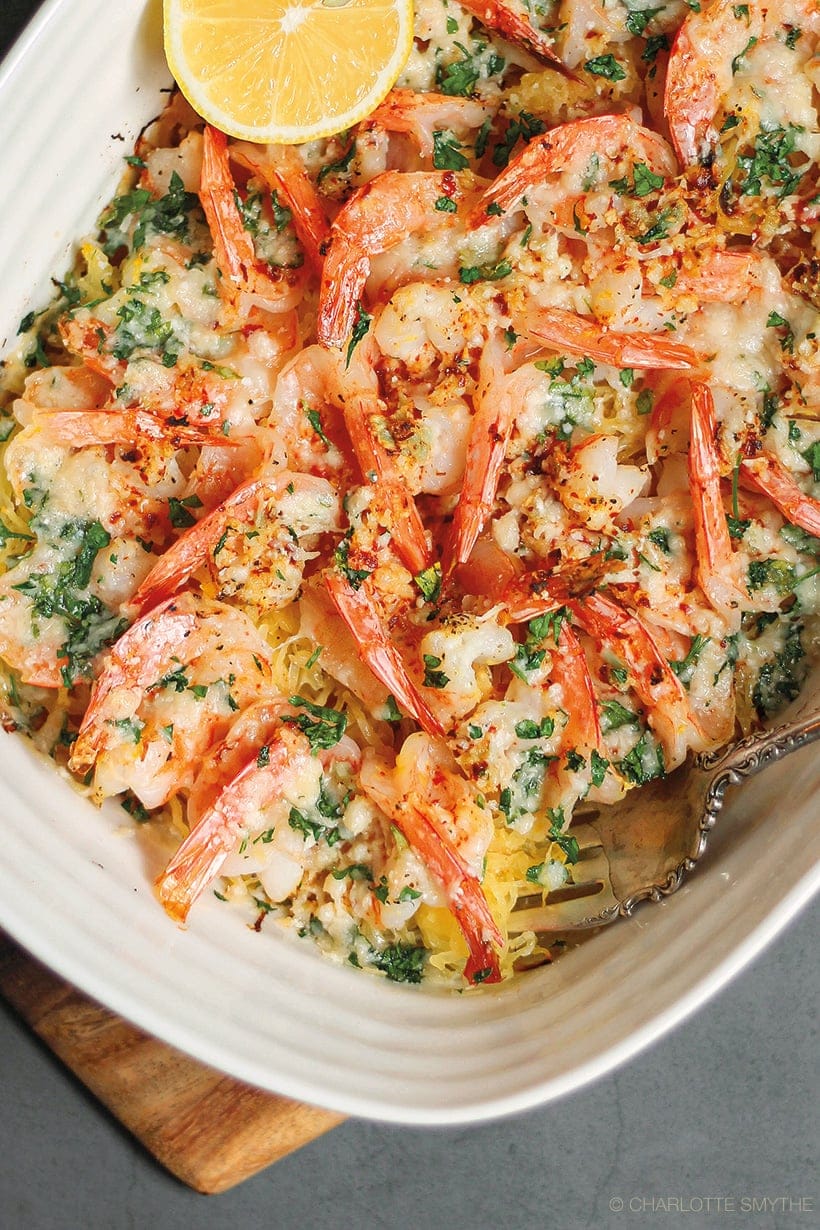 Inspired by shrimp scampi spaghetti, this low-carb and keto bake or casserole dish uses pre-cooked spaghetti squash strands instead of pasta to cut down on carbohydrates and add extra nutrients too (bonus!).
Spaghetti squash is an excellent starchy vegetable choice for those following a keto or low-carb diets and when available, it's a fun squash to cook and use instead of spaghetti or pasta.
How To Make Spaghetti Squash Bake
There are two parts to this recipe:
Part 1. Roast or bake the spaghetti squash for 40-45 minutes (this can be done ahead of time) and pull the strand of spaghetti-like fibres with a fork.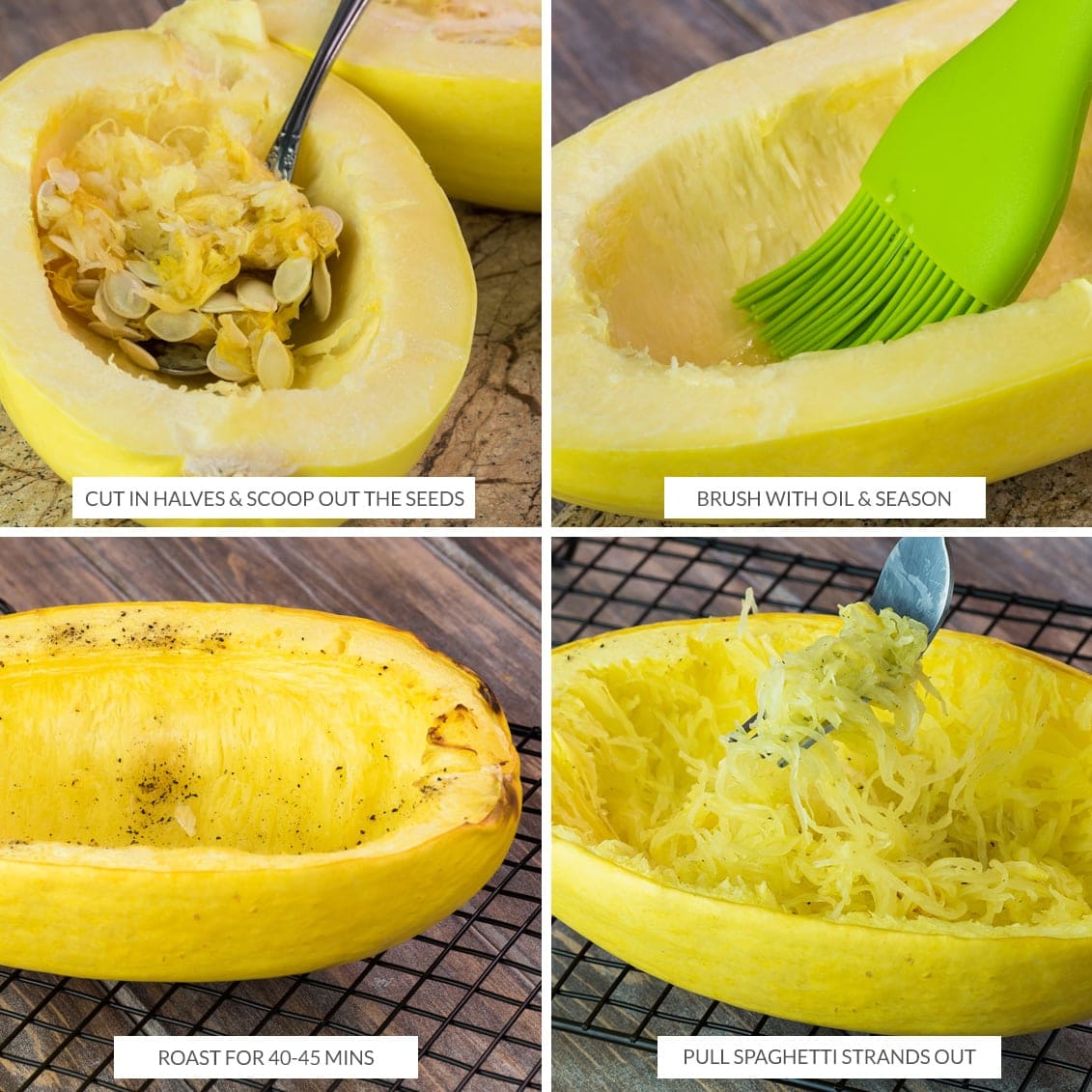 Part 2. Pre-cooked spaghetti squash strands are then used as a base for this low-carb casserole dish. Garlic prawns and Parmesan are scattered on top and there is a bit of melted butter to add in those satiating fats. Everything is baked for the second time, but this only takes 10-15 minutes as the prawns don't need much cooking time. 
Here is the full recipe from Charlotte's cookbook, please also check out my review below the recipe as it's a great addition to anyone's kitchen bookshelf (not just keto followers!). I shared my favourite recipes as well.
More Recipes You Might Like
---
Print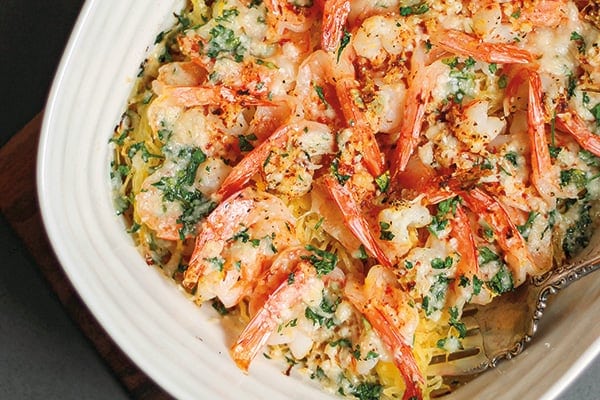 Keto Spaghetti Squash & Shrimp Bake
Author:

Prep Time:

20 minutes

Cook Time:

60 minutes

Total Time:

1 hour 20 minutes

Yield:

4

1

x

Category:

Main

Method:

Baked

Cuisine:

American

Diet:

Gluten Free
---
Description
Low-carb and keto spaghetti squash and garlic shrimp bake with Parmesan. This dish is great for dinner or lunch and you can make the spaghetti squash part ahead of time to store in the fridge for a couple of days.
---
1 medium spaghetti squash

2 tbsp (30 ml) avocado oil or olive oil

1 lb (455 g) large shrimp/prawns in the shell

1⁄4 tsp sea salt

1⁄4 tsp black pepper

1⁄2 tsp lemon zest, plus lemon wedges to serve

1⁄4 cup (60 ml) melted organic grass-fed ghee or butter

2 tbsp (30 ml) lemon juice

1⁄2 tsp crushed red pepper flakes

2 cloves garlic, finely minced

1 cup (100 g) grated Parmesan cheese

2 tsp (2 g) chopped fresh parsley
---
Instructions
Preheat the oven to 400°F (200°C, or gas mark 6).
Cut the spaghetti squash in half lengthwise and use a spoon to scoop out all the seeds. Rub the inside of each half of the squash with the avocado oil and place the halves in a deep, oven-safe 12-inch (30-cm) skillet or a 9 x 7–inch (23 x 18–cm) casserole dish. Roast the squash for 40 to 45 minutes, or until it is fork-tender. Use a fork to pull the strands of noodles away from the spaghetti squash rind. Scatter the spaghetti squash on the bottom of the skillet or a casserole dish and set it aside.
To prepare the shrimp, peel, devein and butterfly the shrimp, leaving the tail on. Toss the shrimp with the salt, pepper and lemon zest. Set it aside.
To prepare the butter sauce, add the ghee, lemon juice, crushed red pepper flakes and garlic to a small bowl. Whisk to combine.
To prepare the crust, toss together the Parmesan cheese and the parsley. Set it aside.
Arrange the shrimp on top of the spaghetti squash in a single layer, cut side down with the tail pointing up and toward the center of the dish. Pour the butter sauce all over the shrimp. Transfer the baking dish to the oven and bake for 15 minutes, or until the shrimp is pink and cooked through.
Remove the dish from the oven and turn the oven to broil. Scatter the Parmesan cheese and parsley crust on top of the shrimp and return the dish to the oven. Broil for 2 to 3 minutes to melt the cheese. Let the dish rest for 5 minutes before serving.
---
Notes
Spaghetti squash can be substituted with spiralized zucchini noodles.
Nutrition
Serving Size:

quarter of the bake

Calories:

372

Sugar:

2.5 g

Sodium:

635.1 mg

Fat:

25.1 g

Saturated Fat:

11.7 g

Carbohydrates:

7.2 g

Fiber:

1.3 g

Protein:

31.2 g

Cholesterol:

228 mg
About One-Pot Keto Cooking Cookbook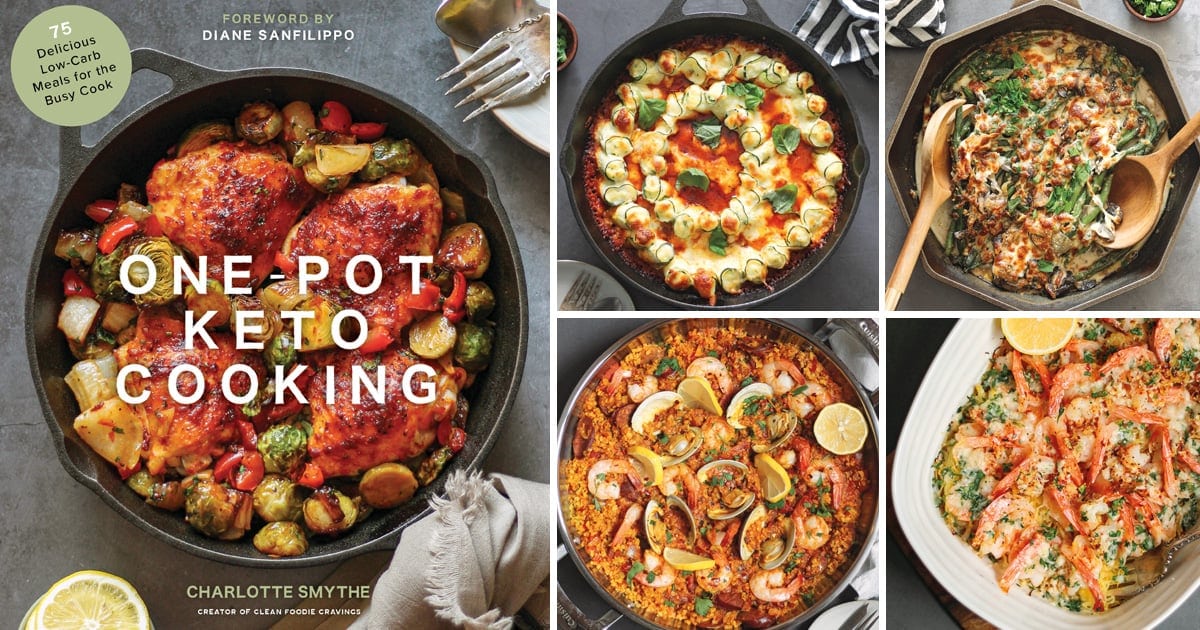 Reprinted with permission from One-Pot Keto Cooking by Charlotte Smythe, Page Street Publishing Co. 2020. Photo credit: Charlotte Smythe
One-Pot Keto Cooking is a low-carb recipe collection that features 75 unique and balanced recipes you can make in one pot or dish. It includes all macros and nutritional information in case you're strict about counting carbs or otherwise. The recipes are divided into six categories including 30-minute skillet meals, no mess sheet-pan dinners, oven to table, assorting soups and stews, sunny-side-up, and back to basics.
The chapters are pretty straight-forward in regards to foreshadowing what kind of cooking method will be required, or what time of day you'll be making your meal. Lastly, One-Pot Keto Cooking is a good book for someone who understands the basics of a low-carb diet but wants to simplify their approach and the meals they make at home. This is a great assortment of instant kitchen staples that come together quickly.
What's Sets This Cookbook Apart
Keto recipes most certainly come in all shapes and sizes. Keto doesn't have to be complicated or particularly time-consuming, although it can be if you want to keep things interesting and varied. Where is the middle-ground? Well, as I mentioned above, Charlotte's mission with her recipes is rooted in variation, making it way easier to transition to or stick with a keto approach.
Making the deal even sweeter is the fact that the title gives away the most distinguishing trait of this collection: each dish requires just one pot (or skillet or pan) for cooking. Finally, a big draw to this book is the sheer amount of vegetables! Many people focus a lot on the meat, cheese, and fatty foods on keto while this collection really emphasises healthy plant foods as well. I must note that as a result, some recipes might not be as low in carbohydrates as some hardcore keto followers might want, but you have to keep in mind the fibre! Look at the net carbs of each dish, not the total carbs.
Here are some standout recipes you might want to try:
Sizzling seafood paella

Sheet pan Kung-Pao chicken

Sheet-pan jambalaya

Herb zucchini gratin

Zucchini lasagna rollups (on my cooking list this week!)

Spaghetti squash parmesan

Easy chicken enchilada skillet

Creamy chicken pot pie soup

Joyful matcha chia pudding

Tex Mex good morning casserole
You can find One-Pot Keto Cookbook on Amazon here and in other stores. More info here.
About The Author
Charlotte Smythe is the founder of the food blog Confessions of a Clean Foodie. Cooking is Charlotte's love language and she strives to make eating healthier inclusive and abundant by focusing on embracing and valuing the foods that empower the body. She has worked with Driscoll's, feedfeed, Primal Kitchen and more. Charlotte lives in Minneapolis, Minnesota. Find her on Instagram here or Facebook here and other social networks.