Tropical and light, this gluten-free, paleo lime and coconut tart has a nutty crust and custard-like filling. Topped with toasted shredded coconut for that perfect crunchy finish. It's a great low-carb, paleo dessert that is perfect for any occasion.
---
This gorgeous lime and coconut tart is actually a really old recipe of mine. I cooked and shot it a long time ago but for some reason, I thought I had lost the photos so I never posted it on the blog. Well, last week, while doing some digital decluttering, I found the original photos on one of my drives. I was so excited because I remember how much I enjoyed this tart.
The tart has a nutty, biscuit-like base (think a cheesecake) and custardy filling made with lots of lime juicy, creamy coconut and eggs. The recipe uses gluten-free, grain-free, low-carb ingredients but it certainly doesn't lack in flavour. It's quite tropical and isn't overly sweet. I use Stevia as a sweetener to keep it low in sugar and carbohydrates, but you can use honey or coconut syrup.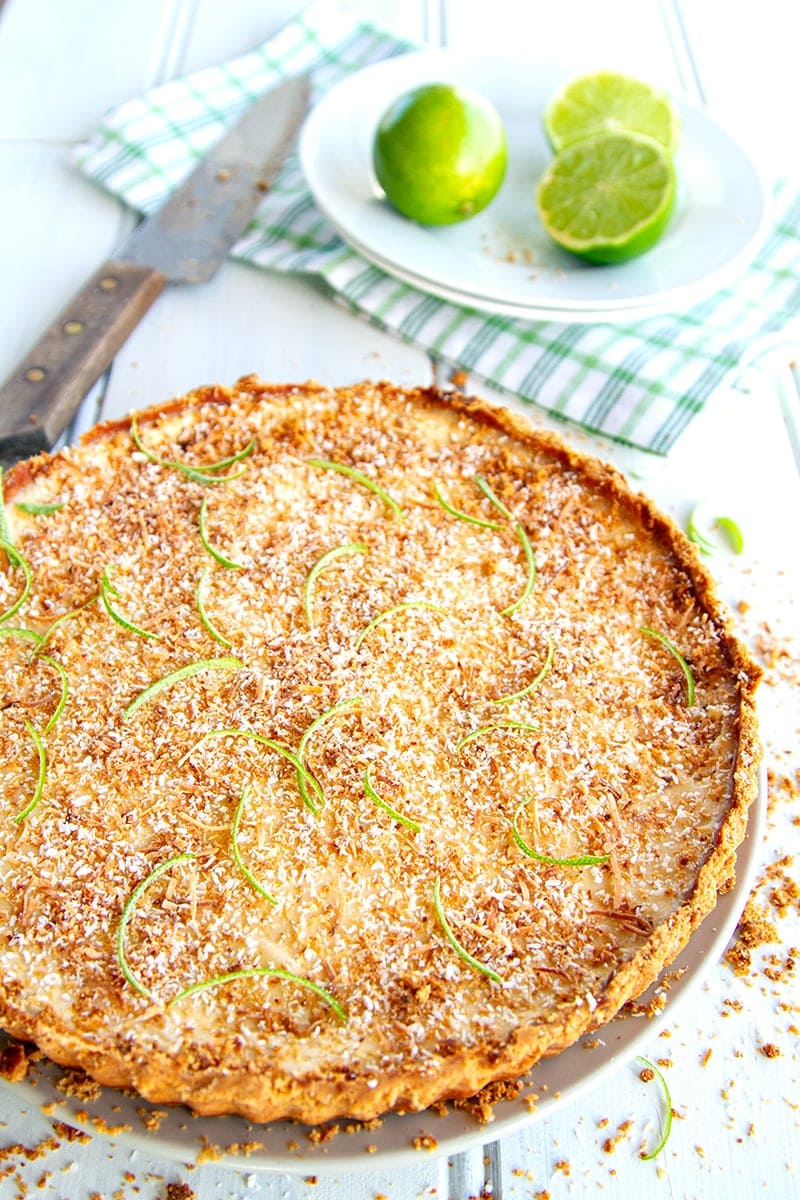 How to make paleo tart pastry
Unfortunately, I didn't take any step-by-step photos at the time but I've got a few reference pics for what you're aiming for with the tart tin pastry case below (from Leiths.com).
As this is a grain-free and gluten-free tart, the pastry dough has a slightly different texture and has to be handled carefully. Once you combine the mixture and knead the pastry dough, it will be soft but pliable. It's a little fragile to roll out with a pin, as you would for a tart casing. So, you have to treat dough like playdough and use your hands to line it over the tart tin and press it down into the sides. You will find more detailed instructions in the recipe card below.
Once you've made the casing refrigerate it for 15-20 minutes and then you have to 'blind bake' it. This means baking it empty without a filling but you need to add a piece of parchment paper and something heavy inside. You can use dried beans or chickpeas or small stones. Then you finish baking the tart with the filling inside.

WHAT KIND OF TART TIN TO USE?
Once the tart is baked, allow cooling completely before attempting to slice it. I usually let it cool in the baking tin before transferring to a platter. My tip is to use a tart tin with a removable bottom as it makes it so much easier. A 9-inch tart tin is perfect but you could also use a smaller, deeper tin or individual tartlet tins (in this case, reduce the cooking time in both stages).
You will find further notes on ingredients and cooking tips in the recipe card below.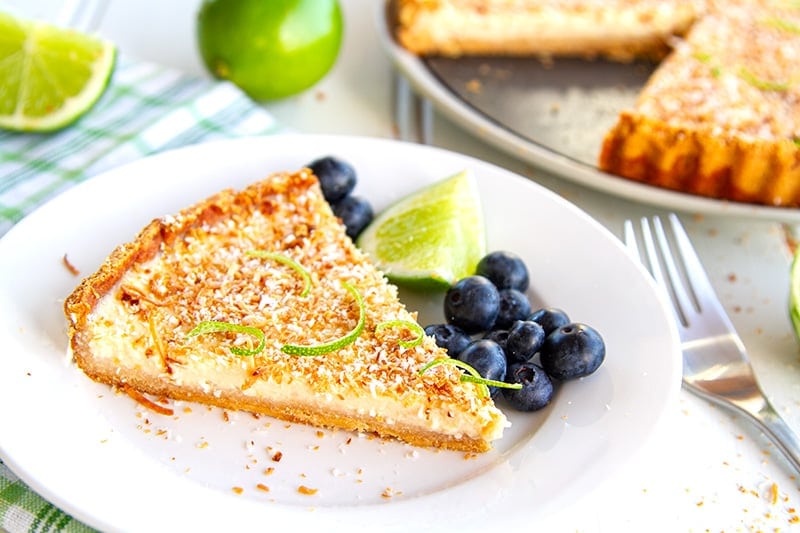 STORING THE TART
This tart should ideally be stored in an airtight container or covered with a plate in the refrigerator. It will keep for 4-5 days.
MORE PALEO TREATS TO EXPLORE
Citrus Drizzle Cake (Paleo, Nut-Free)
5-Ingredient Paleo & Keto Chocolate Cake
Print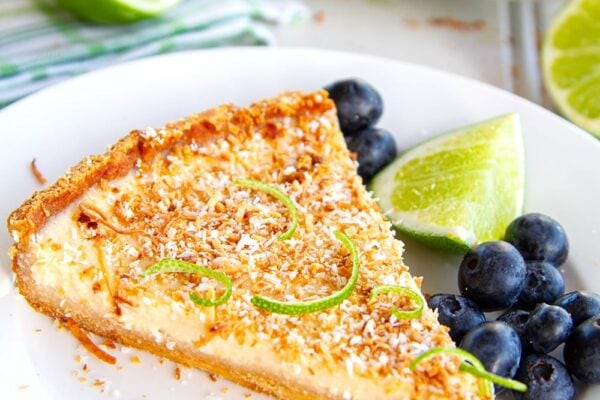 Lime & Coconut Tart (Paleo, Gluten-Free)
Author:

Prep Time:

45 minutes

Cook Time:

35 minutes

Total Time:

1 hour 20 minutes

Yield:

8

1

x

Category:

Dessert

Method:

Baking

Cuisine:

French
---
Description
This paleo lime and coconut tart is made with grain-free, dairy-free ingredients but it certainly doesn't lack in flavour. The custard-like filling has tropical lime and coconut flavour and the crust is nutty and lightly sweetened.
---
For the tart base
125 g (about 1/2 cup) cold ghee or unsalted butter (see notes below)
1 egg yolk
1 teaspoon stevia powder or 1 tbsp coconut syrup or honey
Coconut oil or extra ghee for greasing
For lime and coconut filling
1.5 cup coconut milk (shake a can of full-fat coconut milk)

0.5 cup coconut cream (use only the thickened part of coconut milk)

3 kaffir lime leaves (if available, dried are also fine, use leftovers in curries)

Zest of 1 lime

Juice from 1.5 limes

3 tablespoons Stevia powder (or 1/3 cup coconut syrup or honey)

2 whole eggs

2 egg yolks

1 teaspoon baking powder

To finish:
1/2 cup shredded unsweetened coconut

Extra lime peel, fresh mint, and berries

Note: I used a tart tin with a removable bottom, which I highly recommend for this recipe. 8-9″ tin will work or you can use smaller but deeper tin or mini tart ones. 

---
Instructions
TO MAKE THE BASE
Combine almond meal and flours with diced or spooned cold ghee and stevia or another sweetener in a food processor. Process until the mixture turns into crumbs. Add the egg yolk and process until the mixture turns into thick dough pieces.

Remove the mixture onto a surface sprinkled with a little tapioca or cassava flour. Knead the mixture into a ball with your hands. The dough will be very soft but pliable. Given the ingredients, the texture is different to gluten-based flour dough, so it's too fragile to roll out with a pin. Instead, we're going to use it like playdough.

Grease the bottom and sides of the tart tin (or flat tin) very lightly with some coconut oil or soft ghee. Break a few small pieces of the dough and start lining up the sides of the tin, pressing down with your fingers and making sure the thickness is even all around. Spread the remaining dough mixture on the bottom of the tin and press it down to the edges, merging with the wall lining. Make sure there are no visible gaps and the thickness is as even as possible all over the bottom and the walls of the tin. It will look a bit like a cheesecake base.

Cover with cling wrap or a large plate and refrigerate for 20 minutes.

Preheat the oven to 190 C / 375 F. Measure a piece of baking paper big enough to cover the tart tin with overlapping edges. Scrunch the paper with your hands first, then place inside the tin on top of the pastry. Add enough dried beans, chickpeas or dry rice to add weight and hold the paper in place evenly. This helps to prevent the pastry from rising when we blind bake the tart (see pictures above).

Bake for 12-14 minutes, then remove the paper and dried ingredients inside and pop back in the oven for more 5 minutes for the bottom to cook. The pastry isn't completely cooked as we will continue to bake the tart with the filling inside and you don't want to burn the pastry. 

Remove the pre-cooked tart from the oven very carefully as the edges are quite fragile. Prepare the filling while the base is baking.
TO MAKE THE FILLING 
Add coconut milk and cream, lime zest, lime juice, kaffir lime leaves (if using) and Stevia (or coconut syrup/honey) to a small saucepan and place over low heat. Stir through and leave on the heat but don't bring to simmer or boil, only until it starts steaming. Take off the heat and let it infuse for 10 minutes while the base is baking. 

Once infused and cooled down, strain the coconut milk mixture into another bowl or pot to remove the lime zest and leaves.

Preheat the oven back to 160 C / 320 F.

Whisk the eggs and the yolks in a large bowl until frothy. Gradually, stir in the coconut milk mixture and the baking powder.

Pour the mixture into the pre-cooked tart casing in the tin. Place in the oven, middle shelf, and bake for 15-20 minutes until the custard filling is set. It might still look a little wobbly but it will finish cooking and set once out of the oven. 

Remove from the oven and allow to cool and set on the countertop. 

In the meantime, toast the shredded coconut in a frying pan over medium heat for 3-4 minutes, stirring frequently until it turns golden brown. Sprinkle over the tart and garnish with extra lime zest or fresh mint if you like. Serve with berries or fruit of choice. 
---
Notes
Fat for the tart pastry: You can use ghee (clarified butter) which is 99% dairy-free or regular butter if tolerated. Make sure the ghee or butter are cold. You could also try using cold coconut oil instead.
Coconut milk and cream: You will need 2 x 400 ml cans of full-fat coconut milk, look for 50-75% coconut content minimum. Where I call for coconut milk, shake the whole can and use the mixed coconut milk; where I call for coconut cream, don't shake the can, open it and use the thickened part of the milk from the top. That's the cream.
A note on baking blind…
The dried (or special-purpose ceramic) beans help to support the sides and edges of the tart case and weigh down the base to prevent it from rising in the oven. Scrunching up the baking paper first, before unfolding it, helps to get it into the edges of the pastry case, ensuring the sides are well supported by the beans. If you are blind baking individual tart cases, use small dried beans or rice.
Using egg white
To provide a protective seal between the blind baked pastry and a wet filling, so the pastry won't turn soggy, you can brush the pastry with lightly beaten egg white and return it to the oven for 3–4 minutes. This will also seal any very small holes or cracks. This is optional and I didn't do it for this recipe.
Nutritional information is based on using Stevia powder as a sweetener. Carbs/sugar content will be higher if using coconut syrup or honey.
Nutrition
Serving Size:

1 slice (made with stevia!)

Calories:

441

Sugar:

4.6 g

Sodium:

51.7 mg

Fat:

34.4 g

Saturated Fat:

19.7 g

Carbohydrates:

19.5 g

Fiber:

4 g

Protein:

8.9 g

Cholesterol:

149.3 mg