This delicious and fluffy low-carb red velvet cake is made with all-natural ingredients and grated beets for colour. While the sponge cake does not turn out as intensely red as the traditional red velvet desserts (due to natural colours changing during baking), this is made up with the gorgeous baby pink cream frosting. This red velvet cake is also gluten-free and keto-friendly and I provide dairy-free alternatives in the recipe below.
---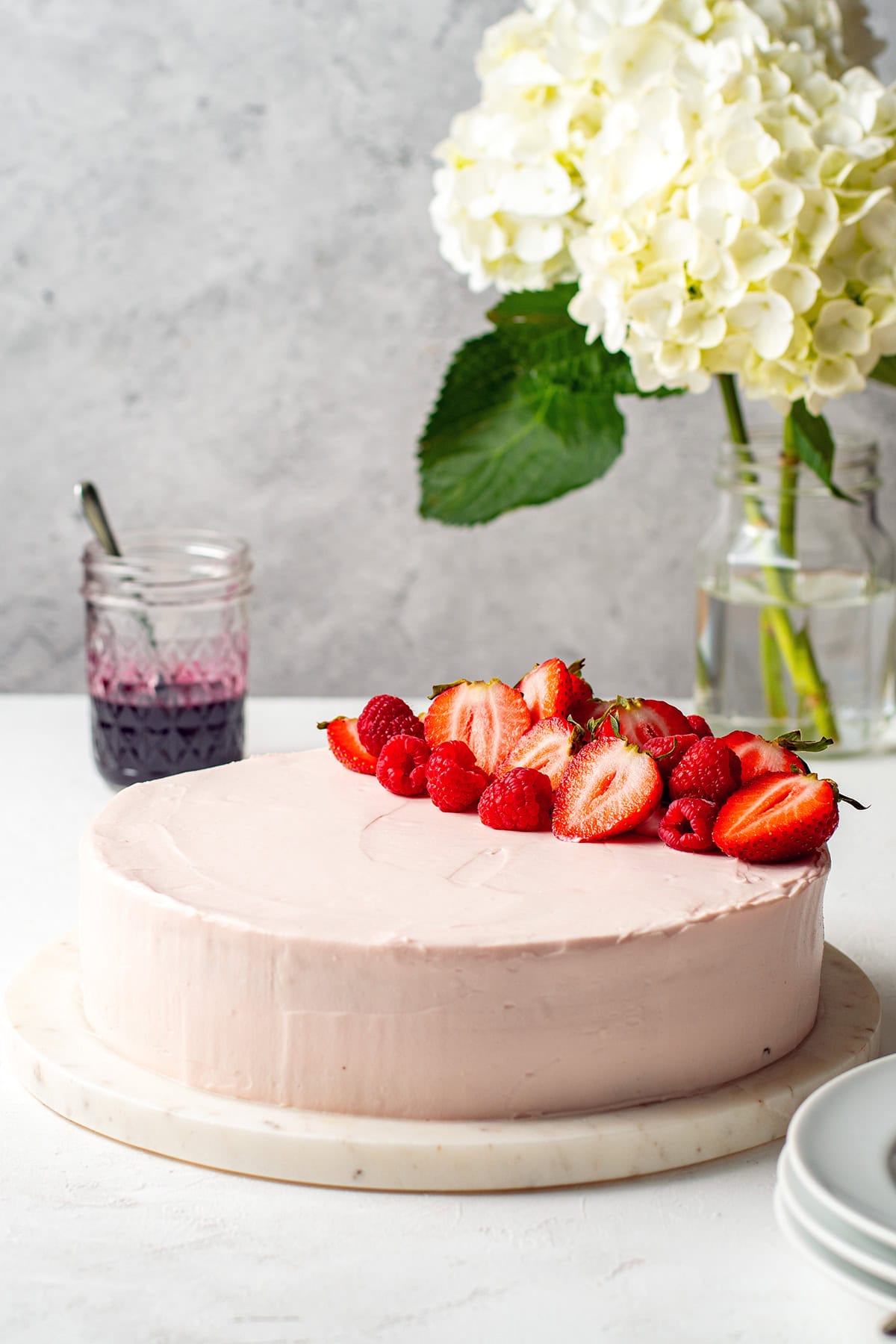 Low-Carb Red Velvet Cake
I love a good red velvet cake or cupcakes but I am always a bit worried about that intense red colour and where it comes from. I also find some of these desserts a little too sweet for my liking, so I was keen to make a healthy red velvet cake that doesn't use added artificial colouring and is low in sugar and carbohydrates. I developed this gluten-free version that turned out marvellous and looked absolutely beautiful on a cake stand. 
With my red velvet inspired cake, you're looking at about 8-10 grams of net carbs per serving (that's your total carbs minus the dietary fibre). It is however still quite energy-dense with 500 calories per serving, so keep that in mind.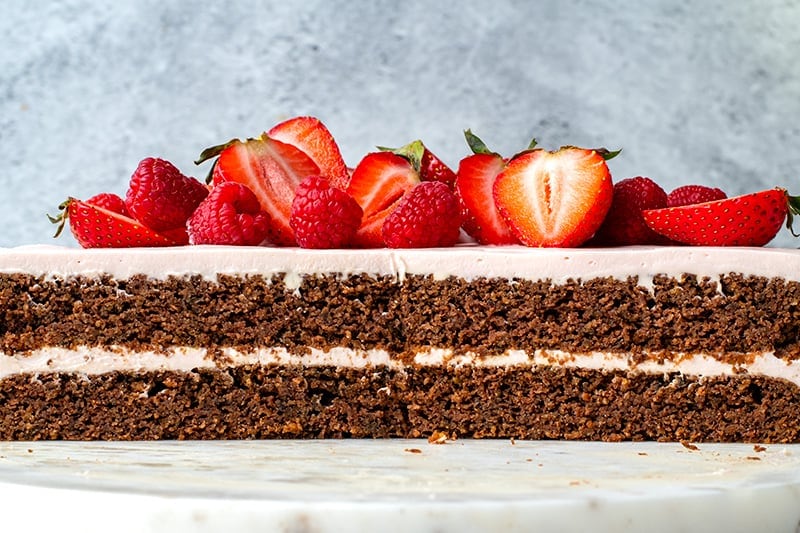 How To Make Low-carb Red Velvet Cake 
Before we dive into the recipe, I want to quickly go through some ingredients you will need for this cake and the basic steps. I've got a few process photos to guide you along.
Cake Batter
The two main flours used to make a low-carb red velvet cake batter are almond meal and coconut flour, as well as the usual suspects like butter, eggs and cream. I do provide dairy-free options for those of you avoiding milk products. In place of red colouring traditionally used, I added grated beets. These will provide a lovely pink colour/tint to the sponge and also a little earthy, sweet flavour and extra nutrients.
To sweeten the cake, I used sugar-free granulated sweetener by Natvia (in Australia) but you can use Swerve brand or Monk fruit sweetener – these are all great low-carb options.
One thing to note is that although the colour of grated beets will be bright pink/purple when added, once cooked, the cake sponge will be more chocolatey brown. That's just what happens to natural colours under heat.
This is a two-layer cake, so I recommend baking it as separate sponge cakes in two baking tins. If you only have one tin, you can make a taller sponge cake and bake for longer (I've provided time adjustments in the recipe). Then slice the tall sponge cake into two disks once it's cooled.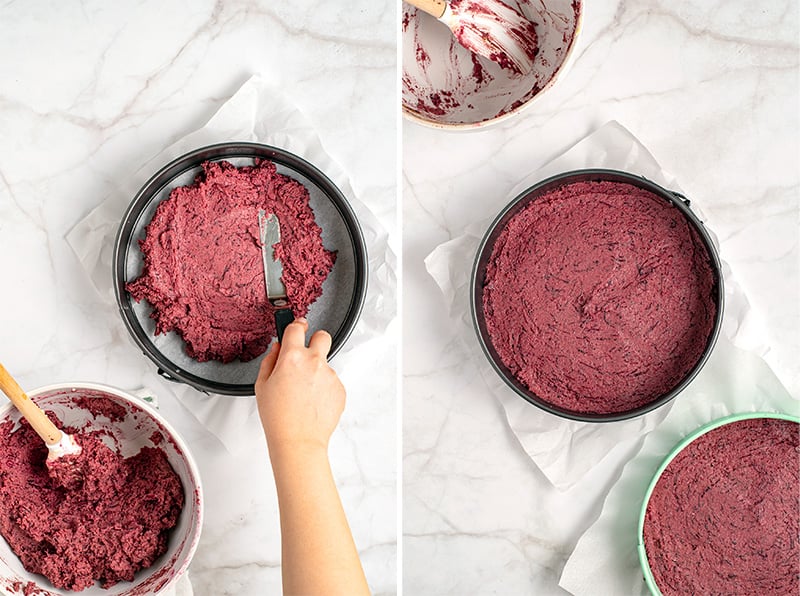 Low-Carb Cream Frosting
The cream frosting is also low-carb but is quite rich as we're using cream cheese, butter and cream. I have linked to a dairy-free frosting recipe in the recipe notes below. For that blush pink colour, I simply added a couple of tablespoons of beetroot juice to the whipped frosting cream. Worked a charm!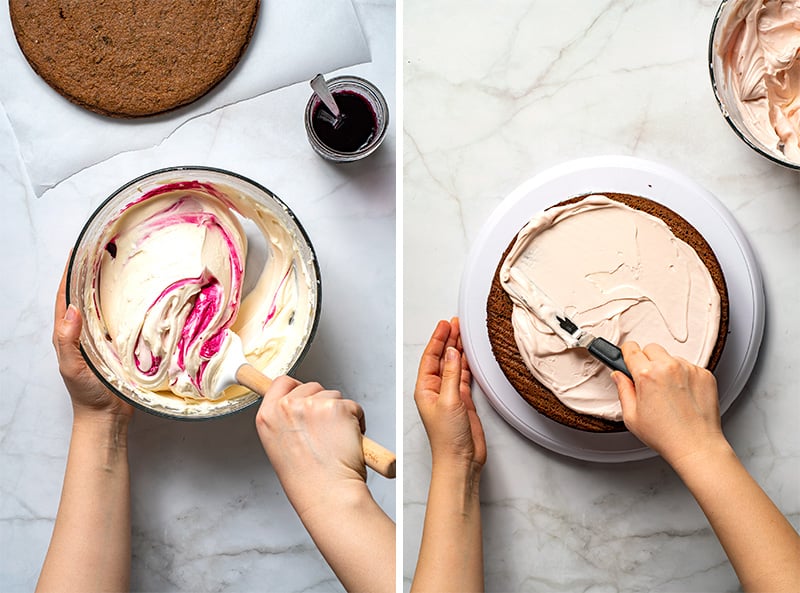 ---
More Desserts You Might Like
---
Print
Natural Low-Carb Red Velvet Cake With Beets
Author:

Prep Time:

30 minutes

Cook Time:

60 minutes

Total Time:

1 hour 30 minutes

Yield:

12

slices

1

x

Category:

Cake

Method:

Baking

Cuisine:

American

Diet:

Gluten Free
---
Description
Looking for a healthy red velvet cake that is made with all-natural ingredients and no added artificial colouring? This low-carb cake recipe is a delicious version using beets for colour. The sponge of the cake will not be as red as the traditional red velvet cake due to beetroot colour changing during cooking BUT it is made up by the gorgeous pink frosting.
---
For Cake Batter
3/4 cup softened butter (unsalted) or coconut oil for dairy-free

1 + ¼ cups sugar-free granular sweetener (e.g.monk fruit sweetener blend, Natvia or Swerve granular sweetener)

3 large eggs (at room temperature)

1 tablespoon vanilla extract

1/2 cup heavy cream or thickened part of coconut milk from a can for dairy-free

2 tablespoons lemon juice or white vinegar

2 medium raw beets, peeled and finely grated (excess juices squeezed out and reserved, see notes on handling the beets)

2 cups almond flour

1/2 cup coconut flour

2 tablespoons cocoa powder

2 teaspoons baking soda or baking powder

¼ teaspoon salt

Low-Carb Cream Cheese Frosting 
About 500 g / 17 oz  cream cheese (softened)

½ cup (8 tablespoons butter)

½ to ⅔  cup sugar-free powdered sweetener such as Swerve or Natvia brand (you can use more for sweeter frosting, Monk sweetener can also be used)

2 teaspoons vanilla extract

¼ cup heavy cream

2–3 tablespoons reserved beet juice for colour
---
Instructions
Preheat the oven to 170 C / 335 F. Line the bottom of two x 9″ round springform pans with parchment paper. If you only have one pan, you can bake this cake in two batches. 

In a large bowl, beat together the butter and sugar-free sweetener for about a minute until fluffy. 

Using medium speed, add and beat in the eggs, one at a time. 

Change the speed to low and mix in the vanilla, cream (or coconut cream) and lemon juice until incorporated. 

Stir in the grated beetroot (make sure to squeeze out the juice first). Don't beat with a mixer as it might splash the juice all over. 

Change the mixer speed to low and beat in the almond flour – 1/2 cup at a time – followed by coconut flour, cocoa powder and baking soda. Beat together until the batter is just smooth but don't over mix it. 

Divide the batter between the 2 pans and flatten the top with a spatula. Bake for about 30 minutes, until an inserted toothpick comes out clean. Cool completely in the pans, then run a knife along the sides to loosen the cake. Open to release and flip to remove.
Note: If you only have one pan and want to bake it as one whole cake rather than the two layers, increase the time by 20-25 more minutes or so. Then once the sponge is cool enough, slice it into two layers. 
In the meantime, make the low-carb cream cheese frosting. Use a hand mixer to beat together the cream cheese and butter, until fluffy. Beat in the sweetener and vanilla, until well incorporated.

Add cream and beat again, until creamy. You can adjust the amount of cream to desired consistency. Finally, fold in a couple of tablespoons of the beet juice we reserved during prep. You can adjust the amount depending on the intensity of the colour you want. 

Place one cake onto a cake stand or a plate and frost the top with 1/2 to 3/4 cup of the frosting. Place the other cake layer on top and frost the top and the side with the remaining frosting.

You can decorate the top of the cake with raspberries, strawberries, beetroot chips (you can bake your own beetroot chips even), pecans, rose petals, dried cranberries or chocolate shavings. Anything that's a darker, burgundy or brown colour will look great on top of pinkish white frosting. 
---
Notes
Notes on handling beets: Use kitchen gloves to peel and grate the beets; once grated, squeeze the beetroot flesh to remove some of the juice into a separate bowl; we want the grated flesh to remain moist but not soaking wet. 
Dairy-free frosting – try this dairy-free, keto frosting from The Movement Menu. 
Storage: To keep this cake fresher for longer, ideally store in the fridge in a cake Tupperware or covered with foil to prevent odours from other foods. It should be good to eat for up to 5 days or so. The frosting will harden when cold so give it 10-15 minutes out of the fridge before serving.
Nutrition
Serving Size:

1 slice

Calories:

506

Sugar:

4.8 g

Sodium:

425.8 mg

Fat:

41.4 g

Saturated Fat:

22.9 g

Carbohydrates:

11.2 g

Fiber:

3 g

Protein:

8.6 g

Cholesterol:

147.9 mg
Keywords: Cake, Red Velvet, Gluten-Free, Low-Carb, Beets, Beetroot