This paleo banana bread recipe is one of my oldest and most popular. It's easy to make and will last for 4-5 days and much longer if frozen. It's grain-free, gluten-free and dairy-free and can be made in a variety of baking tins.
---
Remember 'I can't believe it's not butter' ad? Well, this morning we had a lot of 'I can't believe it's paleo' in our house when I served some toasted paleo banana bread with organic butter (+ a soft boiled egg for protein). I was originally baking this bread for the cookbook but it turned out so yummy that I really wanted to share the recipe on the blog as well.
WHY MAKE PALEO BANANA BREAD
I don't bake too often because I see most baked goods as treats but this banana bread is a regular in our house.
It's super easy to make. Even non-bakers will master this recipe in no time!
It's handy to have a few slices of healthy banana bread around for paleo-friendly snacks, packed lunches, trips and on-the-go breakfasts (with the addition of some protein of course).
Plus, you can use up all those soft, dark bananas wilting away in the corner – no food wastage in my house!
---
This was so easy and so delicious…. will be on my regular baking list 🙂 thanks, Irena.
I made this Banana Bread many times and it's been favourite. My family and friends love it. I made different ways to put flavours in it, I made 4 different ways which are chopped bananas, macadamia, pepitas (pumpkin seeds) & almonds, raspberries. It's been best and easy to make when I have over-riped bananas left in the fruit bowl. 🙂
---
LET'S TALK ABOUT THE INGREDIENTS
Ripe bananas, eggs and coconut oil are our main wet ingredients. Bananas add sweetness to baked goods so you don't need to use too many added sweeteners. I've used coconut nectar, raw honey and maple syrup in the past so it works well with any kind of natural sweetener and even without. The bread turns out nice and sweet but not sickly sweet like some banana bread can be. Play around with the suggested amounts to find your perfect level.
I am using a combination of paleo flour alternatives instead of regular flours. Almond meal and tapioca flour (or cassava flour) are the two main starches, plus some desiccated coconut which gives it a lovely flavour and adds fibre and bulk to the batter.
I used walnuts and apricots for extra crunch and flavours but you can use any dried fruit or nuts, or even go without.
Recipe adjustments: I've been making this banana bread for a while and every time I tinker with ingredients or oven temperature and time to see if I can get an even better result. Therefore I've adjusted the below recipe slightly based on what I think works the best. So, if you've tried it before and think something has changed, it might have for a reason!
For a gluten-free, nut-free, not strictly paleo but vegan-friendly recipe, check out my quinoa flour banana bread here.
HOW TO MAKE PALEO BANANA BREAD
This banana bread batter is quite versatile and you can use a variety of baking tins. As you can see in the photos, I have two versions of banana bread: one baked in a wider tin, so the bread turned out more like a thin slice and the other baked in a smaller, longer tin and the result is taller wider slices. You can also use muffin trays and reduce the baking time to 20-25 minutes or less.
You can read more details instructions and full ingredients in the recipe card below. But, there are two ways to make the batter. You can mash the banana with a fork and whisk the wet ingredients by hand OR you can use a blender to do this part. I've used the blender many times and it's a real time saver.
Then, you simply add all the dry flours, spices and dried fruit and nuts and combine the batter until well incorporated. Transfer to a pre-greased loaf tin and pop it in the oven for 45-50 minutes at 170 C / 338 F. Cool off the bread in the tin slightly before removing onto a rack.
The bread will keep for up to 4-5 days out of the fridge and longer if refrigerated. You can also slice the bread and freeze individual portions for later.
Serving suggestions
When the banana bread is fresh out of the oven and still a little warm, you seriously don't need anything else. Okay, maybe a little bit of butter or coconut butter but it's pretty moist.
As with all baked goods, they tend to get a little drier as the time goes by so after a day or two, I like to toast a slice on a frying pan or in a toaster and then smother it with butter or ghee. If you have dairy, you could also spread some ricotta cheese or cream cheese on top. Drizzle with honey and serve extra berries on the side.
Having said that, you will also enjoy this paleo banana bread as is. I often take a few slices on climbing and hiking trips and they last well in my bag.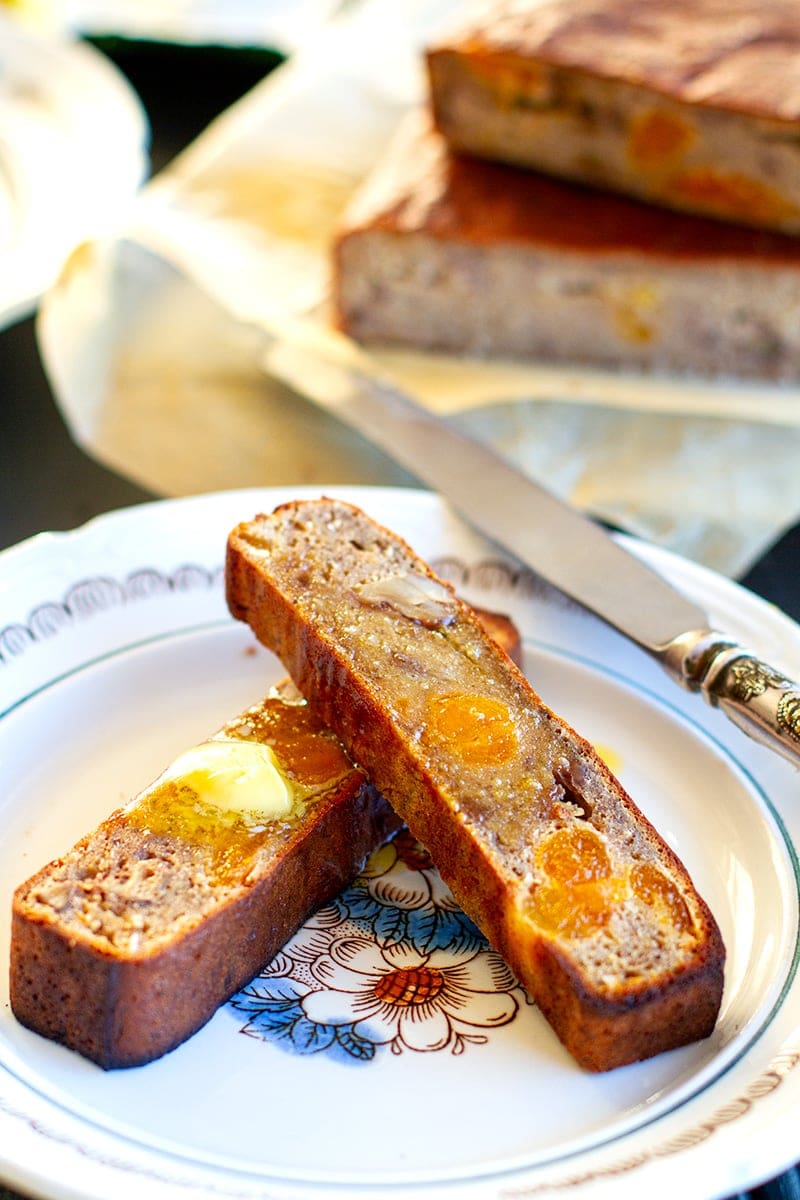 MORE PALEO BAKING RECIPES
Print
Paleo Banana Bread
Author:

Prep Time:

10 mins

Cook Time:

50 mins

Total Time:

1 hour

Yield:

8

-

1

0

1

x

Category:

Bread

Method:

Baking

Cuisine:

British
---
Description
Baked paleo banana bread is just as good as the regular version and can be served fresh out of the oven or toasted with a little coconut butter or regular butter on top.
---
3

free-range eggs
A pinch of salt

2

medium ripe bananas, peeled and broken into pieces

1 tablespoon

honey, maple syrup or coconut syrup

1 teaspoon

vanilla extract or essence

3 tablespoons

coconut oil

2 tablespoons

desiccated coconut

1.5 cups

almond meal (about

100 grams

)

1/3 cup

tapioca flour (or

1

–

2

tablespoons coconut flour )

1 teaspoon

gluten-free baking powder (see notes)

1 teaspoon

cinnamon powder
A pinch of nutmeg (optional)

1/4 cup

walnuts, chopped

5

–

6

dried apricots, chopped
---
Instructions
Preheat oven to 170°C (345°F). Brush a loaf tin with coconut oil and line the bottom with non-stick baking paper.
Method 1: Place eggs with a pinch of salt in a large mixing bowl and whisk until thick and foamy. Mash banana with a fork. Add bananas, honey, vanilla, and melted coconut oil and whisk together until well incorporated. Add the almond meal, desiccated coconut, tapioca, baking powder, nutmeg, cinnamon and mix well. Fold in the walnuts and dried fruit and pour the batter into the prepared tin. Smooth the surface and place a few walnuts on top.
Method 2: Place the eggs, unmashed banana, honey, vanilla and coconut oil with a pinch of salt in a blender and whiz for 20-30 seconds until thick and foamy. Transfer the liquid batter to a bowl. Add the rest of dry ingredients and mix until smooth and thick, scraping the sides along the way. Fold in the walnuts and dried apricots and continue as in method one.
Bake for 45-50 minutes on the middle shelf. Insert a bamboo skewer or a knife into the centre to see if it comes out dry, in which case it's done. Remove from the oven and let it cool for 5–10 minutes before removing from the tin. Cover with a towel if leaving overnight. Serve as is or toast and smother with some butter.
---
Notes
Baking powder can be replaced with baking soda (bicarb soda), in which case you will need to add a teaspoon or two of apple cider vinegar or lemon juice to the batter as bicarb soda needs acidity to activate fully.
The bread will keep 4-5 days out of the fridge and longer if refrigerated. Slices of paleo banana bread can be frozen for up to 3 months.
Nutrition
Serving Size:

1 slices

Calories:

249

Sugar:

7.8 g

Sodium:

46 mg

Fat:

16.2 g

Saturated Fat:

5.6 g

Carbohydrates:

19.5 g

Fiber:

3.4 g

Protein:

7 g

Cholesterol:

62 mg