Drizzled with the tastiest spicy almond sauce, this bang bang chicken is juicy and crispy. Served with a zesty Asian salad with cucumber and mango. This recipe is gluten-free and paleo-friendly.
---
My Bang Bang Chicken
I have wanted to make a healthier, gluten-free bang bang chicken for a long time.
You might have come across the name bang bang chicken or bang bang shrimp in a hipster fusion restaurant but the name is actually Chinese (Szechuan) in origin. Also known as bon bon chicken, the traditional dish consists of cold, shredded chicken drenched in spicy sesame sauce.
The chicken is tenderised by pounding with a heavy wooden stick, and as such, it is claimed that the name refers to the sound of the chicken being pounded.
I actually thought that 'bang bang' referred to how good the flavours are – spicy, sweet, sour and salty – exploding in your mouth with a bang. After doing some research, it turns out that bang is also slang for "fantastic" in Mandarin, which is probably closer to what it actually means.
Anyways, this recipe is NOT for the authentic bang bang chicken you find in Chinese restaurants but rather my version of the more modern dish, in which chicken or prawns are deep-fried or crispy fried and served with a spicy-sweet (usually) peanut-based sauce. Obviously, there are lots of recipes for the sauce and for how the chicken is cooked, so this is my personal, healthy version.
My partner and my trusted recipe tester declared this one of the best chicken dishes I ever made and has requested it for our next dinner party. The word he used to describe the sauce is too rude to share here, so I'll just say he called it 'awesome sauce'.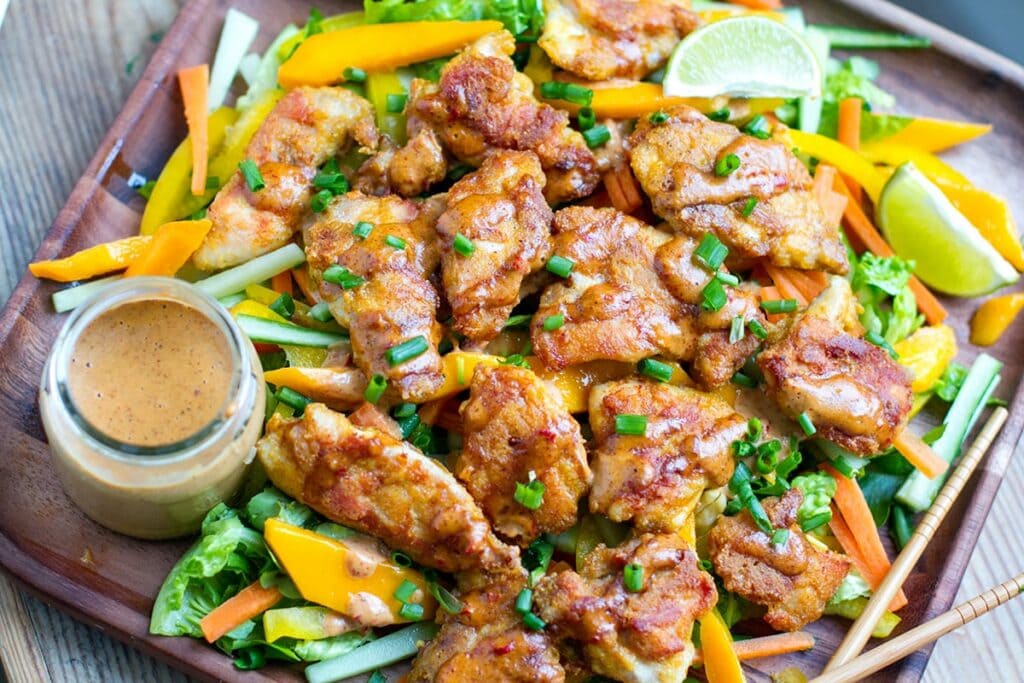 How To Make Bang Bang Chicken
There are two key components to this dish that you have to get right: juicy, crispy fried chicken and the spicy sauce. My secret is to use chicken thighs, as the meat is tastier and more tender than the chicken breast, and to coat the pieces in a simple flour slurry before shallow frying them until crispy. Plus, some delicious seasoning!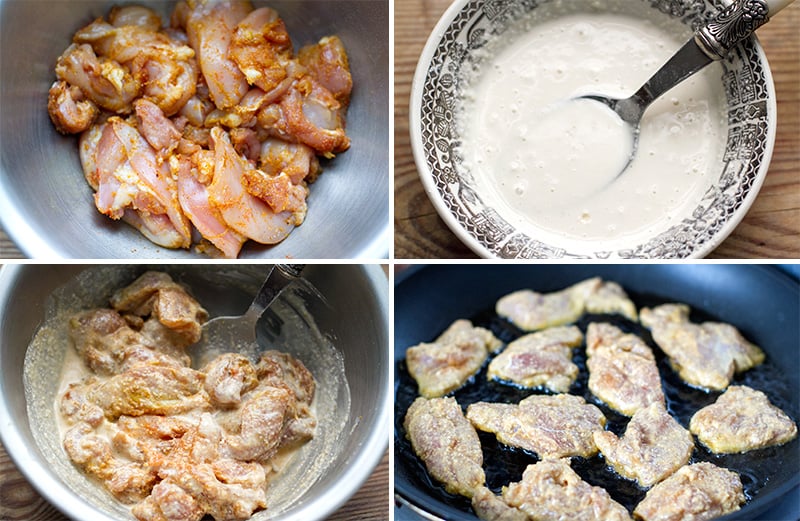 Spicy Almond Sauce
The sauce is made with almond butter, aromatics such as onion, garlic and chilli, and my little secret ingredient – coconut yoghurt! Don't worry, it will be equally delicious with coconut cream/milk but I think the yoghurt adds a little extra tang that works really well here. I also use it in my coconut yoghurt chicken.
You will benefit from having a small blender for processing the sauce into a smooth consistency, however, chopping everything finely with a knife will work just as fine and will give you a more textured sauce.
The recipe makes a little more sauce than you will use in this dish, so save it in an airtight container and enjoy it as a dipping condiment with some cut-up veggies or as a drizzle over salads or veggies. It would be a great alternative sauce for my Asian chicken salad.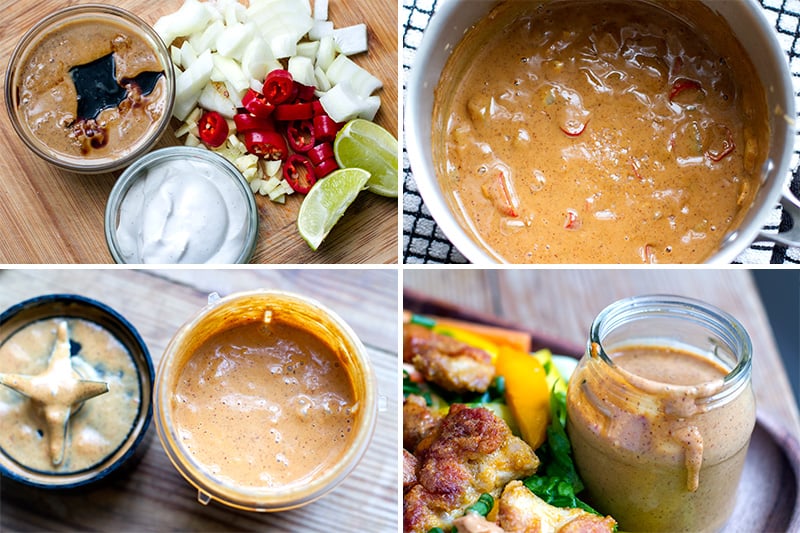 Mango Salad
The final component is a simple salad, which you can make with whatever vegetables you have on hand. I love using as many colours as possible and using a little tropical fruit such as mango or pineapple.
You can also add fresh herbs like coriander (cilantro) or mint, shredded cabbage, radishes, shaved zucchini and so on. It's dressed simply with lime juice, salt, and olive oil because the bang bang sauce and the chicken juices will serve as a dressing as well.
You can also serve the chicken over cauliflower rice, zucchini noodles or as finger food at a party. Alternatively, make my super easy everyday side salad.

Some harder to get ingredients you can get on Amazon: tapioca flour, coconut flour, coconut aminos, almond butter, white pepper.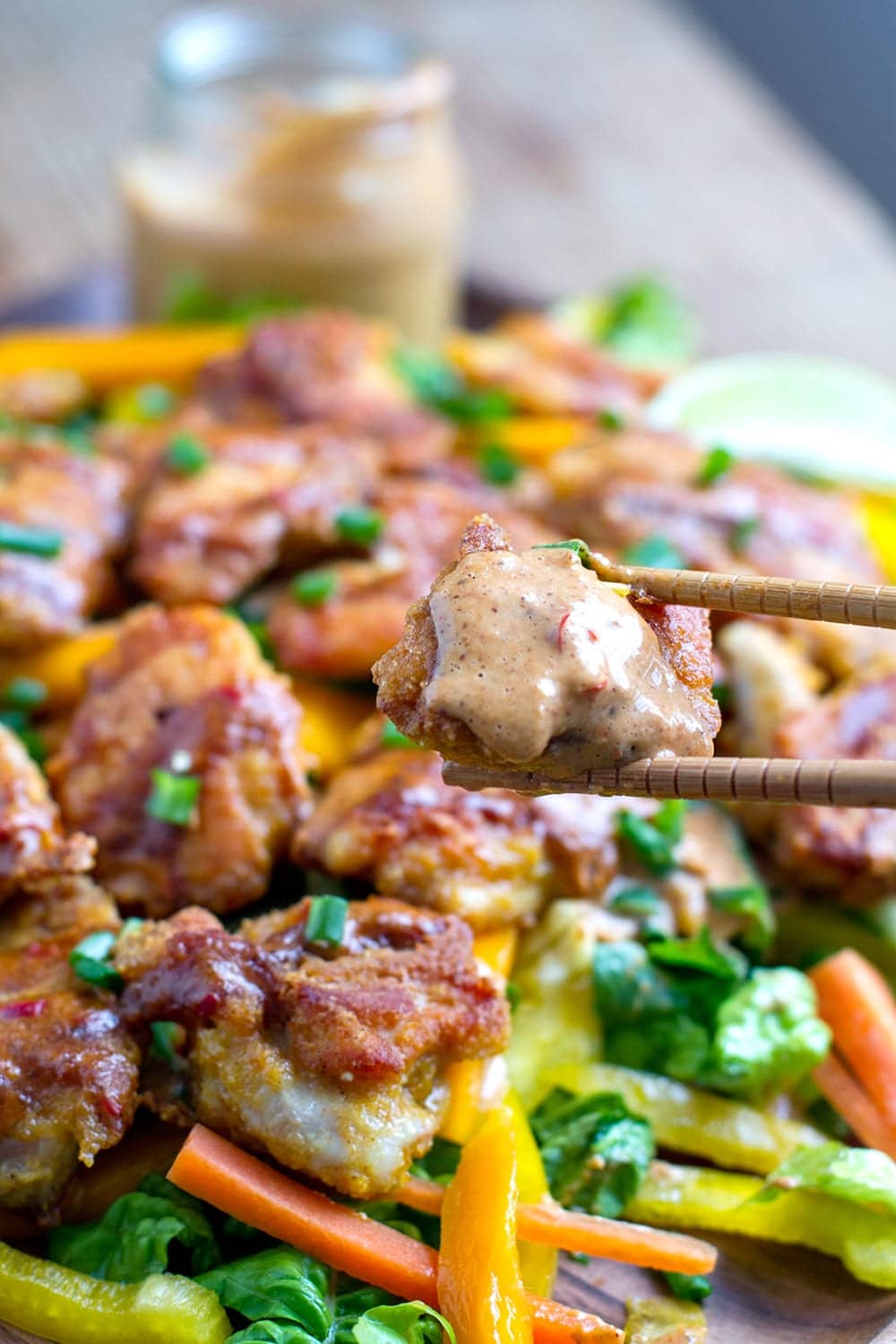 ---
More Asian Chicken Recipes
---
Full Recipe
Find the full list of ingredients, instructions, and a nutritional breakdown below. If you have questions or cook this recipe, please let me know in the comments, and make sure to rate this recipe so it's easy for others to find.
Print
Bang Bang Chicken With Spicy Almond Sauce
Author:

Prep Time:

25 mins

Cook Time:

15 mins

Total Time:

40 mins

Yield:

2

-3

1

x

Category:

Chicken

Method:

Grilled

Cuisine:

Thai

Diet:

Gluten Free
---
Description
Drizzled with the tastiest spicy almond sauce, this bang bang chicken is juicy and crispy. Served with a zesty Asian salad with cucumber and mango. This delicious chicken recipe is gluten-free and paleo-friendly.
---
Coconut oil for cooking
For the chicken
4

skinless, boneless chicken thighs

1 teaspoon

white pepper (black can also be used)

1 teaspoon

of salt

1 teaspoon

paprika

1 teaspoon

mild curry powder

1

+

1/2 teaspoons

onion powder

1

+

1/2 teaspoons

garlic powder
For the slurry
3 tablespoons

tapioca flour/starch

1 tablespoon

coconut flour

1/4 cup

almond milk or coconut milk (water could also be used)
For the sauce
1 teaspoon

coconut oil

1/2

small onion, diced (or

1/4

large)

1/2

long red chilli, sliced or finely diced

1/4 teaspoon

salt

1

clove garlic, finely diced

3 tablespoons

almond butter

2 tablespoons

coconut aminos or Tamari (wheat-free soy sauce)

2 tablespoons

honey or maple syrup

3 tablespoons

coconut yoghurt or cream

1/4 cup

water
Juice of

1/2

lime
For the salad
1

head of baby gem lettuce, shredded

1/2

long cucumber, sliced into thin strips

1

large carrot, sliced into thin matchsticks

1/2

yellow pepper, thinly sliced into strips

1

small mango, sliced into thin strips or diced

1/4 cup

diced scallions/spring onion
Juice of

1/2

lime
A good pinch of salt
---
Instructions
Marinate the chicken. Ideally, marinate the chicken for 30 minutes to an hour before cooking. Lay the chicken pieces on a cutting board close together and sprinkle evenly with all of the spices and salt. Massage the chicken meat to make sure the spices are distributed evenly. Leave in the fridge for an hour or overnight and make sure to remove from the cold for 10-15 minutes before frying.
Make the sauce. This can also be made ahead of time if you're doing this as part of meal prep on the weekend. Heat a small saucepan over medium-high heat. Add the coconut oil, onion, chill and salt and sauté for 2-3 minutes, stirring a few times, until softened. Add the rest of the ingredients and stir over heat until melted and combined (for about a minute).
Puree the sauce. Transfer the sauce mixture to a small blender or a food processor and blend until smooth. Transfer to a bowl and set aside. If storing in the fridge, simply reheat before serving to thin it out (you can add a little more water if gets too thick in the fridge).
If not using a blender or a food processor, dice the onions, chill and garlic very finely, so that once the sauce is combined in the pot, you can leave it unprocessed.
Make salad. Do this before you start cooking the chicken. That way all the components are ready for service. Cut the salad ingredients and assemble them in a bowl or a large platter. Drizzle with lime juice, sprinkle with a little sea salt and drizzle with olive oil. Set aside.
Cook the chicken. Make sure the chicken is out of the fridge so it's not too cold. The first step is to make the flour slurry. Combine the flour with the almond or coconut milk and whisk through until smooth. Add the slurry to the chicken and mix until evenly coated.
Heat 2 tablespoons of coconut oil (a thin layer) over medium-high heat and once hot add the chicken pieces, one by one, making sure there is a little space around them. I like to use chopsticks for this as you can delicately move the pieces around the pan. Cook for 5 minutes on each side. Use a thin spatula to slide under the chicken,  if it feels a little stuck before you turn it over.
Serve the chicken over the salad platter and drizzle with a few tablespoons of the sauce. Serve extra sauce on the side. I like to also serve some extra green vegetables such as steamed broccoli or snow peas.
---
Notes
Nutrition label below is for chicken with sauce and salad!
Nutrition
Serving Size:
Calories:

791

Sugar:

34.1 g

Sodium:

1435.6 mg

Fat:

41.1 g

Carbohydrates:

63.4 g

Fiber:

9 g

Protein:

47.6 g

Cholesterol:

186.7 mg
Keywords: Bang bang chicken, bang bang sauce, almond sauce, spicy almond sauce, chicken recipes, Asian chicken recipe, Paleo, Gluten-Free