Luxurious and decadent, this paleo chocolate tart is made with crunchy, roasted hazelnut base and salted caramel filling. It's absolutely amazing and will delight you and your guests. Gluten-free, dairy-free, grain-free.
---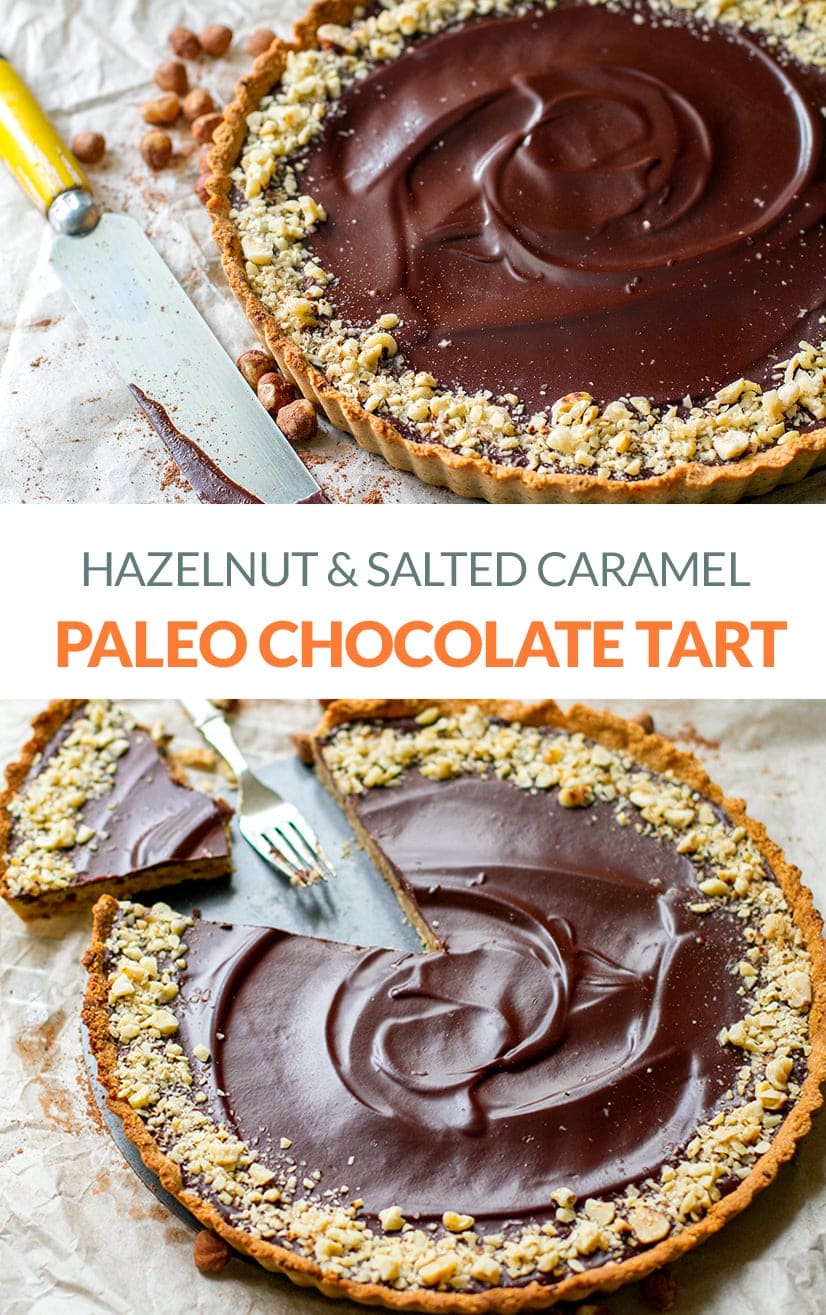 If you look at this tart and think it looks amazing, let me confirm that it totally is. In fact, I gave it to 6-7 people to try and everyone loved it and couldn't believe that it was actually somewhat healthy and paleo-friendly. Even my boyfriend, who doesn't have a sweet tooth at all, ate a full slice and raved about it along the way.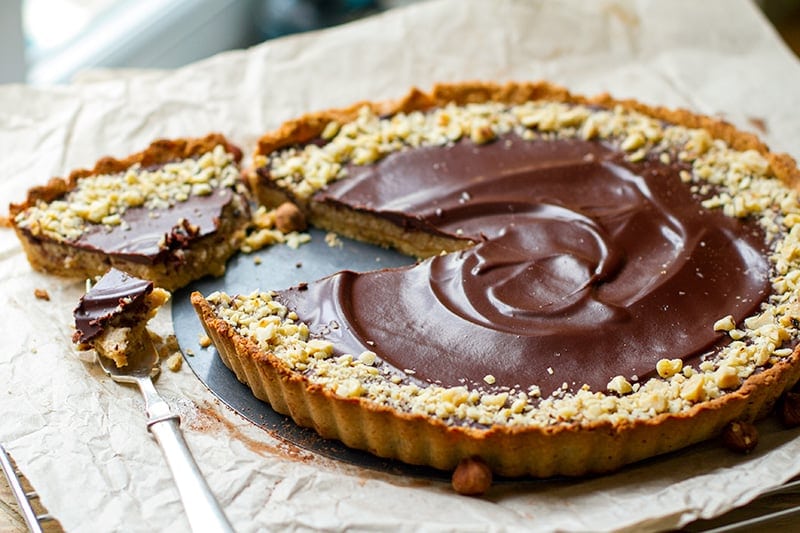 The recipe for this paleo chocolate tart comes from Let's Eat Paleo cookbook by most delightful The Merrymaker Sisters. Their recipe e-book is filled with yummy, guilt-free paleo dishes, desserts, snacks and drinks but this chocolate hazelnut tart – which was actually the last recipe in the book – caught my eye because it sounded and looked decadent, and I fancied a little weekend project.
Check out Emma & Carla's recipe for Paleo Self-Saucing Chocolate Pudding.
This chocolate hazelnut tart uses rich, energy-dense ingredients so it's quite decadent and should be eaten as a treat. It's certainly not an everyday food, as delicious as it is. The ingredients are grain-free and dairy-free but it does use things like honey and dates, so it's still a little naughty. Enjoy mindfully!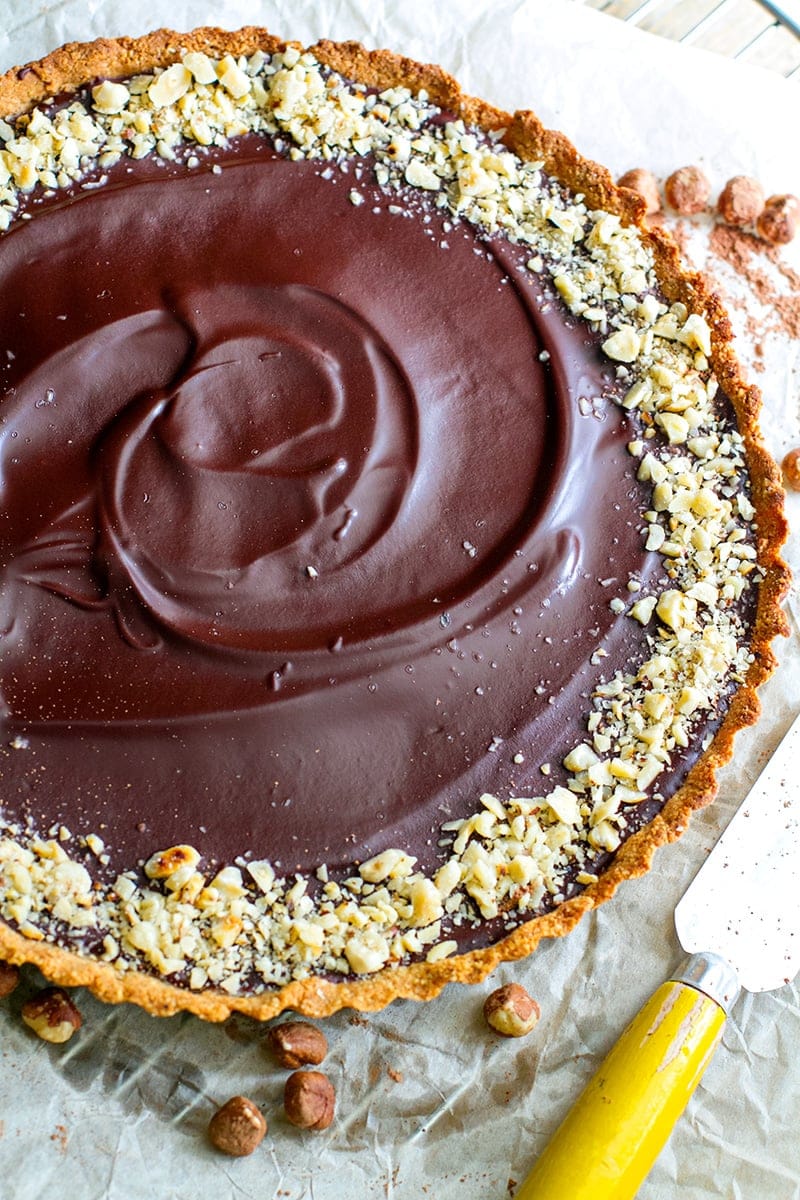 HOW TO MAKE PALEO CHOCOLATE TART
There are a few processes involved in this recipe, but it's actually pretty straightforward to make as I discovered, possibly due to the easy to follow instructions from Emma and Carla. I took a few photos along the way to make it even easier for you to follow.
I haven't changed the recipe as such but I have amended some of the ingredients, simply because of what I had in my own pantry and because of my strange compulsion to tinker with things. I left comments in the full recipe where I amended ingredients in case you get their e-book (and you should!) and wonder why some things are slightly different.
There are three phases to making this tart: the hazelnut base or the crust, the caramel filling and that luxurious chocolate ganache. You will need a round or rectangular tart tin, some parchment paper and a rolling pin (ideally but not essential). You will need a food processor to make the base and the filling!
The original recipe used raw hazelnuts but I decided to roast mine (or toast) in a pan to get an even richer, nuttier flavour. I think it makes a big difference and took this tart to the next level.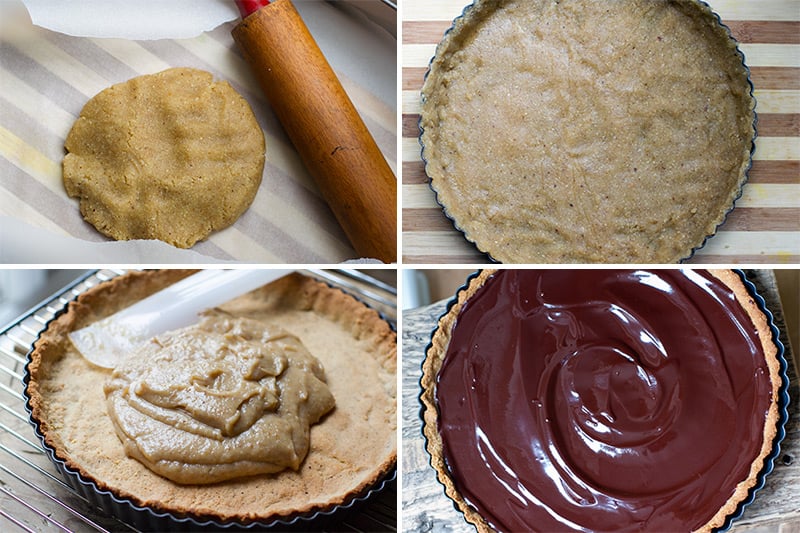 MORE PALEO CHOCOLATE RECIPES
Sweet Potato Chocolate Brownies
5-Ingredient Chocolate Cake (Keto, paleo)
No-Bake Paleo Chocolate Caramel Slice
Paleo Self-Saucing Chocolate Pudding
Healthy Homemade Paleo Chocolate
20 Fabulous Paleo Cheesecake Recipes
Print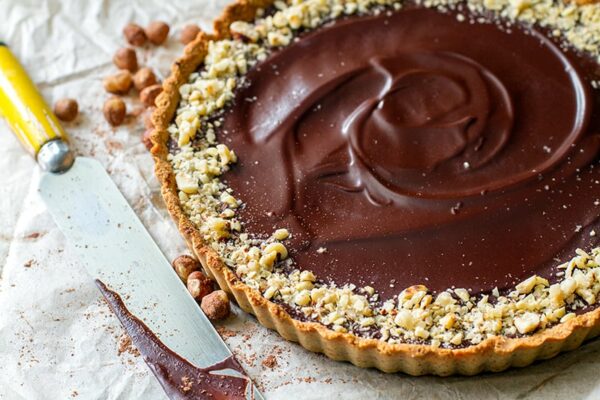 Paleo Chocolate Tart With Hazelnut & Salted Caramel
Author:

Prep Time:

40 mins

Cook Time:

1 hour

Total Time:

1 hour 40 mins

Yield:

10

slices

1

x

Category:

Dessert

Method:

Baked

Cuisine:

French
---
Description
The most delicious paleo chocolate tart with hazelnut base and salted caramel filing. It's a great dessert for special occasions.
---
For the base
1.5 cups

almond meal

1 cup

hazelnuts

2 tablespoons

coconut oil melted or soft

1

egg

1 tablespoon

maple syrup or honey (Natvia was used in the eBook recipe)

1 teaspoon

vanilla extract or essence
For the caramel filling
150 g

pitted dates (about

20

Medjool dates, soaked in boiling water for at least

10

minutes)

1 cup

coconut cream (coconut milk was used in the eBook, see notes on the cream)

1 tablespoon

soft or melted coconut oil

1 teaspoon

vanilla extract or essence

1 teaspoon

sea salt or himalayan pink salt

2 tablespoon

crushed almonds
For the chocolate ganache topping
100 g

coconut oil (a little more than

1/3

of a cup)

6 tablespoons

raw cacao powder

1 tablespoon

raw honey

1 teaspoon

vanilla extract
---
Instructions
Preheat the oven to 180 °C / 355 °F. Grease a 22-cm tart tin (my tart was 26cm, so the tart might have ended up a little thinner, but still worked as you can see).
Start with the base.The recipe uses raw hazelnuts but I decide to do a little roasting beforehand, to give them richer flavour. Heat a small frying pan and add the hazelnuts (1 cup + the 2 tablespoons for the filling). Cook over medium heat for 3-4 minutes, swirling frequently to prevent burning, until lightly browned on all sides. Remove and cool for a few minutes.
Place 1 cup of the hazelnuts in a food processor (the girls used a Vitamix, I used a standard food processor). Reserve 2-3 tablespoons for later. Grind and process them into fine meal, for about a minute. Add the almond meal, coconut oil (I didn't even melt mine), egg, maple syrup (girls used Natvia and you could use any other natural sweetener) + vanilla. Whiz again until the mixture comes together.
Scoop the mixture out and make it into a large ball. Place and flatten between 2 sheets of baking paper (about 50x50cm). With a rolling pin, roll out the base to about 3mm thick (mine was more like 5cmm). When rolling, start from the middle and roll to the edges in different directions. Peel the top layer of baking paper off, then flip the base over the tart tin. Be gentle. My base broke a little but you just fill in any gaps with your fingers. Make sure the area where the sides and the base meet is filled, a little thicker if possible.
Place a round layer of baking paper over the base and fill with baking beads. I used uncooked chickpeas. Bake in the oven for 10 minutes, remove the baking beads and bake for a further 10 minutes or until golden brown. I turned the oven to 170°C for the second 10 minutes. Set aside to cool, in the tin.
Now for the filling. Drain the water from the soaked dates. In the food processor, whiz the dates, coconut oil and vanilla until they foam a thick paste. Add the coconut cream or milk and salt, whiz again until really smooth (about a minute, scrapping the sides as you go).
Spread the caramel mixture over the cooked base and place in the freezer for about 20-30 minutes. You can sprinkle the crushed hazelnuts over the base before adding the caramel but I sprinkled mine on top of the chocolate layer instead.
Now to make the chocolate topping. In a double boiler (a bowl placed over simmering water), melt the coconut oil, honey and vanilla. Stir until combined. Sift in the the raw cacao powder (I just added it in without sifting) and whisk continuously until smooth. I'd say about 20-30 seconds, you don't want to overcook it. Pour the chocolate topping over the caramel and spread with a spatula. Sprinkle with crushed hazelnuts. Place in the freezer for 5 minutes.
That's it! Slice and serve with whatever you like – berries, coconut cream, etc. Store any leftovers covered in the fridge for up to 5 days.
---
Notes
Coconut cream is simly the thickened part of the coconu milk you get in a can. Make sure to get full-fat coconut milk and leave it in the fridge for a few hours. Don't shake the can before opening!
Nutrition
Serving Size:

1 slice

Calories:

470

Sugar:

35.4 g

Sodium:

244.8 mg

Fat:

31.1 g

Saturated Fat:

16.2 g

Carbohydrates:

46 g

Fiber:

7.5 g

Protein:

7.7 g

Cholesterol:

18.6 mg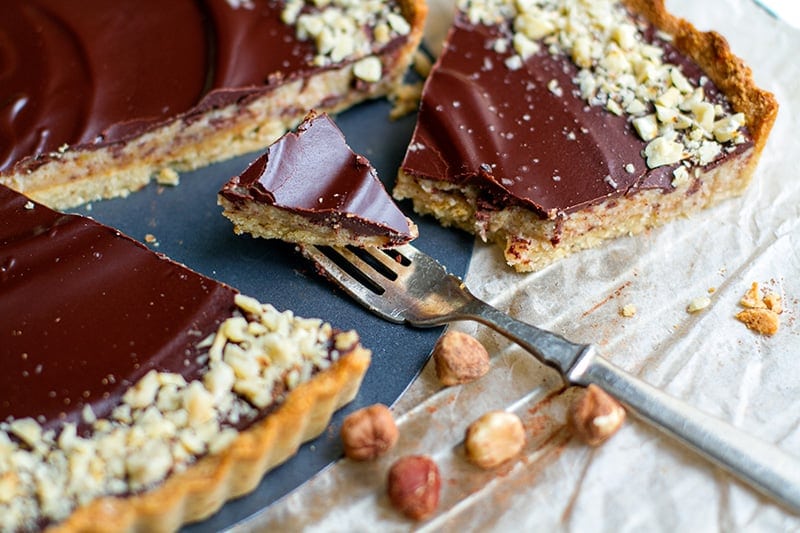 Make sure to check out Let's Eat Paleo ebook from The Merrymaker Sisters for more delicious recipes and paleo cooking ideas.