Chocolate and strawberries are two wonderful foods that, when combined together, create a rather luscious duo. These paleo, and nut-free, chocolate strawberry muffins are not only scrumptious and handy for the lunch-box (including the kiddies), but they also contain lots of hidden nutrients. Let me explain!
I have recently been testing out and cooking with some superfood powders from Nature's Way Superfoods. First, I created a Chia & Coconut Bircher Porridge using their Super Greens + Wild Reds powder. I then moved on to the cacao, called Super Greens + Cacao powder, which I find very exciting because it can automatically upgrade my chocolate treats and make them more nutrient dense. These muffins use a combination of regular cacao together with this upgraded, super-duper awesome cacao powder. What this means is that on top of the already antioxidant rich raw cacao you're also getting extra nutrition perks from spirulina powder, broccoli and spinach powder, flaxseed, kale, chia and even shitake mushroom. That's one way to hide vegetables in the muffins. Very sneaky!
Then of course I had to make it even healthier by adding strawberries. I wanted to make these muffins nut-free because I want your kids to be able to take them to school, so I used coconut flour and tapioca flour, which can sometimes result in a dry finish. Adding fresh strawberries to the batter actually helps to keep them moist so when you bite into the muffin, you get a little burst of strawberry inside.
Cook's notes
The Nature's Way Super Greens + Cacao powder combines antioxidant rich raw cacao with 14 other nutrient dense super foods. It looks and tastes like a regular chocolate powder, however it's not as dark and strong in flavour as a 100% raw cacao, so depending on how you use it, you might want to add extra pure cacao. It's also sweetened with Stevia so you can use it as is without extra sweeteners, again depending on what you're adding it to. In my case, I added a little honey but if you were making something like a chocolate milkshake (I mean the world's healthiest chocolate milkshake), you would just need to add some coconut or almond milk (or regular if you wish) and maybe a little banana for extra creaminess. Blend it and boom!
I've been adding it to anything I would normally add cacao to – morning iced mocha, chocolate protein smoothie, energy balls, granola, and of course the baked chocolate goodies like these muffins. If you can't get this kind of cacao powder (in Australia it's available form Woolworths and Health 365), just use more of the regular cacao powder and add a little more honey for this recipe. Raspberries can be used instead of strawberries.
Print
Chocolate & Strawberry Muffins (Nut Free, Paleo)
Prep Time:

15 mins

Cook Time:

30 mins

Total Time:

45 mins

Yield:

6

1

x
---
Description
Note: If not using NW's powder, add extra 1 tablespoon regular cacao powder + 2 tablespoons honey.
---
1/4 cup

coconut oil

¼ cup

coconut flour

¼ cup

tapioca flour

½ teaspoon

GF baking powder

2 tablespoons

raw cacao powder

2 tablespoons

Nature's Way Super Greens + Cacao powder
pinch of sea salt

3

medium eggs

2 tablespoons

honey

1 teaspoon

vanilla essence/extract

1/3 cup

chopped strawberries

3

small strawberries, halved
---
Instructions
Preheat oven to 170 °C/ 338°F
Melt coconut oil and set aside to cool slightly.
In a small mixing bowl, whisk together coconut flour, tapioca flour, baking powder, cacao powders and a pinch of sea salt. Set aside.
[url href="https://www.cookedandloved.com/wp-content/uploads/2015/05/nature-ways-cacao.jpg"][/url]
Separate egg yolks from the egg whites and place in two medium mixing bowls. Add honey, coconut oil and vanilla to the egg yolks and whisk together until frothy. Then whip the egg whites to soft peaks, about one minute with an electric whisk.
Add the dry mixed ingredients to the egg yolks and mix together with an electric mixer or a spatula, just quickly to combine. I used a hand whisk but the mixture gets a little stuck inside so a spatula would be better. Don't worry about it getting a little dry, as we will fold it with the egg whites.
Now, you would normally fold the chocolate mixture with the egg whites using a spatula but in our case simply add it to the egg whites and then combine together with an electric whisk on low setting for about 5-10 seconds max, just to blend through. Then fold in the the strawberries.
Divide the mixture between 5-6 muffin casings and press the strawberry halves on top firmly. I used parchment paper casings, which I then baked in the muffin tray to keep their shape. You can also pre-grease the muffin tray casings with some oil and add the mixture to those directly.
Bake for 25-30 minutes, middle shelf, then turn the heat off and open the oven door to let the muffins cool down slightly still in the oven. Then remove from the oven and let them cool off in the muffin tray for a further 10-15 minutes. Remove from the tray and enjoy. They will keep for a few days, especially if you place them in an air-tight container and leave in the fridge.
If you want to make mini muffins, reduce baking time and test after 15-20 minutes with a skewer, to see when it comes out clean.
---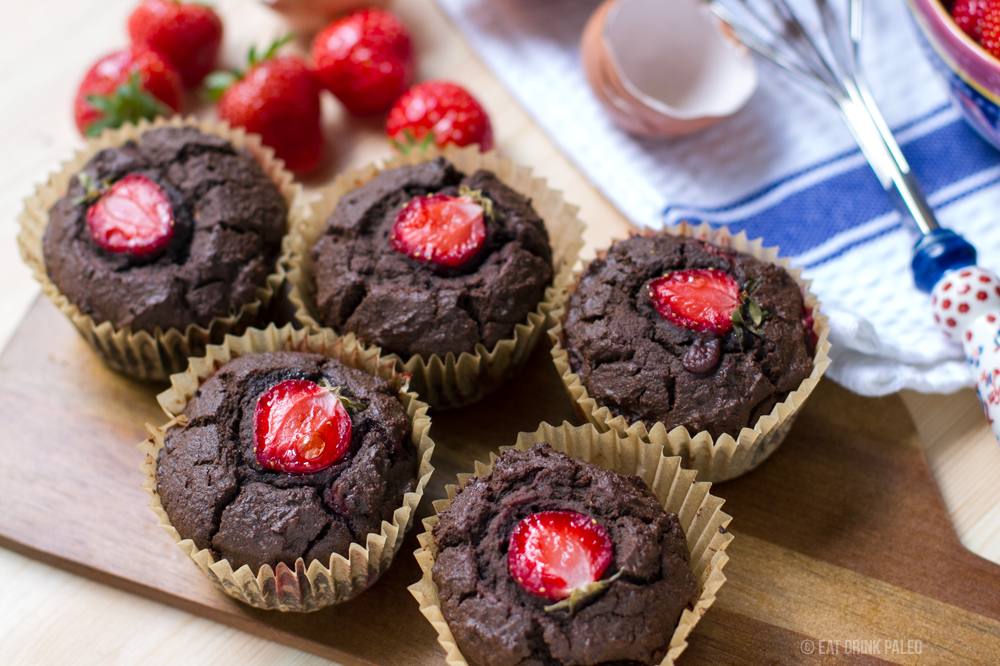 ---
Disclosure: This post is a sponsored by Nature's Way Superfoods. I received a free sample of the product for the purpose of developing this recipe. All opinions are my own and I only work with products I genuinely like and think would be relevant to my audience.