This incredible paleo Christmas pudding is full of festive flavours, yet it's much healthier than a traditional version. It's made with a secret ingredient to keep it luscious and moist and served with dairy-free, paleo vanilla custard.
---
Today's Christmas dessert is a guest recipe from Lisa McInerney's cookbook Mummy Made It A Healthy Christmas. Come the festive season, it is always my favourite recipe book to recommend to my readers. If you haven't got it, make sure to grab a copy here in the lead up to Christmas. Her Gingerbread Cupcakes recipe was super popular with my readers last year.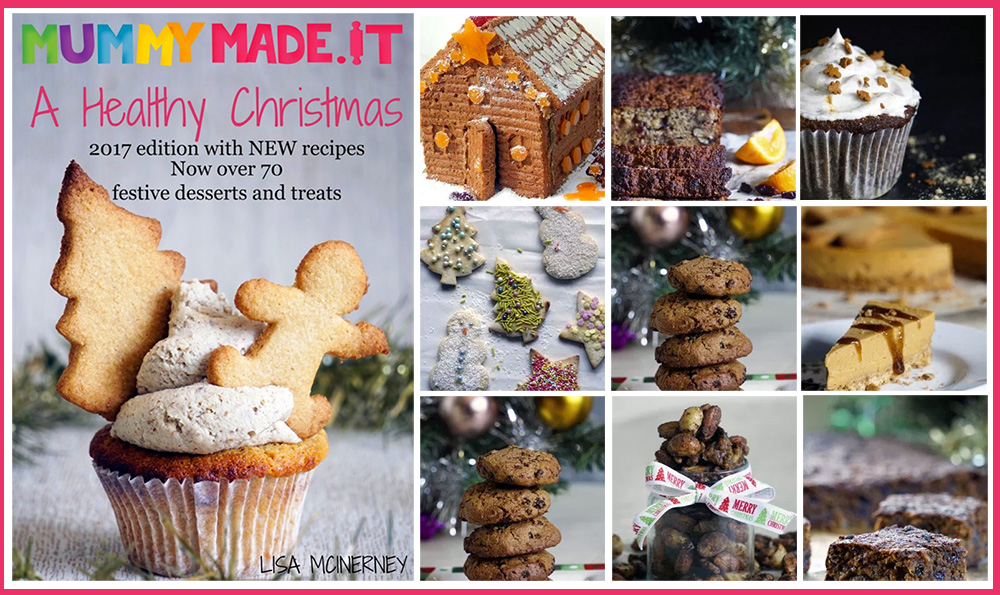 Nothing says Christmas like the traditional Christmas Pudding, and this paleo-friendly recipe version just makes this dessert a little bit healthier! Pumpkin is used in place of butter to create a moist pudding that oozes with festive flavours.
If you have time, allow the fruit mix to sit in the cupboard for a couple of weeks to intensify the flavour. It also pays to make the pudding the day before serving, as it takes a long time to cook and you want to make sure you'll have your pudding ready for dessert.
TIPS FOR MAKING PALEO CHRISTMAS PUDDING
Depending on your cooktop and simmering temperature, the pudding can take anywhere from 5 to 7 hours to cook. Ensure that the pudding is simmering over medium heat as to not dry it (or the pan) out.
This paleo pudding can be stored for up to 3 days and then reheated. Reheat the pudding by placing it back into a greased/lined (as above) pudding bowl and simmering in a large saucepan (as above) for 1 hour. Slices of pudding can also be warmed in the microwave. The pudding can be double wrapped and frozen for up to 2 months.
In the recipe book, Lisa has a few options for sauces and custards. She pours over salted caramel sauce and serves with brandy custard. I've included her more classic paleo vanilla custard sauce in the recipe here, as it's a little simpler. You can add some brandy to the custard, for that extra festive flavour.
MORE HEALTHY PALEO DESSERTS
20 Fabulous Paleo Cheesecake Recipes
5-Ingredient Low-Carb Chocolate Cake (Paleo, Nut-Free)
Healthy Self-Saucing Chocolate Pudding (Paleo, GF)
Healthy Chocolate Hazelnut Caramel Tart
Print
Paleo Christmas Pudding With Custard
Author:

Prep Time:

24 hours

Cook Time:

6 hours

Total Time:

30 hours

Yield:

1

2

1

x

Category:

Dessert

Method:

Pudding

Cuisine:

British
---
Description
This healthy, paleo-friendly Christmas pudding is served with dairy-free vanilla custard. It can be made ahead of time and will delight both kids and grown-ups.
---
For the fruit mix
1 cup

of whole dates

1/2 cup

boiling water

200 g

mixed dried fruit (

6

–

7

oz)

1/2 cup

port/sherry (can be swapped with orange juice)

1/4 cup

maple syrup, rice malt syrup, or molasses (golden syrup can also be used if you want to stick to a more authentic flavour)
For the rest of the pudding
300 g

/ 10 oz of dates, chopped (pits removed)

1 cup

boiling water

1 teaspoon

bicarb soda (baking soda)

4

eggs, separated

200 g

/ 7 oz mashed pumpkin (to cook pumpkin: place pieces in a moderate oven for

50

minutes). can be swapped with sweet potato)

2 cups

almond meal

2 tablespoons

coconut flour

1 tablespoon

arrowroot flour/starch (tapioca flour can also be used)

1 teaspoon

baking powder

2 teaspoons

mixed spice (like Allspice)

2 teaspoons

ground ginger
Coconut oil for greasing
Optional: 2 tablespoons brandy/rum for brushing
For vanilla custard
300

ml dairy-free milk of choice (almond milk, coconut milk)

1 teaspoon

vanilla extract

4

egg yolks

1/4 cup

maple syrup/ rice malt syrup

2 1/2 tablespoons

arrowroot flour/starch

1/2 teaspoon

salt
---
Instructions
Preparation of the fruit mix.
Place 1 cup of dates in a small bowl and cover with 1/2 cup of boiling water. Leave to sit for 20 minutes. Place softened dates in a blender and purée.
In a sealable container place the dried fruit, port, syrup and puréed dates. Stir the contents of the container and place the lid on tightly. Store in a dark, cool cupboard for at least overnight, or up to 6 weeks. (NB: I left mine in the cupboard for 1 month, shaking the container every few days).
Pudding instructions.
This can be done on the day of serving or ahead of time. The pudding will keep, covered, for up to 3 days or can be double wrapped and frozen.
Place the dates in a small bowl and add the boiling water and bicarb. Allow to sit and soften for at least 20 minutes. Once softened place the dates and liquid in a blender and pulse until a purée forms.
Place the egg whites in the bowl of a kitchen stand mixer with a whisk attachment. Whisk the egg whites on medium/high until medium peaks form.
Add the puréed dates and continue to whisk. Add the egg yolks and whisk for 1 minute. Add the mashed/puréed pumpkin and whisk in.
Lightly whisk/sift the almond meal, coconut flour, arrowroot, baking powder and spices together until combined. Add the dry mixture to the eggs and stir in until combined (alternatively, whisk on low).
Add the fruit mix to the mixture and stir in until combined.
Take a 2 litre (8 cup capacity) pudding bowl and grease the sides of the bowl with coconut oil. Place a small piece of baking paper on the bottom of the basin and grease it also.
Pour the mixture into the pudding bowl, smoothing the top for a flat surface. Place another piece of baking paper on the pudding and screw on the lid. Place the pudding bowl inside a large saucepan, sitting it on top of a trivet or small plate.
Pour water into the saucepan, ensuring it comes 3/4 of the way up the edge of the pudding bowl. Bring the water to the boil and simmer on medium, with lid on, for 6 hours. Make sure the water is bubbling around the pudding. Check the water levels regularly to ensure that they are 3/4 of the way up the edge of the pudding bowl. Check the pudding after 6 hours, and if not completely cooked through, cook for a further 30 minutes. The bottom of the pudding (the top part of the pudding basin) is the last part to cook through.
After 6 hours (or when the pudding is cooked through) remove the pudding bowl from the saucepan and allow to sit for 10 minutes. Remove the lid and run a knife around the edge of the pudding to ensure it can be easily removed.
Invert pudding onto a serving tray. Brush the pudding with the optional brandy, if desired.
If serving immediately pour the custard over the top of the pudding, allowing it to drip down the edges of the pudding. Serve with coconut whipped cream or pre-bought coconut milk ice cream or other dairy-free cream/ice cream of choice.
Make the paleo custard.
Place the milk and vanilla in a saucepan. Bring the mixture to near boiling point over low/medium heat.
Place the egg yolks, maple syrup and arrowroot in the bowl of a kitchen stand mixture (or using an electric hand whisk) and whisk on medium until pale and thick. This may take 3-5 minutes.
With the whisk still on, gently pour the almost boiling milk mixture into the bowl. Do this by pouring the hot liquid down the sides of the bowl. Return to the combined mixture to the saucepan and whisk continually over medium heat until boiling. Continue whisking the boiling mixture for 1 minute.
Pour the custard into a heat proof bowl and allow to cool. Cover with plastic wrap and refrigerate until ready to use.
---
Nutrition
Serving Size:

1 slice with custard

Calories:

367

Sugar:

43.4 g

Sodium:

254.3 mg

Fat:

11.1 g

Saturated Fat:

1.9 g

Carbohydrates:

56.6 g

Fiber:

6.8 g

Protein:

8.9 g

Cholesterol:

123.5 mg
---