These healthy low-carb and paleo crackers are super easy to make and can be served with your favourite dips and condiments or used as a base for tasty finger-food canapes. Made with earthy tahini and wholegrain mustard, these grain-free crackers are also tree nut-free, so they are perfect for kids lunch boxes and as healthy snacks.
---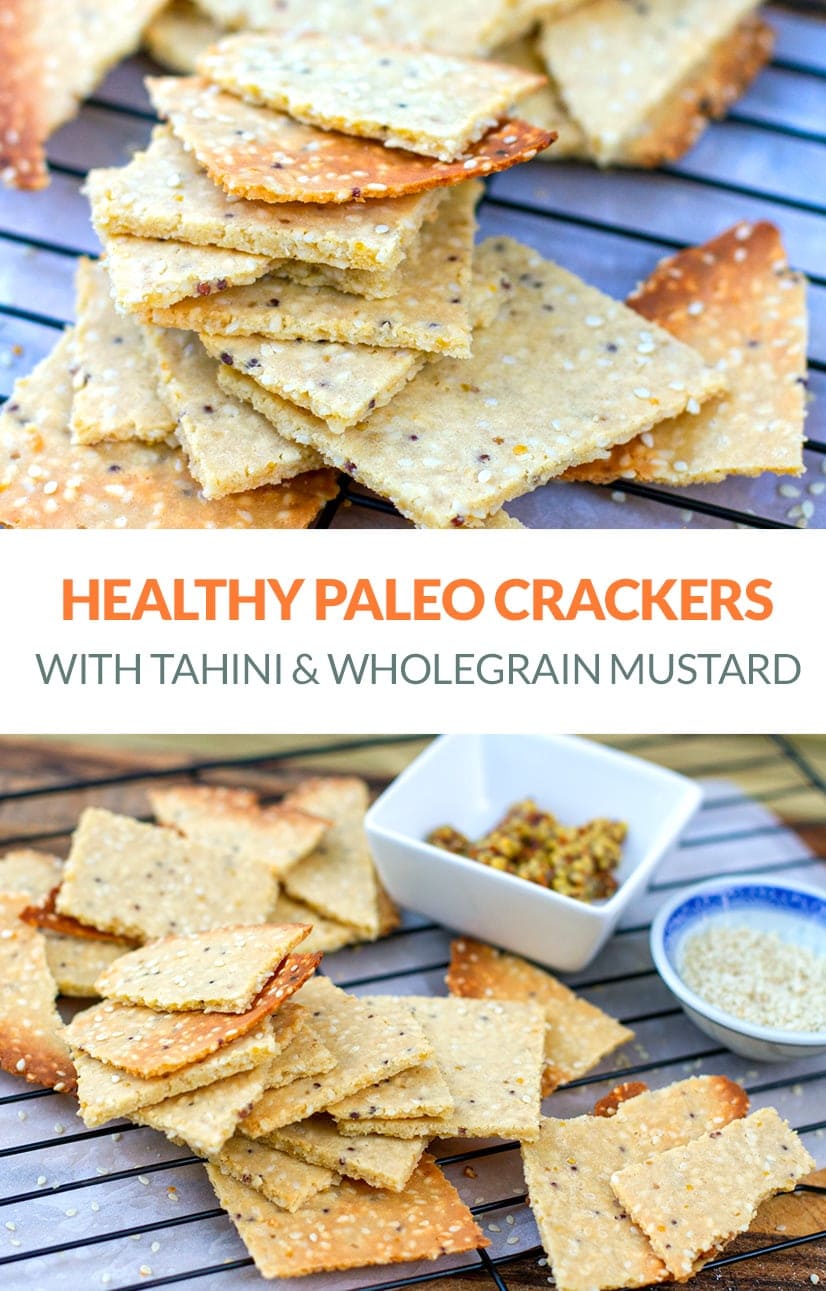 When you make a bowl of nice guacamole or beetroot dip, or you slice up some lovely ham off the bone and a few gherkins and think 'Gee, I could do with a few crackers right about now'?….but, you're trying to be healthy and avoid processed, high-carb or grain-based crackers…that's when you normally opt for carrot and celery sticks.
How about kids school lunches? Wouldn't be nice to add a few healthy and nut-free crackers in their lunch box?
I always find it hard to find healthy and low-carb crackers in stores or they are super expensive. This is why I created this recipe for grain-free, low-carb, nut-free (tree nuts that is!), paleo crackers.
Paleo Crackers Nutrition
For a little snack with just a handful of ingredients, these crackers pack a good amount of nutrients. Sesame and tahini are great sources of minerals and egg and butter or ghee are full of vitamins. They are high in calcium, iron and magnesium; and, with only 4 grams of net carbs (total carbs minus the fibre, which these guys are also high in) and 5 grams of protein per serving (3-4 pieces), you can afford to add some crackers back into your life. Full nutrition breakdown below the recipe.
How To Make These Low-Carb Crackers
These crackers are made with tahini, sesame seeds and wholegrain mustard as the flavour and texture components.
I wanted to keep these low-carb and nut-free, so I opted for coconut flour (not a tree nut but you might need to replace it if coconuts are a problem).
Sesame seeds can also be replaced if they are not allowed in school lunches. I provide a few alternatives further below.
Making these paleo crackers is super easy. You mix all ingredients in a bowl into a very thick, doughy paste and then spread it into a thin layer over some non-stick or greased baking paper. I use two sheets of paper and a rolling pin to achieve a flat, thin cracker layer.
I like to pre-slice the dough ever so slightly with the tip of the knife so that the baked cracker sheet is easier to break into small pieces. Naturally, because our ovens are not evenly heated, the edges or some parts of the crackers might be more cooked than others. Keep an eye on them in case some parts start to burn. You can always remove the sheet and break away the cooked bits, then pop the rest back in the oven for another minute or two. Find the full recipe and instructions below!
Find ideas for 11 more low-carb and paleo crackers here.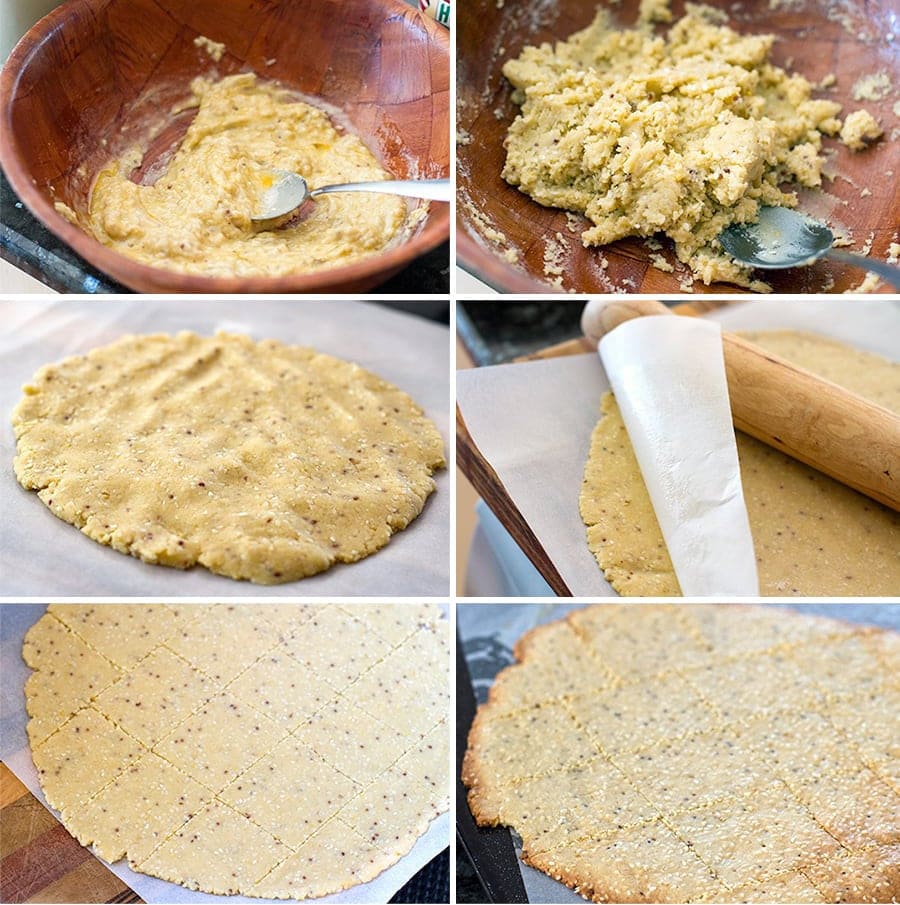 Paleo Crackers: Variations & Swaps
If you are allergic to coconut but not to other nuts, coconut flour can be replaced with some almond meal and tapioca flour (I would say 2 tablespoons of almond meal and 2 tablespoons of tapioca flour or until you get a similar texture as in the images above). Tapioca flour is higher in carbs, just FYI. 
If you're avoiding tree nuts AND coconut, use tapioca flour/cassava and maybe some buckwheat flour (about 2-3 tablespoons of each) or another gluten-free flour.
We eat butter, which is usually fine for those avoiding dairy as it's almost all fat, but you can use ghee (clarified butter), macadamia oil or coconut oil instead.
If allergic to sesame seeds but not to other nuts, you can use cashew or sunflower butter instead of tahini, which you can dilute with a little water or melt over low heat. Omit the butter in this case as it will have plenty of fat from the nut butter. Whole sesame seeds can be replaced with hemp seeds.
Wholegrain mustard can be replaced with dried herbs such as rosemary or sage, and you can also add spices like garlic salt, paprika and cumin for more interesting flavours.
I haven't tried making these without eggs but I imagine you can just add a little water or a tablespoon of chia seeds or flaxseeds soaked in water until puffed up. That seems to be a good egg replacement.
Double the ingredients and bake on two trays if making a larger batch.
How To Store Homemade Crackers
These paleo crackers can be stored in an airtight container or a mason jar for up to one week. They will last even longer in the fridge. You could portion them out into individual Ziploc bags for quick grab-n-go snacks.
What To Serve With Paleo Crackers
These crackers can be enjoyed in so many ways. Obviously, they are perfect for dipping into your favourite dip. Try my Greek Eggplant Dip or this Beetroot Prune & Walnut Dip.
Top the crackers with homemade basil cashew pesto and sliced tomatoes or artichoke pesto dip and good quality ham; sun-dried tomatoes and cheese are a good combo if you tolerate dairy; add them to any cheese platter or antipasto platter.
Serve as a side with your favourite healthy soup; pop a saucy meatball on top or serve with tuna tartare or lomi-lomi salmon salad.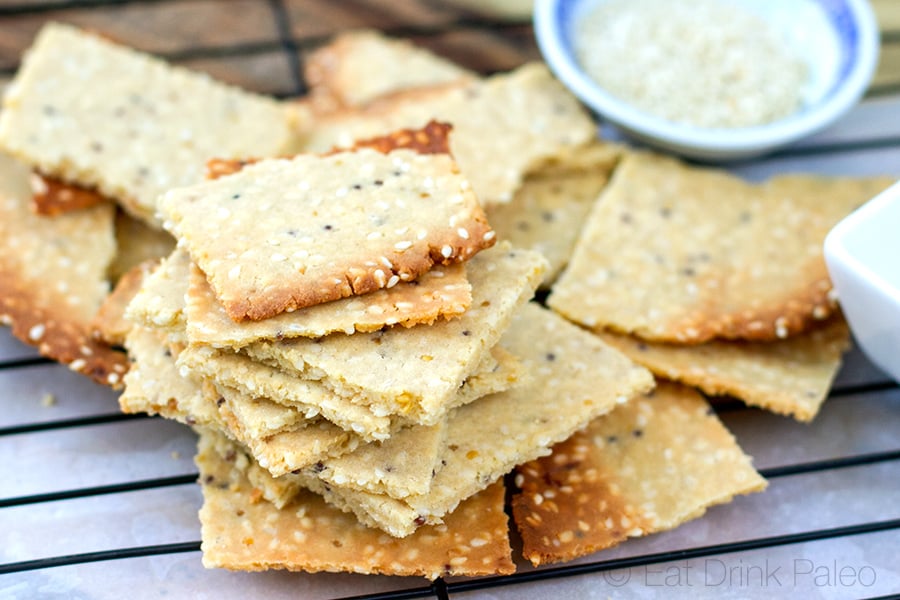 Print
Paleo Crackers With Tahini & Wholegrain Mustard
Author:

Prep Time:

10 mins

Cook Time:

15 mins

Total Time:

25 mins

Yield:

10

–

15

crackers

1

x

Category:

Snack

Method:

Baking

Cuisine:

European
---
Description
These homemade paleo crackers are healthy and delicious and can be served with dips, antipasto platter, soup and more. Tree nut-free and great for lunch boxes and on-the-go snacks. Serving size 4-5 crackers.
---
---
Instructions
Preheat the oven to 170 °C/335 °F.
Mix the tahini, butter (or other oil/fat), egg, sesame seeds, salt and mustard in a bowl until well combined. Add the coconut flour and mix until thick, sticky mixture forms. If using a different flour, you will need to add more as coconut is a strong moisture absorber and I am using it sparingly.
Roll the mixture into a ball and place on a slightly greased parchment/baking paper (about 40 x 40 cm). Flatten with you hands in the middle until it's a flat pancake. Then cover with another piece of parchment paper of the same size and use a rolling pin to flatten the pancake into a thin dough layer, about 3-5mm. Roll it evenly in four directions starting from the middle.
Finally, using a knife, make small incision marks vertically and horizontally to make it easier to break the crackers when cooked.
Place in the oven, middle shelf, and cook for about 15 minutes. The outer edges will cook faster so I recommend taking the tray out of the oven when those start going golden brown and slicing those edges off first, then putting the tray back in the oven for a further 3-5 minutes. Alternatively, before you put the tray in the oven in the first place, slice the thin pancake into halves and spread them apart so there is some space between the halves.
When you're taking them out, you will notice that there is some oil bubbling away around the cracker and that's fine. Set the cooked cracker layer to cool before breaking apart. See pictures above for reference.
---
Notes
Tahini paste is made out of sesame seeds and can be purchased in most supermarkets, health food stores and online. I used light tahini paste. It can be replaced with nut or seed butters.
Nutrition
Serving Size:

4-5 crackers

Calories:

159

Sugar:

1.1 g

Sodium:

818.5 mg

Fat:

12.8 g

Carbohydrates:

6.3 g

Fiber:

3.1 g

Protein:

5.2 g

Cholesterol:

54.1 mg