This paleo granola recipe is from my Eat Drink Paleo Cookbook. It's one of my oldest, most-loved creations and is very popular with my readers. I love it with a little almond or coconut milk and coconut yoghurt and seasonal fruit.
---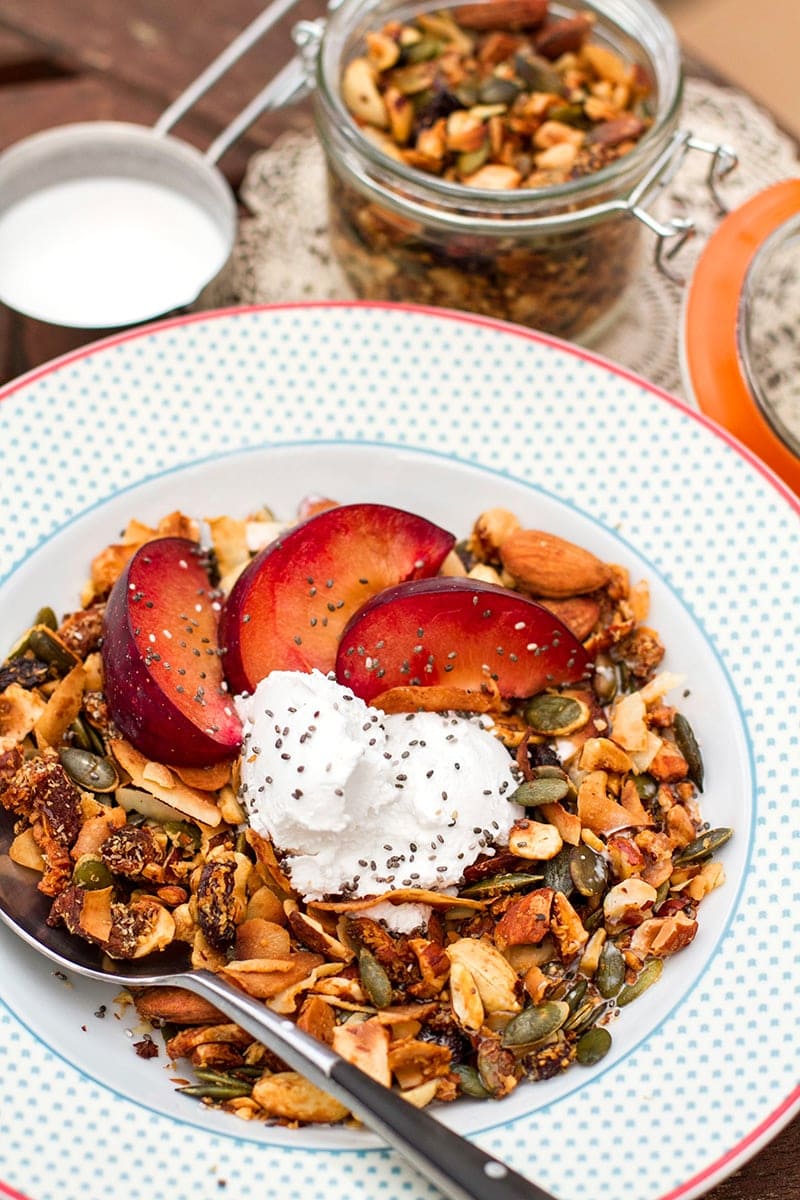 My Favourite Paleo Granola
I live with someone who is addicted to cereal and granola. I mean not just in the morning, but as a snack before bed too. I don't really like having sugar-loaded, processed granola in the house so I decided to make up my own paleo version using more nutrient-dense ingredients and natural sweeteners.
I like to make a big batch on the weekend, which usually lasts for a week or so as we don't have granola daily anymore. This recipe is suitable to those avoiding grains and gluten, following a plant-based diet or just looking to eat a little cleaner. On winter mornings, I like to make a paleo porridge instead.
How To Make This Paleo Granola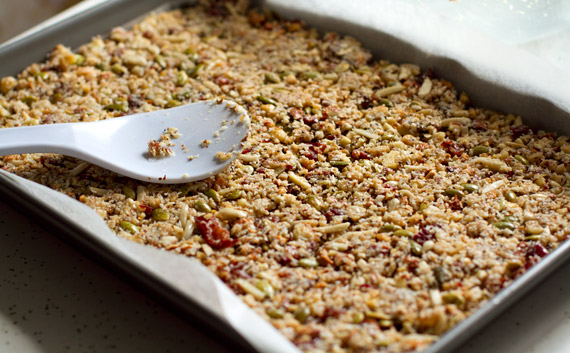 I often use a variety of nuts and seeds in this recipe and a different type of dried fruit. Some nuts and seeds contain fairly high amounts of omega-6 fatty acids. Macadamia nuts have the lowest amount but can be quite expensive.
My rule is to have plenty of omega-3-rich foods to compensate and to create a healthy ratio of omega-6 to omega-3 fatty acids in our diet. We have granola every third day instead of making it a daily breakfast meal.
If you have the time, you might like to 'activate' the nuts and seeds to reduce the phytic acid content. Phytic acid decreases the absorption of minerals in the food consumed and it just so happens that nuts and seeds are fairly high in it. Most plants have phytic acid in them so it's not a huge issue but you have to be aware and ideally learn how to prepare certain ingredients.
To reduce the phytic acid you have to soak the nuts and seeds in water with a little salt for 4-6 hours. I use different bowls for different nuts and seeds. Then, rinse and pat dry the nuts with a paper towel and spread them in a thin layer on a baking tray or two. Pop in the oven to dehydrate the nuts and seeds back to dried using very low temperature (65-70 °C/150 °F) for 3-4 hours, stirring a couple of times. A little more on soaking nuts by Sally Fallon here.
Having said all that, most of you probably don't have the time to do all of that so just enjoy your granola with regular nuts and seeds and limit to eating it a couple of times per week.
This paleo granola is baked in the oven for that extra crispy finish. While it's baking hot, the natural sweeteners stick the mixture together creating those perfect grain-free muesli clumps.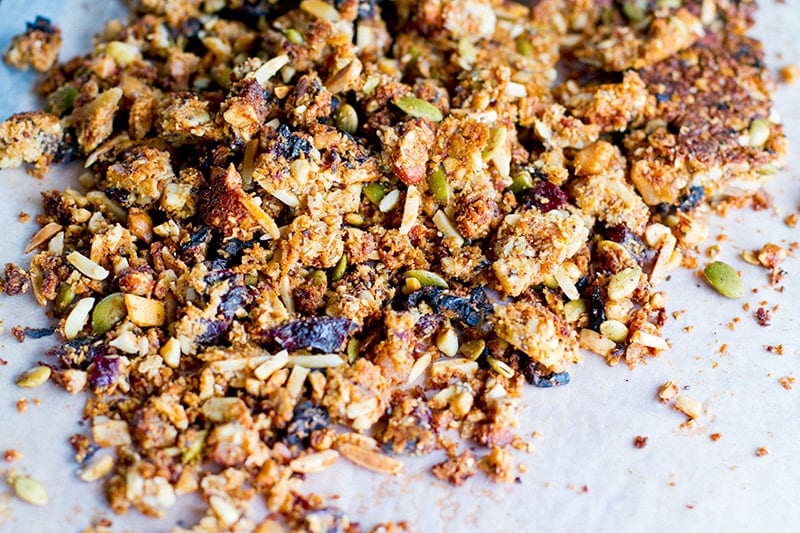 More Paleo Breakfast Recipes
15 Paleo Oatmeal & Porridge Alternatives
Turkey Sausage With Sweet Potatoes
Glowing Goddex Detox Green Smoothie
Coconut Mango Chia Seed Pudding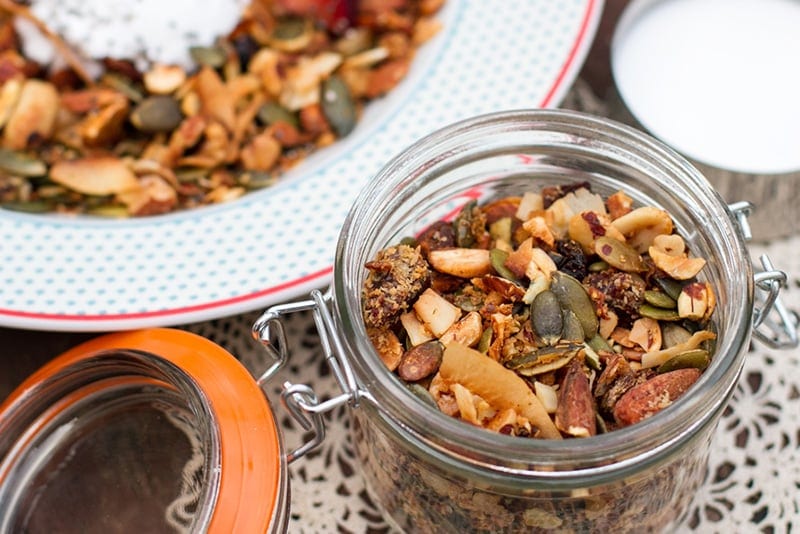 Serve this paleo granola with coconut or almond milk or coconut yoghurt, coconut cream or natural full-fat yoghurt and fresh berries or fruit on top. I often take a handful in a ziplock bag as a snack on the go. Store in an airtight container or a Mason jar. A friend of mine keeps it in the fridge and says it lasts longer.
Print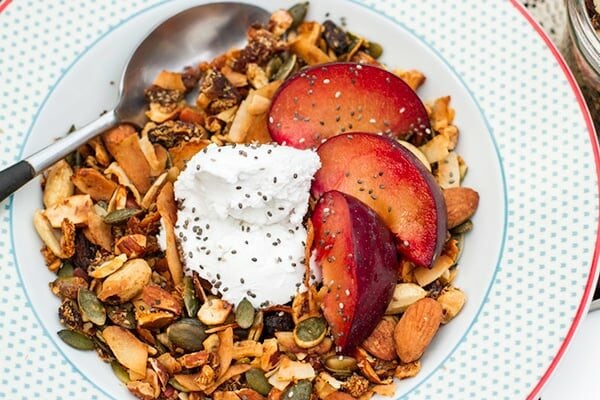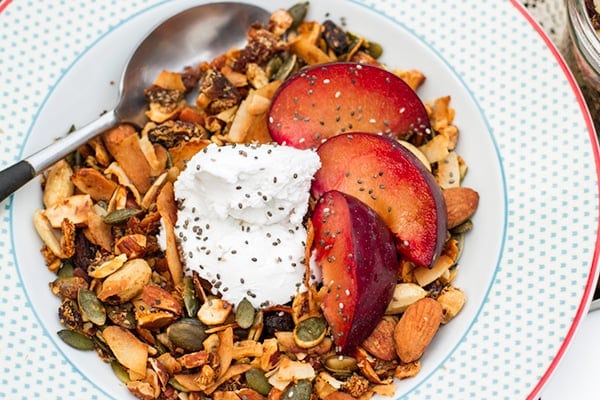 Paleo Granola Recipe
Author:

Prep Time:

10 minutes

Cook Time:

25 minutes

Total Time:

35 minutes

Yield:

1

0

1

x

Category:

Breakfast

Method:

Baking

Cuisine:

European
---
Description
This delicious and nutrient-dense paleo granola is one of my most popular recipes and much loved by the readers. Make a big batch and keep for 2-3 weeks or even longer in the fridge. Serve with dairy-free milk or yoghurt of choice and some fruit and berries.
---
3 cups

mixed almonds, hazelnuts, macadamia and brazil nuts

2/3 cup

dried fruit (plums, dried cherries, cranberries, apricots, figs or dates)

1/2 cup

pepitas (pumpkin seeds)

2/3 cup

 desiccated coconut, unsweetened

1/2 cup

coconut flakes (if you have them)

2 tbsp

maple syrup

2 tbsp

honey (rice malt syrup, maple syrup or coconut syrup can also be used)

1 tbsp

vanilla extract
Optional but very nice: zest of 1 orange

1

tbspcoconut oil or ghee

1

 tbsp chia seeds
You will need a food processor or some other way to break the nuts into smaller crumbs
---
Instructions
Preheat oven to 165 °C (330 °F).
Add two and a half cups of whole nuts (reserve the rest as whole nuts) and the dried fruit to a food processor. Process the mixture into medium size crumbs, some of it will turn into finer flour/meal like consistency but that's what we want – a variety of shapes and sizes. Transfer to a large bowl.
Add the remaining whole nuts and the rest of the ingredients, excluding chia seeds. Mix well and use a wooden spoon or a spatula to break down the clumps which will form when coconut oil and honey come into contact with dry ingredients. It's ok if some of them remain unbroken.
Grease a large baking tray with some coconut oil or ghee and line it with baking paper, making sure the sides are covered. Spoon the mix into the tray and flatten with a spatula.
Bake in three stages. First, bake for about 12 minutes and then stir the mix as the top would have browned by now. Then, bake for 8-10 minutes and stir again. Finally, bake for the last 4-5 minutes.
Remove and let it cool completely. The mixture should have turned crispy and dark golden brown.
Finally, add chia seeds and transfer to an air-tight container. You can leave it out of the fridge for a few days but it will keep longer, for up to two weeks, if you refrigerate it.
---
Nutrition
Serving Size:

1/2 cup

Calories:

405

Sugar:

15.6 g

Sodium:

7.5 mg

Fat:

29.3 g

Saturated Fat:

9.3 g

Carbohydrates:

22.6 g

Fiber:

5.1 g

Protein:

6 g

Cholesterol:

0 mg