This grain-free, gluten-free breakfast cereal alternative might take a couple of hours to prepare but it's a leisurely project that will return many happy moments every time you eat a spoonful. Full of satiating nuts and omega-3 rich chia seeds, this paleo granola packs a punch of nutrients and flavour. Serve with unsweetened, full-fat yogurt, coconut cream, coconut milk or coconut yogurt. You can also sprinkle it over stewed fruits and fruit salads.
Print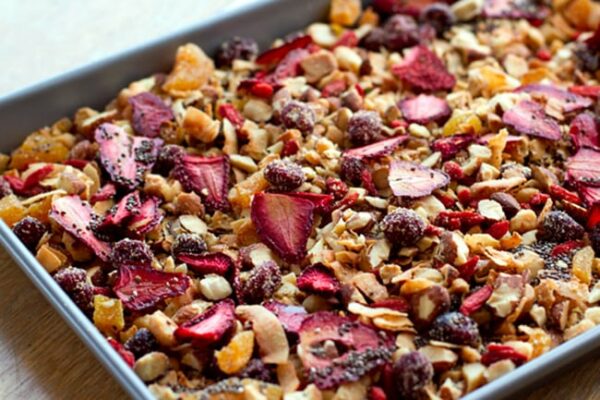 Paleo Granola With Oven-dried Strawberries
Author:

Prep Time:

20 mins

Cook Time:

3 hours

Total Time:

3 hours 20 mins

Yield:

10

-

1

2

1

x

Category:

Breakfast
---
2 1/2 cups

raw almonds

2 cups

macadamia nuts

1 1/2 cups

coconut flakes

10

medium to large strawberries

6

dried apricots, roughly chopped

2/3 cup

dried cranberries

2/3 cup

dried Goji berries

2/3 cup

chia seeds
---
Instructions
Preparing the oven-dried strawberries is easy but it does take a bit of time, so you can occupy yourself with other errands or reading a book while they're baking. Wash and pat dry the strawberries and slice lengthwise. You should get about 5-6 slices from each strawberry.
Heat the oven on its lowest heat setting, about 75 C / 165 F. Spread the strawberry slices on a parchment paper covered tray or sheet pan, or ideally on an oven tray with holes for better air circulation. Bake (oven-dry) the strawberries for 2.5-3 hours. At around 2-hour mark, carefully peel and turn the strawberry slices over. You can also dehydrated the strawberries using an actual dehydrator.
Remove the strawberries from the oven to cool, and turn the heat up to 150 C / 300 F. Mix the almonds and macadamia nuts in a large baking tray and roast for 10-12 minutes, stirring every 3 minutes or so. You're after golden brown colour and a nice toasted smell. Watch the nuts towards the end of the roasting period as they will need more frequent stirring.
Remove the nuts to a bowl and allow to cool. In the same baking tray, scatter the coconut flakes and roast for 3-4 minutes until golden brown. As with the nuts, keep an eye on them and stir half way through.
Place the almonds and macadamia nuts in a food processor and grind into smaller chunks/crumbs.
Mix the nuts, coconut flakes, and oven-dried strawberries with the rest of ingredients and let the mixture cool down completely before storing in an air-tight jar or container. It should keep for a few weeks, although you might end up eating it much quicker.
---