East meets West and flavours collide in this dish of paleo friendly kimchi fries inspired by food truck fusion cuisines. Serve as a side or as a main with a green salad.
---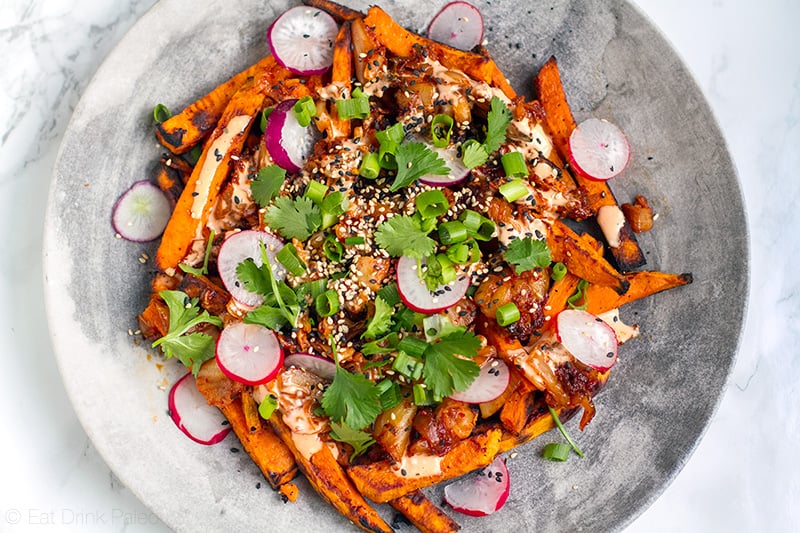 If you're a fan of loaded fries or Canadian poutine (fries with cheese and gravy), you will love this Asian fusion version made with baked sweet potato fries, caramelised kimchi and spicy sauce.
I believe the original kimchi fries come from Chi'Lantro BBQ in Austin Texas, specialising in Korean-Mexican fusion dishes. Cooks all over the Internet have been recreating kimchi fries at home and I thought I'd give it a go and see what all the fuss is about.
They are normally made with white potatoes and have cheese or cheesy sauce over the top as well, but mine is a lighter, more paleo friendly version that is just as moreish. Did I mention they were freaking delicious?
This dish is paleo and vegetarian friendly, and is a great to make for a Meatless Monday or if you feel like skipping the protein for a change. You can serve it with a simple salad or if you do want to some meat or seafood, I suggest a side of grilled chicken or prawns.
Cook's notes
You can use regular white potatoes if you like, but I'm a total sucker for sweet potato fries. When baking them, make sure to leave some space between each fry so they all cook evenly and get a little crispy.
If you're not familiar with kimchi, it's a Korean version of sauerkraut made with salted and fermented napa cabbage (Chinese cabbage) and radish, chilli paste, garlic, ginger, and fish sauce or shrimp paste. There are lots of varieties of kimchi but the classic version is almost always available from Asian grocers and you will find lots of brands in health food stores and online. Look for it in the refrigerated section.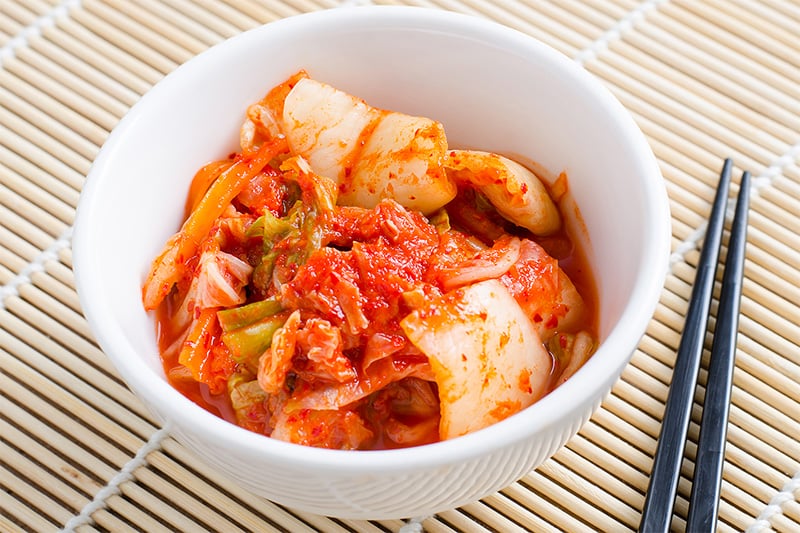 Kimchi is usually served as a side dish or a condiment and it's very tasty on its own, but there are lots of cooked Korean dishes that use kimchi as an ingredient and flavouring in a recipe. Once cooked, kimchi acquires a more complex, almost umami flavour and when fried with a little sweetener, it gets turned into sticky, caramelised goodness that works a treat on top of anything, really. I'm going to try it as a topping on a burger or pork tacos next time.

If you can't find kimchi, you could use regular sauerkraut and cook it with a few chilli flakes or powder, grated ginger and garlic to get some of those Korean flavours.
I am using coconut sugar, coconut aminos and Tamari in the caramelised kimchi but if these ingredients are difficult to get, you can also use honey and a bit of salt instead. Tamari can be replaced with extra coconut aminos or a teaspoon of fish sauce.
Finally, you can get as crazy with the toppings as you want. I kept it simple and dairy-free with a little spicy mayo sauce, radishes and fresh herbs. You could easily add some grated cheese, crispy bacon, pulled pork, fried minced pork, chopped chicken, grilled mushrooms, diced avocado, nuts and seeds, nutritional yeast flakes and so on.
Love sweet potato? Try my roasted sweet potatoes with walnut garlic and parsley crumbs or shredded beef ragu with sweet potato noodles.
Print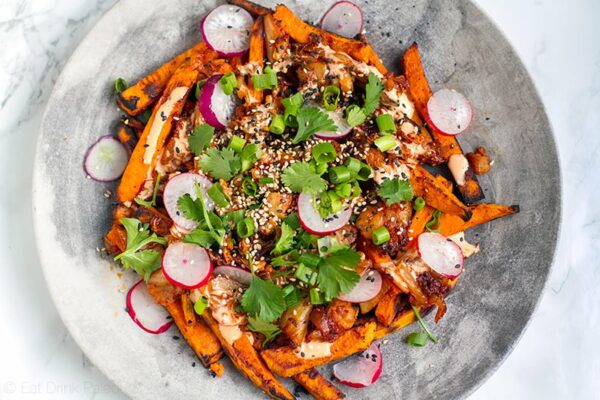 Paleo Kimchi Fries (Gluten-Free, Vegetarian)
Author:

Prep Time:

20 mins

Cook Time:

25 mins

Total Time:

45 mins

Yield:

2

1

x
---
For the fries
1

large sweet potato, peeled and cut into chip strips (see image)

2 tablespoons

olive oil

1 teaspoon

garlic powder/granules

1 teaspoon

onion powder

1 teaspoon

sea salt

½ teaspoon

black pepper
For caramelised kimchi
For spicy sauce
1 teaspoon

kimchi juice

1 teaspoon

Sriracha sauce or hot sauce

1 ½ tablespoons

mayonnaise (or coconut yoghurt for an egg-free version)
Pinch of salt
Toppings
3

–

4

radishes, sliced

1

green onion/scallion, chopped
Small handful of coriander/cilantro, chopped

1 teaspoon

sesame seeds (white and/or black)
See cook's notes for other topping ideas
---
Instructions
Preheat the oven to 200 C/ 400 F. Either pre-grease a flat baking sheet with a little oil or place a piece of non-stick parchment paper over the top.
Using your hands, mix the cut up sweet potato chips with olive oil, spices and salt until evenly coated.
Lay potato chips on the baking tray in a single layer, making sure there is a little bit of space in between to allow the sides to crisp up evenly. Bake for 15 minutes (middle shelf), then remove the tray from the oven and turn the chips over. Bake for a further 10 minutes (but keep an eye on them as different ovens can cook things slower or faster and you don't want burnt chips!).
While the chips are baking, prepare the caramelised kimchi, the spicy sauce and other toppings.
Caramelised kimchi. Squeeze some of the juice out of the kimchi into a bowl and place the cabbage on a chopping board. Slice it into smaller pieces (especially if it's traditionally fermented using larger pieces of Napa/Chinese cabbage) and then combine with coconut sugar, aminos, and Tamari sauce in a bowl. Heat a tablespoon of olive oil in a frying pan over high heat and add the kimchi mixture. Cook over high heat for 4-5 minutes, stirring frequently, until browned and slightly sticky. Take off the heat and set aside.
Spicy sauce.Combine 1 teaspoon of kimchi juice with Sriracha sauce or hot sauce, mayonnaise (or coconut yoghurt) and a pinch of salt. Whisk together and set aside. Prepare the toppings.
Serve the chips on a platter or in bowls topped with caramelised kimchi, a drizzle of the spicy sauce, sliced radishes, green onions, cilantro and sesame seeds. Enjoy!
---
---