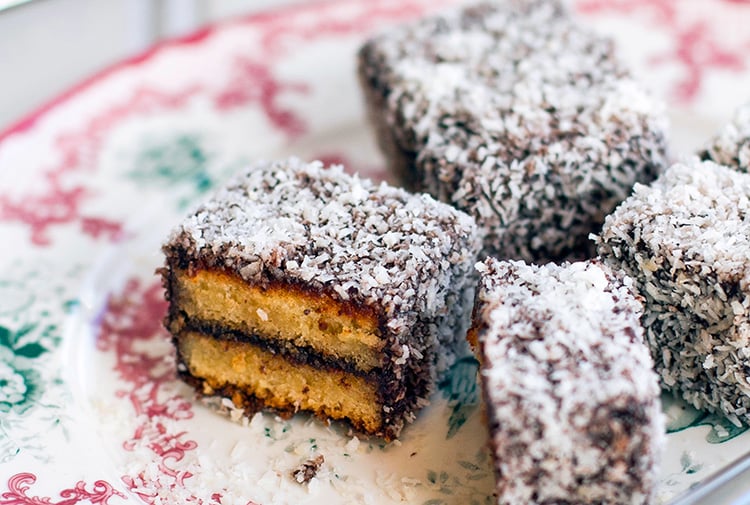 With Australia Day approaching, I wanted to try and make a paleo version of lamingtons. For my international readers, lamington is an iconic Australian dessert: squares of sponge cake dipped in chocolate icing and desiccated coconut. It's not very complicated and that's how we Aussies like it…especially on Australia Day.
My version of this treat uses a homemade baked sponge cake made with grain-free flours, coconut oil instead of butter and rice malt syrup instead of sugar.
A few of my paleo loving buddies came over to try some and the verdict was, and I quote, 'it looks like a lamington, smells like a lamington, definitely tastes like a lamington but it's more moist and dense, not as fluffy, but it's really good'.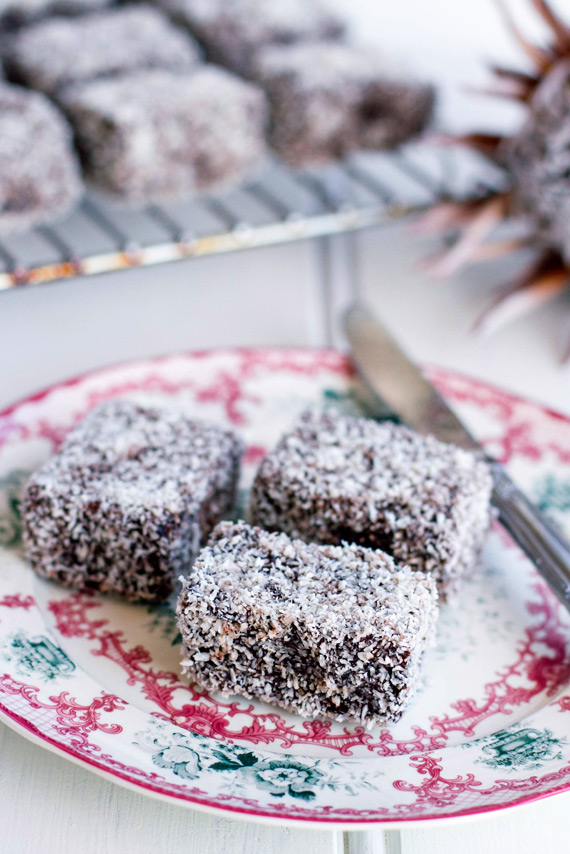 Recipe Notes
The texture of these paleo lamingtons is slightly different to what you might be used to. For starters, the sponge layer is thinner as I used a larger surface baking tray and therefore the mixture didn't come up as high as you get with a smaller tray.
I therefore decided to build a two-level lamington, with chocolate icing in between. You can use a smaller tray, bake a taller sponge cake and make a single-layer lamington instead. Either way, the texture will be spongy but a little more moist and dense because of the almond meal.
You can try experimenting with a ratio of tapioca to almond meal, as I suspect the fluffiness will change with more tapioca. I actually quite like my texture as I normally find regular lamingtons a little dry.
I used Pureharvest rice malt syrup as a sweetener – it contains virtually no fructose and is comprised of maltrose and glucose, which provide a steady supply of energy. It's recommended by David Gillespie, the author of Sweet Poison, and the guys at the Perfect Health Diet. I like it for its neutral flavour. Feel free to use honey or maple syrup. If you use green leaf stevia, that will also work. YOUR CHOICE!
This whole recipe contains around 160 grams of carbohydrates (from starch and sugars) and around 55 grams of sugar (mostly from the syrup). You will get about 16 rectangular lamingtons, so that's about 10 grams of carbs and 3.5 grams of sugar per single lamington. K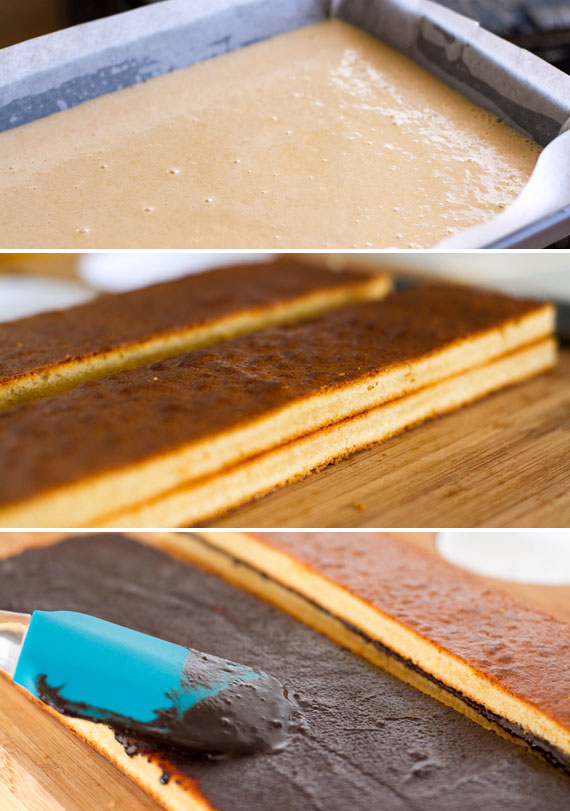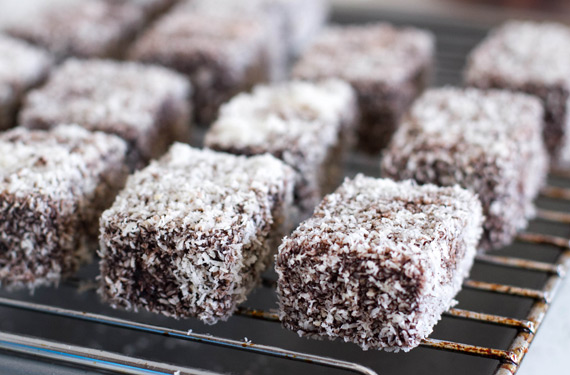 Print
Paleo Lamingtons Recipe
Author:

Prep Time:

40 mins

Cook Time:

25 mins

Total Time:

1 hour 5 mins

Yield:

16

squares

1

x

Category:

Dessert
---
For the sponge cake
1/2 cup

coconut oil, melted

4 tablespoons

rice malt syrup

1 teaspoon

vanilla extract

3

whole eggs

2/3 teaspoons

gluten-free baking powder

1/2 cup

tapioca flour

3/4 cup

almond meal
For the chocolate & coconut icing
2/3 cup

coconut oil

1/2 cup

cocoa powder

2 tablespoons

rice malt syrup or honey

1 teaspoon

vanilla extract

3 tablespoon

coconut or almond milk

1

+ 1/2 cup desiccated coconut (unsweetened)
---
Instructions
Preheat the oven to 165 C / 330F.
Grease a 2-cm deep, 20cm x 30cm (base) baking tray pan with some coconut oil. Line with baking paper, leaving a small overhang on all sides. The oil will soak through, making the paper easier to mould to the tray.
Melt coconut oil and combine with malt syrup and vanilla extract. Whisk together until well incorporated, set aside. Measure out tapioca flour and almond meal.
Using an electric mixer on high setting, beat the eggs in a separate bowl for 5 minutes, until thick and foamy. Gradually add the coconut oil mix, while beating the eggs.
Add the baking powder, tapioca and almond meal to the wet ingredients. Using a hand whisk or a spatula, fold for 10-15 seconds until all ingredients are incorporated. You could also use an electric mixer on the lowest setting.
Pour mixture into the prepared pan. Bake in oven for 20-25 minutes or until a skewer inserted into the centre comes out clean. Turn the sponge cake onto a wire rack and set aside to cool completely.
When the sponge cake has cooled down, trim the edges off and cut into 4 equal strips.
To make the chocolate icing, combine the coconut oil, cocoa, vanilla, coconut milk and rice syrup in a pot and place over medium heat. Whisk over heat for 20-30 seconds, then transfer to a bowl and whisk vigorously for a minute, until well blender and smooth.
Spread desiccated coconut on a plate.
Spread a thin layer of the chocolate icing sauce on one side of the sponge cake strips. It will look like a Vegemite toast 🙂 Stick two of the strips to the other two, chocolate sides in, forming two double-layer strips. Cut these strips into equal lamington pieces – as small or as big as you like.
At this final stage you have to work pretty fast as the icing will start to firm a little. If the icing starts to set, add 1-2 tablespoons of hot water and whisk it through again. Using two forks, dip and coat the lamington squares in a thin layer of chocolate icing and then dip and roll them in the coconut. Set aside on a wire rack.
Refrigerate for 10 minutes, then remove and stand at room temperature for 1-2 hours before serving. Store in an air-tight container, placed on some baking paper, for a few days.  You can store in the fridge but they will firm up, which is what you might need if it's too hot.
---