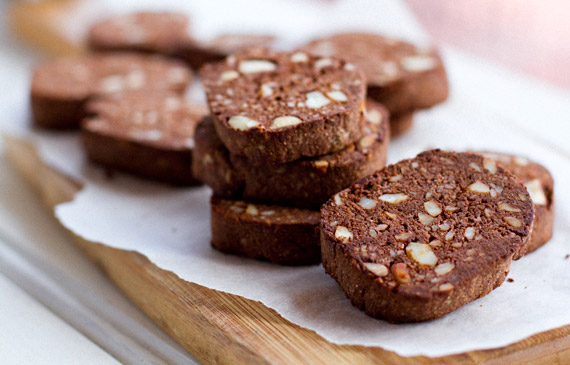 Recipe: Macadamia Chocolate Cookies
Keep your hands away from the cookie jar! Haven't heard that phrase for a while? It's time to have a little treat and bake these super easy, paleo friendly macadamia chocolate cookies. You can tinker with the amount of natural sweetner and cocoa powder to see what you like best but as I don't like them too sweet I only used a small amount of coconut syrup. Macadamia nuts cab be replaced with cashews or blanched almonds but I do like the taste and texture of macadamias, plus their Omega-6 content is much smaller than other nuts.
Ingredients
1 cup raw macadamia nuts
1/4 cup coconut flour
1/4 cup almond meal
1 egg
4 tbsp coconut oil, melted
2 tbsp cocoa baking powder, unsweetened
3 tbsp coconut syrup or 3 tbsp maple syrup or honey (if avoiding fructose, use rice malt syrup and use more than 2 tbsp if you like them a bit sweeter)
1 tbsp water
1/2 tsp gluten free baking powder
A pinch salt

Instructions
Process madamia nuts into smaller crumbs in a food processor. It's ok if you have some larger pieces in there. Add almond meal, coconut flour, baking powder and a pinch of salt. Give it another whiz to mix it all up.
Add the rest of ingredients and process until well incorporated and you have a thick, sticky, doughy mixture. Scoop it out on to a cutting board or a tray. Shape the mixture into a log, about 3cm radius. Wrap in clingwrap and refrigirate for 15 minutes to set.
In the meantime, heat oven to 160C or around 350F.
Unwrap the log and slice it gently into equal size cylinders, about 1 cm thick. Place on a baking paper covered tray and bake in the oven for 11-12 minutes.
Preparation time: 10 minutes
Cooking time: 12 minutes
Number of servings: makes about 15 cookies