While there are many good brands of mayonnaise on the market, most of them are made with unhealthy oils such as canola or soybean. If you eat the stuff as much as I do, it's a good idea to try making your own paleo mayonnaise at home. In this post, I share Julia Child's recipe for a perfect, homemade mayo.
---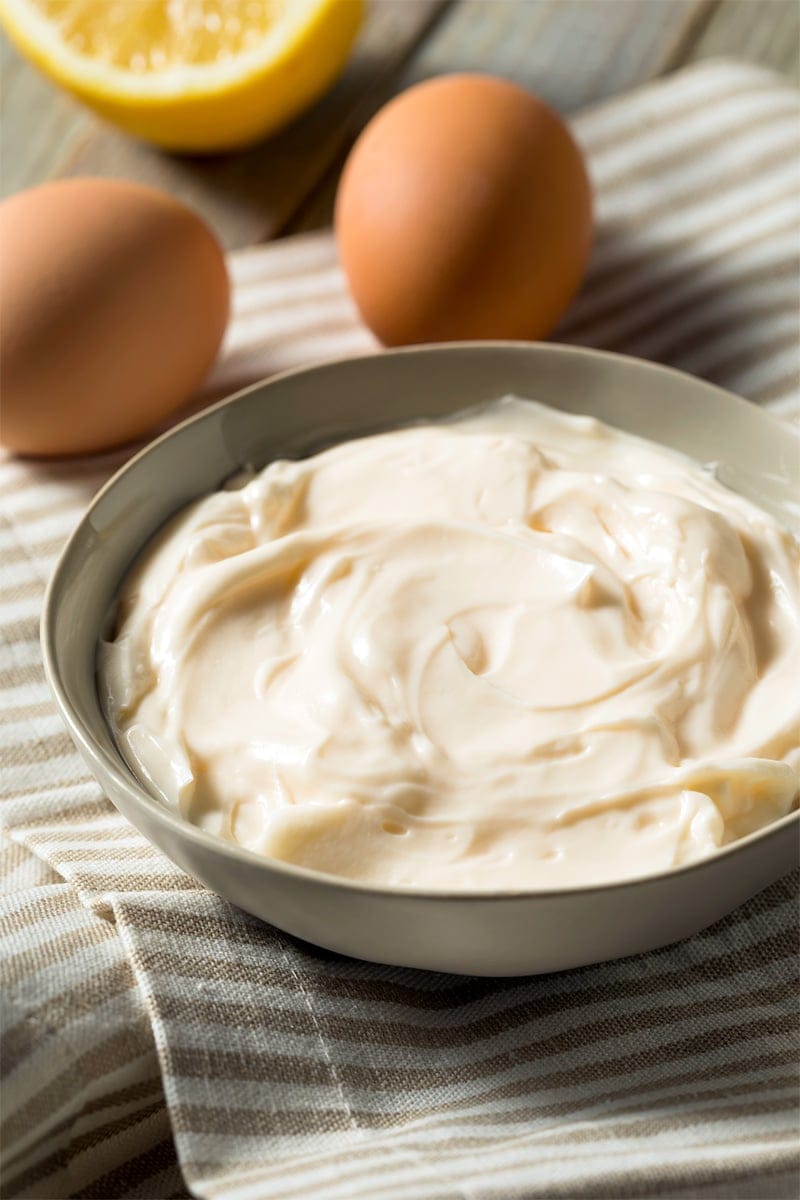 I remember the days when I thought that mayonnaise was fatty and unhealthy and as much as I love it as a condiment and dressing, I would try and avoid it. Then, I learnt to love fats and realised that actually, in itself, mayonnaise is a nutritious food and great for those following a low-carb, high-fat diet such as paleo, keto or Whole30.
Mayonnaise is essentially an egg and oil emulsion with some flavourings like mustard, vinegar and salt. It can be used in so many ways, which is why it's such as popular condiment and ingredient.
The problem with most mayonnaise brands you buy from a supermarket is the oil used in the recipe. Unlike traditional French, olive oil-based mayonnaise, most commercial varieties use less intense tasting oils like soybean, canola or sunflower. These oils are very high in pro-inflammatory omega-6 fatty acids. In addition, these oils have a tendency to oxidise and go rancid quickly.
Store-Bought Paleo Mayonnaise
There are a couple of paleo mayonnaise brands on the market that use olive oil, avocado oil or macadamia oil as a base but it's often safer, easier and more economical to make your own. If you do want to just buy a paleo-friendly mayo, check out this brand on Amazon US & Canada, this brand in Australia, and this brand in the UK.
People often think that mayonnaise is hard to make. But, it's a little bit like baking: as long as you get your measurements, temperatures and timing right, you should get pretty good results. I've tried a few different methods but after some research and testing, this traditional French mayonnaise by Julia Child turned out to be an absolute stunner.
Tips For Making Your Own Paleo Mayonnaise
Essentially, mayonnaise is an emulsion of water and fat. Here are a few quick guidelines for making a perfect mayonnaise:
Make sure all ingredients are at room temperature. If they aren't, bring them to the right temperature by either warming the mixing bowl in hot water to take the chill out of the egg yolks or heat the oil until tepid warm. I just left everything on the kitchen bench for a couple of hours prior.
Beat the egg yolks for a minute or two before adding the oil, they need to get thick, sticky and glossy first.
Add the oil very slowly, a teaspoon at a time, until the emulsion process begins and the mixture turns into heavy cream-like consistency, after which you can pour the rest of the oil much quicker.
The maximum amount of oil one egg yolk can absorb is about 3/4 cups, after which the binding properties of the egg break down and the sauce starts to thin and curdle. The safest amount is 1/2 cup of oil per egg yolk so stick to that when starting out.
The proportions of the ingredients look something like this: 2 egg yolks+1 cup fat (oil) + 2-3 tablespoons vinegar/lemon juice= about 1 1/2 cups mayonnaise. Then you can also add mustard, garlic powder, anchovies, capers, dill and so on.
The following is a Juliar Child mayonnaise recipe and the directions are for a hand-beaten sauce (using a wire whisk). For electric beaters, use a large bowl and the speed that you would use for whipping cream. Use a round-bottomed glass or stainless steel mixing bowl. Set it on a damp towel to keep it from slipping. An immersion blender is also great for making mayonnaise.
More Homemade Paleo Condiments
Print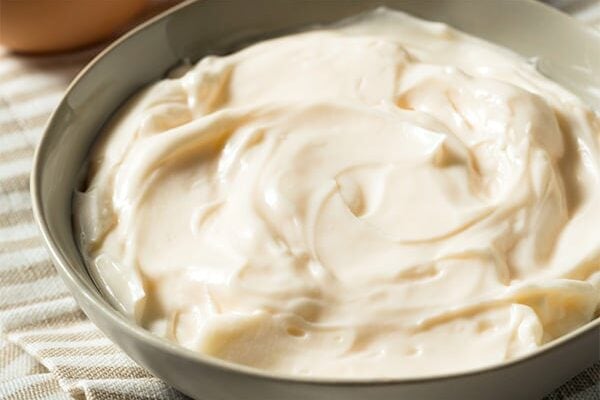 Perfect Paleo Mayonnaise
Author:

Prep Time:

15 mins

Cook Time:

0 minutes

Total Time:

15 mins

Yield:

2

–

3

cups

1

x

Category:

Condiment

Method:

Blended

Cuisine:

French
---
Description
In this recipe, I show you how to make paleo-friendly mayonnaise using healthier oils such as olive oil, macadamia oil or avocado oil. The colour of the mayonnaise will depend on the oil used and the colour of yolks.
---
3

egg yolks (free-range, save the whites for an omelette)

1 tablespoon

white wine vinegar or lemon juice (more drops as needed to taste)

1/2 teaspoon

salt

1/4 teaspoon

dry or ready mustard such as Dijon

1

+1/2 to 2 cups of olive oil, macadamia oil or avocado oil (or a mixture of each)

2 tablespoons

boiling hot water
---
Instructions
Warm the bowl in hot water and then dry it. Add the egg yolks and beat for 1 to 2 minutes until they are thick and sticky.
Add the vinegar or lemon juice, salt and mustard. Beat for 10 seconds.
The egg yolks are now ready to receive the oil. While it goes in, drop-by-drop, you must not stop beating until the sauce has thickened. A speed of 2 strokes per second is fast enough.
You can switch hands or switch directions, as long as you beat constantly.
Add the drops of oil with a teaspoon, or rest the lip of the bottle on the edge of the bowl. Keep your eye on the oil rather than on the sauce. Stop pouring and continue beating every 10 seconds or so, to be sure the egg yolks are absorbing the oil.
After 1/3 to 1/2 cup of oil has been incorporated, the sauce will thicken into heavy cream and the crisis of potential curdling is over. The beating arm may rest a moment. Then, beat in the remaining oil by 1 to 2 tablespoons, blending it thoroughly after each addition.
When the sauce becomes too thick and stiff, beat in drops of vinegar or lemon juice to thin it out. Then continue with the oil.
Add the hot water into the sauce. This is anti-curdling insurance. Season to taste. If the sauce is not used immediately, scrape it into a small bowl and cover it tightly so a skin will not form on its surface.
---
Notes
Notes on oils: If the oil is cold, heat it to tepid; and if you are a novice, use the minimum amount. Macadamia oil works really well and has a milder flavour. Olive oil has a more intense flavour but you could also buy lighter olive oil, which is a little milder. Avocado oil is great but will also give it a hint of flavour and colour depending on how it's made.