Inspired by Middle Eastern and Mediterranean flavours, these quinoa stuffed peppers are filled with delicious vegetables, spices, nuts and dried cranberries. It's a nutritious meal that is vegetarian-friendly and gluten-free.
---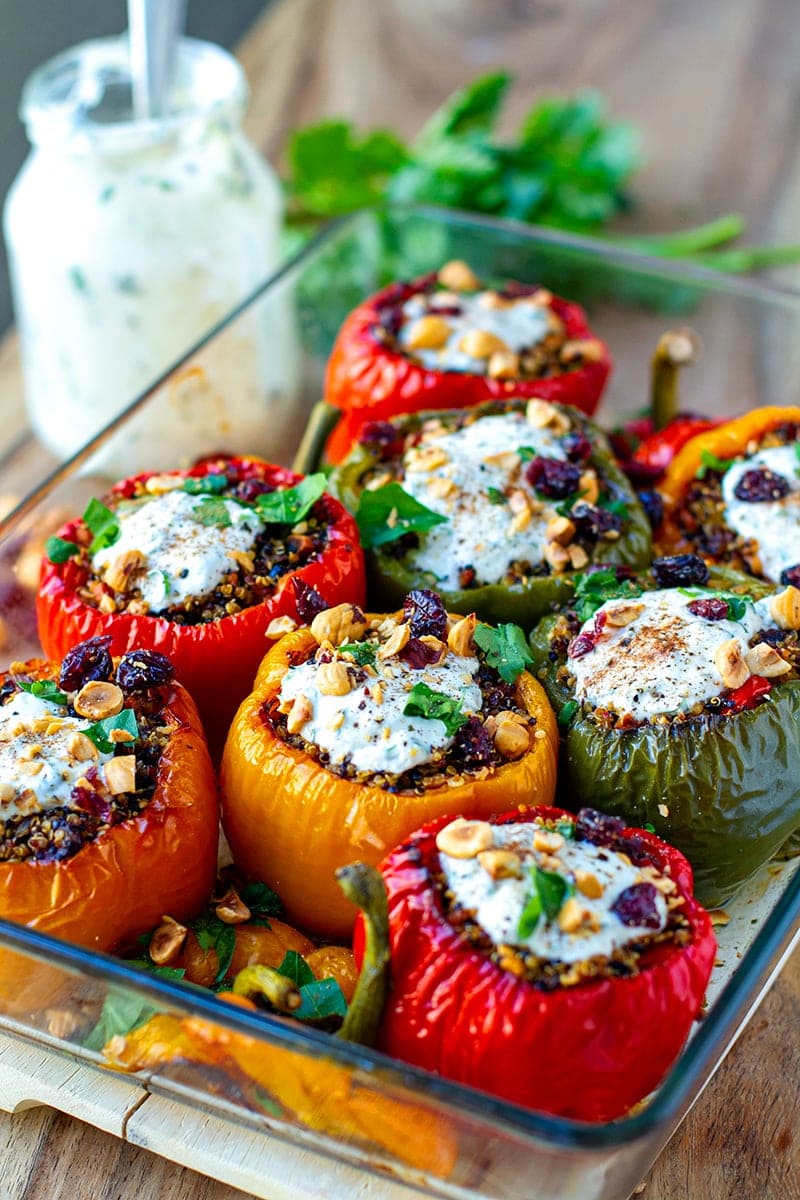 Quinoa Stuffed Peppers
Stuffed peppers is a dish I grew up with. My mum is famous for her braised rice and pork stuffed peppers, while my grandmother also made a vegetarian version with rice, carrots and zucchini. In today's recipe, I am taking our family's dish and reinventing it with new ingredients and flavours.
I wanted to make stuffed peppers without rice and to keep them meat-free because I love having a couple of main plant-based meals every week. To keep them substantial enough (both from a nutritional point of view and satiation), I decided to swap rice for quinoa and add a few extra ingredients such as nuts, chopped veggies and cranberries. You can use the same mixture to make quinoa stuffed mushrooms, tomatoes or eggplant.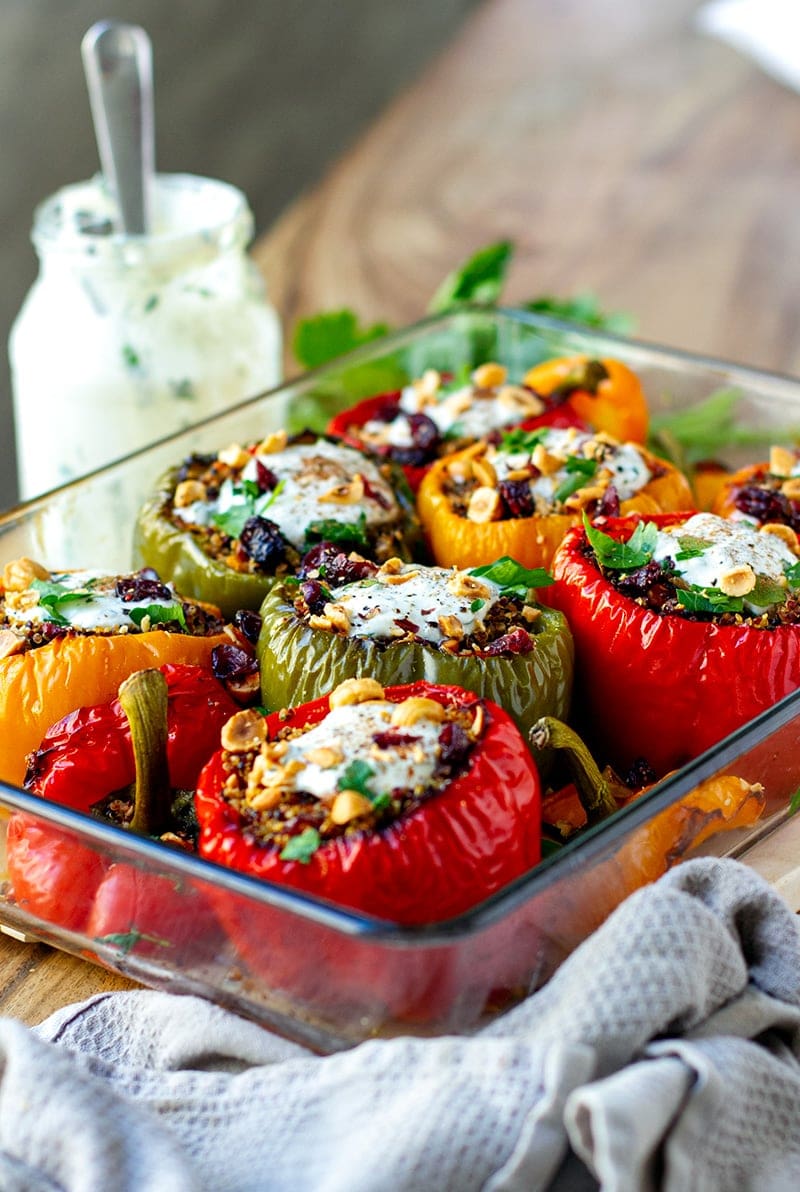 Quinoa Nutrition
Quinoa is a pseudo-grain and is more like a seed although it has similar properties to other grains. It's rich in nutrients (magnesium, folate, iron and zinc to name a few); high in fibre (5-6 g per 1 cup of cooked quinoa vs 1 g in 1 cup of cooked white rice); lower in carbs than other grains ( 39 g per 1 cup vs. 58 g of white rice) and higher in protein (8-9 g per 1 cup of cooked quinoa vs. 4 g in white rice). It's also one of the few plant foods that are considered a complete protein, containing all 9 essential amino acids.
Like other grains and seeds, quinoa does contain some antinutrients such as phytic acid and lectins, so it's important to give it a good soak (2-3 hours in lightly salted water and then rinsed well), which helps to denature some of those components and makes quinoa easier to digest and all those nutrients more bioavailable.
Besides quinoa, this meal comes with an array of other vitamins, minerals and antioxidants found in peppers and cranberries (hello vitamin C!), carrots, celery, onions, health-promoting spices and nuts.
Have I convinced you to try them yet? Okay, let's talk about the recipe now. There are a few processes in creating this dish but they are all pretty straightforward.
How To Make Stuffed Peppers
Pick rounded bell peppers (or capsicums) that are not too tall. Ideally, all peppers should about the same height so they fit nicely in the baking tray and look levelled. Make sure to check the bottom of the peppers and place them in the palm of your hand to make sure they can stand up on their own.
Depending on how many you want to make, pick a baking dish that can fit them all in one layer. If you were braising the stuffed peppers as my mom does, then you could just fill them all in a big pot on top of each other, but for roasting, we want to keep them open on top.
Step 1. Prepare the bell peppers and pre-roast before stuffing.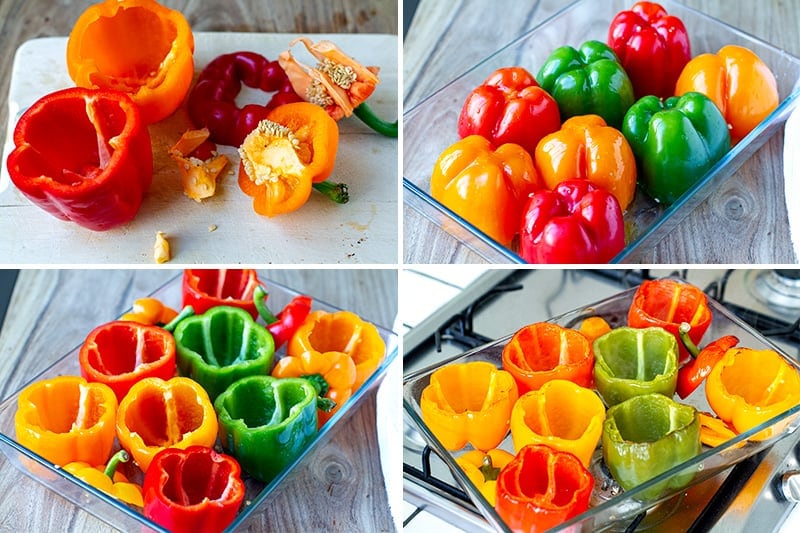 Step 2. Prepare the quinoa stuffing ingredients.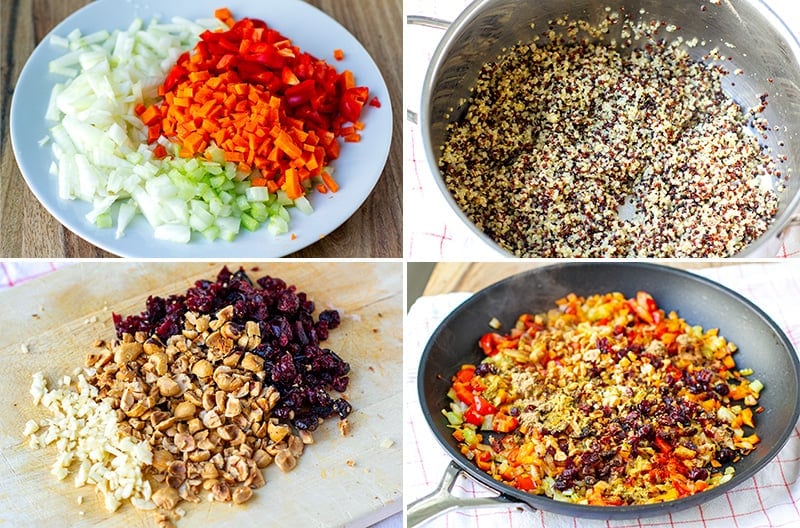 Recipe tip: Make sure to buy fair-trade quinoa! You can use any colour quinoa you like. You could also use pre-cooked brown rice or lentils or a combination of seeds, legumes and grains (depending on your dietary requirements).
Step 3. Stuffing the peppers with the quinoa mixture and roasting again.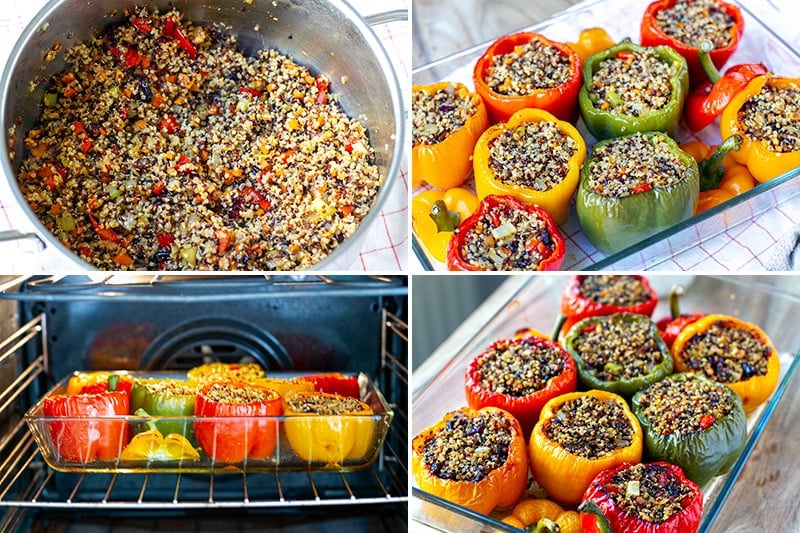 I serve the peppers drizzled with my Yoghurt Ranch Dressing once they are cooked. You can make a dairy-free version of that. Another option is to add some grated cheese on top and grill it right at the end.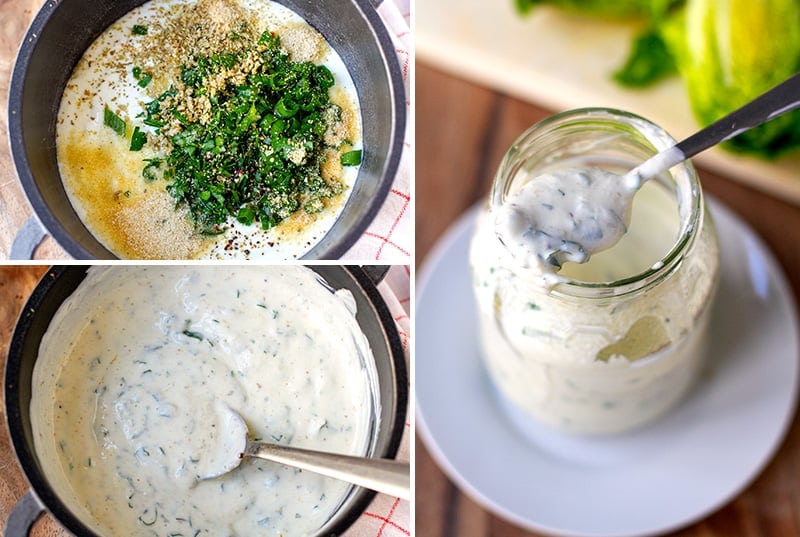 Make-Ahead Tips
You can make the quinoa stuffing ahead of time and keep it in the fridge for 2-3 days. You can also freeze the quinoa stuffing in a Ziploc bag until you need to use it. Alternatively, you can cook the quinoa ahead of time as it freezes well and you can store a big batch separated in portioned containers or bags.
The yoghurt ranch dressing is made with Greek yoghurt, herbs and a little garlic and should last in the fridge for 3-4 days as well. I actually like to make a big batch of this as it also goes well as a dressing on a salad. I use the leftovers on this amazing gem lettuce salad that is topped with hazelnuts and cranberries, which means you can use some leftover ingredients from this recipe as well.
What To Serve With Stuffed Peppers
These quinoa stuffed peppers can be enjoyed on their own as they kind of like a complete meal. They go really well with a fresh green salad or simple steamed broccoli and carrots. A lovely cabbage coleslaw also works well with the peppers.
PS. You might also like my plant-based mushroom nut roast.
Print
Quinoa Stuffed Peppers (Gluten-free, Vegetarian)
Author:

Prep Time:

30 minutes

Cook Time:

40 minutes

Total Time:

1 hour 10 minutes

Yield:

4

-6

1

x

Category:

Main

Method:

Stuffed & Roasted

Cuisine:

Middle Eastern
---
Description
These healthy and nutritious quinoa stuffed peppers are filled with extra veggies, spices, nuts and dried cranberries. Topped with garlic and herb yoghurt ranch dressing. These are gluten-free and vegetarian.
---
3 red bell peppers /capsicums (small)

3 green bell peppers (small)

2–3 yellow bell peppers (small)

1–2 tablespoons olive oil

For the filling
200 g / 1 cup uncooked quinoa (I used mixed colour fair-trade quinoa that has been soaked in lightly salted water for 2 hours)

4 cups of water

1 cube vegetable stock (you could use 4 cups of pre-made veggie stock)

4 tablespoons olive oil

1 medium onion, finely diced

1 medium carrot, finely diced

1 celery stick, finely diced

2 bell pepper tops, diced (from the peppers above)

1/2 teaspoon salt

1 large garlic clove, diced

1 teaspoon cinnamon powder

1 teaspoon paprika powder

1 teaspoon cumin powder

1 teaspoon coriander seed powder

A good pinch of black pepper

A handful of dried cranberries, chopped roughly

A handful of roasted hazelnuts or almonds, chopped roughly

1 tablespoon lemon juice

For the ranch dressing
250 g / 1 cup and a bit of full-fat, unsweetened yoghurt

1 garlic clove, grated

2 tablespoons chopped spring onions or chives

2 tablespoons chopped parsley

1/2 teaspoon dried oregano

1 teaspoon garlic powder

1 teaspoon onion powder

1/2 teaspoon vegetable stock powder (you can grate or chop a stock cube)

1/4 teaspoon sea salt

1/4 teaspoon black pepper

1/2 teaspoon yellow or Dijon mustard dressing
---
Instructions
Preheat the oven to 220 C / 425 F.
Prepare the peppers first. Cut off the tops with the stem, twist and pull out the core with the seeds and white membranes. Reserve 2 of the red bell pepper tops to add to the filling.
Brush the outer sides of the peppers with olive oil (I use my hands) and place in the oven tray standing up (cut side up). Place the remaining tops in between the peppers. Roast for 22 minutes.
Prepare the quinoa. Add the pre-soaked, rinsed quinoa, water and vegetable stock cube to a large pot and bring to a boil, then cook for 12 minutes over medium heat. Strain the cooking water but reserve 1/4 cup of the liquid in the pot with the cooked quinoa. Set aside.
While quinoa is cooking, prepare the vegetables. Heat the olive oil in a large pan. Add the onions, carrot, celery, chopped bell peppers (2 of the reserved tops without the stem) and a little salt. Sauté veggies for 10 minutes, stirring a few times.
Add the garlic, spices, chopped cranberries, nuts and lemon juice and stir through and turn the heat off.
Transfer the veggie mix to the cooked quinoa and stir through with an extra tablespoon of olive oil.
Remove the peppers from the oven. They should be soft by now. Fill evenly with the quinoa mixture. There might be a little juice from the peppers inside their cavities – this is normal and will combine with the quinoa and add extra flavour and moisture.
Place the peppers back in the oven (still at 220 C/ 425 f) and roast for 10-12 more minutes.
In the meantime, prepare the garlic and herb yoghurt ranch sauce. Mix all the ingredients in a bowl or a jar and set aside.
Once done, serve with a generous dollop of yoghurt ranch on top of each pepper and a few chopped cranberries and hazelnuts sprinkled on top. You can also garnish them with some freshly chopped herbs like parsley or coriander/cilantro.
---
Notes
I use the back of the knife and press down on the nuts on a chopping board to crush them. You could also use a food processor or something like this mini hand-held processor.
Refrigerate leftover peppers in an airtight container or loosely covered with foil for up to 4 days. Reheat in the oven or microwave. I like to have them for breaky with a fried egg on top.