This rainbow salad power bowl pretty much sums up my nutrition approach: eat real food, eat as many colours as possible and focus on nutrient-density. Plus, I like to eat with my eyes so it's about the dish looking damn appetising, too.
Featuring seriously nutritious ingredients – sweet potatoes, beets, purple cabbage, leafy greens, avocado, salmon and a little seaweed – plus the tastiest Asian sesame dressing, this bowl of goodness will become your go-to lunch or dinner meal. Gluten-free, dairy-free, paleo-friendly, bursting with antioxidants and very satiating.
---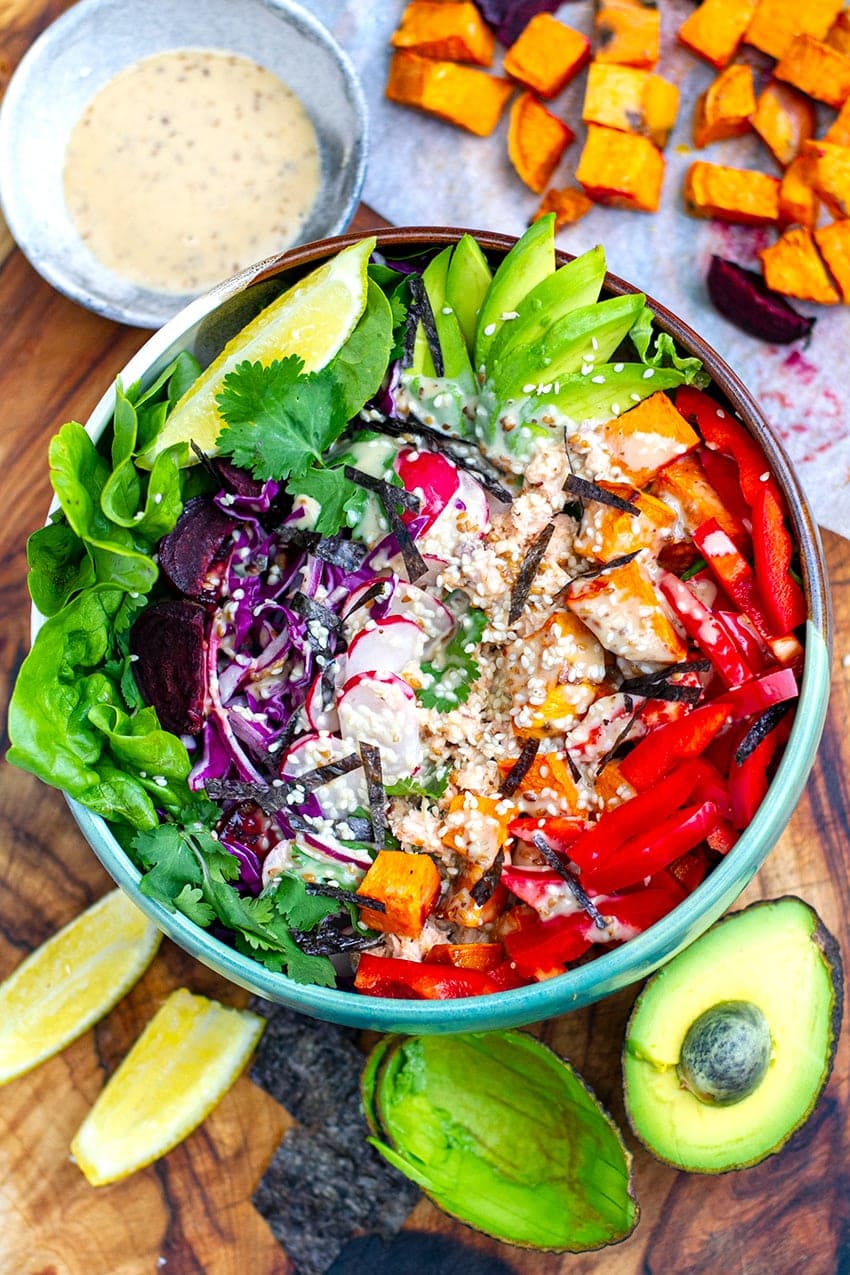 ---
Rainbow Salad Super Bowl
If you're looking for a healthy work-from-home lunch, try this salmon and veggie power bowl.
You can take it to the office too but make sure to do the prep ahead of time as you will need to dice up quite a few vegetables. I will show you how to make this nutritious salad step-by-step highlighting some of the nutrients you'll be getting from all those rainbow colours.
Seriously, check out the nutritional panel below the recipe card to see just how many goodies you can get in one power bowl! 
This recipe is for 2 servings so simply halve the ingredients for one or make the second portion for another day.
How To Make Rainbow Salad Super Bowl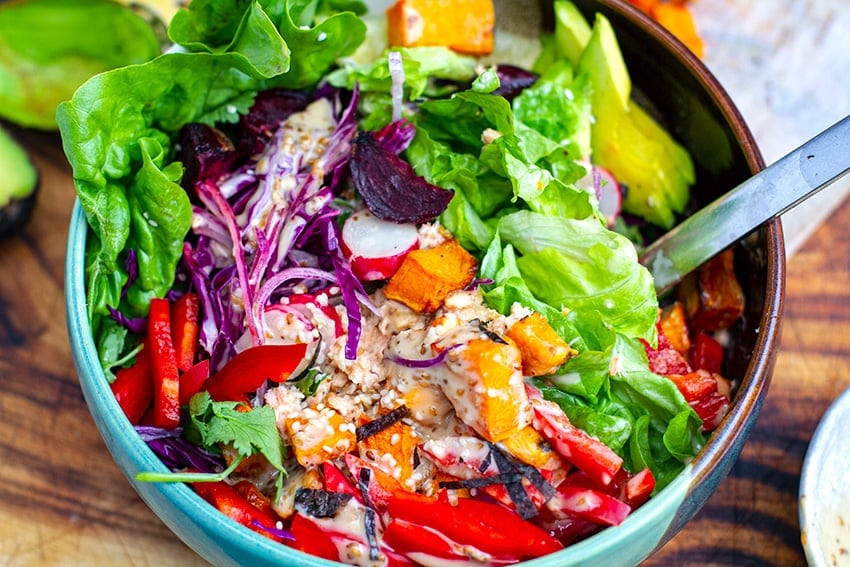 STEP 1. The first step is to prepare the vegetables that need cooking like sweet potatoes or pumpkin. You can use canned beets or raw grated beets but I decided to roast mine together with the potatoes. Roasted sweet potatoes and beets will take about 20-25 minutes in a 200 C / 400 F oven and you can store them in the fridge for 3-4 days.
STEP 2. Prepare other vegetables for the salad. Things like purple cabbage, radish and red peppers can be diced ahead of time and they can keep for a day or two in an airtight container. Otherwise, cut them up just before you make the salad.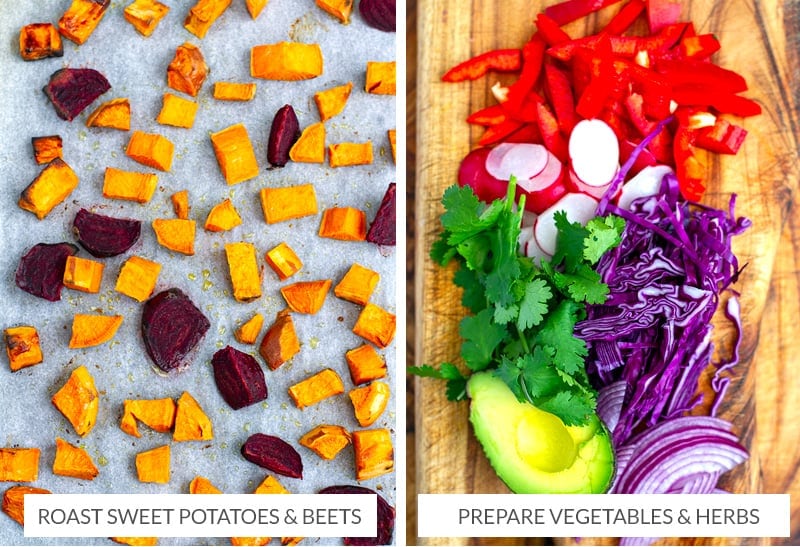 STEP 3. Make the salad dressing. I'm using a Japanese sesame dressing – also known as goma –  and it's made with ground-up sesame seeds, Tamari soy sauce (or coconut aminos), rice vinegar or lemon juice, sesame oil and some maple syrup or honey for sweetness.
You can also sub with some stevia or other sugar-free sweetener or use orange juice for a Whole30 version. You can swap with a store-bought salad dressing or a simple lemon or balsamic, mustard and olive oil dressing. I have a few ideas for sugar-free dressings here and paleo-friendly dressings here. 
The homemade dressing can also be done ahead of time, it will keep for 4-5 days in the fridge.
STEP 4. Build the power bowl, layer by layer.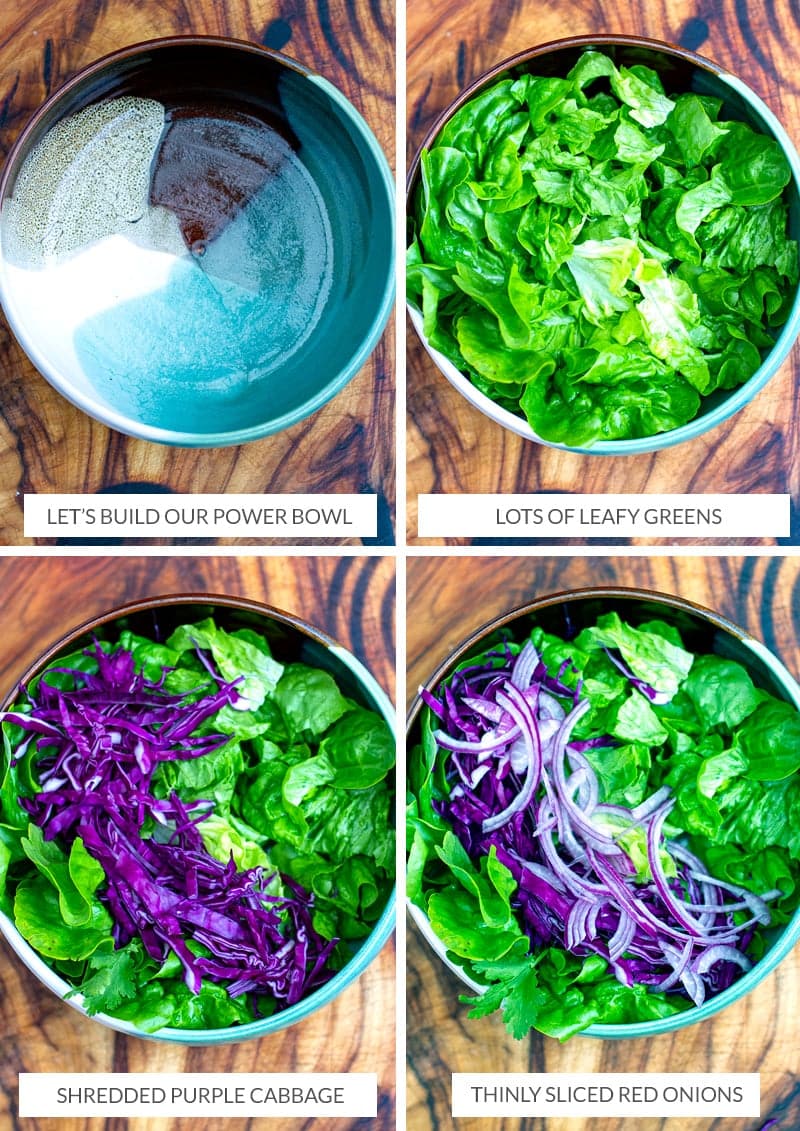 Nutrition Notes
Leafy greens & coriander – eating a diet rich in leafy greens can offer numerous health benefits including reduced risk of obesity, heart disease, high blood pressure and mental decline; they are packed with vitamins, fibre and low in calories making them a great base for a power bowl.
You can choose humble butter or gem lettuce or boost it up with extra nutritious kale, chard, baby spinach, watercress or rocket (arugula). I added lovely coriander (cilantro) but you could add basil, parsley or dill, all of which comes with their own nutritional benefits. 
Purple cabbage – you can use green cabbage but the purple variety is richer in beneficial plant compounds that have been linked to many health benefits.  It's high in vitamin C, carotenoids, and flavonoid antioxidants, such as anthocyanins and kaempferol.
It's also a good source of sulforaphane linked to powerful heart health benefits and cancer-fighting properties. Cabbage has detoxifying properties, it helps to fight inflammation and may help to strengthen your bones. Plus, it's super fibrous helping to feed your gut flora as a prebiotic and keep things moving. 
Red onions – eating vegetables of the Allium genus like garlic and onions has been linked to a lower risk of certain cancers, including stomach and colorectal. They are excellent sources of vitamin C, sulphuric compounds, flavonoids and phytochemicals helping to fight free radicals, lower inflammation and boost immunity.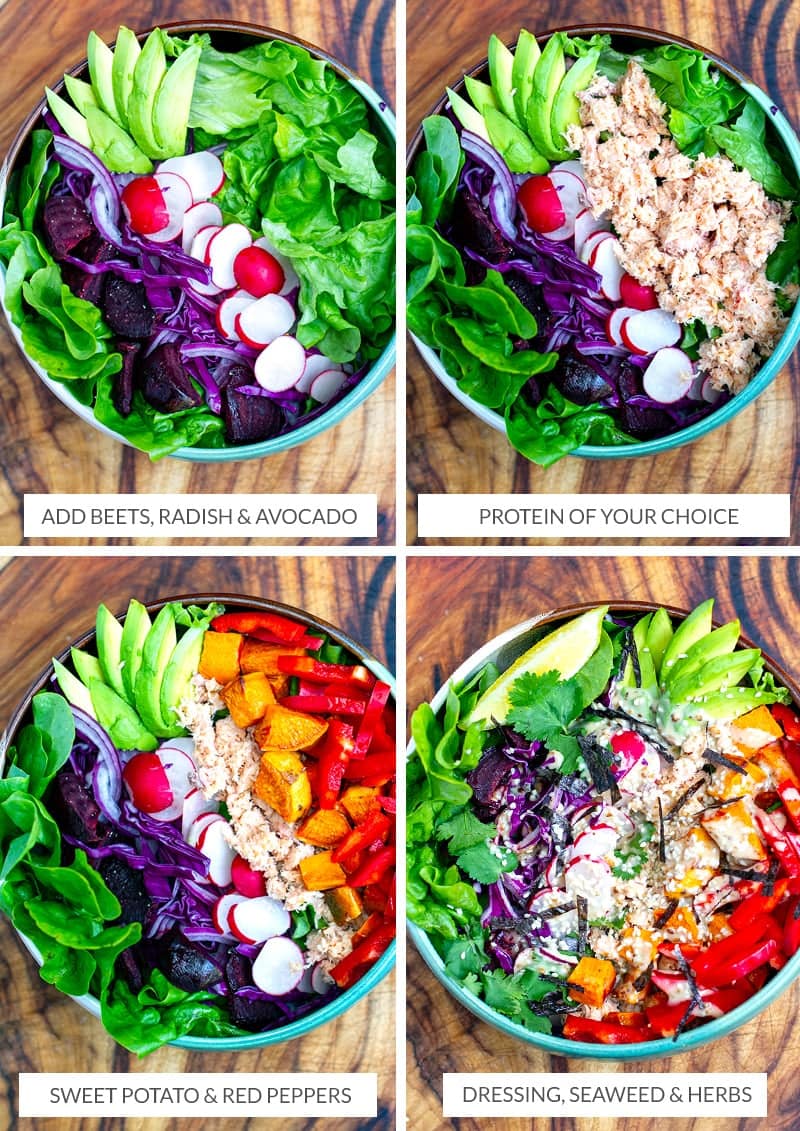 Roasted beets – once again, that bright purple-pink colour indicates high levels of antioxidants, which beets are indeed high in as well nutrients such as folate (important prenatal vitamin), iron, vitamin C and potassium.
Beets are a unique source of phytonutrients called betalains. Betanin and violaxanthin are the two best-studied betalains from beets, and both have been shown to provide antioxidant, anti-inflammatory, and detoxification support. 
Radishes – these little guys are super low in calories and carbohydrates, high in fibre, are super rich in potassium and other nutrients. Very hydrating. too.
Avocado – you probably don't need an introduction to this nutrient-dense fruit but let's just say it's full of heart-healthy fats, fibre, vitamins and antioxidants, plus it makes this dish more satiating.
Oily fish – whether you use canned salmon, sardines or tuna, it's all about packing in some Omega-3 fatty acids in your lunch and these guys are the best sources. I used canned wild salmon, which is also high in protein and minerals. For a vegetarian version, you can use other protein and add chia seeds or flaxseeds for extra healthy fats.
Sweet potatoes – these orange-coloured (hint hint!) guys are highly nutritious providing plenty of gut-health promoting fibre, antioxidants to protect your body against cancer, and nutrients to support healthy vision and brain function. It's a healthy carbohydrate source to give you fuel and energy.
Red peppers (bell peppers/capsicum) – one of the highest sources of Vitamin C, sweet peppers are best eaten raw and will add a variety of vitamins to your meal; they are great for boosting your immune system and to keep that skin looking firm and radiant.
Sesame dressings & sesame seeds – as I mentioned, you can use any dressing you like but I love the addition of this Asian sesame dressing and a few seeds on top because they are rich in calcium and other minerals. In fact, sesame seeds are some of the best non-dairy sources of calcium. Plus, they taste great!
Seaweed nori topping – seaweed contains iodine and tyrosine that help with hormonal health and provide some impressive marine nutrients. Omit if you're avoiding excess iodine. I use store-bought nori sheets (find them near Japanese products) and I simply cut them up into strips with scissors.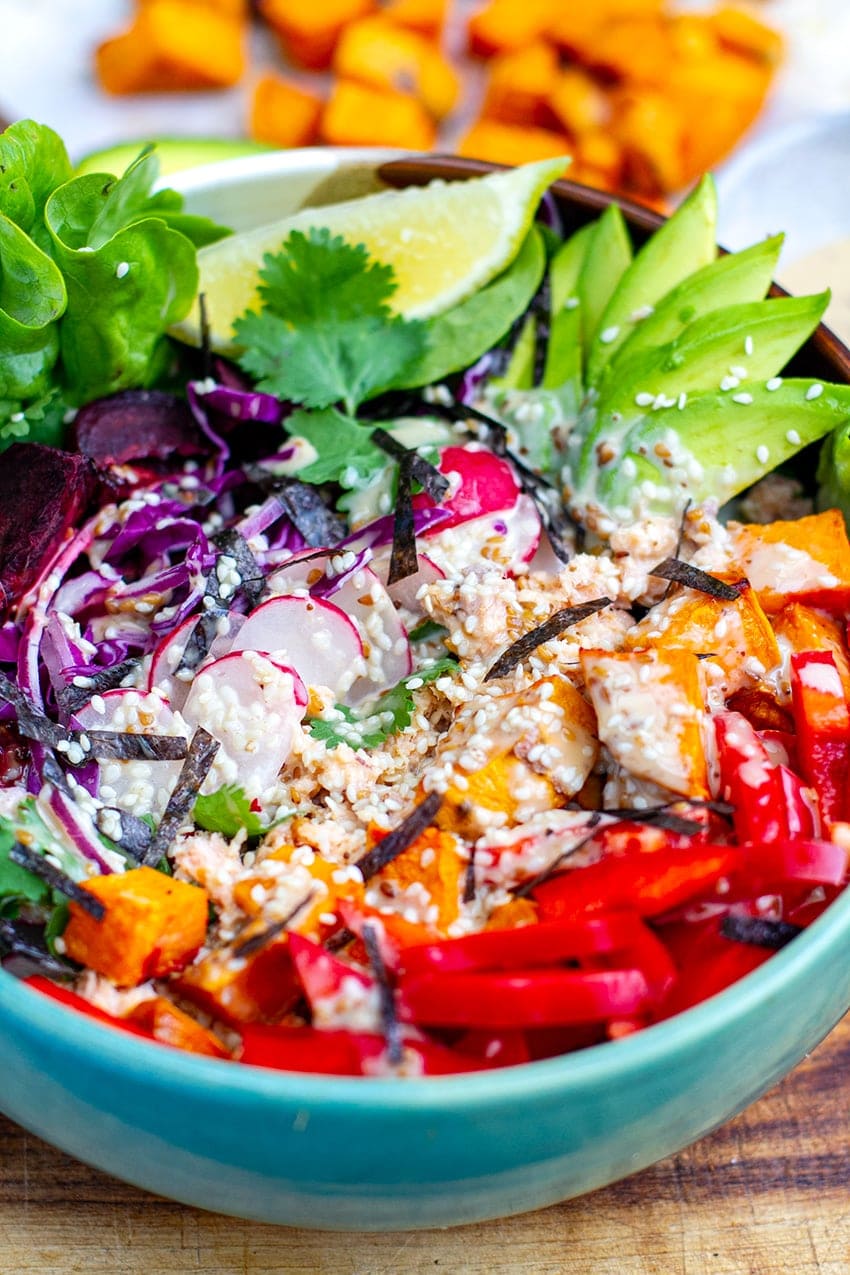 More Nutritious Salad Recipes
---
---
Full Recipe & Ingredients
Find the full list of ingredients, instructions and extra cooking notes below. If you have questions or cook this recipe, please let me know in the comments and make sure to rate this recipe so it's easy for others to find.
Print
Rainbow Salad Power Bowl With Salmon & Sesame Dressing
Author:

Prep Time:

20 minutes

Cook Time:

25 minutes

Total Time:

30 minutes

Yield:

2

1

x

Category:

Salad

Method:

Raw & Roasted

Cuisine:

Asian Fusion

Diet:

Gluten Free
---
Description
Give your body a nutrition boost with this healthy power bowl salad filled with rainbow superfoods from sweet potatoes and beets to avocado, leafy greens, purple cabbage and wild salmon. Paired with calcium-rich Asian sesame dressing and nori seaweed topping. Gluten-free, paleo, dairy-free and great for a filling lunch. This recipe is for 2 servings so simply halve the ingredients for one or make the second portion for another day.
---
Cooked vegetables
1 medium sweet potato (350 g), peeled and diced

1 large beetroot, peeled and sliced into wedges

1 tablespoon olive oil

Salt to taste

Raw vegetables
3 cups leafy greens

1 cup shredded purple cabbage

4 radishes, sliced

1/2 red onion, sliced thinly

1/2 large red sweet pepper (capsicum), sliced into strips

180 g / 6 oz canned wild salmon (about 90 g / 3 oz per serving)

1 small avocado, halved and sliced

A handful of coriander (cilantro) leaves or other fresh herbs

1 tablespoon sliced nori seaweed or another seaweed sprinkle

1 teaspoon sesame seeds

Asian sesame dressing (for 2 serves)
3 tablespoons white sesame seeds

2tablespoons rice vinegar or lemon juice

1 tablespoon Tamari soy sauce or coconut aminos

2 teaspoons maple syrup or 1 teaspoon stevia sugar alternative

1 teaspoon sesame oil

Extra: lemon juice drizzle
---
Instructions
Preheat the oven to 200 C/400 F. Line a flat baking tray with parchment paper.
Toss diced sweet potatoes and beets in a little olive oil and spread on the baking tray. Roast for 20-25 minutes until tender and golden brown. Season with salt and set aside. This can be done ahead of time (weekend or the night before).
Precut other vegetables while these are roasting and make the salad dressing.
Heat up a small frying pan and toast the sesame seeds until golden, 2-3 minutes. Stir them around quite a few times and keep an eye on them as they are easily burnt.
Transfer to a mortar and pestle and grind into almost powder. You can also add them to a food processor/blender with other ingredients. Combine ground up sesame seeds with other salad ingredients and whisk until smooth.  Set aside.
Build your salad bowls or mix all together in one large container. Top with the dressing, extra sesame seeds and a few seaweed slices or similar topping. See above pics for how I built my power bowl.
---
Notes
Sesame dressing: You can make this ahead of time and a larger batch too; it will keep for up to a week in the fridge. Feel free to make a different dressing or use a healthy store-bought brand like this Primal Kitchen ginger sesame dressing or something like this (just read the label).
Seaweed topping: you can use a pre-made furikake mix or another dried seaweed salad sprinkle; you can find a few on the market today. Or, like me, you can slice up a humble sushi nori sheet into strips.
Protein options: I love oily fish for omega-3 fatty acids but you could use grilled chicken, turkey slices or other deli meats, leftover beef, meatballs, pulled pork, prawns, or plant-based options like tofu, chickpeas, quinoa, brown rice, peas, edamame, tempeh etc.
Nutrition
Serving Size:

Half the salad with the dressing (made with maple syrup as a sweetener)

Calories:

609

Sugar:

19.4 g

Sodium:

1027.2 mg

Fat:

29.4 g

Saturated Fat:

4.3 g

Carbohydrates:

59.4 g

Fiber:

14.8 g

Protein:

33.5 g

Cholesterol:

54.9 mg
---
---