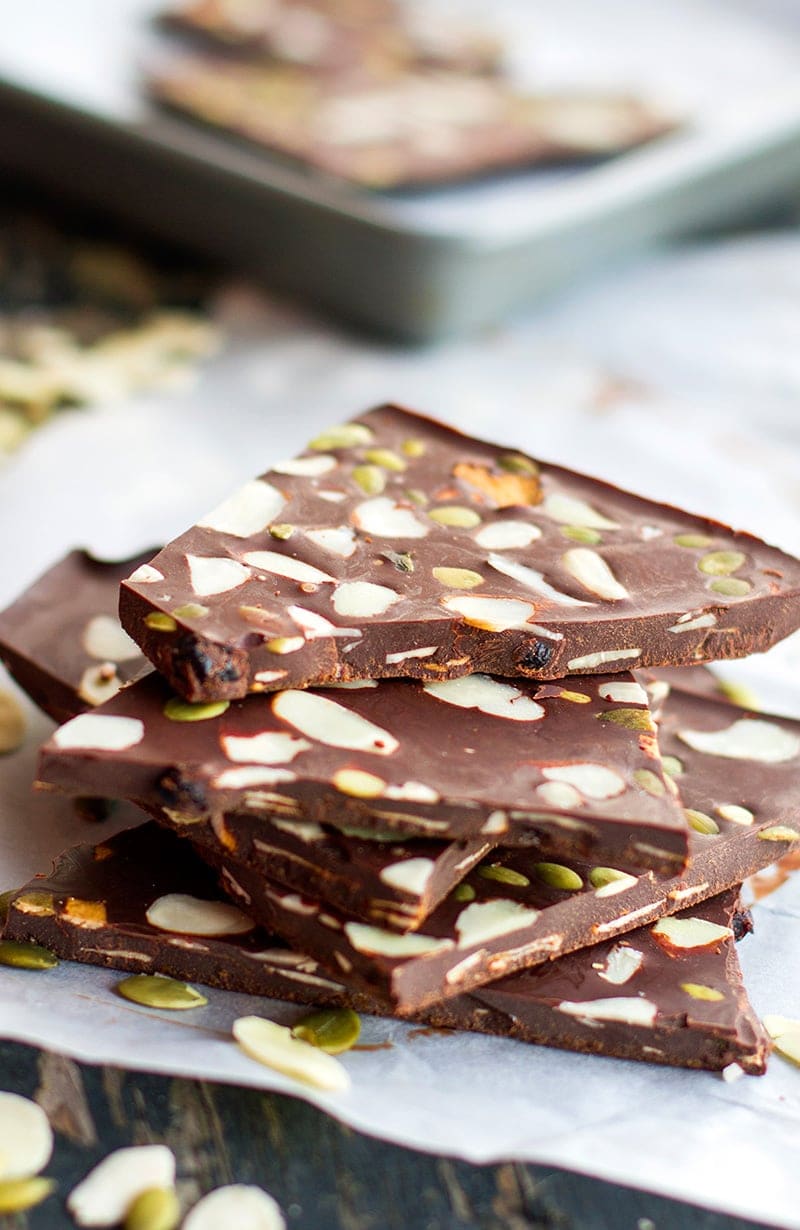 Although I am not a huge fan of milk chocolate, I do enjoy a square or two of dark chocolate bar (for both the flavour and the antioxidants). I also like playing with chocolate in the kitchen, and my last game was to make a smooth, crunchy dark chocolate bark using raw cacao butter.
Before I begin the recipe, here are some facts about cacao butter.
What Is Cacao Butter?
Cacao butter and cocoa butter are 'almost' the same thing. Cacao butter is the raw version of edible, vegetable fat derived from the cacao bean. It is extracted and treated using very low temperatures, and is therefore considered raw and more nutritious; cocoa butter is produced by applying more heat. The same difference applies to raw cacao powder versus cocoa powder with the latter being roasted, processed type. Again, raw cacao is deemed more superior when it comes to health benefits.
In its solidified form, cacao butter looks like white chocolate. It has the same mouthfeel and consistency when you taste it, minus the sweetness.
Cacao butter and cocoa butter are very stable fats with long shelf life and will solidify at room temperature. Both are used in beauty products and are commonly seen as ingredients in raw, dairy-free treats including raw chocolate. You can cook with it and you can rub it on your skin or lips as it will melt at body temperature.
Based on the latest research findings, Mauro Serafini, PhD, of Italy's National Institute for Food and Nutrition Research in Rome, and colleagues, claim that "milk may interfere with the absorption of antioxidants from chocolate… and may, therefore, negate the potential health benefits that can be derived from eating moderate amounts of dark chocolate." This makes raw, dairy-free chocolate more superior.
Look for cacao or cocoa butter in your local health food store or online. Raw cacao powder can be replaced with regular cocoa powder or powdered chocolate (unsweetened).
Please note that the original recipe that used coconut sugar has been amended to use honey or other liquid sweeteners as some people experienced issues with the sugar melting.
More Chocolate Recipes
Paleo Jaffa Rum Balls
Paleo Chocolate Cashew Buttercups
Chocolate & Hazelnut Salted Caramel Tart
Paleo Chocolate Brownies
Paleo Chocolate Ice Cream
Let me know what you think of this recipe in the comments below. Do share with friends and family, or bookmark it for later on Pinterest from here. Snapping it for Instagram? Tag @eatdrinkpaleo so I can find it.
Irena x
Print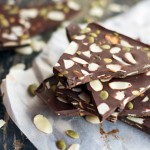 Raw Cacao Butter Chocolate Bark
Author:

Prep Time:

5 mins

Cook Time:

15 mins

Total Time:

20 mins

Yield:

1

2

1

x

Category:

Dessert
---
Description
This Paleo friendly, amazing raw dark chocolate bark is made with raw cacao butter, raw cacao powder, vanilla and other yummy goodies.
---
225

–

250

g solid cacao butter (broken int chunks, about

1 cup

)

6

–

7

tablespoons raw cacao powder (or cocoa powder)

3

–

4

tablespoons honey or maple syrup

1/2 teaspoon

sea salt

1 teaspoon

vanilla extract/essence

1 tablespoon

pumpkin seeds or sunflower seeds

1 tablespoons

almond slivers or shavings

1 tablespoon

coconut flakes (optional)

1 tablespoon

dried blueberries or cranberries or raisins
You will also need a saucepan quarter filled with water, digital thermometer, a heat proof bowl that goes over the saucepan, a whisk, shallow baking tray and non-stick baking paper.
---
Instructions
Bring a quarter-full saucepan of water to boil and turn the heat down to simmering. Add cacao butter to a heatproof bowl and place over the simmering water. Make sure no water gets in the cacao butter.
Stirring with a spatula, heat the cacao butter, and when almost all melted, stick the digital thermometer in. Make sure the temperature doesn't go over 48°C / 118°F. If it's close, remove the bowl from the heat and let the butter melt further on the countertop. The temperature will start to drop and that's what we're after.
Add the cacao powder, vanilla and honey or maple syrup to the melted cacao butter and whisk until dissolved and well incorporated. The temperature will drop once you add other ingredients. Keep it at about 32-35°C, warm it up if needed, but NOT all the way up to 48°C. This will keep it smooth and silky, and decrease the chances of chocolate seize (when it turns into grainy paste).
Finally, add the salt and whisk together. Line a tray with baking paper, covering the sides so no chocolate is spilt over the edges. Pour the chocolate into the tray and let is spread into a thin bark layer. While still melted, sprinkle with pumpkin seeds, almonds, coconut flakes and dried blueberries, or other nuts and dried fruit of your choice.
Place the tray in the fridge for at least 2 hours. The bark will solidify within 30 minutes, but it's a good idea to let it stand for a little longer. Keep in an airtight container, in or out of the fridge, depending on how crunchy you like it. It will keep for a few weeks.
---