Whether you're looking for a festive centrepiece dish or gourmet family meal, this roasted pork tenderloin with orange, mustard and maple glaze sauce is a total winner. In this recipe, I share my tasty pork tenderloin rub and how to cook this piece of meat in the oven alongside your favourite veggies. This recipe is paleo-friendly and gluten-free.
---
Roast Pork Tenderloin With Orange Maple Glaze
I have tender memories of eating pork tenderloin as a child. My grandmother used to make a delicious, foil-wrapped and baked pork tenderloin with a special rub on it. We would often have it on special occasions like when we had guests over or for Christmas and NYE. It was usually sliced and served with beet horseradish or some other delicious sauce. I also loved the leftovers the following day.
Today, I am sharing a super tasty recipe for roast pork tenderloin that I like to make when guests or family come over for dinner. It looks beautiful and impressive, yet it's pretty easy to make. The meat is rubbed in delicious spices and roasted together with diced potatoes, Brussels sprouts and green beans. Who doesn't love a good sheet pan meal?!!
While these guys are cooking, you can prepare my glossy, sweet and sour maple glaze sauce to drizzle over tender meat.
Pork Loin vs Tenderloin
Out of all the pork cuts, I'd say tenderloin is my favourite. It's lean yet very tender and juicy and has a pleasant flavour. You could be mistaken for thinking it's a piece of chicken or turkey.
Although the names sound similar, pork tenderloin is different from the pork loin. Pork tenderloin (the lower one) is a long, thin fillet of meat and comes from a different part of the animal. The loin is much broader, larger piece, with more fat on it and lighter in colour. For this particular recipe, you could use either, but pork tenderloin cooks much quicker, so you will need to adjust the timings.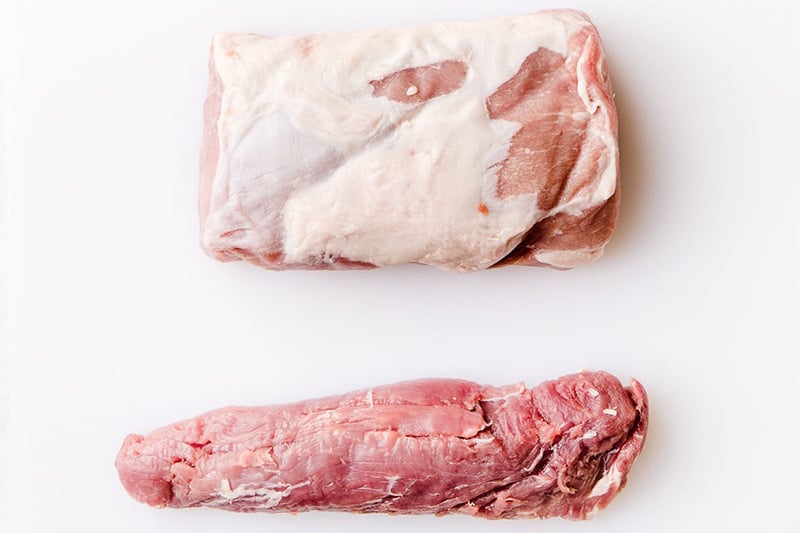 Calories in pork tenderloin and loin are about the same if you go by meat only (145-150 calories per 100 grams), but the loin usually comes with more fat on the outside and is then more satiating. Both are high protein, B-vitamins and minerals like selenium, zinc and magnesium.
Cooking times for pork tenderloin in the 180-190 C / 355-385 F oven are about 25-30 minutes per 500 g or 1 lb of meat, plus 5 minutes rest. Pork tenderloin usually weighs somewhere between 400-500 grams.
For pork loin, it's 25 minutes per 1 lb of meat in the 160-175 C oven. The loin piece usually weighs closer to 1.5-2lb or 700 – 900 g, so about 35-40 minutes cooking time is required.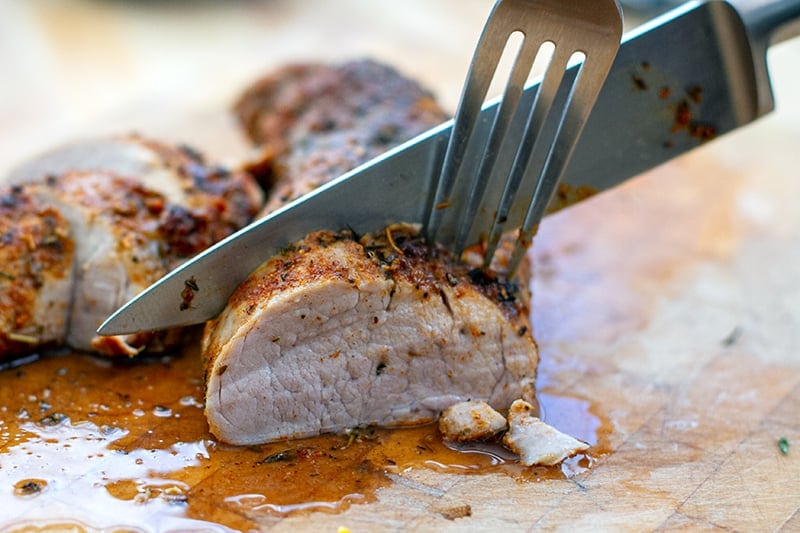 How To Cook Pork Tenderloin & Veggies (Video)
Orange Maple Glaze Sauce
There are many tasty and easy sauces for pork tenderloin, so you don't have to go with my suggested glaze. I do think that the meat goes well with slightly sweet, acidic sauces, hence why applesauce is often served with pork.
For this sauce, I used orange juice, maple syrup and Dijon mustard as the key ingredients. The liquid is reduced and thickened with butter, which also gives it that lovely glossy finish. You can use ghee instead of butter for a dairy-free version. And, this sauce can be made ahead of time, reheat and dilute with a little water if it thickens too much in the fridge.

---
More Tasty Pork Recipes
Pork Tenderloin With Mushrooms, Pecans & Balsamic Onions
Orange & Coriander Seed Pork Cutlets
Garlic Pork Steaks With Green Beans & Leeks
Vietnamese Grilled Lemongrass Pork
Unstuffed Cabbage Rolls With Crispy Bacon
---
Print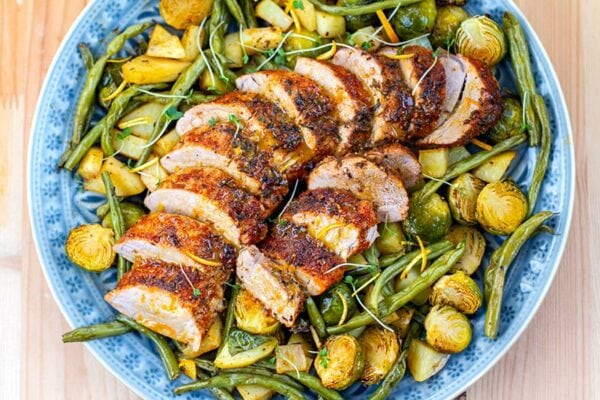 Roast Pork Tenderloin With Orange Maple Glaze
Author:

Prep Time:

20 minutes

Cook Time:

30 minutes

Total Time:

50 minutes

Yield:

3

1

x

Category:

Main

Method:

Roast

Cuisine:

British
---
Description
Perfectly roasted pork tenderloin alongside potatoes, Brussels sprouts and green beans is drizzled with orange, mustard and maple glaze sauce. It's a prefect family meal that can be served on weekends or special occasions. Great for dinner parties!
---
1 lb / 480-500 g pork tenderloin fillet

For pork tenderloin rub
1.5 teaspoons salt

1/2 teaspoon pepper

1 teaspoon garlic powder

1 teaspoon paprika powder

1 teaspoon coriander seed powder

1 teaspoon dried thyme (or mixed herbs)

1/2 teaspoon cinnamon

For vegetables
2 medium white potatoes (or sweet potatoes), diced into small cubes

200 g / 7 oz Brussels sprouts, cut in halves

200 g /7 oz fine green beans, tails cut off

2 tablespoons olive oil

A little salt

For the orange maple glaze
1/2 cup orange juice

1 tsp orange zest

1 tablespoon lemon juice

1 teaspoon mustard

3 tablespoons maple syrup

25 g / 1 oz butter (about 1 1/2 tablespoons)

A pinch of salt
---
Instructions
Preheat the oven to 180 C / 355 F. Line a large flat baking sheet with a piece of parchment paper and brush with a little oil.
Combine the rub ingredients and sprinkle all over the pork tenderloin. Rub it in on all sides. Place the fillet in the middle of the baking sheet and scatter potatoes all over. Pop in the oven for 10 minutes.
After 10 minutes, increase the temperature to 200 C and remove the tray. Add the Brussels sprouts and green beans and drizzle with a little more olive oil. Sprinkle with a few pinches of salt. Put the tray back in the oven for 20 minutes.
Prepare the glaze sauce. Add orange juice, lemon juice and mustard to a small pot and place over high heat. Once it comes to a boil, allow it to bubble away for 2-3 minutes (reduce the heat slightly if it starts to foam too much). Stir often. Then add the maple syrup and cook for two more minutes, stirring frequently. Finally, add the butter and cook for another minute, until thick and glossy. Set aside.
Once the pork and veggies are done, remove them from the oven and transfer the pork tenderloin to a cutting board to rest for 5 minutes. Stir the vegetables and put them back in the oven for a few more minutes to stay warm.
Once rested, slice the meat into medallions and serve on a platter or baking sheet over vegetables. Drizzle with a few tablespoons of the glaze sauce and serve the rest on the side.
---
Notes
Ghee can be used instead of butter for a dairy-free version.
If using pork loin, cook it in a 175 C /350 F for 10 minutes by itself, then add potatoes and increase the temps to 180 C for 10 minutes, then 200 C with the rest of the veggies for 15 minutes.
If cooking for more people, you can use two tenderloin fillets and bake them on one tray and vegetables on another tray at the same time. You should have enough glaze sauce for both.
Nutrition
Serving Size:
Calories:

547

Sugar:

21.1 g

Sodium:

1297.3 mg

Fat:

20.7 g

Saturated Fat:

6.8 g

Carbohydrates:

53.3 g

Fiber:

8.7 g

Protein:

40.4 g

Cholesterol:

121.9 mg
Save This Pork Tenderloin Recipe To Pinterest