Roasted leeks are topped with crispy bacon and hazelnut dressing for a unique and delicious combination of flavours and textures. This dish can be served as a side or as an appetizer and is paleo, gluten-free, Whole30 and low-carb friendly.
---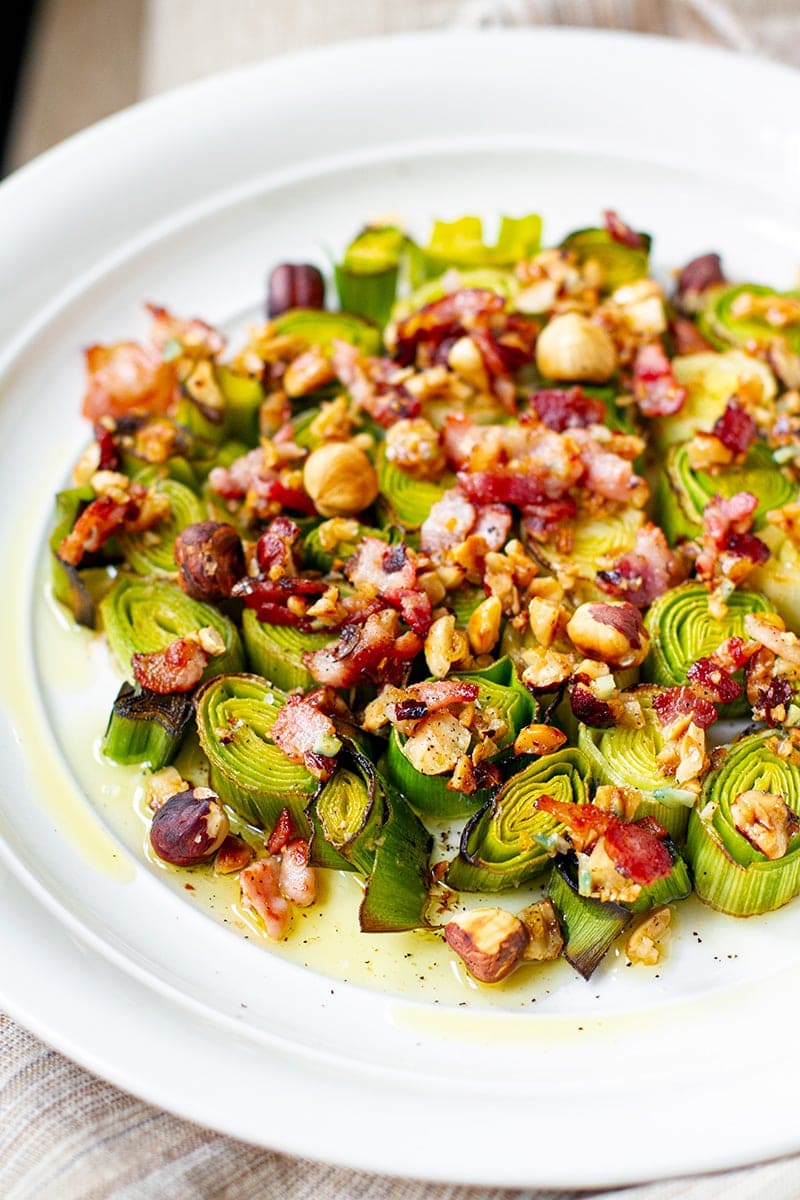 I remember doing a poll on my Facebook page about the top 5 vegetables people would like to use more in the kitchen and leek came up as number one. And so, I decided to create a few delicious, healthy recipes using leeks as the star ingredient.
Relative to onion and garlic, the leek is one of those vegetables that we see at the markets and shops all the time, yet our mind usually stops at leek and potato soup when we think about what we're going to do with it.
Leeks are actually quite versatile and can be used in place of onion. Because it's not as strong in flavour, it can hold its own as a key ingredient in a dish. It can be braised, stewed, stir-fried and in our case, roasted.
As far as nutrition profiles go, the leek is not a powerhouse but it does contain a bit of everything (vitamin K, C, A, B6, manganese, copper, iron, folate, fibre etc). Leeks also contain good amounts of the flavonoid kaempferol, which helps to protect our blood vessel linings from damage.
Cook's notes
You can use baby leeks for this recipe and instead of slicing them into disks just roast them whole after washing carefully. Almonds, macadamia nuts, pistachios and pine nuts would work well instead of hazelnuts. If you have some hazelnut oil, drizzle a few dashes of that right at the end. If you don't have a lemon, use some white or red wine vinegar instead.
For a vegetarian/vegan version, simply omit the bacon.
Print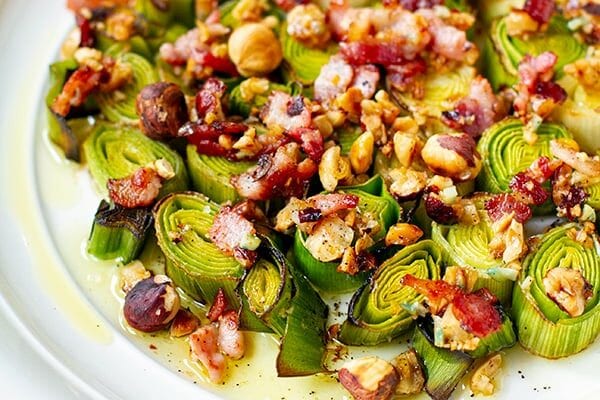 Roasted Leeks With Bacon & Hazelnut Dressing
Author:

Prep Time:

15

Cook Time:

25

Total Time:

40 minutes

Yield:

2

-3

1

x

Category:

Side

Method:

Roasted

Cuisine:

French
---
2 medium leeks

2 tablespoons macadamia oil or olive oil

3–4 rashers of bacon, diced into small cubes

A little extra coconut oil

1 large garlic clove, finely diced

1 teaspoon lemon zest

1/2 cup hazelnuts (about a large handful)

1 tablespoon lemon juice

2 tablespoons extra-virgin olive oil

Sea salt and black pepper
---
Instructions
Preheat the oven to 180 °C/355 °F.
Wash the leeks and slice the pale white and light green part into 1-cm disks. Reserve the green ends for stock or stir-fry.
Arrange leek slices in a single layer in a roasting tray and drizzle with oil and sprinkle with a little salt. You can also use a few dollops of ghee. Roast in the oven for 25 minutes.
Place hazelnuts in a small frying pan and cook over medium heat for 5-7 minutes, tossing through frequently, until toasted and the shell skin starts to come off. Set aside to cool and peel as much of the skin off as you can/want. Once cool, crush the nuts with a large chef's knife and chop into small pieces or grind in a food processor.
Halfway through the roasting time, pan-fry the diced bacon over medium-high heat until crisp. Add garlic, lemon zest and hazelnut crumbs. Stir and cook for a minute or two until garlic is lightly golden.
Take the bacon off the heat and add 2 tablespoons of olive oil, lemon juice, and a good pinch of salt and pepper. Stir through to warm up the oil and set aside.
Finally, remove the leeks to a bowl or a platter and top with the dressing. Serve with a side of protein and a salad.
---