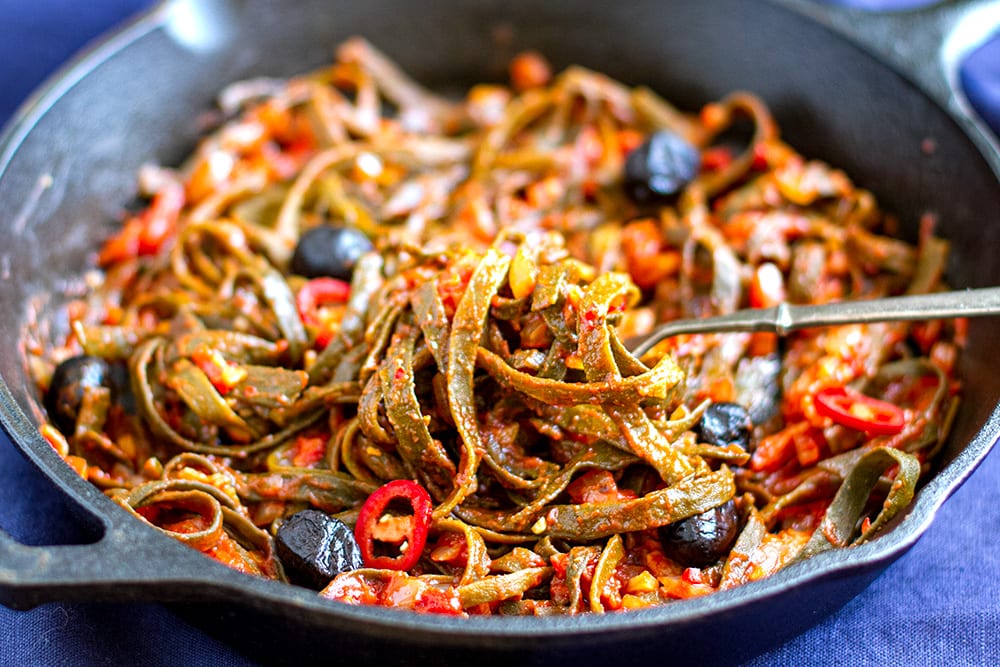 Avoiding refined carbohydrates and wheat? If so, then you are probably familiar with zucchini noodles as a pasta substitute. Today, I want to introduce to you a new pasta alternative that is even more nutritious, very low in carbohydrates and super sustainable.
We're talking about seaweed pasta. You might have sprinkled some dulse on your salad or had some nori sheets in your sushi rolls, but this is a different type of sea vegetable. It's called himanthalia and it really is an amazing pasta replacement.
I first discovered sea pasta from a guy called Willem. Introduced by a mutual friend when he was visiting London, we went for a coffee and got to chat about food and wellness. Willem told me his story about trying this sea pasta at a restaurant in Ibiza. He was so impressed with its resemblance to pasta, that he got an idea. What if we could replace half the pasta in the word with seaweed? Sounds crazy, but we're talking about a sustainable food source that also happens to be super healthy. Cut long story short, Willem now runs a company that harvests and sells I Sea Pasta – a seaweed vegetable that I reckon is going to become the next big thing in the wellness world.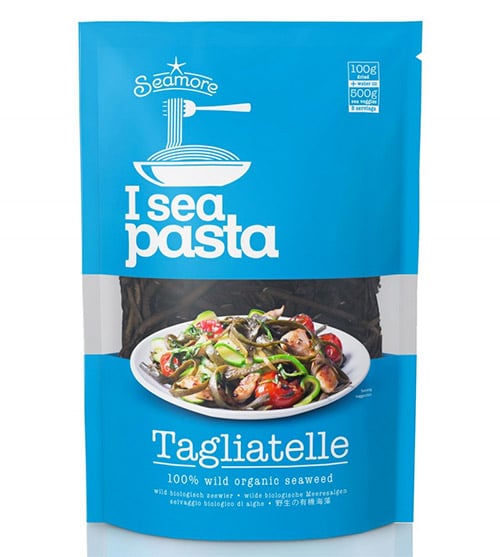 Willem gave me a couple of packs to try (by the way, this is not a sponsored post) and after following his instructions and making my own sauce to go with it, I made the dish I am sharing with you today. I had no idea what it would taste like – in fact, I thought it would be quite sea or fishy tasting – but it was surprisingly mild in flavour and, here is the best part, it actually resembles tagliatelle pasta noodles. It's a little firmer to bite but if you like your pasta al dente, then you will really appreciate the texture of seaweed pasta. I really liked it.
A little bit more about this seaweed pasta
Himanthalia Elongata, sea thong or sea spaghetti is an algae species that only grows in Portugal, Spain, Ireland, Brittany, the south of England and Norway. It grows on rocks and can reach 2,5 meters in length. Underwater, it looks like a really tall grass. It's been cultivated and consumed for a very long time, and used to be the food for the poor (at least in Ireland).
European chefs and restaurateurs have been on to it for a while but seaweed pasta is only now starting to reach everyday cooks and kitchens, mainly thanks to people like Willem. In a nutshell, it comes as dried long seaweed strands that you rehydrate in cold or how water or cook for 15-20 minutes. The strands expand in size and become neutral smelling and tasting, with a slight umami flavour. It literally looks like dark green tagliatelle, almost like squid ink pasta. You can serve it with flavourful sauces, add to it soups, stews and curries or make raw salads. The soaking or cooking liquid gains a slightly umami flavour too and can be reused as a broth for soups and stews.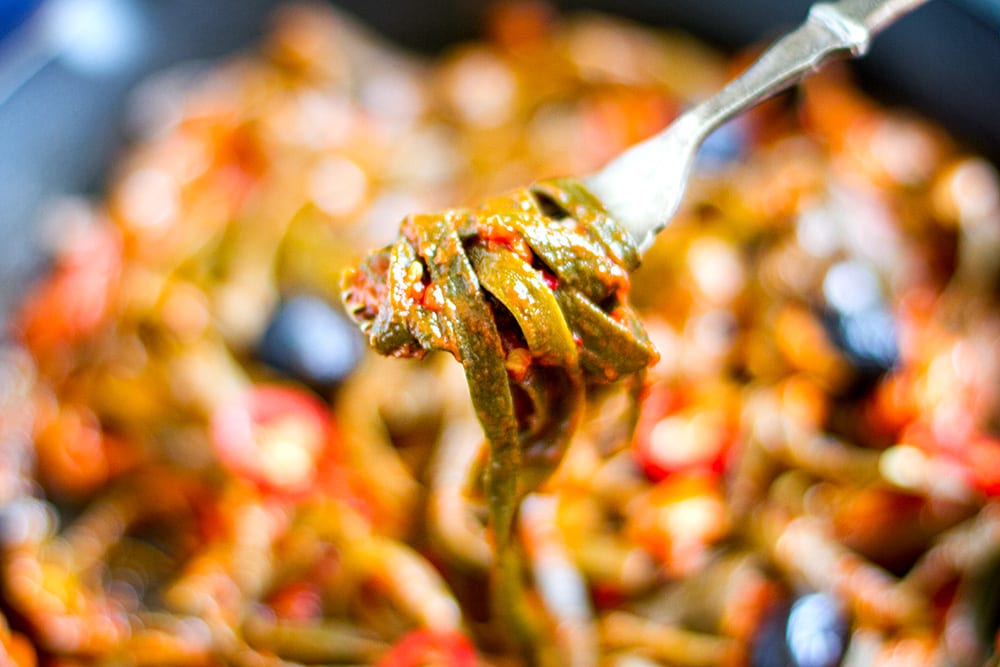 Now, I've saved the best part for last. Seaweed pasta is super nutritious. Its nutritional qualities compare with the best veggies on land, plus it has a few extras from the sea. It contains iodine, sodium, antioxidants, proteins, vitamins (B1, B2, C, E) and minerals such a calcium and iron, and essential Omega-3's. Above all that, Himanthalia Elongata contains lots of fibre, which is vital for good gut health, healthy metabolism and weight loss. It's low in calories if you're watching those number, yet it's very satiating. And the carbs? About 5 grams per serve. Pretty impressive if you ask me.
So, where do you get this seaweed pasta. At the moment it's still not widely available, however people like Willem are working hard to scale the harvesting and production to be able to bring this product to many more countries. I know it's available to buy no Seamorefood.com and they ship around Europe and the UK (you can als0 see stockists in Australia and Europe). I am hoping it will soon be available in the rest of the world too because it really is an amazing food.
I soaked and cooked the dried seaweed for 15 minutes in boiling water, then strained the broth and rinsed the cooked seaweed before adding it to the sauce. I decided to serve it with a simple Italian sauce called Amatriciana – onion, garlic, chilli, bacon, lots of olive oil and tomatoes, and a few olives for good measure. This 'pasta' works really well with Bolognese sauce or any other meat ragu, or used in a delicious superfood salad (try this Ottolenghi recipe for seaweed, ginger and carrot salad ).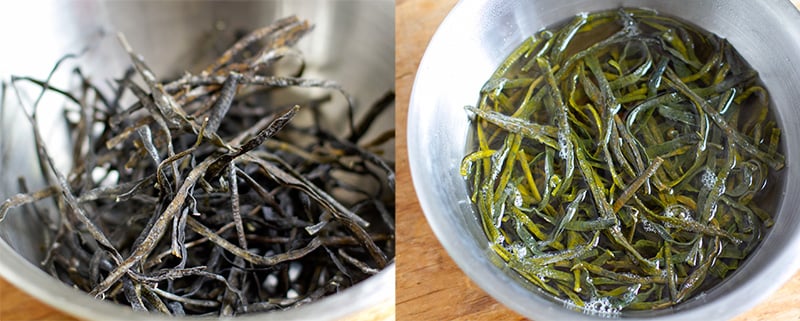 Sneaky tip: If you're unsure about serving this pasta to kids, try making a mix of regular tagliatelle with a few of the seaweed strands tossed through and see if they notice it or say anything. Then gradually build to more seaweed and less pasta.
If you can't find any seaweed pasta, you can still use good old zucchini noodles with this sauce.
Print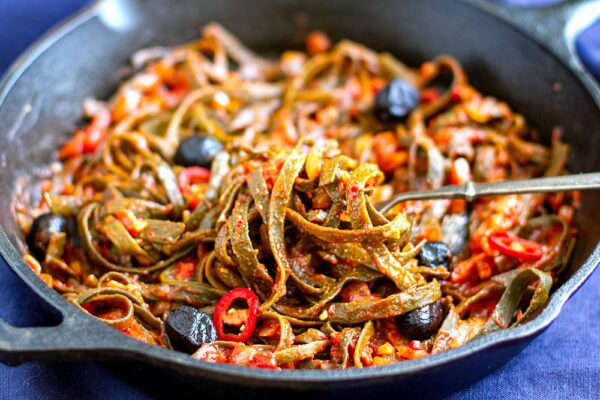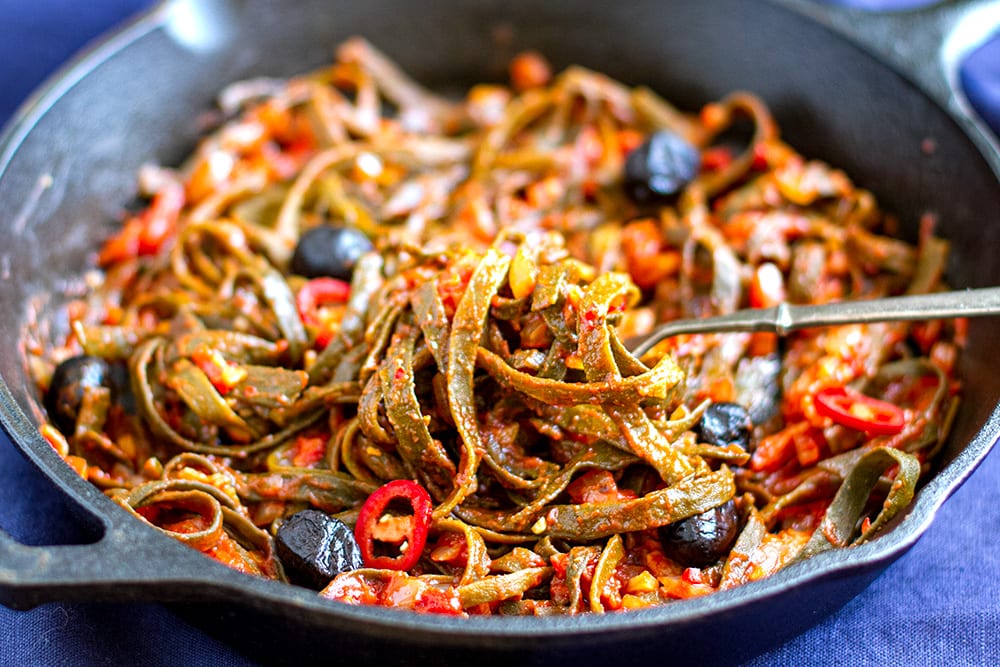 Seaweed Pasta all'Amatriciana
Author:

Prep Time:

20 mins

Cook Time:

15 mins

Total Time:

35 mins

Yield:

2

1

x
---
45 grams

of dried seaweed pasta tagliatelle

1

medium brown onion, finely diced

3 tablespoons

olive oil

3

rashers of bacon, finely diced

½

long red chilli, finely diced

3

cloves garlic, finely diced

1 teaspoon

dried mixed Italian herbs

1 ½ cups

tomato passata or tinned chopped tomatoes

½ teaspoon

sea salt
handful of marinated olives of choice
grated Parmesan cheese or nutritional yeast flakes to serve
---
Instructions
Soak dried seaweed in cold water for 10 minutes. In the meantime, bring a medium pot of water to boil and dice the ingredients.
Rinse the pre-soaked seaweed and add to the boiling water. Cook for 15 minutes then strain (you may want to keep the broth for soups) and rinse under warm water.
Prepare the sauce while the seaweed pasta is cooking. Add the onion, olive oil, bacon and chilli to a hot deep frying pan and sauté over medium heat for 4-5 minutes, until golden brown and softened. Add the garlic and Italian herbs and mix through. Then add the tomatoes, salt and olives and stir. Cook over together over medium heat for 3-4 minutes, stirring a few times.
Stir the cooked seaweed pasta into the sauce and serve with or without shaved Parmesan on the side.
---
So, let me know what you think about seaweed pasta. Is this something you'd like to try? Or perhaps tried? What are your favourite ways to prepare it? Leave a comment below.