These delicious saucy albondigas or spicy meatballs are made with chipotle chile peppers and braised in delicious, Tex Mex inspired tomato sauce. These meatballs are paleo and Whole30 friendly and can be served on their own with a side of veggies or salad, over rice or cauliflower rice, or in tacos and burritos. Budget-friendly and good for the freezer.
---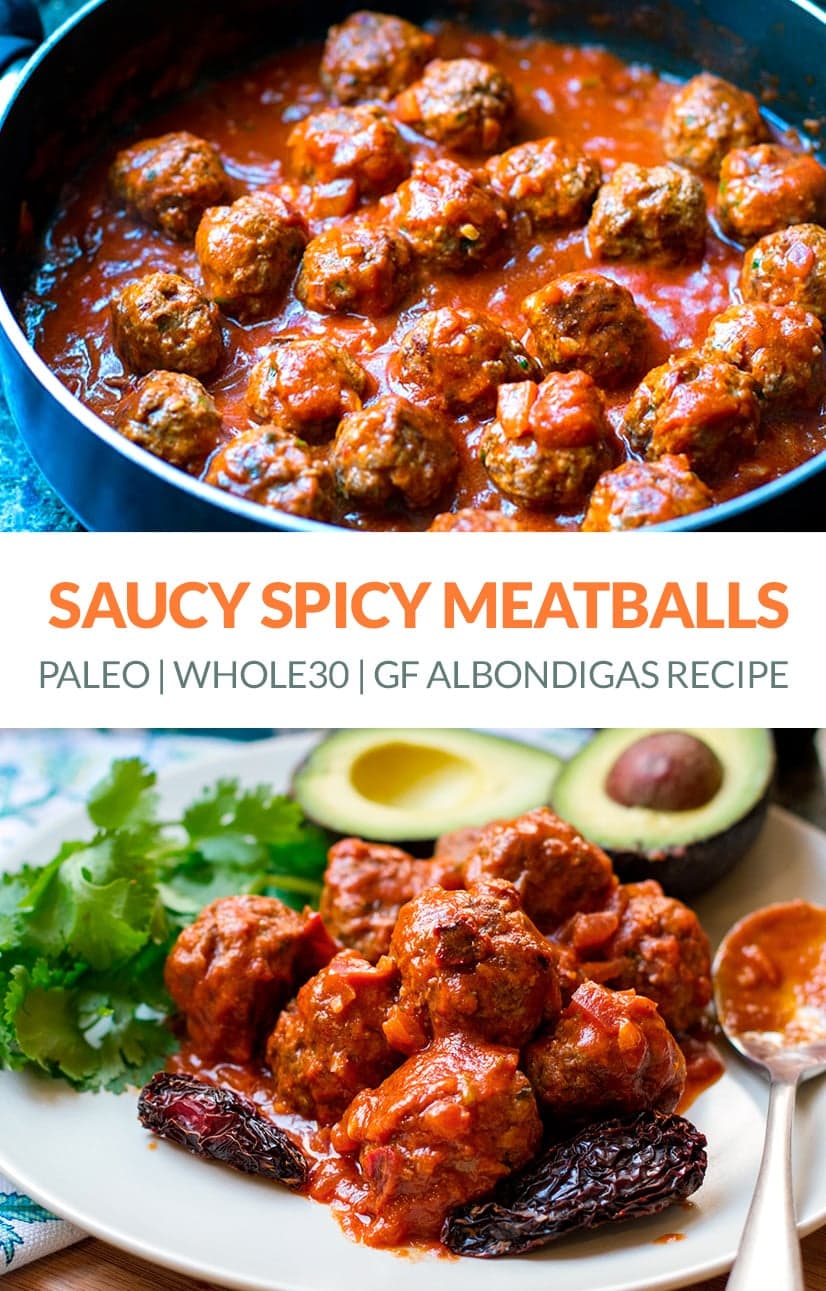 A few years ago, I spent some time in the Mission district of San Francisco. While there, I experimented with a lot of Mexican and Latin American ingredients and found a few that I still use on a regular basis. One of my favourite Tex-Mex ingredients is chipotle – a smoke-dried jalapeño – which is amazing in this spicy albondigas recipe (meatballs in Spanish).
WHAT IS CHIPOTLE CHILLI?
Essentially, chipotle is a chilli pepper with a very smoky flavour and aroma, a little like smoked paprika with mild, warm heat. It's the red ripe jalapeño, not the pickled one you're used to getting as a condiment. Unlike most chillies that simply add a little heat to the dish, chipotle adds an incredible flavour and depth.
It's great with meats and seafood and can be found as dried peppers or tinned in brine or tomato sauce. Look out for it in the Mexican/International ingredients section in your supermarket, or check with your local delis and speciality stores.
The heat and the size of the chipotle chilli peppers varies but usually, 2-3 medium chillies with seeds scraped out will give you plenty of nice heat without a 3rd-degree tongue burn. If you leave the seeds in, use fewer peppers or smaller peppers.
Can't find dried or tinned chipotle or chipotle powder? My instincts tell me that a mix of red chilli powder and smoked paprika would be as close as you can get. For Aussies, you can order them online; for North America & Europe, I believe you can find chipotle on Amazon.
I also love using chipotle in stews, like this Chilli Con Carne with Beef, Chorizo & Chipotle.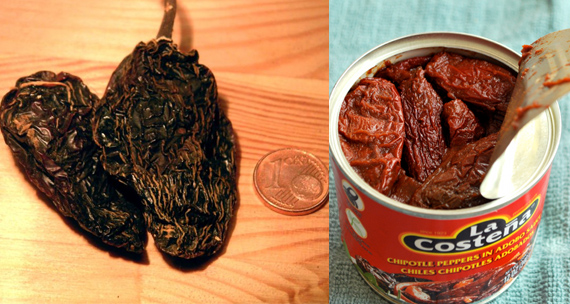 HOW TO MAKE THESE SPICY CHIPOTLE MEATBALLS
I used dried chipotle peppers, which need to be soaked if you plan to chop them. If slow-cooking a pot of soup or a meat stew, you can add whole dried peppers and they will rehydrate while cooking. If using tinned peppers, give them a taste first to see how hot they are. I find that dried chipotle peppers can be hot to taste but after cooking they lose some of the heat so don't be afraid to use 1-3 peppers.
I am using ground grass-fed beef for these delicious albondigas. Beef can be replaced with ground pork or chicken, or half and half.
The meatballs are pre-cooked in a deep frying pan first before the rest of the sauce ingredients are added. They are then finished braising in this delicious, spiced tomato sauce.
CAN I FREEZE THE MEATBALLS?
Yes, the finished meatballs and the sauce can be frozen together in an airtight container for up to 3 months. Defrost and reheat with a little water to thin out the sauce. If not frozen, the cooked meatballs will last up to 3 days in the fridge.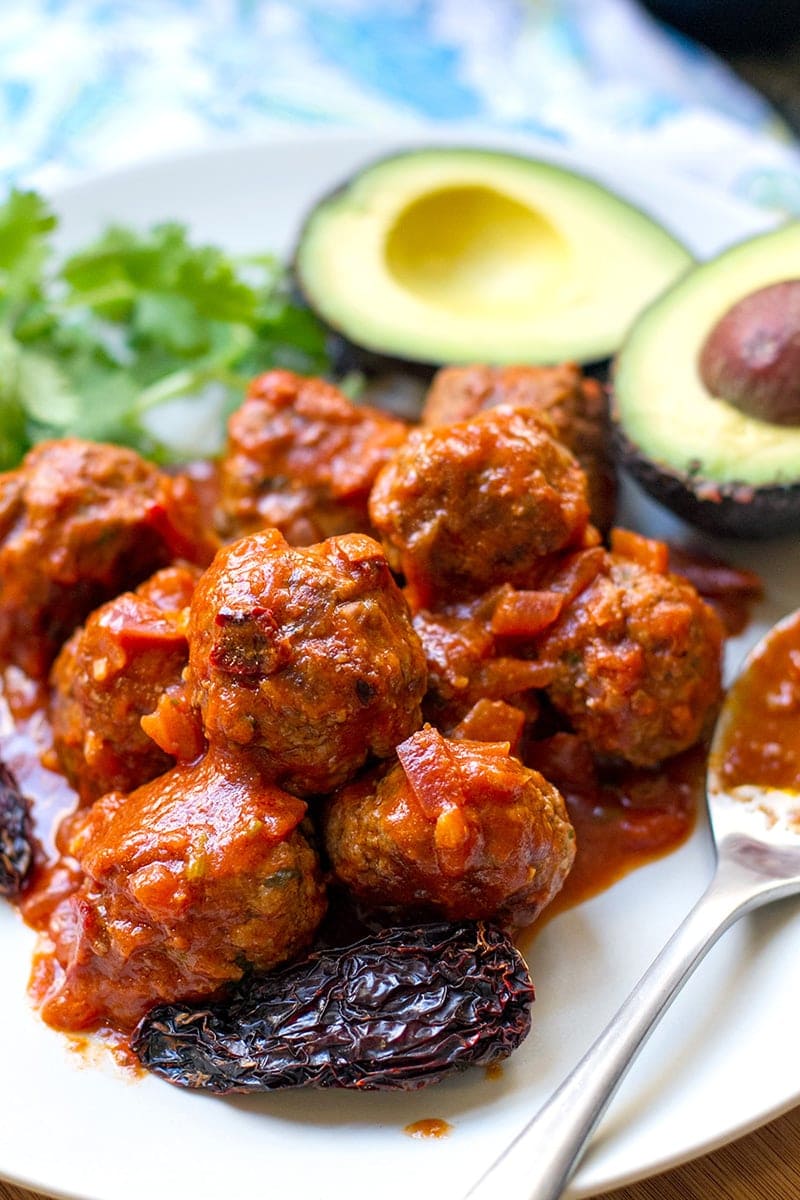 WHAT TO SERVE WITH SAUCY SPICY MEATBALLS
We served these tasty meatballs with pan-fried shredded Brussels sprouts, broccoli, some diced avocado and fresh coriander/cilantro. Absolutely delicious with lots of warm heat and flavour!
The meatballs come with a lot of sauce so it's great to serve them over something like cauliflower rice (for paleo & Whole30 meals) or regular rice, quinoa or even sweet potatoes. The meatballs can also be added to nutritious quinoa bowls or salads, or used as a filling in tacos and burritos.
MORE HEALTHY MEATBALL RECIPES
Print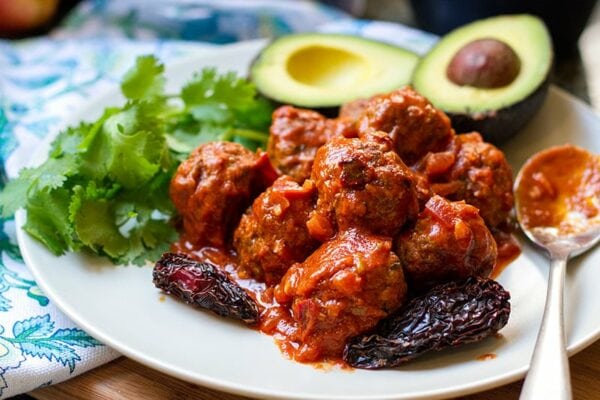 Saucy Spicy Chipotle Meatballs (Albondigas)
Author:

Prep Time:

20 mins

Cook Time:

20 mins

Total Time:

40 mins

Yield:

4

1

x

Category:

Main

Method:

Fried & Braised

Cuisine:

Tex Mex
---
Description
These saucy and spicy chipotle meatballs (or albondigas) are juicy and delicious. Braised in a spiced, Tex Mex inspired tomato sauce, these meatballs are finger lickin' delicious and can be served over rice, veggies, quinoa or used in tacos and salads.
---
1 teaspoon

olive oil (or ghee, lard, avocado oil)

1

large brown onion, finely diced
For the meatballs
800 g

/1.8 lb grass-fed ground beef mince

3

medium dried chipotle chilies (tinned chipotle can also be used), seeds out

2 tablespoons

chopped fresh coriander (cilantro)

2

large garlic cloves, finely diced

1 teaspoon

ground coriander seed

1 teaspoon

ground cumin seed

1 teaspoon

sweet or mild paprika

1.5 teaspoon

of sea salt

2 tablespoons

olive oil (lard, ghee or avocado oil for cooking)
For the sauce
½

onion, mentioned above (the rest of what's used in the meatballs)

2

garlic cloves, finely diced

2

medium chipotle chilies, seeds out

½ teaspoon

ground coriander seed

1 teaspoon

ground cumin seed

½ teaspoon

paprika

2

bay leaves

400 g

/ 1 can diced tomatoes or tomato puree (about

1 ½ cups

)

½ teaspoon

sea salt
You will need a large, deep frying pan
---
Instructions
If using dried chipotle chilies, place them in hot water to rehydrate, for at least an hour before using.
Heat a teaspoon of cooking fat or oil in a large frying pan over medium heat and add the onion. Sauté the onion for 3-5 minutes until translucent. Remove to a bowl. Use half of the onion for the meatballs mix and reserve the rest for the sauce.
While onion is cooking, pre-chop other ingredients for the meatballs. Slice the chipotle chilies in half and remove the seeds. Chop with a knife or grind with mortar and pestle into a paste-like consistency.
Combine ground beef with half of the cooked onion, chopped garlic and chipotle chilies, paprika, cumin, coriander seed, and salt. Mix and knead through using your hands. Using clean, wet hands roll the mix into small balls (somewhere between a walnut and a golf ball size). Set aside until ready to cook.
Preheat a dollop of olive oil or other cooking fat in the same large frying pan until sizzling hot. Cook the meatballs on medium-high heat for 3 minutes on each side, until well browned.
Add the rest of the cooked onion, garlic, two chopped chilies and the sauce spices to the pan with the meatballs. Stir through and add the diced tomatoes/puree. Combine and cook for 8-10 minutes uncovered, stirring frequently to make sure the meatballs cook evenly and the sauce is well combined.
Taste for salt. Drizzle with a little lime juice before serving.
---
Nutrition
Serving Size:

4-5 meatballs

Calories:

541

Sugar:

13.9 g

Sodium:

1358.9 mg

Fat:

26.9 g

Saturated Fat:

6 g

Carbohydrates:

25 g

Fiber:

5.6 g

Protein:

49.3 g

Cholesterol:

120 mg
|