If you've been wearing pyjamas for more than 48 hours and you feel like your motivation to make a salad is slowly giving in to the convenience and ease of 2-minute noodles, or if you've binged more than 12 episodes of any given show on Netflix, it's time to rethink you staying at home strategy. Instead, join my Staying Healthy At Home community challenge!
---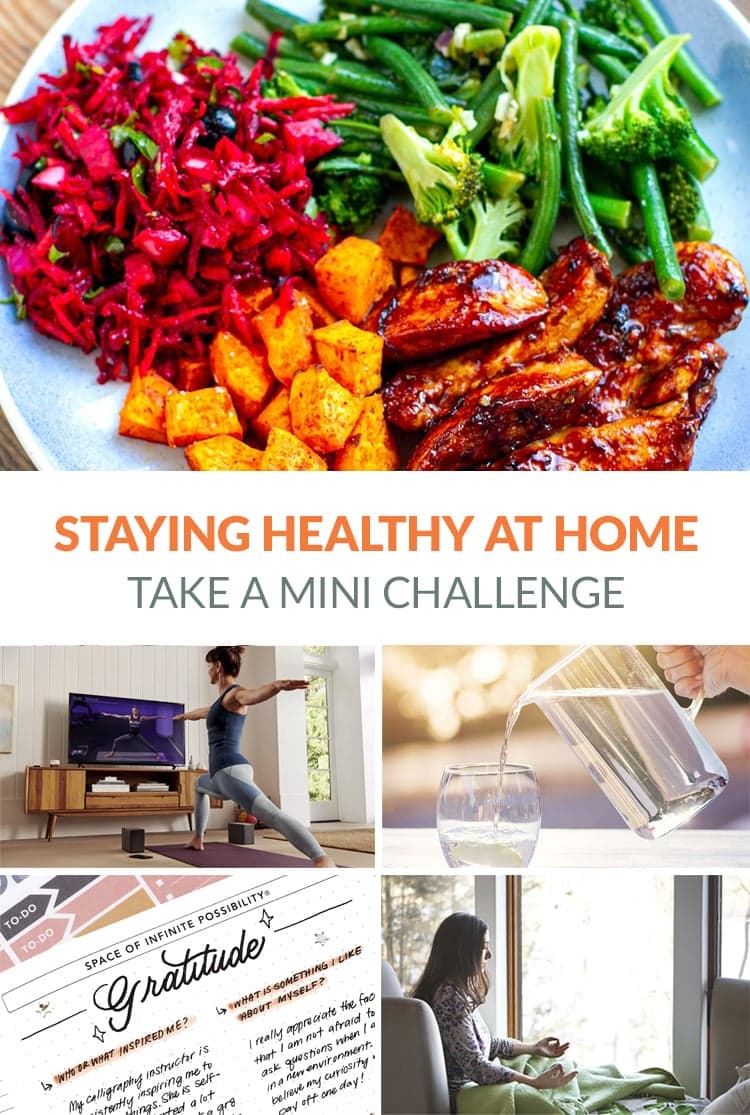 Just because you're stuck at home for an indefinite period of time doesn't mean you have to fall back to old eating habits and spend all your time in front of the screen.
Yes, our food options might be limited and exercising in a small apartment isn't as exciting as going to your favourite yoga studio BUT you still have options. To help you make better choices, I'm starting a mini accountability challenge for my community called Staying Healthy At Home.
After asking my Facebook group members if they were interested, there was a unanimous YES and a few great ideas came out of our discussion. Here is what the challenge is and how you can get involved.
---
HOW TO TAKE PART IN THIS CHALLENGE?
Staying Healthy At Home is a community-based accountability challenge to help you stick with good eating habits, daily exercise and a few other activities while spending an extended period at home.
When do we start? Monday 23 March 2020 but you can join us at any stage!
Similarly to one of my previous challenges, we will use a simple point system to keep track. You have to score a minimum of 5 points per day! You can choose from the following 6 tasks or do all of them and get 6 points…more wellbeing benefits to you!
Keep a morning routine (get out of your pyjamas, make the bed, shower) – 1 point
One healthy, nutrient-dense meal – 1 point
30-minutes of exercise – 1 point
Stay hydrated – 1 point
Practice gratitude – 1 point
Meditate – 1 point
You can do this challenge on your own or join us in my private Facebook group where I will get everyone to check in and report on their progress every couple of days. You can also share your meals, exercise ideas, and daily motivation and encouragement. I hope it will help YOU and us to stay connected and supported during these strange and trying times.
Bonus suggestions from our community for how to stay healthy and sane while at home (you can leave more ideas in the comments):
Take a break from the screen for 30 minutes every 2 hours or whichever intervals suit you.
Self-care/pampering – DIY face mask, manicure, body scrub, take a bath.
---
MORE ABOUT YOUR daily tasks
Here are more details about our recommended healthy habits to keep up while you're stuck at home.
Stick with your normal morning routine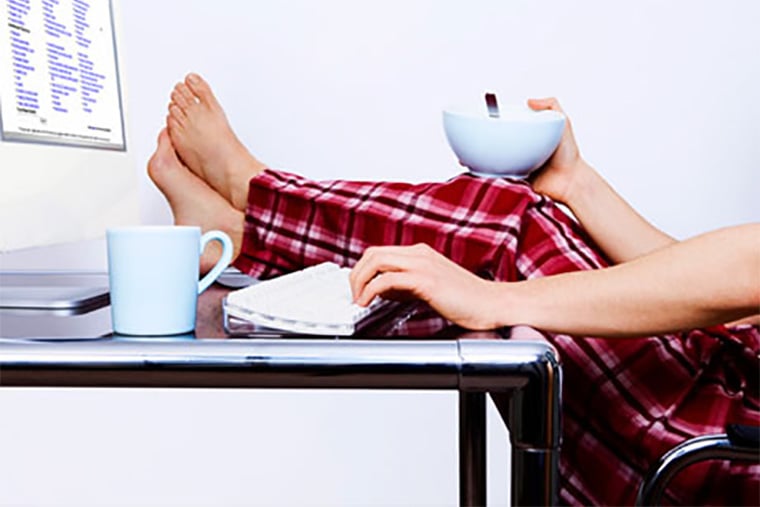 Okay, this might seem obvious but you'd be surprised how easy it is to fall into a habit of NOT doing these things every morning. I love a good pyjama day but too many days in raw can really dampen your spirits.
Sticking with your regular morning routine of getting up, showering, making up the bed and getting dressed in fresh clothes will psychologically set you up for the day and bring some normality into your life. You will feel motivated to set some positive intentions for the day and to be more productive. Otherwise, it's too easy to slip into procrastination mode. That's why I am attributing this habit 1 point.
---
One healthy meal per day
Another point can be scored if you make sure to include at least one healthy, nutritious meal each day.
Given that we will have to be a bit more flexible with our food options, it's totally okay to widen your dietary guidelines and to include foods that maybe you would normally avoid. For some of you that might mean relying on more pantry staples and frozen or canned foods. However, even with fewer options, we can still try to put together balanced meals.
Nutrient-dense means that your meal should have foods high in nutrients such as vitamins, minerals, antioxidants, fibre, protein, healthy fats, complex carbohydrates. Think lots of vegetables, especially leafy greens, plus some protein and healthy fats. It could be breakfast, lunch or dinner – your choice! If you can do more than one meal, amazing! But, don't beat yourself up if you can only manage one.
Here are some healthy meal ideas:
Canned Salmon Loaf & Cucumber Salad
Ground Beef Burgers With Garlic Kale & Sweet Potatoes
Prawn & Broccoli Cashew Stir-Fry (can be made using frozen shrimp)
Chicken Tortilla Soup With Kale (with tinned tomatoes & pre-cooked chicken)
Related: How To Stock Up On Real Food For Emergencies
---
30 Minutes OF Exercise
Ideally, it should be more than 30 minutes of general movement but as a workout, it should either raise your heart rate or make you sweat in a little.
If you can still get outside, going for a walk, run, cycle or trampoline dancing in the garden will also give you the benefits of fresh air and sunshine. If you're not able to go outside, look up free cardio or strength workouts on YouTube or take up a yoga challenge.
You can divide this into 3 x 10-minute movement sessions throughout the day. By the way, sweeping and mopping the floor or gardening totally counts!
---
Stay hydrated
While staying at home, our usual routine will change and this includes your hydration habits.
Adequate fluid intake is needed for many bodily functions and to regular body temperature. Dehydration can cause headaches, brain fog, tiredness and false hunger and cravings. It's important to keep those fluids up throughout the day.
If you're not sure what your personal hydration requirements are, you can use a simple formula based on your energy expenditure of 1 ml of water for every kcal you burn.
For example, a person with an average of 2,500 kcal energy expenditure needs 2,5L of water. Average daily calorie needs for adults are 2,500 for adult men and 2,000 for women, but this, of course, varies widely based on your height/weight/age. If you're a smaller size woman (e.g. 150cm tall, 50kg weight), you would need about 1,500 kcals, so your fluid intake would also be smaller. On average, 1.5-2 litres should suffice most people.
Please note, hydration needs also vary based on factors such as temperature, humidity or exercise, which influence how much fluid is lost through sweat or breathing. Dehydration can also be caused by alcohol and caffeine (both diuretics), or an illness (vomiting, diarrhoea), in which case extra fluid intake is required. Breastfeeding women have slightly higher fluid requirements.
All fluids contribute to hydration. Care should be taken with juices (excess sugar), alcohol, coffee and tea (diuretics, the latter two also affect iron absorption), milk (can add excess sugar and/or fat) and sports drinks (excess caffeine/sugar). While these have their uses, water is the best form of hydration. Otherwise, stick to herbal teas, sparkling water with a little fruit juice or lime juice, light soups and broths.
---
Practice gratitude
Many studies over the past decade have found that people who regularly practice gratitude or count their blessings tend to be happier and less depressed.
Gratitude helps us shed negative emotions and in a way rewires our brain into more positive thinking. This could be as simple as spending a few minutes at the start or end of each day to write down 2-3 things you are grateful for in your life that day. You can keep a journal or try a gratitude app. You don't even have to write them down. Simply, stop and think about what they are.
Not sure what how to get started? Check out these gratitude prompts.
Write about a person in your life that you're especially grateful for and why.
What skills or abilities are you thankful to have?
What is there about a challenge you're experiencing right now that you can be thankful for?
How is where you are in life today different than a year ago–and what positive changes are you thankful for?
List five body parts that you're grateful for and why.
What about the city you live in are you grateful for?
What are you taking for granted about your day to day that you can be thankful for?
List 5 people in your life who are hard to get along with—and write down at least one quality for each that you are grateful for.
What materialistic items are you most grateful for?
Write about the music you're thankful to be able to listen to and why.
Who has done something this week to help you or make your life easier and how can you thank them?
What foods or meals are you most thankful for?
What elements of nature are you grateful for and why?
What part of your morning routine are you most thankful for?
Write a letter to someone who has positively impacted your life, however big or small.
What is something you're grateful to have learned this week?
When was the last time you laughed uncontrollably—relive the memory.
What aspects of your work environment or peers are you thankful for?
Read more about how gratitude changes our brain here and here.
---
Meditation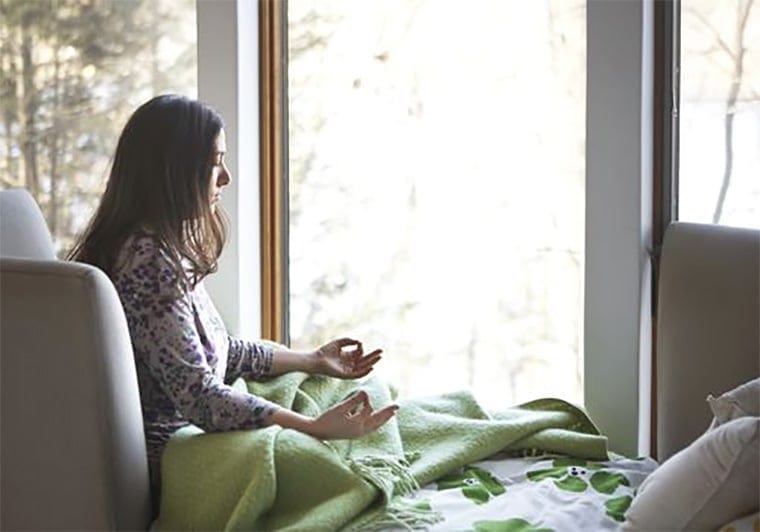 A daily meditation session – even just 5 minutes a day – can make a huge impact on both the brain and body and can. Regular practice can help improve sleep, reduce stress and anxiety, promote positive thoughts, and help you cope with conflict and difficult situations. Sounds like something we all need right now, eh? Here are 12 more science-based benefits of meditation.
My favourite way to meditate is with a guide, which you can do using an app called Headspace. Guided meditation is a great way to get started until you can master the skills and do it on your own. Headspace provides 10 free sessions and they have opened up a lot of their paid content for use during these turbulent times.
Another form of meditation is to sit quietly for 5-10 minutes focusing on your breath going in and out.
---
That's it, guys! I hope you will join me and our community in this accountability challenge. You might already be doing all of these things and that's great! But, if you need a little support and motivation, we're here to help. Join the Facebook group here.
Not on Facebook? Feel free to email me [email protected] and I will also remind you about the tasks in my regular weekly newsletter (subscribe here).