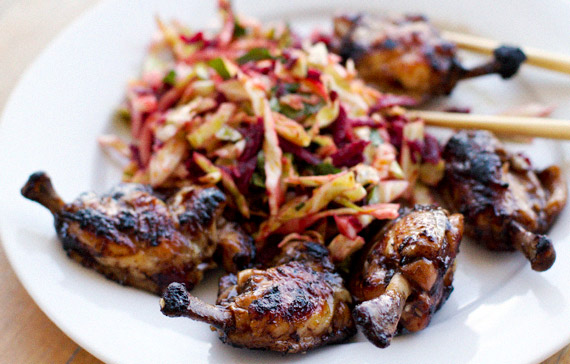 Today I found some chicken drumettes, also known as drumettes, at a local butcher. I don't often see them so I was quite excited to get a bunch to cook with. Drumette is basically a chicken wing segment, so you could easily use the whole chicken wings or larger sized chicken drumsticks instead. I really like the drumettes though, as they are easy to pick up with your fingers and they remind me of lollipops and little lamb cutlets.
Cook's notes: these chicken drumettes are sticky and salty sweet from honey and Tamari sauce so consider them Paleo candy. You can use coconut aminos instead of Tamari/honey combo and just leave the rest of the ingredients listed in the recipe. Tamari is a wheat free soy sauce alternative you can find in most supermarkets and health food stores. Chinese Five Spice powder consists of star anise, cloves, cinnamon, Sichuan pepper and ground fennel seeds. If you don't have it on hand, you can use any of the above-listed spices in ground form or add something like Allspice which is quite similar. If cooking on the BBQ, make sure to keep the lid shut.
Ingredients
24 chicken drumettes
1/2 cup wheat free soy sauce such as Tamari
2 tbsp honey
1 tsp fish sauce
1 tsp garlic powder
1 tsp Chinese Five Spice powder
1 tbsp coconut oil for frying
1/4 white cabbage, sliced
1 large purple carrot, peeled and grated
1/2 white or red onion, sliced thinly
1/4 cup chopped fresh coriander
1 small red chilli, seeds out and diced
1 lime
1 tbsp fish sauce
1/2 tsp grated palm sugar or maple syrup
1 tsp sesame oil
2 tbsp olive oil
Instructions
Mix wheat free soy sauce with garlic powder, Five Spice powder, honey and fish sauce in a bowl. Mix with chicken drumettes making sure all pieces are coated evenly. Cover with gladwrap and marinade for at least 20 minutes.
Slice cabbage, onion and grate the carrot. Set aside.
Heat coconut oil in a large frying pan until sizzling. You will most likely have to cook chicken in two batches so ideally you would need two pans. Otherwise you can do one batch at a time but you might need to wash the frying pan in between as the surface will get sticky and burn to charcoal. Cook the chicken for 4 minutes on each side, some of them have to be turned three times to make sure all sides are cooked. Keep the heat on medium rather than high. Set aside for a couple of minutes before serving.
Finish the salad by mixing the dressing: juice of one whole lime, fish sauce, maple syrup or grated palm sugar, chilli, sesame and olive oil. Dress the salad, add fresh coriander and mix through.
Preparation time: 20 minutes + marinating time
Cooking time: 10 minutes
Number of servings: 4