No time for eggs in the morning? Try these paleo and AIP-friendly baked sweet potato and shredded chicken muffins. They're almost like meatballs and great for lunch boxes and on-the-go snacks.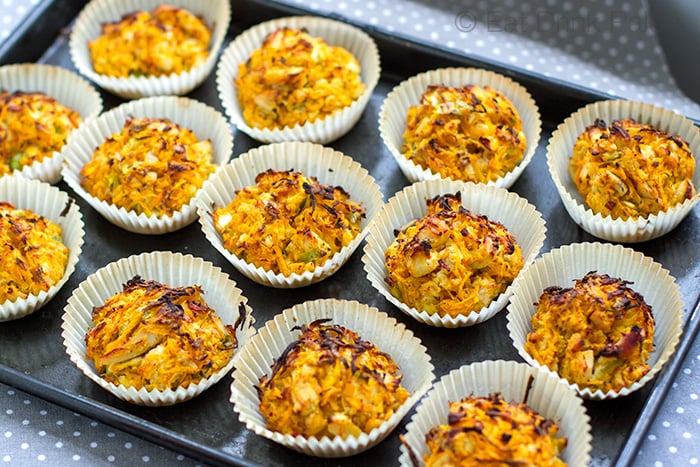 I love eggs for breakfast but there are days when I simply don't feel like making a cooked breakfast or I don't have the time. Plus, a lot of people have to avoid eggs due to an allergy or as part of a healing protocol such as AIP.
Instead, I like to make a batch of these sweet potato and chicken muffins, as they are quick and easy to pull out of the fridge in the morning, and can also be easily packed for an on-the-go breakfast.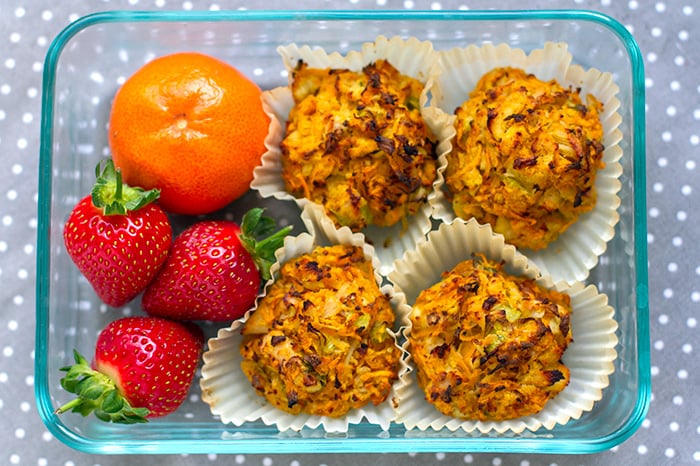 Okay, so they aren't really muffins as such (the texture is certainly not the same) but since the definition of a muffin is 'an individual-sized, baked product' and it was pretty convenient to make these in paper casings, the name seemed appropriate.
You could also call them breakfast patties, nests, bites or whatever you like. The main thing: they are delicious!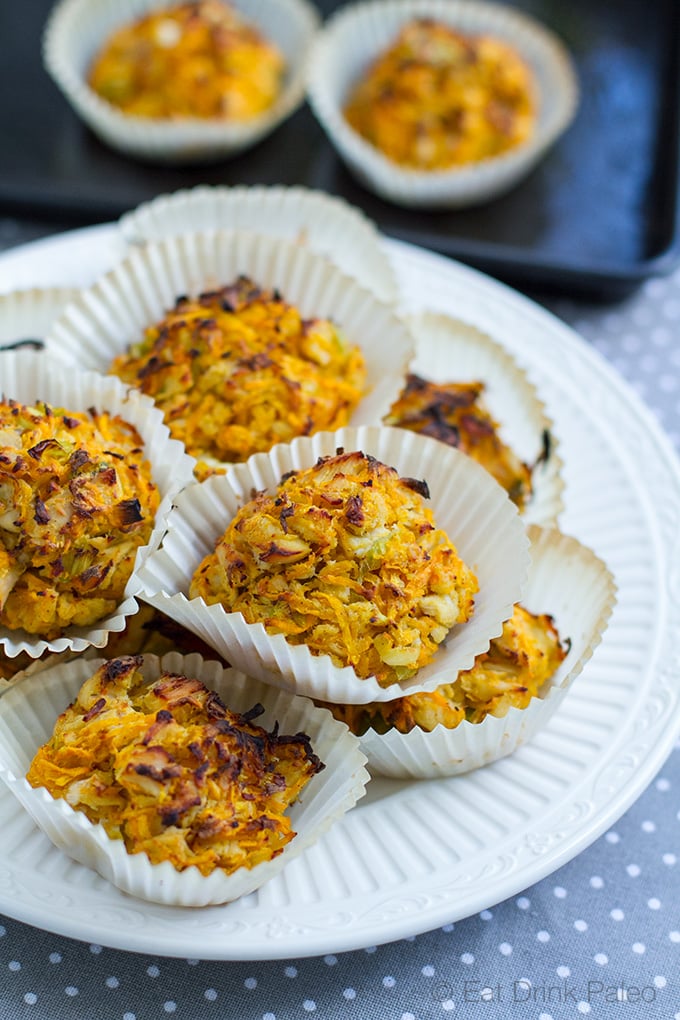 From a nutritional point of view, you have a pretty handy ratio of protein and starchy carbs, with added vitamins and fibre. These muffins are egg-free, nut-free (great for lunch boxes), AIP and Whole30 friendly.
Making Sweet Potato Chicken Muffins
Sweet potato. You can use any starchy vegetable in this recipe such as white potato, swedes, parsnips, winter squash/pumpkin and even carrots. I think sweet potato works really well, though. I am using raw, grated sweet potato.
Chicken. You have a few options here. When I do meal prep on the weekend, I like to pre-cook a few chicken breasts or roast a whole chicken, so I have plenty of meat to use up in salads and what not. For this recipe, I simmered two chicken breasts with some garlic and bay leaf, but you can easily shred rotisserie-style chicken from the deli, dice up cooked sausage, or cook up some beef or pork mince. In terms of weight, the ratio is about 1:1 of chicken meat to sweet potato.
Texture. We're not using any eggs or flour to bind the mixture (just some sweet potato juice) so the patties aren't as tight as say meatballs or muffins are. They hold together enough to easily slide into your mouth and be carried around. You might have a couple of pieces fall off when you pick them out of the casings. Don't let it deter you from making these though, you'll be missing out on a super easy, convenient food option.
Some of my readers have made these with an egg or two in the mixture for extra binding. If you can eat eggs, then go for it!
An alternative way of cooking these is pan-frying in a thin layer of coconut oil. That way you would have sweet potato rosti and chicken fritters. I baked them because I simply didn't want to fuss over the stove but if you have the time, I think they would be nice fried.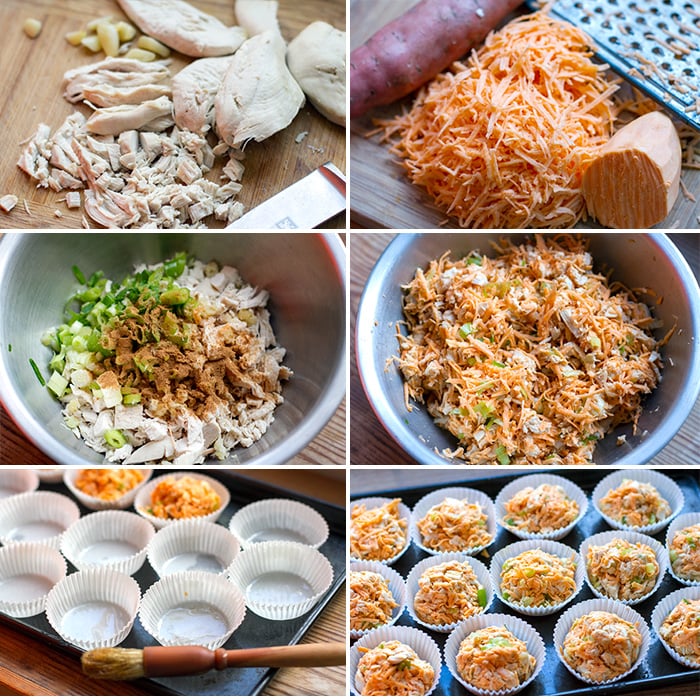 Print
Sweet Potato & Chicken Breakfast Muffins
Author:

Prep Time:

15 mins

Cook Time:

35 mins

Total Time:

50 mins

Yield:

13

muffins

1

x

Category:

Muffins

Method:

Baked

Cuisine:

Healthy

Diet:

Gluten Free
---
For the chicken
2

medium chicken breasts (

300 g

/0.6lb)

5

cloves of garlic

1 teaspoon

salt

1

celery stick, diced roughly

1

bay leaf (optional)
For the muffins
350 g

/ 0.7 lb sweet potato (peeled and grated)

1 teaspoon

cinnamon

1 teaspoon

salt

1 tablespoon

olive oil

2

spring onions/scallions, finely chopped
Coconut oil and muffin or cupcake cases/wrappers
---
Instructions
Preheat the oven to 190 C / 375 F (conventional) and boil a kettle of water.
Place the chicken in a small saucepan together with garlic, salt, celery and bay leaf. Cover with boiling hot water and place over medium-low heat to simmer for 15 minutes. You can cover with a lid but allow some steam to escape so it doesn't come to a full boil. Reduce the heat if needed.
In the meantime, grate the sweet potato.
Once the chicken is done, strain the meat and the garlic through a sieve into a pot. You can re-use the broth in a soup. Cool the chicken slightly, then shred into strips and chop into small pieces. Chop the cooked garlic as well.
Combine the shredded and chopped chicken and garlic in a bowl. Add the cinnamon, salt, onions and olive oil. When adding the grated sweet potato, squeeze it tightly over the chicken mixture to allow some of the juices out.This juice will help to bind the mixture and make it easier to mould into balls.
Using a pastry brush or your fingers, grease the bottom of the muffin/cupcake wrappers and place them on a flat baking tray/sheet pan (I ended up using 13 regular cupcake casings). Shape 1-2 tablespoons of the mixture into a small ball/patty using your hands and add it to the wrapper. Press the patty down slightly/. Continue with the rest of the mixture.
Place the tray with the muffins in the oven, middle shelf and bake for 20 minutes. If your oven's heat is slightly uneven, rotate the tray half way through. Once cooked, remove and allow to cool slightly. Store in an airtight container for up to 3 days in the fridge.
---
Keywords: Chicken, Sweet Potato, Savory Muffins,
Save These Savoury Chicken Muffins To Pinterest