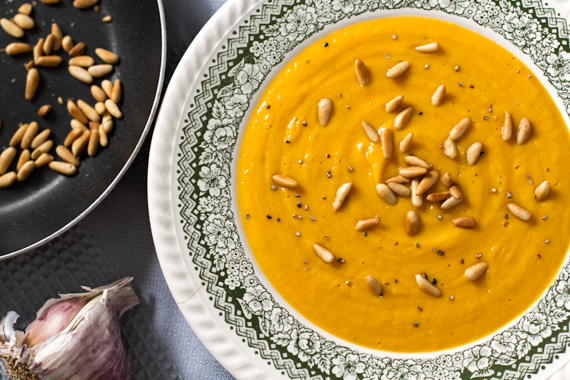 Recipe: Sweet Potato, Caramelised Garlic & Pine Nut Soup
This sweet potato soup recipe is as easy peasy as they come – with only 3 key ingredients – yet its earthy and robust flavour and velvety texture make it seem as refined as Audrey Hepburn. It's packed with beta-carotenes and Vitamin C and all you need is a side of protein for a complete, paleo friendly meal.
Cook's notes: You can use yams or pumpkin or a combination of peeled white potatoes and carrots instead of orange sweet potatoes. This soup will keep in a fridge for a few days and it can be stored in the freezer for up to two months.
Like, Tweet and Pin to share this recipe with others.
———————————————————————————————————————————————–
Ingredients
5 large garlic cloves, peeled and roughly cut
3-4 tbsp virgin olive oil
1 large sweet potato, peeled and diced
½ tsp cumin seeds
½ tsp ground pepper
4 medium peels of lemon
400ml vegetable stock (pick good quality stock or make your own)
sea salt or Celtic salt for seasoning
3-4 tbsp pine nuts

Instructions
Place garlic and olive oil in a medium saucepan and heat to low temperature, just enough for the garlic to start cooking slowly. Stir and cook for 4-5 minutes on very gentle heat until garlic starts to turn golden and caramelised. Don't burn the garlic as it will turn bitter.
Add sweet potato, lemon peel, cumin seeds, pepper and vegetable stock and bring to boil. Turn the heat down to medium and cook the soup for about 15 minutes or until the potato is soft.
While the soup is cooking, place pine nuts in a small frying pan and cook on low-medium heat for about 5-6 minutes until lightly browned and toasted. Make sure to stir them around regularly to prevent burning.
Finally, remove lemon peel from the soup and pour all contents into a food processor or a blender. Add half of the toasted pine nuts to the mix. Puree until smooth and taste for salt. I added a couple of pinches of salt. You might also like to add a little drizzle of lemon juice for some acidity.
Serve in bowls with a few pine nuts on top for a little crunch and extra smoky flavour.
Preparation time: 10 minutes
Cooking time: 15 minutes
Number of servings: 2