This recipe uses a clever ingredient to make the tastiest, softest meatballs which are grain-free, nut-free and Whole30 compliant. My favourite method from now on!
---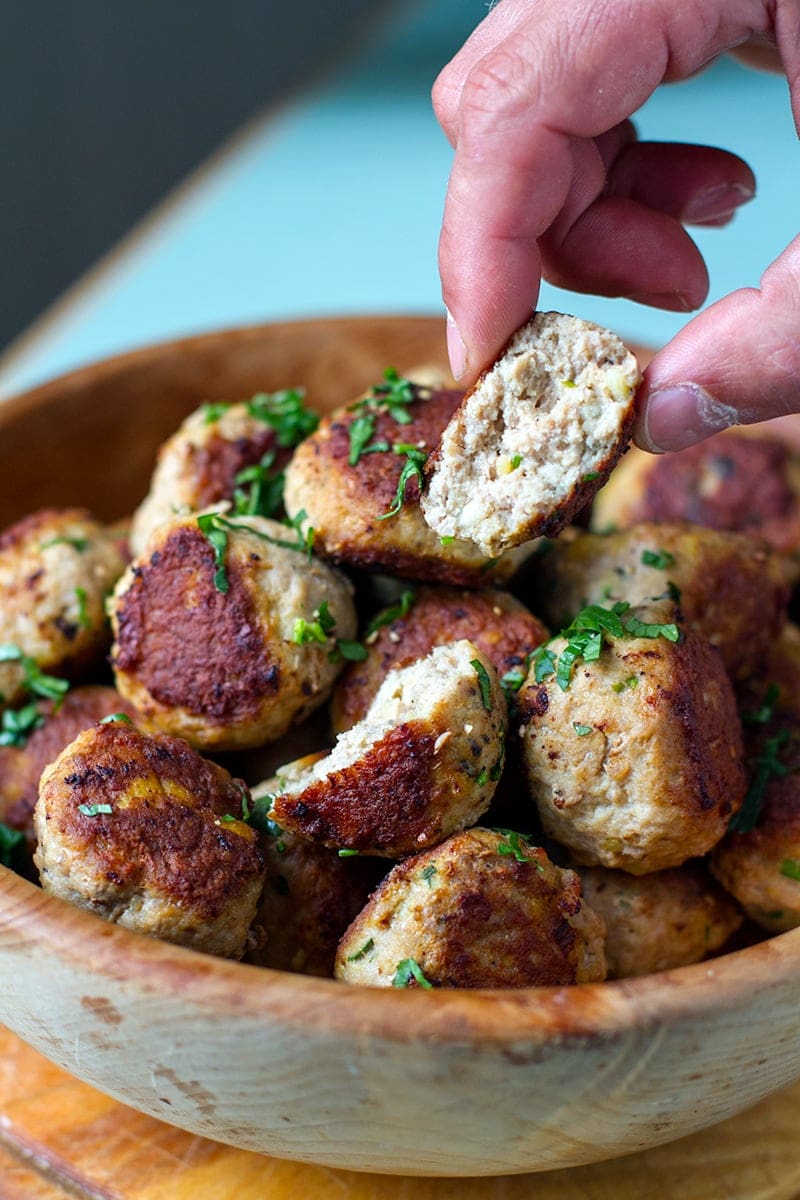 When I think of good meatballs, I always go back to my childhood and the delicious kotleti (Russian/Ukrainian meatballs) my grandmother used to make for the family. She was the best cook for me and I've learnt a lot from her while sneaking around in the kitchen as a little girl.
Her secret to the best, tastiest meatballs isn't that different to what you might read in other cookbooks: use a mix of pork and beef (or veal, ideally) as pork adds the much-needed fat to keep the balls nice and juicy; and, adding breadcrumbs or soaked bread to the mixture to keep the meatballs extra soft. The rest is a good amount of seasoning and a hot pan, and you've got yourself some damn good meatballs.
While a mix of pork and beef is as paleo friendly as it gets, the bread, on the other hand, is not. I've tried adding ground nut meals and other paleo friendly flours like cassava or coconut to the mix instead, but the result is just not the same. Then I started thinking of other ingredients I could use in place of soaked bread. You know what came to mind? Cooked, mashed white potato!
It's soft and starchy with a plain flavour, and when mashed, it adds the same softness and texture to the meatballs as the soaked bread or breadcrumbs do (maybe even better).
So, I did this little experiment and made soft, juicy meatballs using a mix of pork and beef, and cooked mashed potatoes. Guys, they turned out so well that I am now planning to always make meatballs this way.
Give this method a try and let me know what you think. You can serve these meatballs as they are or mix them with your favourite sauce. They are fantastic for leftovers and being nut-free, the kids can take them in their lunchbox (and they will love them, too!).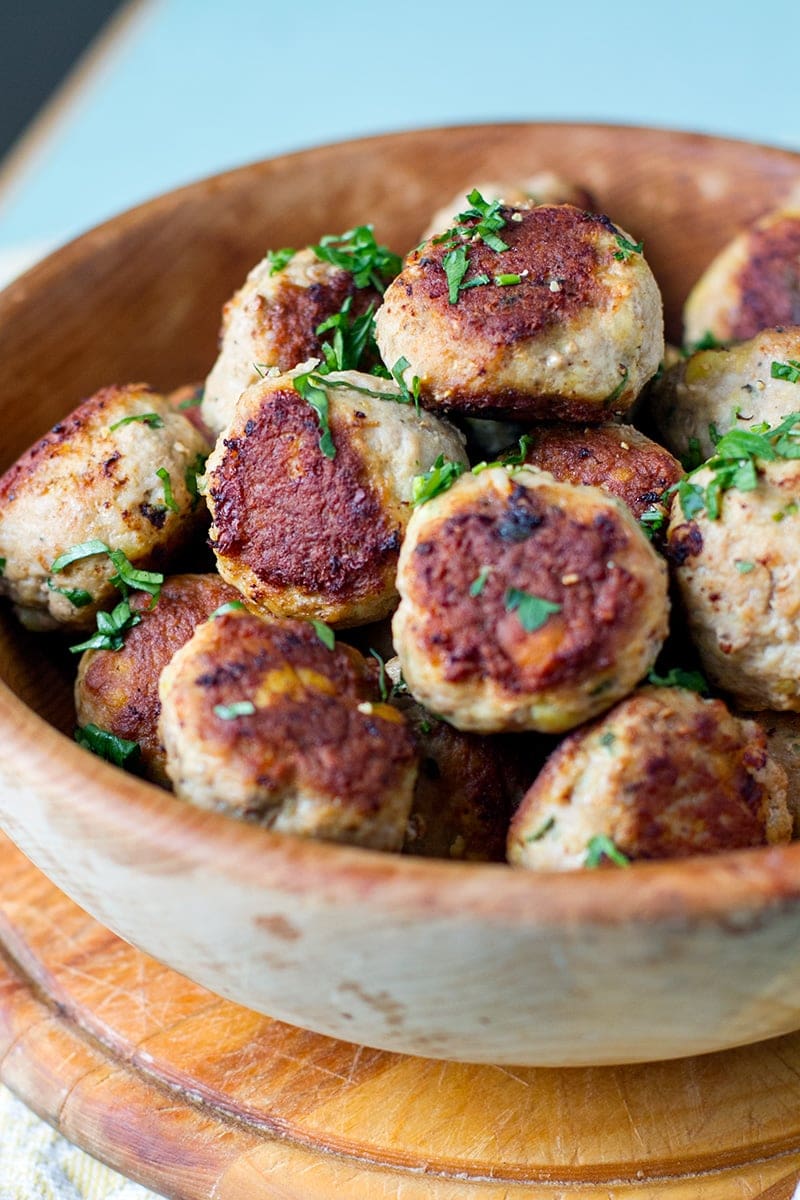 A note on white potatoes
Here we go again…but, I know I will get questions in the comments, here is a side note for anyone asking.
While white potato hasn't always been accepted in the let's call it the original version of the paleo diet, it is embraced by many as a way to add carbohydrates and that useful resistance starch from a real, nutritious food source (if cooked in a healthy way!). This is a pretty in-depth piece on paleo and white potatoes so I am not going to go into more detail but, of course, replace it with sweet potato or something like a swede/parsnips, if avoiding nightshades. You can also use a smaller amount if watching your macros.
Speaking of macros, this recipe yields 24 meatballs (about 5-6 per serving). Per meatball, you're looking at 55 calories, 3 grams of carbs, 3 grams of fat, and 4 grams protein.
Plus, white potato (especially once it has been cooked and cooled like in this recipe) has an especially beneficial kind of fibre called resistant starch. It's a type of fibre that is very good for our gut health and for feeding the good bacteria. And, cooled white potato has a much lower glycemic index and is as nutrient dense (if not more) as the sweet potato.
How to make my delicious Whole30 meatballs
Okay, so the secret is using cooked, mashed white potatoes (peel them before cooking and cool slightly to increase the resistance starch) and using a mix of pork and beef. I recommend choosing a starchy type of potatoes such as russet and Yukon gold. Desiree's are great all-around potatoes and can also be used. Here are some step-by-step pics and a full recipe and ingredients below.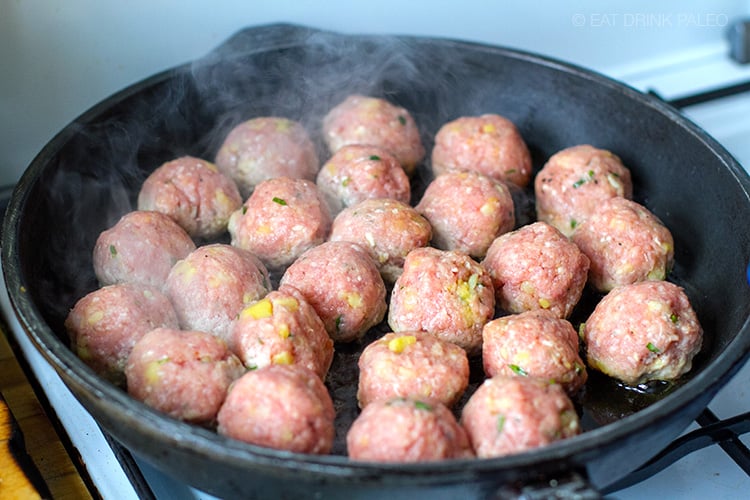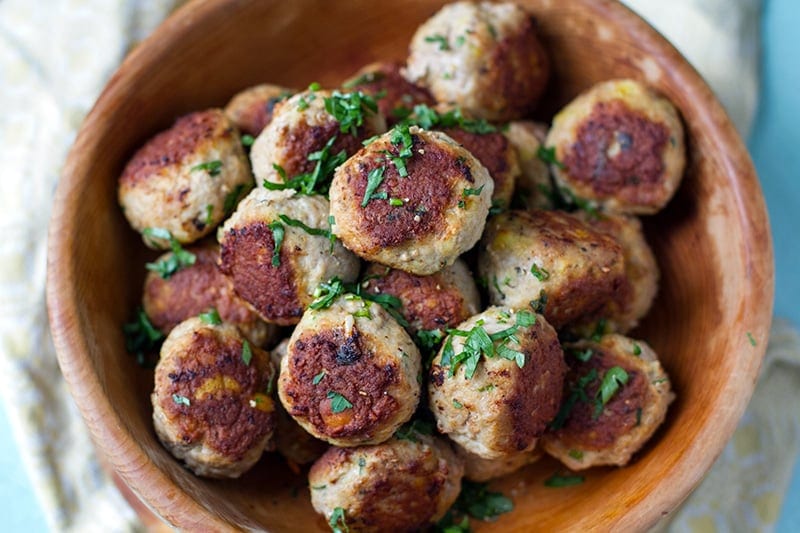 Print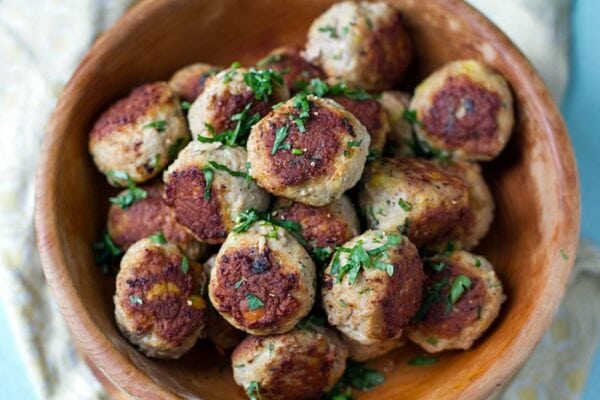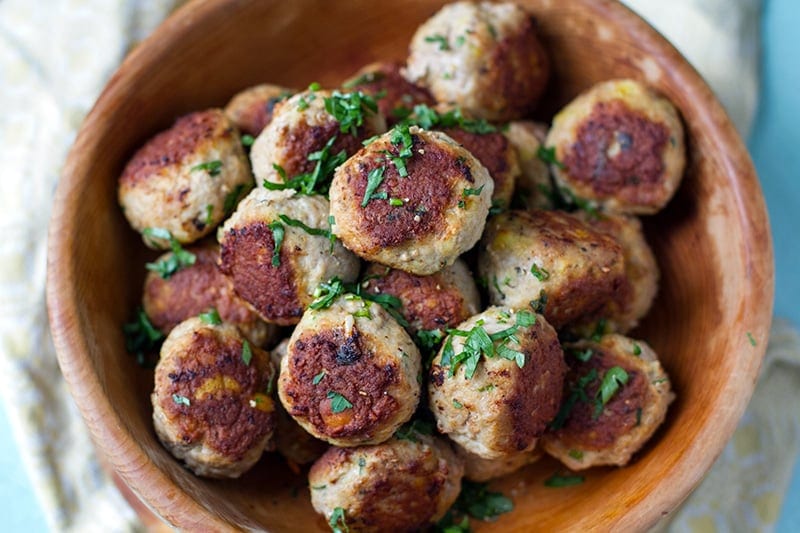 The BEST Grain-Free & Whole30 Meatballs
Author:

Prep Time:

20 mins

Cook Time:

20 mins

Total Time:

40 mins

Yield:

24

meatballs

1

x

Category:

Meat

Method:

Frying
---
3

starchy potatoes, peeled and diced into large cubes (small to medium spuds)

400 g

/ 0.8 lb ground beef mince

400 g

/ 0.8 lb ground pork mince

1 tablespoon

finely chopped parsley

2

large cloves of garlic, finely diced or grated

1

+

1/2 teaspoons

salt

1/2 teaspoon

pepper

1

egg
Coconut oil or olive oil for cooking (about 2 tablespoons)
---
Instructions
Place potatoes into a pot with cold water (just covered) and bring to a boil. Cover and cook over medium-high heat for 8-9 minutes, until soft (test with a knife or a fork). Strain, transfer to a plate and cool off slightly.
Add the meat mince, parsley, and garlic to a large mixing bowl. Season with salt and pepper and crack an egg in the middle. Set aside.
Once the potato has cooled off (it doesn't have to be completely cold), mash it with a fork or a potato masher, and add to the meat mixture.
Using your hands, combine the meatballs mixture really well, making sure the potato and the meat are well incorporated. You can use your fingers to squash any large piece of cooked potato.
Heat 3 tablespoons of olive oil or coconut oil in very large frying pan over medium-high heat. Scoop heaped tablespoonfuls of meat mixture and roll into balls. Add them to the frying pan as you roll. Once all the meatballs are in, cook for about 5 more minutes (it will be about a total 10 minutes from when you started adding them in), then turn them starting with the meatballs that went in the earliest. Cook for 5 minutes on the other side. Finally, turn the meatballs on their sides (pick the largest uncooked side, as all meatballs will be slightly different) and cook for 2 more minutes, until golden brown. The total cooking time, with turning, will be about 18-20 minutes.
Turn the heat off and rest the meatballs for a few minutes before serving, sprinkle with some parsley.
---
Notes
This recipe yields 24 meatballs (about 5-6 per serving). Per meatball, you're looking at 55 calories, 3 grams of carbs, 3 grams of fat, and 4 grams protein.