If you're feeling anxious about the current situation and how much preparation you need do in case of having to stay at home, here are some practical tips for how to stock up on healthy, real food mindfully and responsibly. I have shared these tips on social media and since they got so much engagement, I thought I'd post them on the blog as well. These can be used in any kind of crisis which requires you to stay at home for a prolonged period of time.
---
Our current global crisis has brought on a lot of uncertainty and fear. It's natural to panic and to feel like you need to follow everyone else to the large supermarkets and stock up on crazy amounts of canned food, pasta and toilet paper. Psychologically, having a stocked up pantry and loo rolls for days makes people feel safer, prepared and more in control. It's understandable.
However, stock-piling on the food you don't even normally eat and buying WAY more than you're going to need for a few weeks at a time can result in food waste and it puts an enormous amount of pressure on the current food supply chain.
Instead of hitting overcrowded supermarkets, here are some ways you can stock up on real food and make sure you're still eating healthfully while at home, which will also keep your immune system in tip-top shape!
Shop Local
🛒Stock up at as many local businesses as you can: butchers, fishmongers, greengrocers, corner stores, fresh food markets. The little guys will get hit hard and many of them will have to close so support them now while you can. If they're running low on certain products, put in an order and pick it up in a few days.
Freeze Go-To Protein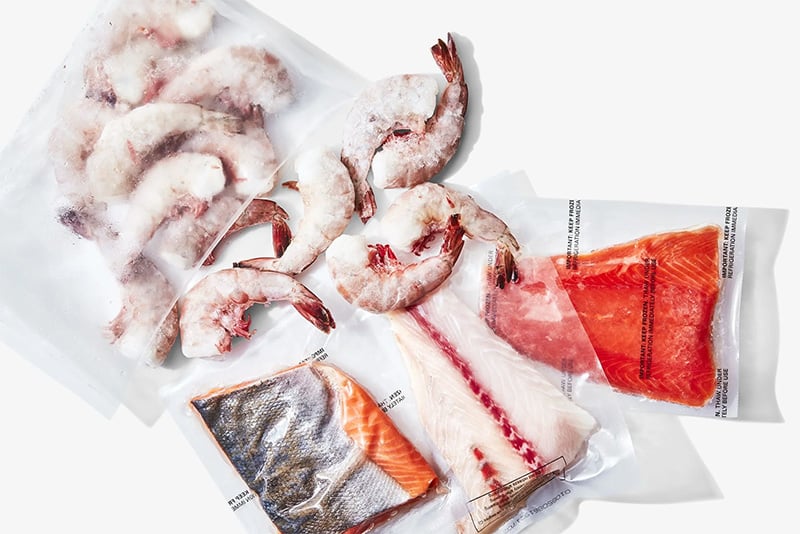 Photo by Chelsie Craig, Food Styling by Pearl Jones from Bon Appetit.
Fresh meat, fish and seafood can be portioned in reusable Ziploc bags and containers and stored in the freezer for up to 3 months. Don't buy more than you need for this amount of time and only get stuff that you know you will cook with to avoid waste.
Some of my favourite protein foods to freeze (for their versatility in cooking):
For vegetarian sources, things like peas, edamame beans, tempeh, and cheese can all be frozen successfully for up to 3-6 months.
Useful resources:
Learn how to thaw our fish and seafood safely
Tips on how to freeze fish and seafood
The best ways to freeze (and thaw!) meat
Freeze Fresh Fruit & Vegetables
🍌🍓🥭🍑Foods like bananas, berries, seasonal fruit can be all frozen. You'll be able to use them in smoothies and to make things like compotes for pancakes or fruit desserts and crumbles. Check out this handy guide for how to freeze fruit and berries.
🥕🥦🌽Veggies like broccoli, beets, carrots, green beans and so on can be par-boiled, cooled in an ice-bath and frozen. Freezing fresh fruit and veg from the local greengrocer using reusable bags and containers avoids unnecessary packaging when buying ready-frozen produce from the supermarkets.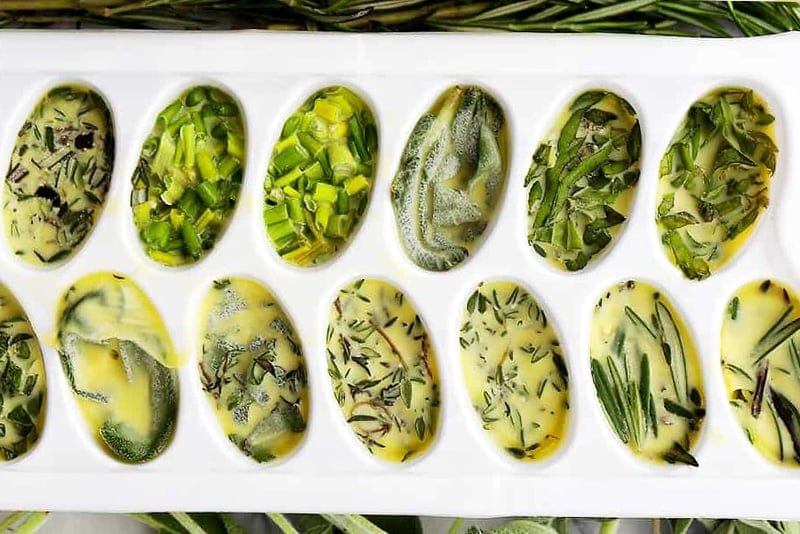 🌿You can buy fresh herbs, chop them up and freeze in some olive oil using ice cube trays. Then, remove the frozen cubes and store in a container or a Ziploc bag.
Resources
How to Freeze 16 Fruits & Vegetables from Eating Well
How to Freeze Summer Fruit & Berries from The Kitchn
Freezing Fresh Herbs In Olive Oil from DietHood.
Ferment Vegetables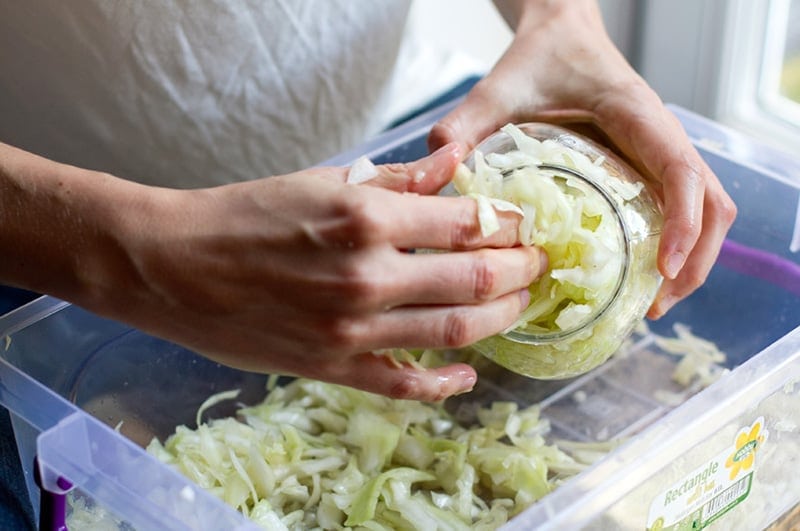 🥬Fermenting vegetables like cabbage, radishes, asparagus, cucumber and carrots (pretty much anything) is also a great idea for ensuring you have vitamin-rich foods available. Plus, you'll be helping your gut health and immune system along the way. Check out my step-by-step guide for how to make your own sauerkraut here.
Buy Long-Shelf Veggies
🥔🍠🥕🍅🍊🍏When at your greengrocer or local market, stock up on long-shelf vegetables and fruits: potatoes/sweet potatoes, onions, ginger, garlic, squash/pumpkin, beets, carrots, cabbage, bell peppers, tomatoes, corn, celery, apples, oranges, lemons, limes, chilli, pomegranate.
Here is a handy resource from Cook Smarts.

Stock Up On Other Essentials
🍯🍷🍫🥚If you need any pantry goods or other essentials, check your local stores if available. Often they will have what you need and even though it might be a little more expensive, you'll be supporting a small business. Think about what you use all the time and only stock up on those items!
Some of the pantry staples I always find useful and versatile to cook with:
Eggs – fresh eggs will last for 3-5 weeks in the fridge and 7-10 days out of the fridge.
Tinned fish such as tuna, salmon or sardines – you can make fishcakes, salmon loaf, tuna salad and more.
Tinned tomatoes (diced or whole) – make a quick chicken tortilla soup and add in stews.
Coconut milk – great in curries, smoothies and baking.
Rice, quinoa and gluten-free pasta – we don't eat much grain or legumes but I like to have a bag of Basmati rice or quinoa as they can be used to 'fatten' up a meal so to speak, which can be handy when you have to stretch the food you have.
Almond milk, cashew milk or another dairy-free milk – great in tea, granola, smoothies and to cook with.
Almond meal, coconut flour, cassava flour – these are my top three essential grain-free flours, although lately I also really like quinoa flour. You can bake this easy grain-free, paleo bread.
Wraps – gluten-free or low-carb, if you can get some long-shelf-life wraps, they will come in handy for quick lunches.
Nut butter, honey or maple syrup – having an extra jar of these is not a bad idea if you know you always use these foods. Nut butter can be cooked with and used in curries and dressings.
Cooking oil and fat – I always have a spare bottle of olive oil because I use a lot and often run out so I would definitely get an extra bottle or two for emergencies. If you use a lot of coconut oil, then get a little extra as it has a very long shelf life. Ghee has a very long shelf-life and can be kept in the pantry, while butter can be stored in the freezer for 6-12 months.
Nuts and dried fruit – these are handy to have on hand but don't buy too many as these foods will lose freshness and can start going mouldy or rancid after a few months.
Pleasure foods – we all need a little chocolate or red wine in time of crisis so allow yourself a few of your favourite treats but keep them healthy if possible. Remember, the more you have in the house, the more you will eat so don't overbuy.
Basic seasonings – Finally, make sure you're stocked up on things like salt, pepper, spices, dried herbs, vegetable or/and chicken stock cubes. Think about some of your go-to recipes or favourite flavours rather than buying every single spice available.
Freezer Meal Prep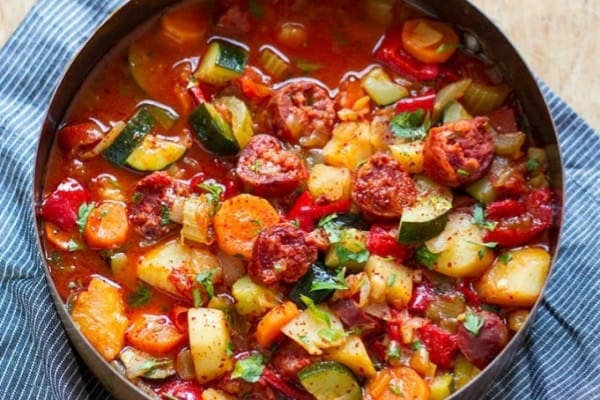 If you'd rather have a freezer full of meals to go, there are many dishes and foods that can be prepared ahead of time. These can be especially handy if you think that cooking might be too difficult (e.g. you get sick or you'll be busy looking after someone). It will be useful to have a few defrost-and-reheat meals available at your fingertips.
Some useful meals to freeze for emergencies include:
Check out these 20+ freezer-friendly paleo meal ideas.
---
Have you got any other tips for real food prep and shopping during these uncertain times?
I know, a lot depends on where people live, their budget and what is available so I'm not saying we all have to prepare this way. I think it's important that we buy what we need and that we focus on real food as much as possible rather than packaged and processed ingredients. This will ensure that we stay as healthy as possible. And please remember to support your small, local businesses as much as you can in these difficult times.
Irena xo