With over 600 healthy recipes on my blog, it can be hard to choose which ones to cook. That's why at the end of every year, I do a wrap-up post featuring 12 most popular healthy recipes of the year. These are recipes my readers cooked, loved, commented on and shared the most and feature gluten-free, paleo, Whole30 and low-carb dishes. I'd love to know which of these you've tried and if you have your own favourite Irena Macri recipes? Let me know in the comments.
---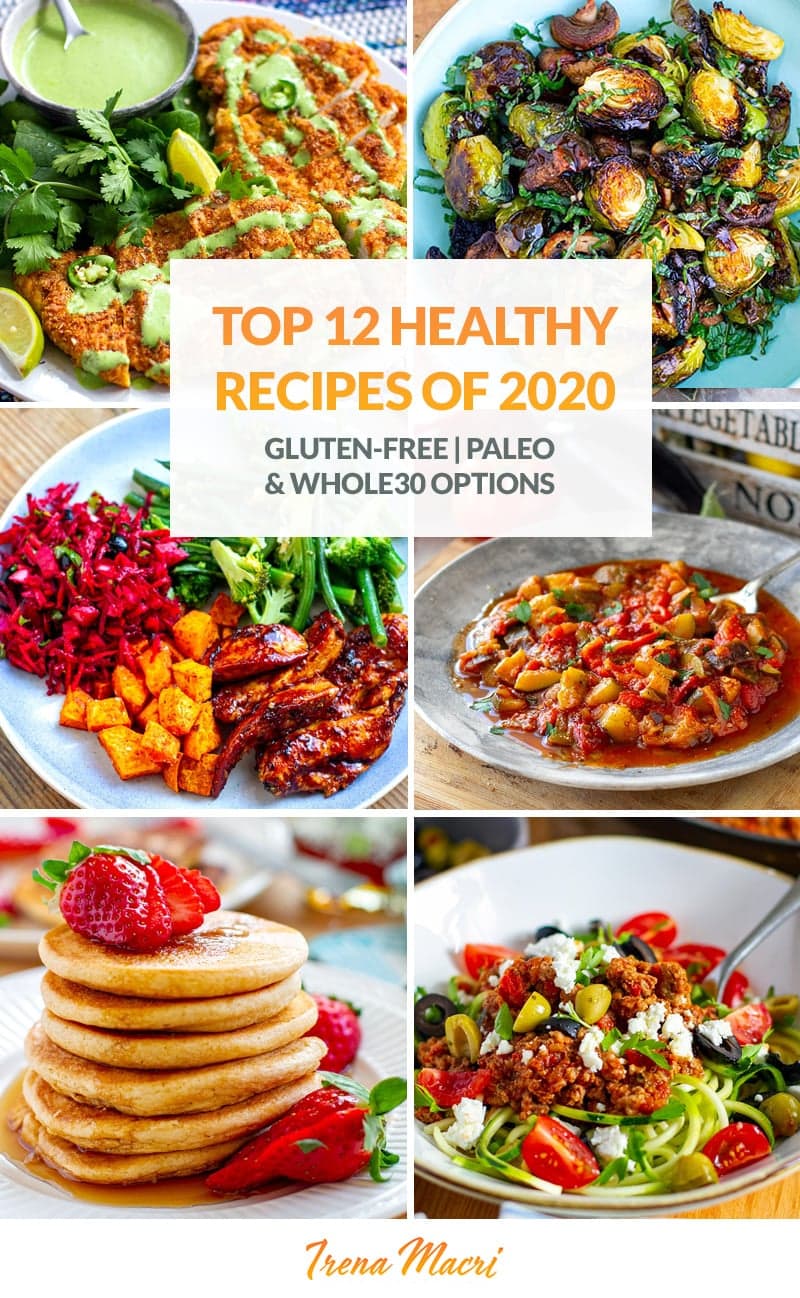 Every December, I like to do a little analysis of the most popular recipes on my blog for the year passed. I look at which recipes my readers and followers have visited the most, and which have gotten the most social shares and positive feedback. It's always fun to share these recipes with you, as I know that not everyone gets to try everything I publish. I like to think of this as my annual highlight reel.
Every year I often see a lot of my old dishes in this list and although I did include some of them, I wanted to focus on the most popular recipes that came out more recently. I hope you enjoy this year's top 12 healthy recipes selection!
You might want to check out my Top 25 Recipes Of The Decade (2010-2019), which I compiled last year.
In no particular order, here are my most popular recipes of 2020.
---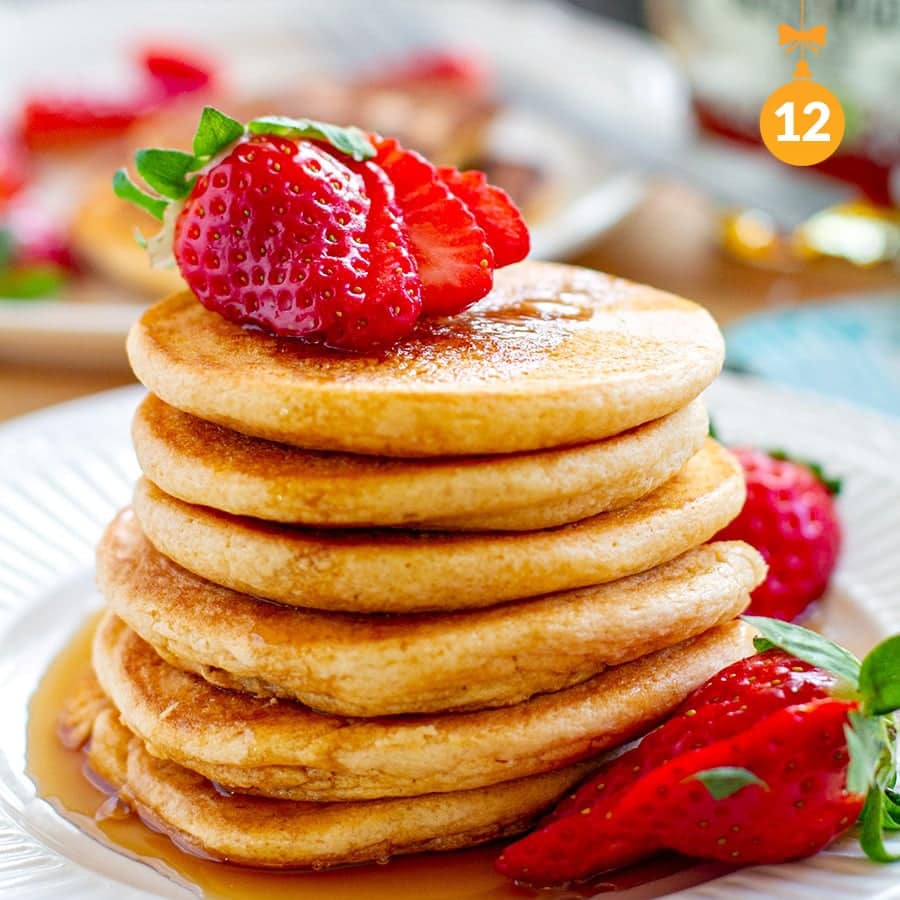 These gluten-free, paleo soufflé pancakes are a super fluffed up version of the classic brunch comfort food. Inspired by the cloud-like, fluffy Japanese-style pancakes, which are becoming the next big food trend, this recipe is a must-try for all pancake lovers.
"Pancakes are one of my favourites for breakfast. This recipe is excellent!" – ★★★★★ – Rick V.
"I gave these a try this morning. I was excited to try a 'light and fluffy' version of a paleo pancake, as most are dense (not always a problem, just not like the original). Well, I can say I was not disappointed! I followed the recipe as suggested (with the omission of maple syrup and stevia). I served with coconut yoghurt and fresh berries and they were delicious!" – ★★★★★ – Sarah.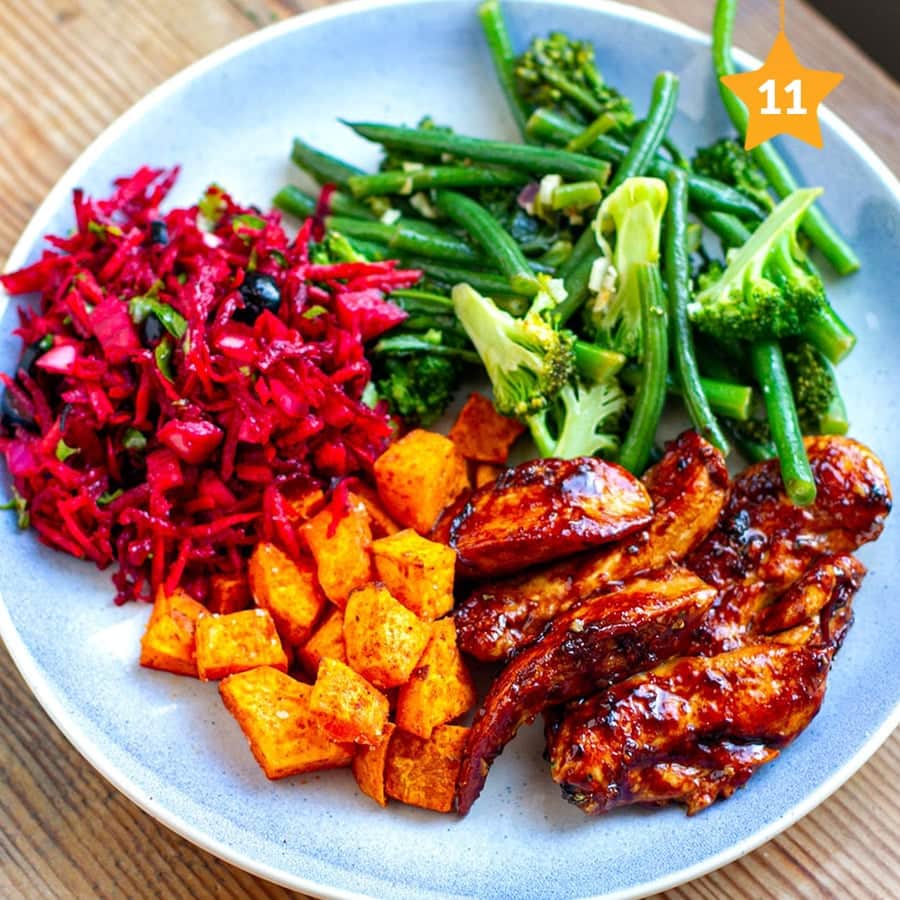 This rainbow chicken dinner is nutrient-dense and delicious bursting with colours and flavours. In this recipe, I shared how to make every part of this incredible, healthy meal. It's gluten-free, paleo, Whole30-friendly and I provide a few ideas for swaps and substitutions. Quite a few of my readers have tagged me on socials about making this dinner, so I know it's become a bit of a crowd-pleaser.
"I made this, and everyone loved it! I did make two substitutions though. I didn't like the idea of the olives in the slaw, and I don't really follow paleo. So I grated an apple and added that to the slaw. The slight sweet crispness was much needed to balance out my other substitute. I added cayenne pepper to the chicken marinade and it gave a nice amount of heat combined with the maple syrup." – Alexis – ★★★★★
Have you ever had sesame snaps? They were one of my favourite childhood snacks! In this popular recipe, I share how to make homemade sesame snaps that are just as good as the ones you get from the store but are healthier and aren't wrapped in individual plastic wrappers. It's a delicious snack or a mini treat that is gluten-free, nut-free, paleo and vegan-friendly. This recipe was originally created for my free 8-week program and has since become super popular with my readers. I hope you like it!
"Just made these and they were amazing!! Only used sesame seeds to make them like the sesame snaps we used to get as children and this was a spot-on healthy version! Will be adding these to my weekly bake!!!!" – Mona E – ★★★★★
I was so glad that this recipe became really popular with my readers. Having enjoyed traditional Spanish pisto on many occasions during my travels, I've always wanted to make it at home and share a recipe with you on the blog. It's a dish that brings a lot of warm memories, so I am super happy so many of you tried it as well. It takes a little patience but is worth every bite!
"So true, the quality is in not cutting corners. I've tried to make pisto several times with little success. Eventually found this recipe and it was lovely. My Spanish husband also approved! Thank you." – Lorraine – ★★★★★
This was a surprise! I got a lot of feedback about how much many of you enjoyed this recipe with tinned sardines. Many agreed that this was one of the first times they actually managed to eat more than a fork-full of this wonderful, nutritious fish. I designed it to please even the fussy, canned-fish-hating mouths. This small-batch recipe takes 10 minutes and 5 key ingredients, and with the impressive nutritional profile of sardines, it's very healthy and nourishing. Gluten-free, paleo, Whole30 and low-carb and keto-friendly.
"I just can´t believe how good this is.. both my kids hate tinned fish but can´t get enough of this." – Jenny – ★★★★★
I love this recipe for healthy turkey Bolognese made Greek-style with the addition of extra vegetables, Mediterranean herbs, olives and feta. Serve it over zucchini noodles for a low-carb and grain-free meal or with your favourite gluten-free pasta. The sauce can be made ahead of time, making it a fabulous make-ahead meal.
"I have made this twice now! The first time with turkey and then again with ground chicken, both worked well. Loved the Mediterranean twist on this and feta was delightful. We had it with zucchini noodles and also with gluten-free pasta for the kids." – Patricia (Instagram follower)
This delicious baked apple slice with nut butter and maple drizzle is perfect for afternoon tea or as a healthy-ish dessert. Inspired by my favourite snack of sliced green apples and nut butter AND my grandma's apple pie, this tasty treat is gluten-free, grain-free, dairy-free, paleo and much lower in sugar and carbs than a traditional version. It was so cool to see how many people made it in the first week I published it, thanks for sharing your kind feedback on this recipe. 
"Yummy, this is absolutely delicious! Apple Slice with Nut Butter & Maple Drizzle… well, drizzle said the recipe but mine was more like a pour 😬😂🤷‍♀️ Paleo. Gluten, dairy, low sugar. This would be a fab addition to packed lunch boxes 👌" – @essentialhealingandhealth on Instagram
I love when a fusion of two cuisines produces unexpected yet delicious dish such as this Whole30, paleo and gluten-free chicken schnitzel with a Mexican twist. Shallow-fried till crispy and aromatic, my spiced chicken breast schnitzels are drizzled with zesty coriander, lime and garlic sauce. Yum!
"Definitely a keeper, this one and that sauce is delicious 😋" – Krisanne -★★★★★
"The family loved it! I did modify the recipe with more standard non-Paleo ingredients. But either way, the sauce was the magical ingredient." – Katherine – ★★★★★
I love, love, love this soup and I was really excited when it started getting a lot of traction with my readers. It's a roasted tomato soup that is Bisque-like, tangy and sweet with silky, decadent mascarpone cream cheese folded in at the last minute. It's a vitamin and antioxidant-rich recipe that is gluten-free, grain-free and vegetarian. You can also make a dairy-free version, although I do think mascarpone adds a bit of magic to it.
"This is a great soup, rich and creamy, tastes like restaurant quality." – Kevin D. – ★★★★★
This super nourishing soup of turkey meatballs and kale braised in lemony garlic broth is full of flavour and makes for a great comfort dish that is still very healthy. You get the benefits of antioxidant-packed kale, chicken broth and protein-rich turkey or chicken meat, plus all those beautiful notes of citrus and garlic. I made this dish for my Paleo reset program and it's become a crowd-favourite. It's paleo, gluten-free, Whole30 and keto-friendly.
"Has been my go-to soup/stew ever since I did your paleo reset program, glad to see it on the blog now. It's always so comforting and I love the lemony broth. I often use chicken mince instead of turkey, sometimes even pork. So good!" – Casey – ★★★★★
This hearty coconut lamb curry recipe always appears in my most popular lists. It's an older recipe that has been tested by many of my readers and it's still getting lots of thumbs up. This curry is a bit of fusion but is primarily Indian in flavour. It's very easy to make and can be done in a slow-cooker, Instant Pot or on the stove. It's great for freezing. Serve with cauliflower rice or regular rice!
"Made this for both my husband and I and we both love it! We love traditional curry and this recipe knocks it out of the park! The lamb completely fell off the bone." – Michelle – ★★★★★
"So incredibly tasty! And super easy too considering I'm just one person and it makes enough to freeze a few meals. I added two small potatoes with the carrot and wilted some shredded silverbeet into it once it was all done. This is definitely going to be a regular in my rotation 🙂" – Yvonne – ★★★★★
I remember when I first made that dish and posted it on the blog, I thought 'This is going to be a hit!' I knew because I personally enjoyed it so much. And indeed, even though it's a more recent dish on the site, it has quickly gained popularity and has been shared thousands of time in a very short period.
This dish of crispy roasted mustard, honey and balsamic Brussels sprouts is SO GOOD that you will want to make them over and over again. The sprouts are roasted together with button mushrooms and dressed in the most delicious concoction.
This is probably my favourite Brussels sprouts recipe – the BEST! Definitely give it a try and let me know what you think. It's great as a side dish on any occasion but especially around Christmas, Thanksgiving or other holidays. It would go fabulously with roast meat.  Gluten-free, vegetarian, vegan, paleo-friendly.
"Wow, this worked so well for our family! I used chanterelle mushrooms, because why not, and it was perfect. I doubled the recipe and dressing. I didn't use all of the dressing but it will be great on salads this week!" – Julie – ★★★★★
"Would never have thought of adding mint to Brussels and mushrooms but it worked amazingly tasty!!
Loved it!" – Anya -★★★★★
---
RUNNER-UPS
It was a little hard to choose just 12 recipes because there were many other standouts this year. I thought I'd include a few dishes that got great reviews and lots of shares.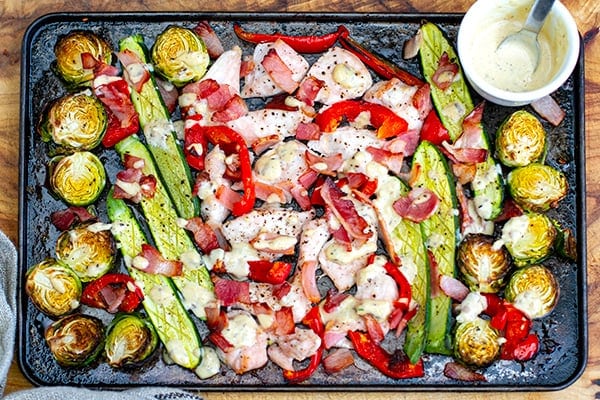 If you love sheet pan dinners, you're in for a treat with my latest Caesar salad inspired recipe. Roasted bacon and chicken with mixed vegetables drizzled with creamy dairy-free Caesar dressing is a delicious and healthy sheet pan meal you can have on the table within 30-40 minutes. It's gluten-free, Whole30, paleo and keto-friendly.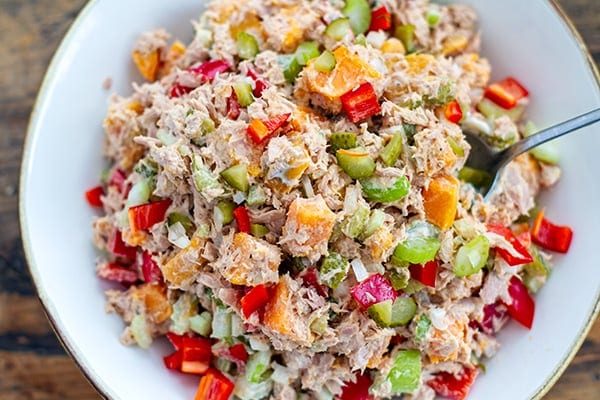 A simple, healthy tuna salad with sweet potatoes, celery, peppers and mayonnaise dressing for a nutritious and balanced lunch, post-workout meal or as a quick make-ahead dinner. This tuna salad is paleo, Whole30, gluten-free, high in protein and fibre and low in carbs. I know it may not seem like a winning kind of dish but this recipe has become very popular with readers.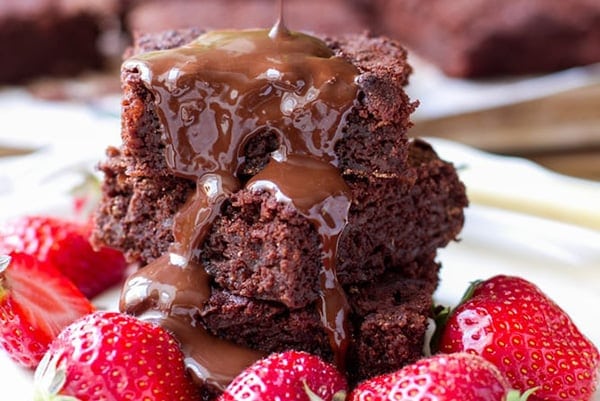 One of my older recipes, these super moist and rich sweet potato brownies taste delicious and make for a perfect healthy treat. They are paleo-friendly, gluten-free, grain-free and dairy-free. They are perfect as a healthy Christmas or Thanksgiving treat or to bring to a birthday party or any other gathering.
---
You Might Also Like