You don't really need an occasion to enjoy these seductive foods and dishes but since it's almost Valentine's Day and you might be planning to cook a little something special for your loved one, I've put together a few sultry ideas.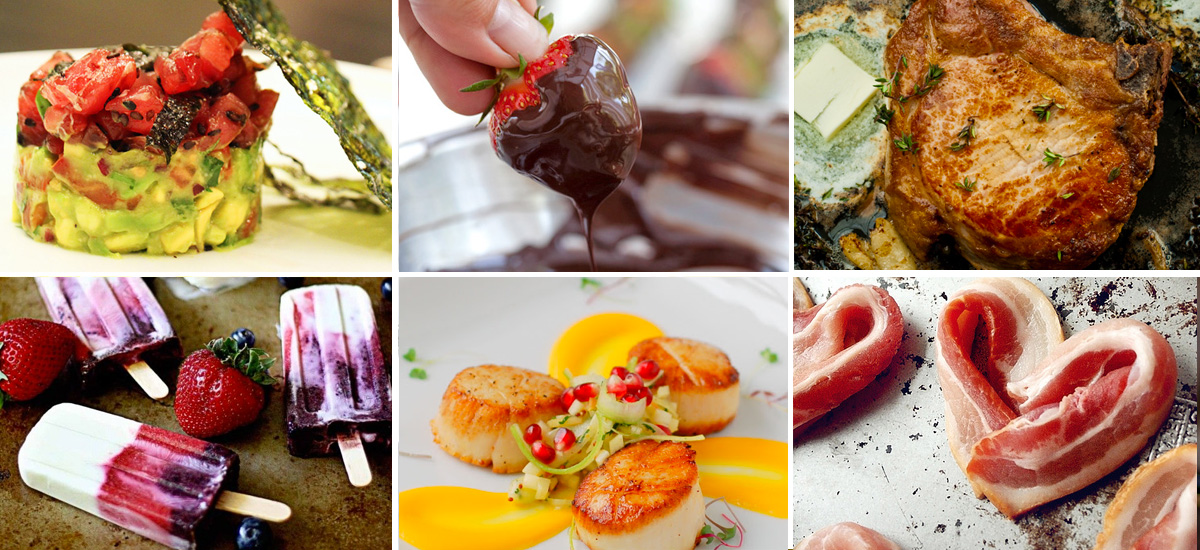 These baked figs with prosciutto and goat's cheese make a perfect dinner starter. Recipe from Soup Addict. Omit the cheese, if avoiding all dairy.
The orange colour is very stimulating and this slow-cooked salmon with Meyer lemon salsa is both tasty and pretty looking. Recipe from Yummy Supper.
Whether you're serving champagne or sparkling water with your dinner, these heart-shaped ice cubes filled with pomegranate add a sexy touch to a regular drink. Learn how to make them at Two Loves Studio.
Oysters are well known aphrodisiacs and will certainly get you in the mood for the main course. Try oysters with my Vietnamese dressing or serve as is with lemon or lime.

I personally think seafood such as prawns, scallops and tuna are very sexy, maybe because they are mostly eaten on special occasions or weekends and thus seem somewhat luxurious and decadent. I especially like to prepare raw fish such as this gorgeous-looking tuna tartare on a bed of avocado from Dieplicious or my pineapple and fish ceviche.
Scallops always look alluring on a plate, especially when paired with brightly coloured vegetables and purees. Try these scallops with apple celery salad and butternut squash puree from Beyond Salmon.
Or these grilled scallops with strawberry salsa from Minimally Invasive.
For a sexy vegetarian dish, try something like roasted mushrooms with runny duck or quail eggs. Also from Minimally Invasive.
Pork chops might not be everyone's idea of love and romance but try frying them in butter, garlic and thyme and it will change your mind about pork's X-factor. This recipe is from A Family Feast.
I always thought a bowl of spaghetti was kind of romantic, probably because of the Lady & the Tramp kiss scene. Try making zucchini noodles with basil pesto or garlic, lemon and herb butter. The ones below are from Minimally Invasive.
Juicy steak, zesty lime and tequila will turn up the heat in the room in no time. Boys love it, girls love it and it's super simple. Tequila and lime steak recipe by Peter Georgakopoilos.
If your goal is to impress on Valentine's Day, try my pineapple and fish ceviche.They require a little effort but the pay off is worth it.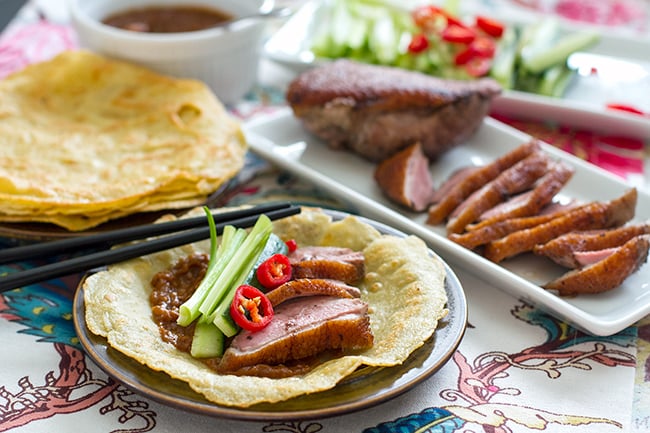 For dessert, I've picked simple but luscious looking berry popsicles, which you can make with coconut milk instead of yoghurt (recipe here), watermelon hearts with orange arrows from Spoonful and Nom Nom Paleo's Mexican chocolate pots de creme.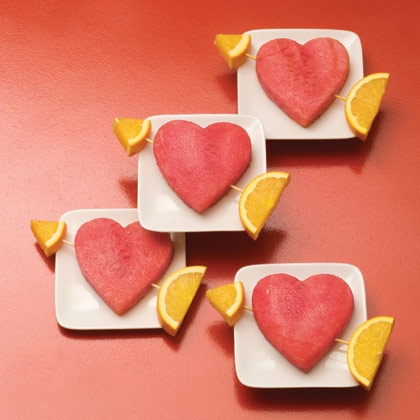 Another popular, fail-proof dish is dark chocolate covered strawberries. Check out these from The Savage Feast.
And of course, we can't have a paleo food list without a bacon dish. Bacon hearts from The Paper Mama are perfect!
Happy Valentine's Day everyone! Snuggle up with a lamb chop or your loved one…or both.
xo Irena