Get inspired with healthy tapioca pearl and tapioca flour recipes from baked goods and tasty puddings to breaded and fried meat and tortillas. Being naturally grain-free, tapioca allows preparing many gluten-free and paleo-friendly alternatives.
---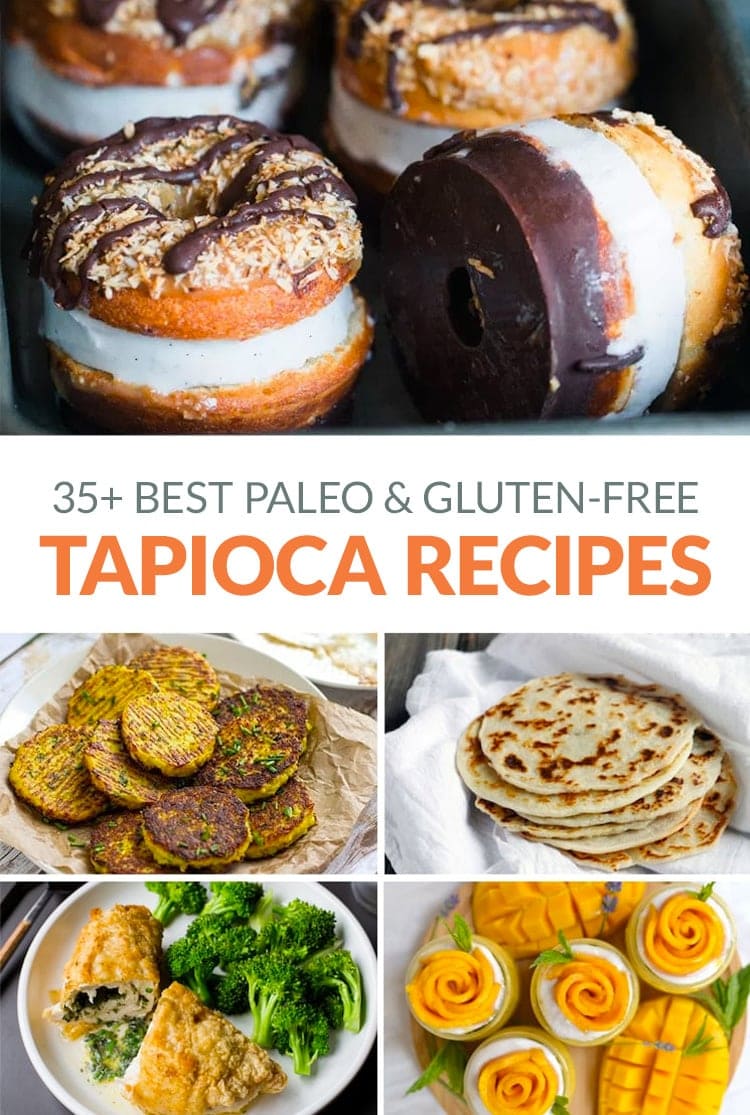 What Is Tapioca?
Let's talk about tapioca flour! This flour or starch is derived from the cassava root, not to be confused with it… we'll get into that later. It's actually a staple food for many people as it provides loads of starchy energy, much like many carbohydrate foods. Compared to food competitors like potatoes, it grows more abundantly and it has twice the fibre and potassium.
We don't generally eat tapioca the way we would a potato, either. Instead, we use it as a flour for baking, a coating to replace bread crumbs and wheat flour, or as a thickening agent in stews and gravies. It provides a grain-free alternative that works brilliantly in a huge variety of dishes.
Oh, and if you've ever had pudding, you are probably familiar with tapioca pearls or boba. Have you ever had bubble tea?
Is Tapioca Gluten-Free?
Yes, tapioca is naturally gluten-free. Tapioca is made from cassava root, which is a staple food in many countries and does not contain gluten. People with gluten intolerance or celiac disease can safely include tapioca in their gluten-free diets.
Tapioca Flour vs Cassava Flour
Now, let's talk about the difference between tapioca and cassava flour.
Cassava flour is a slightly different species in the cooking and baking world! It's a super versatile flour too, and it's known for being incredibly easy to replace wheat flour in baking. In fact, you can often go 1:1 making calculations and substitutions for making grain-free and paleo recipes super simple.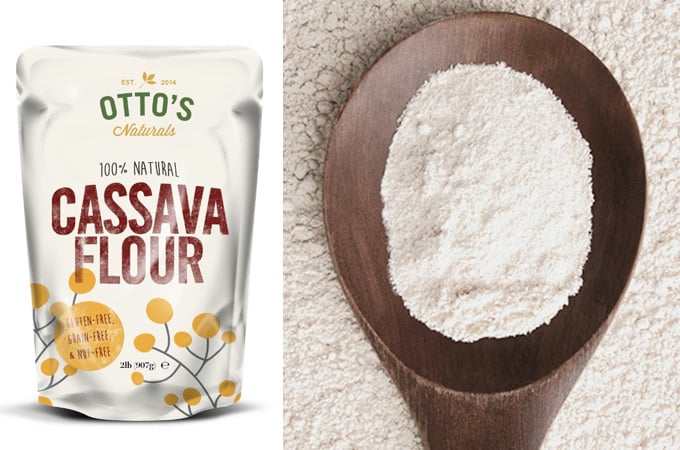 Cassava is also gluten- and grain-free, making it suitable for most allergies and the paleo diet. Unlike tapioca, cassava is the whole root. It's simply dried and ground to create flour, making it even MORE fibrous! It's a winner! Both are relatively high in carbohydrates, but cassava certainly beats wheat in terms of overall nutrition.
---
How To Use Tapioca Flour
Tapioca flour, also known as tapioca starch, can be used in a variety of ways in cooking and baking. Here are some common uses of tapioca flour:
Thickening agent: Tapioca flour is often used as a thickener in sauces, gravies, puddings, and pie fillings due to its ability to absorb liquid and form a gel-like consistency.
Gluten-free & grain-free baking: Tapioca flour can be used as a gluten-free alternative to wheat flour in recipes for cakes, cookies, breads, and more.
Making chewy treats: Tapioca flour is used to make chewy treats such as bubble tea, tapioca pudding, and mochi.
Improving texture: Tapioca flour can be used to improve the texture of baked goods, making them crispier and less crumbly.
Coating and frying: Tapioca flour can be used as a coating for fried foods, creating a crispy and crunchy exterior.
It's important to note that tapioca flour behaves differently than wheat flour, so it may require some experimentation and adjustments in recipes.
Tapioca Recipe Ideas
I've got recipes for both today, from baked goods, tasty puddings, breaded and fried "meats," tortillas and more.
PS. This is a good and pretty commonly available brand of tapioca flour. And this is a brand of cassava flour that many paleo and grain-free recipe bloggers use.
---
Tapioca Flour Desserts & Treats
Tapioca flour is a versatile ingredient that can be used to make a variety of sweet and delicious desserts and treats. From chewy tapioca pearls in bubble tea to creamy puddings and flaky pie crusts, tapioca flour adds a unique texture and subtle sweetness to a wide range of sweet dishes.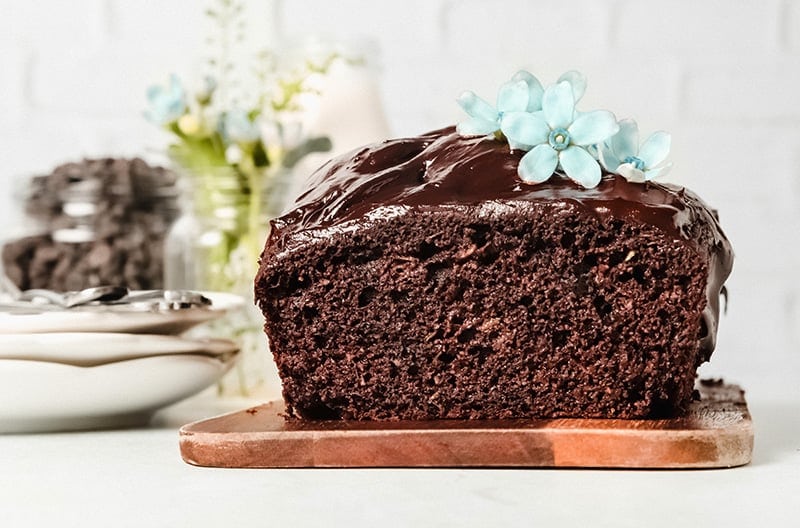 You will love this rich and moist chocolate zucchini cake with a luscious ganache topping. This hidden vegetable cake is perfect for a treat that is lower in sugar and has wholesome ingredients. This cake recipe is gluten-free, grain-free, dairy-free, and paleo-friendly.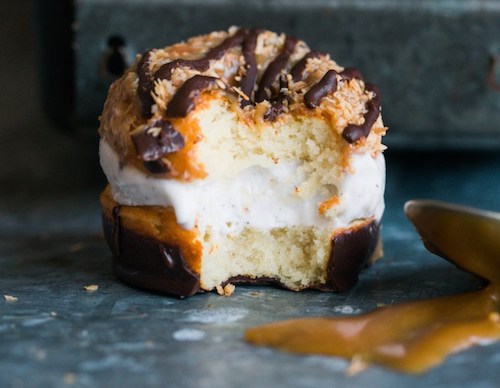 Do you like Girl Scout cookies? What about ice cream sandwiches? Imagine if you could have two in one… and you can. Plus, it's made of real food ingredients, and it's totally paleo-friendly. Believe it! The ingredient list isn't too intimidating either. Recipe from The Urban Poser.
The best part of making cookies is eating the dough. Skip the baking with this dangerously good dessert. Recipe from Wicked Spatula.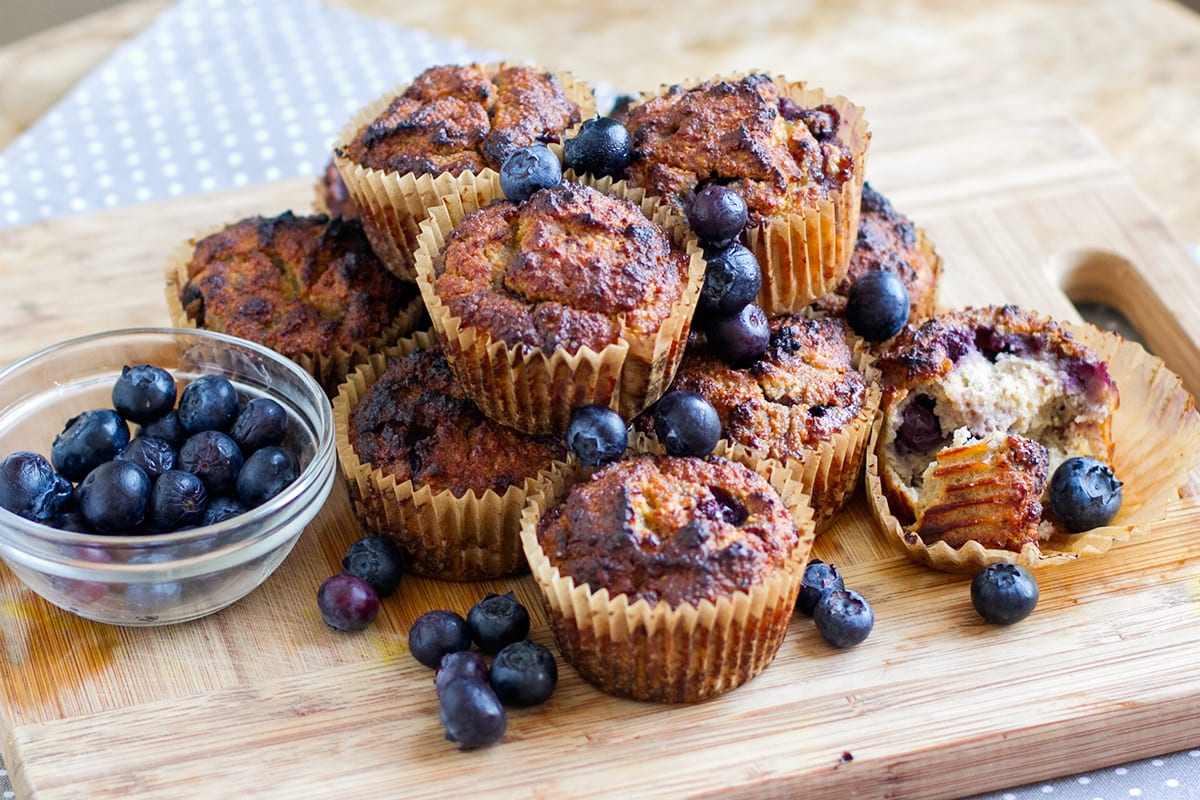 For a quick snack, these muffins are a go-to of mine! I love fresh, ripe berries to bite into while banana lends both flavour I love and natural sweetness, reducing the need for sugar overall.
---
---
Tapioca Pearl Recipes

If you've had Thai food, you may very well be familiar with this variation. Banana pudding is a classic. With tapioca, there's so much creamy goodness packed into this paleo coconut pudding! Recipe from I Heart Umami.
This classic tapioca pudding gone paleo from is awesome, even when you take out the primary ingredients – sugar and milk! It's got that custard texture and melt-in-your-mouth potential with every bite. Recipe from Paleo Leap.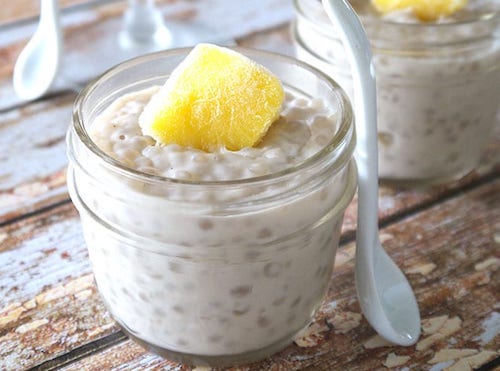 A little bit tropical and somewhat inspired by Thai food, this mango treat from is not only easy to make, but it's paleo-friendly, gluten-free, vegan-friendly, refined sugar-free and all that good stuff. It's full of healthy fats from coconut milk. Recipe from Unconventional Baker.
If you dig hot cereal but want to switch it up with a grain-free variation, this is the way to go! A blend between plain, classic tapioca pudding and oats, baked apples come in to make it a morning win you can easily make the night before. Recipe from Sweet Treats Baking.

It's like if Nutella and pudding cups had a baby, except there's no junk in this cup of joy. Just real food! The recipe also from Unconventional Baker.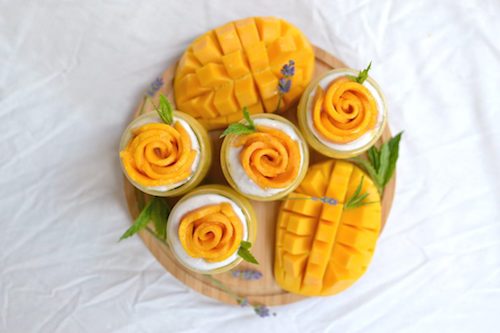 You probably already have the ingredients handy for this dish. Just pick up some fresh mangos and work hard at your fruit art skills. Recipe from Radiant Rachels.
---
Breakfast Tapioca Recipes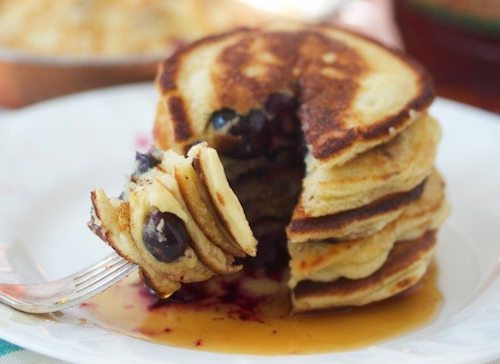 Almond flour and tapioca flour pair up to make breakfast extra special with these cloud-like berry pancakes. Don't forget a healthy glug of maple syrup. Recipe from Lexi's Clean Kitchen.
Sometimes, you just want a real pancake. Turns out, tapioca might just be the answer to replicating that whole fluffy, wheat flour flapjack goodness. Recipe from Primal Palate.

These might be one of my favourite things to pair up with eggs. They're lower in carbs than your average potato hash browns, while the tapioca starch comes in just to keep them together – something it's exceptionally good at!
Maybe you're more of a crepes person than a pancake person. Sweet or savoury, tapioca is here to save the day with the most delectable grain-free crepes you'll ever make! Recipe from My Natural Family.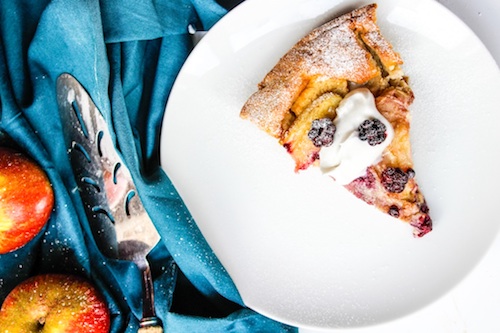 If you haven't had a Dutch baby, you're missing out. This one-pan breakfast is the perfect way to indulge healthily, considering this one boasts a grain-free and dairy-free base with tapioca, almond meal and coconut milk. The powdered sugar shake is optional but highly recommended. Recipe from A Saucy Kitchen.
---
Bread Recipes With Tapioca Flour
This is an easy recipe for savoury paleo bread that can be made without using a baking loaf tin. Perfect for lunchboxes and breakfasts, and it freezes really well so you don't have to eat it all at once.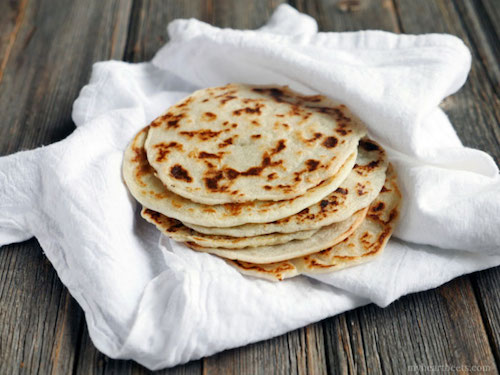 Naan is known for being fluffy and slightly chewy all throughout with a slight crisp on the outside. Well, tapioca lends its baking properties well to that exact texture. What's chicken tikka masala without a hot slice of bread? Recipe from My Heart Beets.
This recipe is nut- and grain-free, but it works out brilliantly. Puffing up perfectly with a soft inside, these dinner rolls are going to disappear if you put them out too soon before the main course. Recipe from Paleo Spirit.

Flatbread makes a great savoury treat, and a perfect canvas for that glorious marriage of flavour between garlic, fresh herbs and quality EVOO. Recipe from Savory Lotus.
This bread is paleo, AIP and vegan-friendly, so eat up. This is a great recipe to keep handy for entertaining guests with lots of dietary restrictions (and tasty, too!). Flatbread is tapioca's speciality. From The Domestic Man.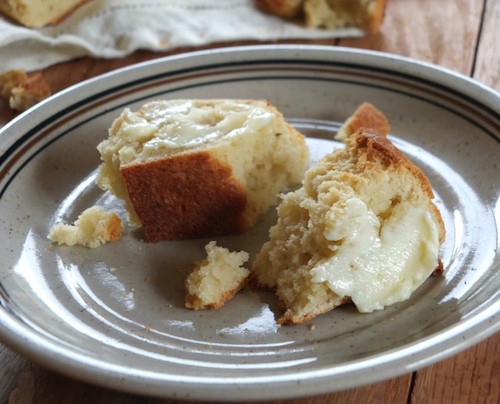 You know… the crusty outsides (and don't you dare peel it off) and the moist, chewy centre? It's the kind of bread you spread the butter on thick. From Cook It Up Paleo.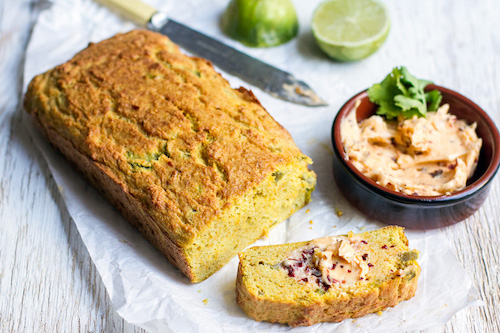 Inspired by cornbread, this spicy recipe is just a little bit fancy with a gorgeous chipotle butter you don't want to miss out on. Tapioca and coconut come together for that cornbread texture without the grain.
---
Meat & Poultry Recipes Using Tapioca
Indulge your deep-fried cravings with this fast food staple the paleo way. It's like Chick-Fil-A for those of you who know… and yeah, they really look that good! Recipe from The Domestic Man.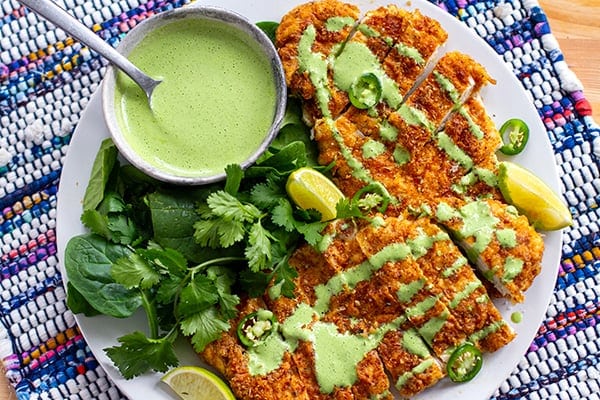 I love when a fusion of two cuisines produces unexpected yet delicious dish such as this Whole30, paleo and gluten-free chicken schnitzel with a Mexican twist. Shallow-fried till crispy and aromatic, my spiced chicken breast schnitzels are drizzled with zesty coriander, lime and garlic sauce. Yum!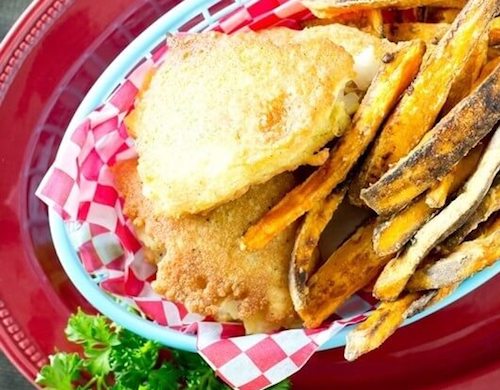 Raise your hand if you have a fried food weakness! Fish and chips are delicious. Why not switch things up for a grain-free "batter" with tapioca instead? With a light fry in healthy olive oil, this recipe is on the table in less than 30 minutes. Recipe from Tastes of Lizzy T.
Takeout is notoriously covered in wheat, sugar and soy. Do it up healthy with this Whole30-compliant cashew chicken which is nearly as quick and twice as tasty, with a gorgeously crisp tapioca coating. Recipe from A Saucy Kitchen.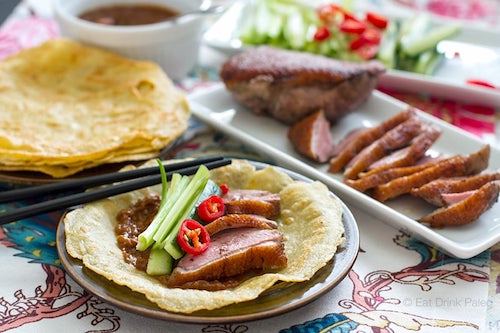 My recipe for Peking duck pancakes encompasses all the classic elements of one of my all-time favourite foods including the sweet and salty hoisin. The pancakes are perfect with tapioca flour!
Facts: Chinese chicken is good. Lemon chicken is good. Why not blend the two? Tapioca brings in that classic, crusty outside to soak up the sauce with. Recipe from Comfort Bites.

Chicken Kiev is a Ukrainian dish made with rolled butter in chicken cutlets. It's simple and rewarding with tons of flavour. I mean, who doesn't love butter? The tapioca lends that crusty outside that you'll love! Recipe from The Domestic Man.
If you like fried coconut shrimp, you'll love my take on it! They're crispy, golden and crunchy on the outside and the honey-lemon glaze is to die for. No refined sugar, no grains and no junk – just real food, including tapioca coming in the clutch for awesome texture.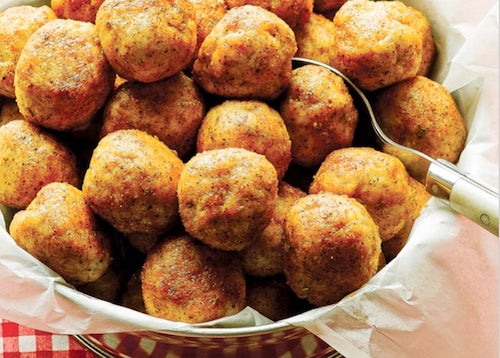 Fried chicken can be an intimidating dinner to make. Turn it into meatballs, though, and skip out on the deep frying altogether with this simpler (and healthier) dish, encompassing comforting Southern flavour.
---
More Savoury Dishes With Tapioca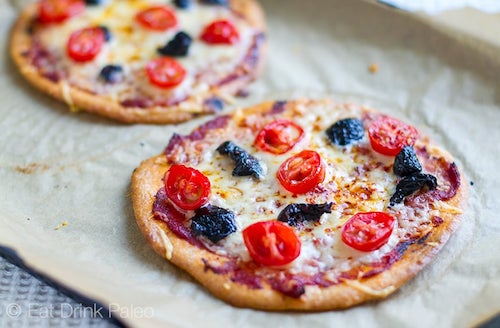 My pizza crusts may be unconventional, but they really work! The crisp, thin crust hits the spot for that craving, plus they're not only grain-free… they're nut-free! Perfect for packing up the kiddos' lunches.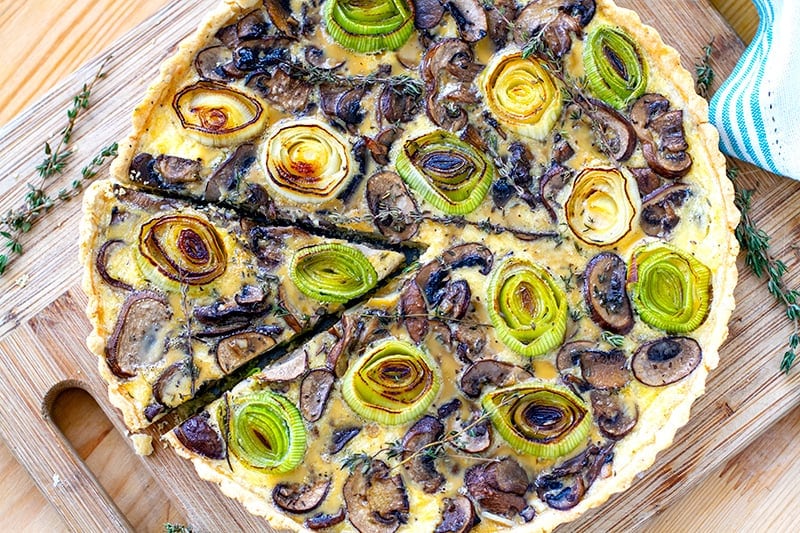 This leek and mushroom tart is gluten-free and grain-free and can be served for brunch, lunch, dinner with a salad or veggies or prepared as an appetizer or picnic food.
Inspired by knödel which is usually made of flour or potato, this healthier-for-you version is a fun way to get in more veggies. They're usually a side with meat or stews. I pan-fry them for that crispy crust.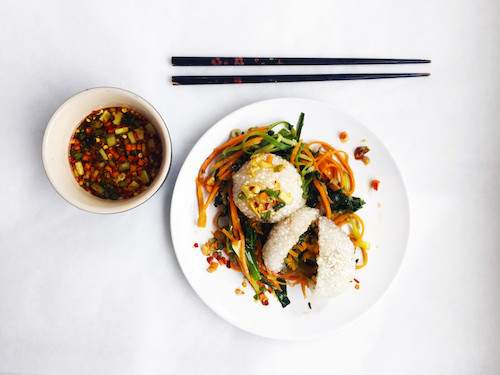 This recipe is a super fun way to use tapioca pearls! These authentic-tasting Thai dumplings are loaded with colourful veggies, and they're both paleo- and vegan-friendly. Recipe from Greens of the Stone Age.
I love mixing up traditional muffins and bread with savoury recipes like this take on zucchini bread using tapioca flour. It's a great way to embrace summer produce, and these muffins are packed with flavour from ground pumpkin seeds in the batter!
Yeah, it's addictive, but you can feel good about munching hard on these veggie bites! These will be a hit if you have to make up an appetiser for a party or event.
---
Cassava Flour Recipes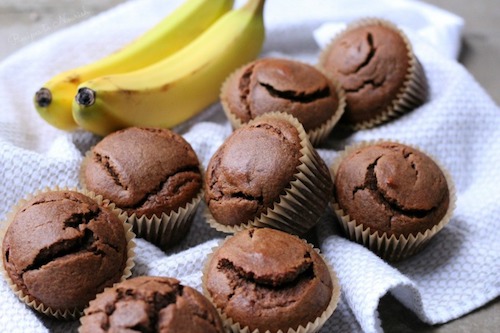 Bananas and chocolate go hand in hand. Why not make the combination compact and portable? These grain-free cassava flour beauties are perfectly decadent and fluffy. Recipe from Recipes to Nourish.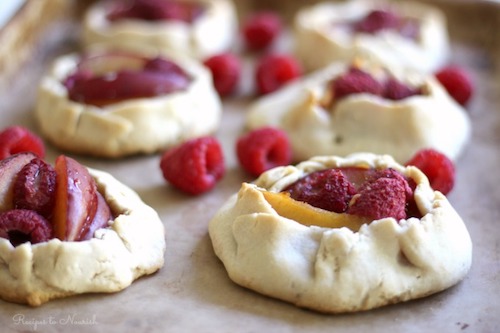 Galettes are like the perfect marriage between pie and tart with a rustic spin. Plums and raspberries bring in that tart, sweet, fresh fruit filling in these little cassava crusts – perfect for popping! Recipe from Delicious Obsessions.
These soft chewy paleo chocolate chip cookies are made with cassava flour, making them nut-free PLUS grain-free and gluten-free. The cassava flour makes the flavour very similar to traditional chocolate chip cookies, so you know everyone will love them! Recipe from Paleo Running Momma.
There's nothing much better to do than to make crumble with your fresh summer berries. This quaint recipe is incredibly easy to make, and cassava flour gets that crumb on top perfectly crisp… just like "real" flour! Recipe from Carrie On Living.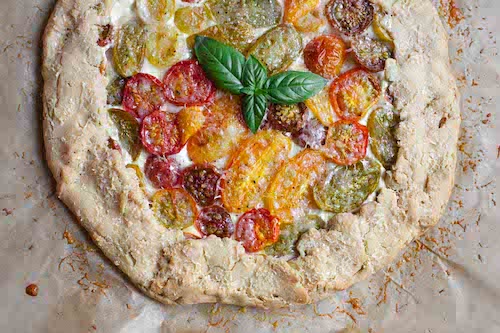 This bed of cassava which crisps up perfectly is the perfect canvas for a slew of rainbow heirloom tomatoes in all of their colourful glory. This one is a winner. Recipe from A Calculated Whisk.
I think I can speak for us all when I say we've been waiting for an excuse to eat cookies for breakfast, and a better one than just, "Because I can." These cassava flour cookies are the answer. From Recipes to Nourish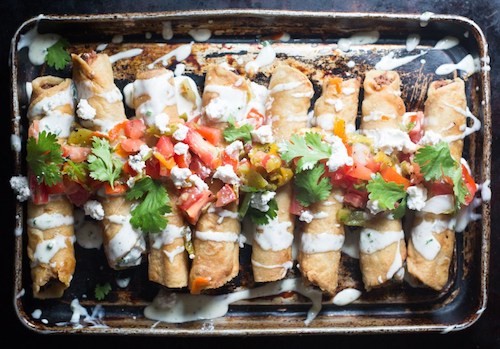 Just to get you up to speed if you don't know, King Ranch casserole contains shredded chicken, smothered in a lovely creamy sauce, with pico, tomatoes, cilantro, chiles, cheese and all the things. Flautas bring tortillas into the mix which is always a good thing in Mexican food – better against the grain! Recipe from The Urban Poser.
Cranberries are simply meant for galettes, and clearly, cassava flour makes a mean galette considering how many recipes there are for them! If you're going to experiment with this grain-free miracle, you've just gotta make one. From A Calculated Whisk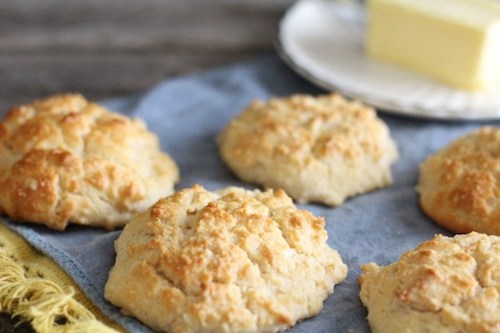 Some days just call for a luscious buttermilk biscuit… with gravy and chicken, of course. The simple things in life are worth celebrating, so having a go-to grain-free recipe for one of life's most comforting food pleasures is important! Recipe from The Family That Heals Together.
With just five ingredients – one being water and another being salt – these have to be the easiest grain-free tortillas in all of the land. Recipe from Anya's Eats.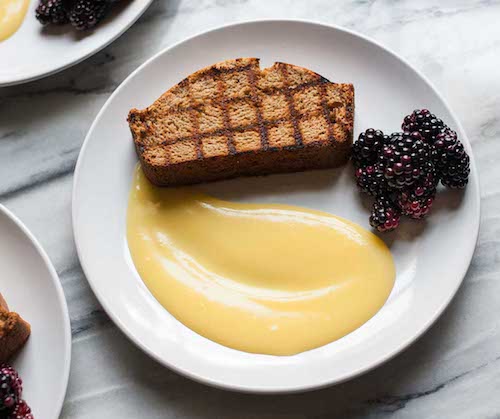 Pound cake is good. Grilled pound cake is better. Grilled pound cake served with fresh lemon curd is the best. I mean, it's astoundingly good! This cassava flour recipe is going to be a Sunday brunch special. Recipe from A Calculated Whisk.
Sweet or savoury, I've got a grain-free recipe for you today! Hopefully, you've learnt a bit about the difference between these flours and how to use them. Which recipes are you excited to try? Share on Pinterest from here.