Miss morning oats and porridge on a paleo diet? Don't worry! There are many paleo oatmeal and porridge recipes and alternatives that are just as comforting and tasty. This is a collection of my favourite ideas.
---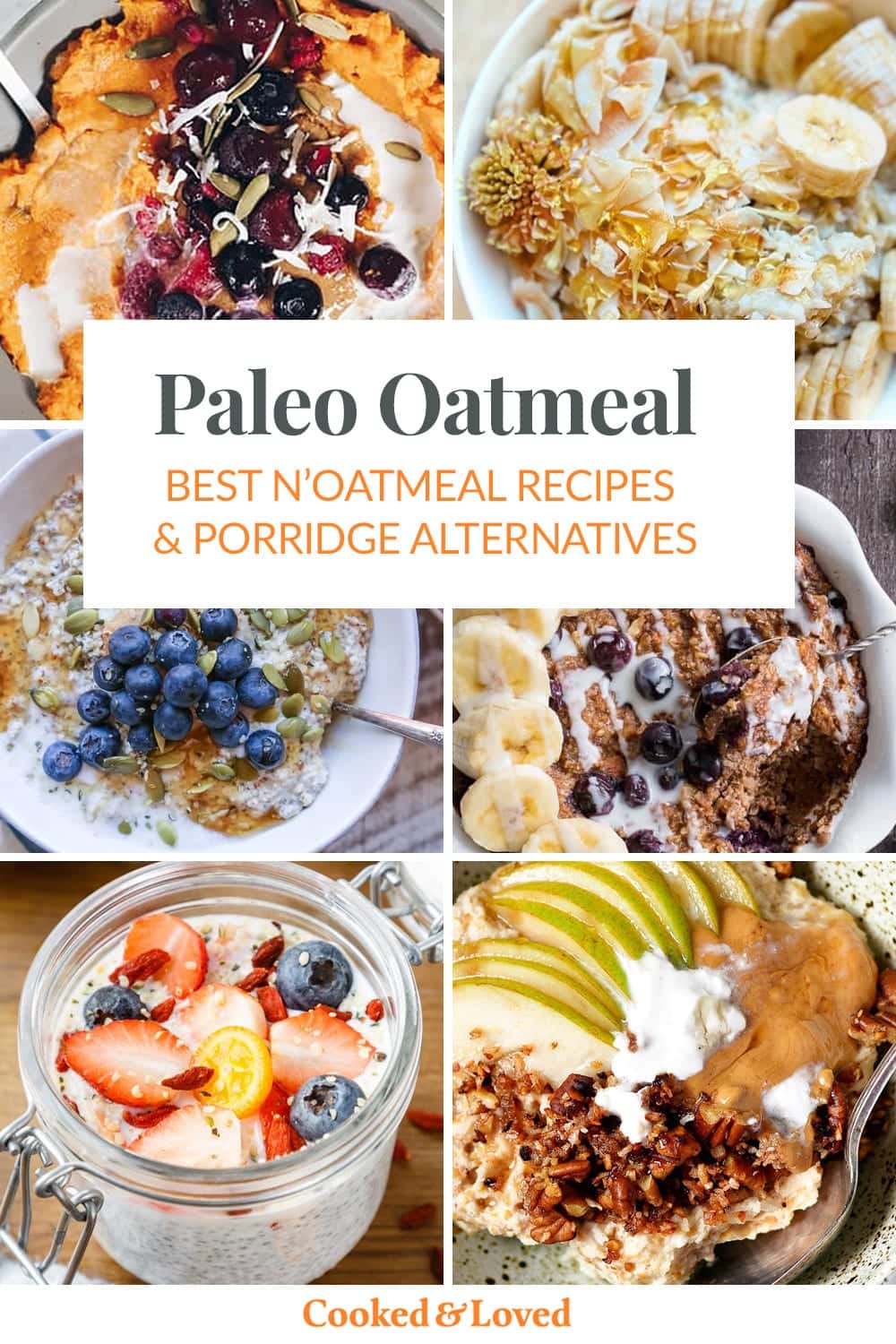 One of the most common questions I hear from people who start following a paleo diet or a Whole30 program is about oats. More specifically, it is about how much they miss having their daily morning porridge and whether they can still enjoy a little oatmeal occasionally.
Are Oats Paleo?
When it comes to oats themselves, they are not paleo compliant as they are a type of grain and often contain gluten. There, however, ways to prepare traditional oats to make them less problematic. You can read our post on oats and paleo here.
Alternatively, there are many paleo-friendly ways to make a paleo porridge-like breakfast that is equally comforting and delicious. I've compiled a roundup of my favourite paleo porridge and oatmeal alternatives for you. I have also found some ready-made instant paleo porridge on Amazon US here.
One thing I recommend doing is adding some paleo-friendly protein powder to your n'oatmeal to make it more filling and satiating.
---
Best Paleo Oatmeal Recipes For Porridge Lovers
When it comes to creating porridge and oatmeal alternatives, you have to be creative. There are many interesting ways to use everyday grain-free, gluten-free ingredients like sweet potatoes, seeds, nuts, cauliflower, and coconut to create delicious bowls of n'oatmeal (the oat-less oatmeal).
When it comes to dairy substitutes, you can choose between coconut milk, nut milk and juices to name a few. Let's look at a few recipes to get you started.
---
This sweet potato porridge only requires a handful of ingredients, and once the sweet potatoes are baked to perfection, all that's left to do is mix everything up and add some toppings. Recipe from Real Simple Good.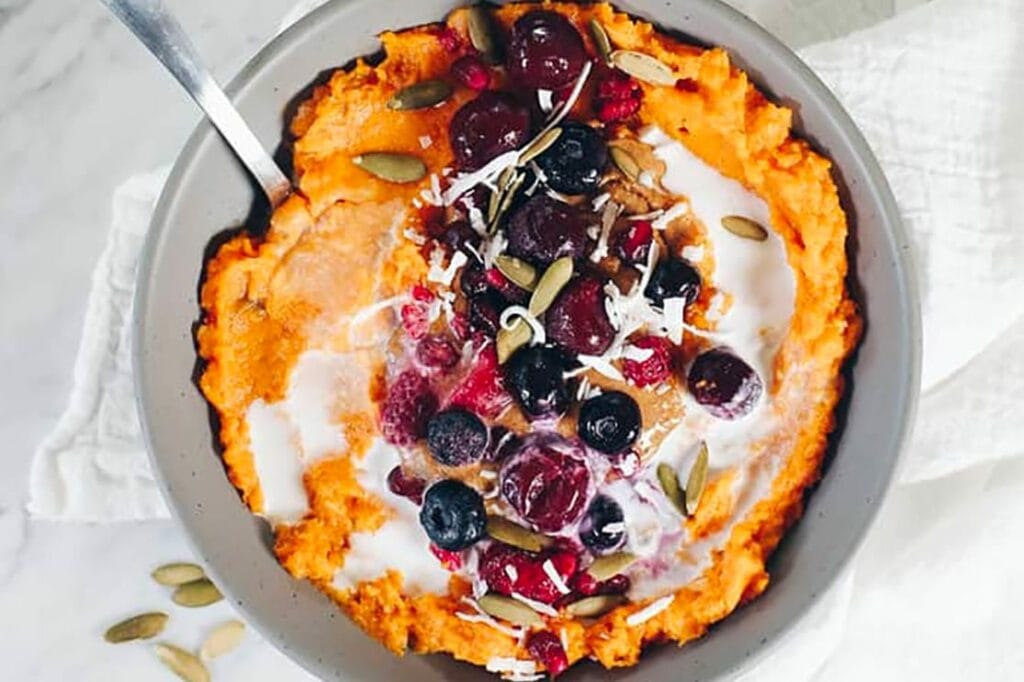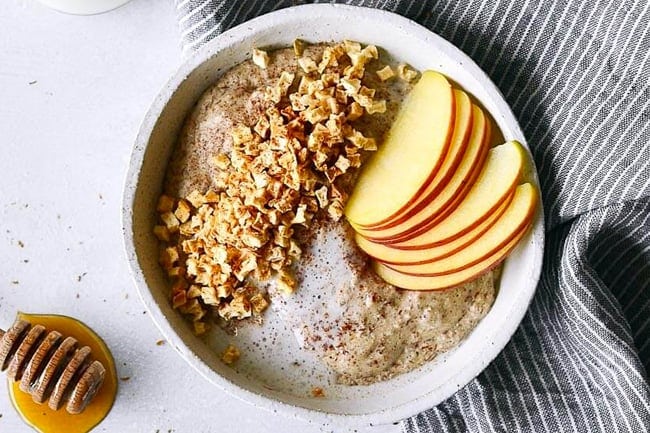 Rich and creamy paleo breakfast cereal with 28 grams of protein! Made in one minute and can be made ahead. Paleo, gluten-free, sugar-free, and dairy-free. Deliciously addicting and topped with apple crunchies and cinnamon. This recipe is from Paleo Gluten Free blog.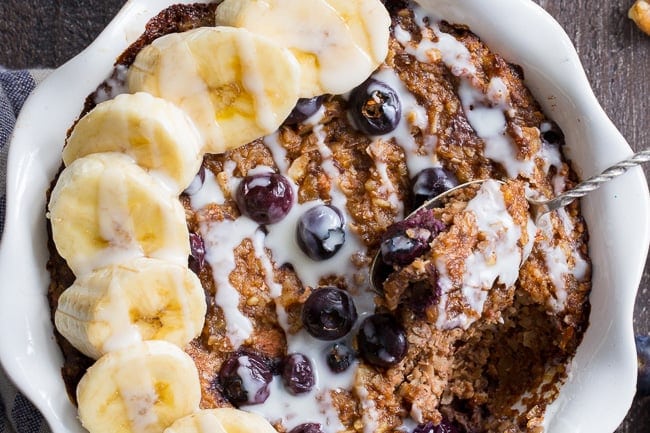 This blueberry "Oatmeal" breakfast bake has a flavour and texture reminiscent of baked oatmeal, yet it's grain-free and paleo-friendly. It's also egg-free, vegan and contains no added sugar. Recipe from Paleo Running Momma.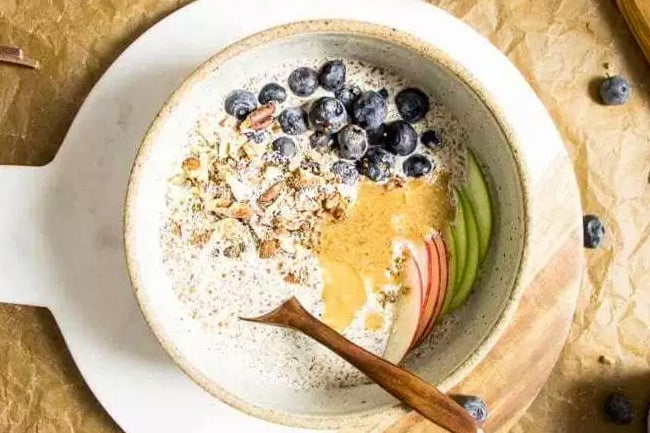 Creamy delicious paleo oatmeal made with ground flaxseed meal, dairy-free milk and vanilla. No cooking required. These Paleo overnight oats can be made hot or cold and are gluten, dairy, grain, egg-free, and keto, vegan-friendly. Recipe from I Heart Umami. For another keto-friendly hot cereal, check out this low-carb hot porridge from Tessa The Domestic Diva.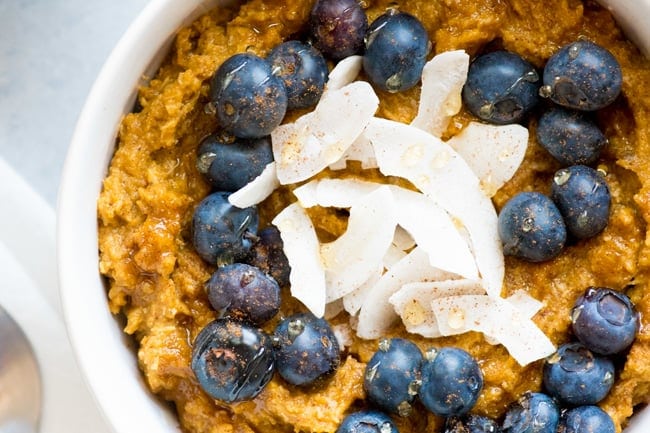 This pumpkin spice coconut breakfast porridge meets all the requirements of the AIP diet but is so delicious, you won't feel like you're missing out on anything! Recipe from Wholefully.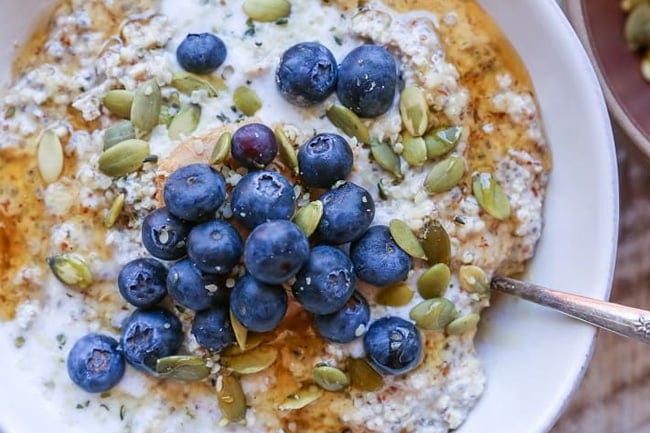 Mock paleo overnight oats breakfast porridge made with nuts and seeds for a grain-free, protein-packed way to fuel your day. This recipe requires only a handful of ingredients and a few minutes to prepare. Recipe from The Roasted Root.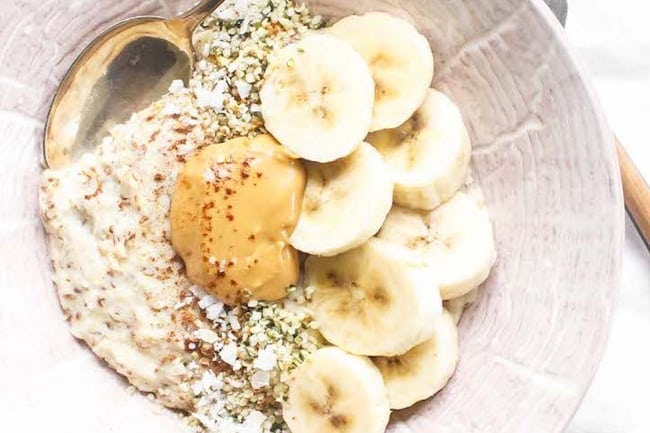 Learn how to make paleo oatmeal in just a few minutes, with 6 ingredients! This easy paleo oatmeal recipe comes with 7 ideas for topping your paleo diet oatmeal, too. Recipe from Wicked Spatula.
A quick and easy recipe for low-carb keto overnight oatmeal made with flaxseed, chia seeds, and unsweetened coconut flakes! A paleo oatmeal alternative that is packed with protein, fibre and made with just 4 ingredients! Recipe from Big Man's World.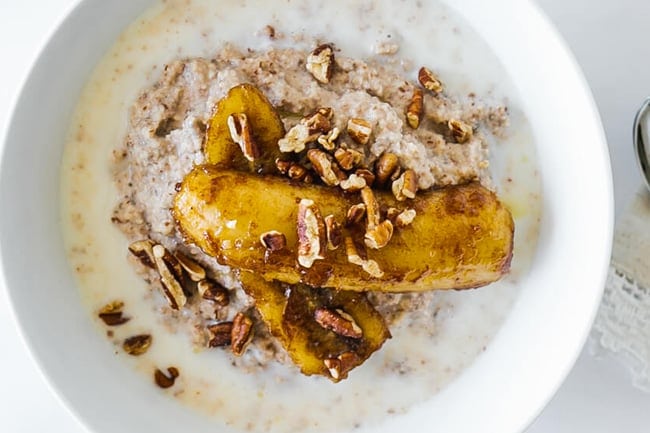 This paleo porridge is a hearty, gluten-free, dairy-free, grain-free porridge that's a delicious breakfast and perfect for the cooler months. The topping options are endless, but caramelized bananas are always fun for a weekend splurge. Recipe from Downshiftology.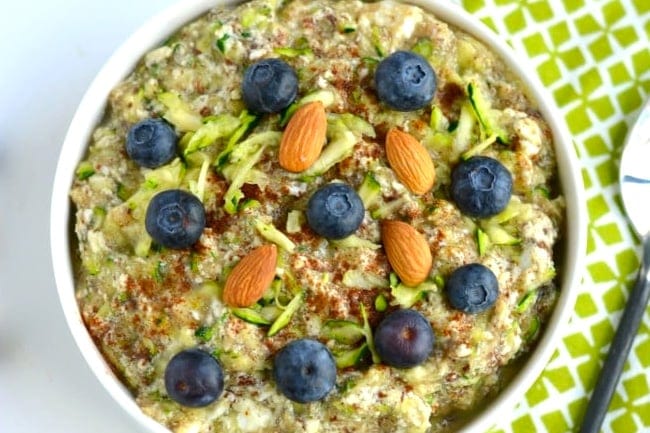 Zucchini oat-less oatmeal is a paleo twist on a classic bowl of morning oatmeal. Made with eggs, almond milk, zucchini, applesauce, flaxseed and cinnamon, this simple bowl of goodness is packed with protein and fibre. Recipe from Skinny Fitalicious.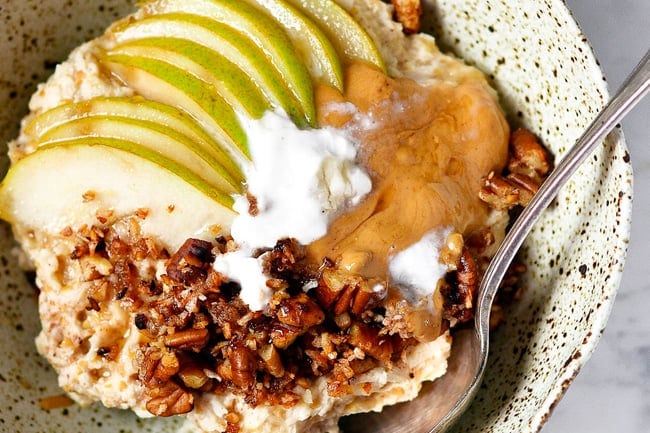 This 3-minute paleo compliant porridge is the perfect comforting food for rainy morning breakfasts. Snuggle up with warm toasty coconut and almond essence and the deep flavours of cinnamon and pear. Vegan-friendly. Recipe from Paleo Gluten Free blog.
This super easy porridge is made in just 3 minutes and it's gluten-free, paleo, vegan, and Whole30-friendly. This is a staple Whole30 breakfast! Recipe from Bakerita.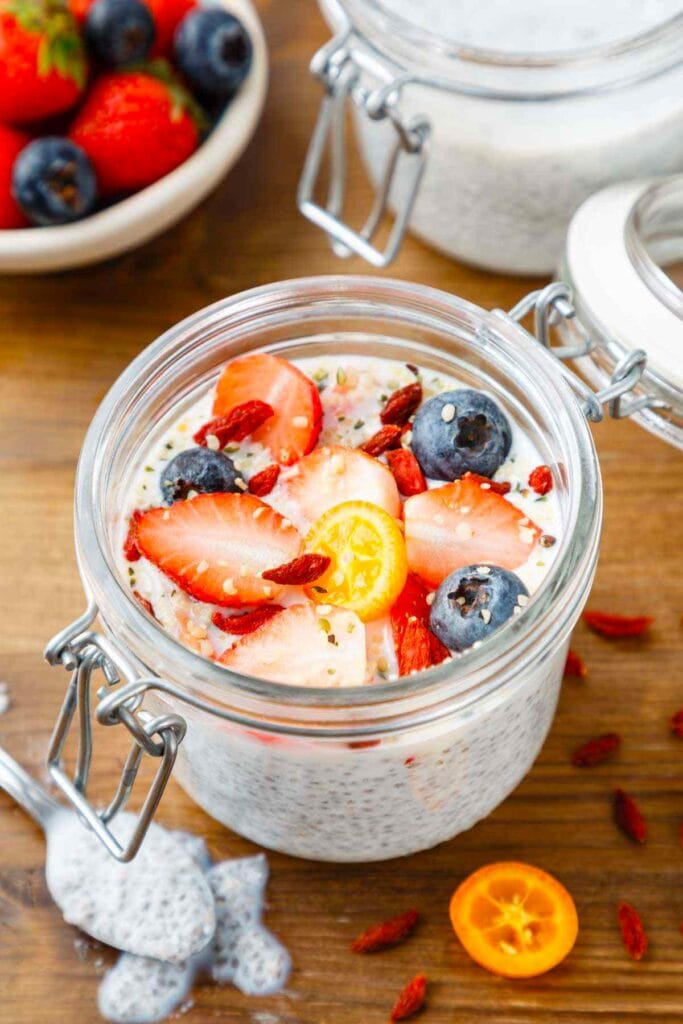 This overnight paleo oatmeal recipe uses a few creative ingredients like chia seeds and coconut flour to make an excellent 'oatmeal' for breakfast. Recipe by Paleo Grubs.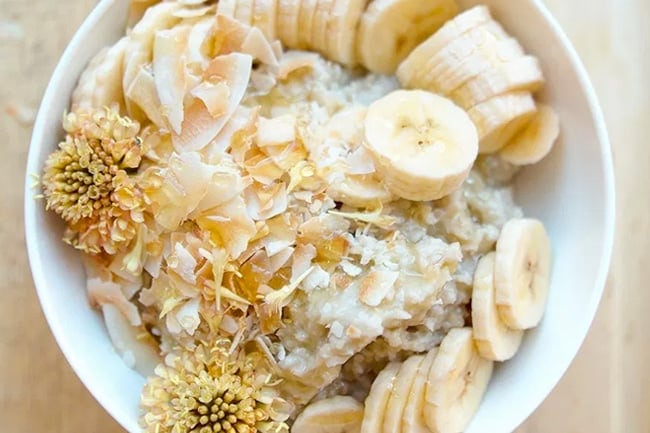 Made with blended banana and coconut cream, as well as grated white sweet potato, this n'oatmeal is pretty close in colour and texture to the real thing. If you're after a little added sweetness and crunch, add some toasted coconut flakes and drizzle local honey on top. Recipe from Fresh Planet Flavor.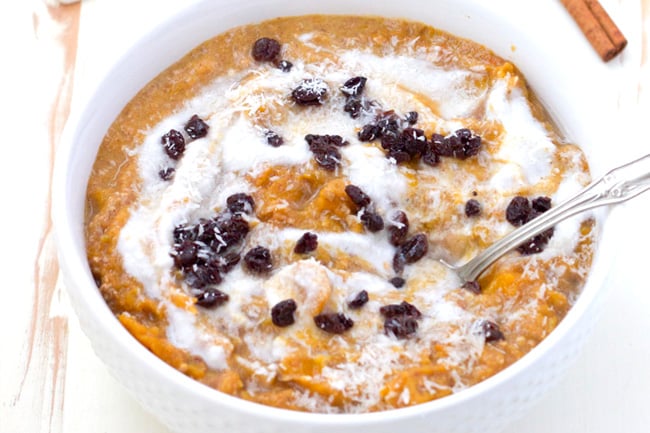 This Paleo slow cooker n'oatmeal is loaded with butternut squash and apples and sprinkled with dried sultanas or raisins for added sweetness. Recipe by Rubies & Radishes
---
If you shop on Amazon US, there is this pretty good instant hot paleo cereal alternative, it gets pretty good reviews.