Whether it's beef, lamb or chicken, ground up or minced meat is one of the most popular proteins to cook with. In this roundup, I have collated some of my favourite, healthy ground meat recipes that are suitable to paleo, gluten-free and keto diets. The best part? Every recipe could be made with ground meat of choice.
---
The reason ground meat is so popular is simple – it's budget-friendly and you can often buy it in bulk and freeze for later. So what do you do with all that bulk purchased ground meat? I know that in my house it often gets left behind in the back of the freezer until it's too late to use. But, with a few new recipes ideas and tips, you will be experimenting with using a variety of ground meat in your cooking, so no mince goes to waste.
IDeas & Recipes With Ground Meat
These ideas can be used with red meat, poultry or even ground-up fish. Some excellent and healthy ground meat recipes are provided below but these tips will get your imagination going.
Bakes and casseroles – think lasagna, moussaka, layered bakes, frittatas and so on.
Burgers, patties, rissoles, sausages, koftas, kebobs – ground meat is perfect for moulding into whatever shape you need.
Stuffing & filling – you can stuff vegetables with ground meat, use as a filling in tacos and burritos, Asian lettuce cups, pies, sausage rolls, dumplings and so on.
Stews & soups – from a classic Bolognese to Moroccan tagines, ground meat is perfect in braised recipes.
Stir-fries & salads – you can stir-fry ground meat with aromatics and vegetables for a delicious, healthy meal or use pan-fried mince in salads.
STORING & FREEZING GROUND MEAT
These tips should apply to most types of ground meat (red, poultry or wild).
Refrigerate or freeze ground meat as soon as possible after purchase as this will preserve freshness and slow the growth of bacteria. It can be refrigerated or frozen in its original packaging if the meat will be used soon.
If refrigerated, keep at 40 °F (4.4 °C) or below and use within 2 days. For longer freezing, wrap in plastic wrap or store in freezer bags. Ground meat will lose quality over time so it's best used within 4 months.
I recommend marking your frozen meat packages with the date so you can keep track of storage times. So many times I found old ground meat in the freezer and didn't know how long it's been in there.
THE BEST WAY TO THAW OUT GROUND MEAT
The best way to safely thaw out ground meat is in the refrigerator as keeping the meat cold while it is defrosting will prevent the growth of bacteria. Cook or refreeze within 1 or 2 days. To defrost meat more rapidly, you can use a microwave or place it in cold water. Cook immediately. Do not refreeze raw ground meat thawed in cold water or in the microwave oven unless you cook it first.
Don't leave ground meat at room temperature for more than 2 hours (even less in hot weather).
---
Ground Pork recipes
These tasty meatballs are the perfect adaptation of everyone's favourite Japanese gyoza dumplings. Makes 4 servings as an appetizer or you can use as two servings and complete the meal with a large Asian slaw or steamed vegetables.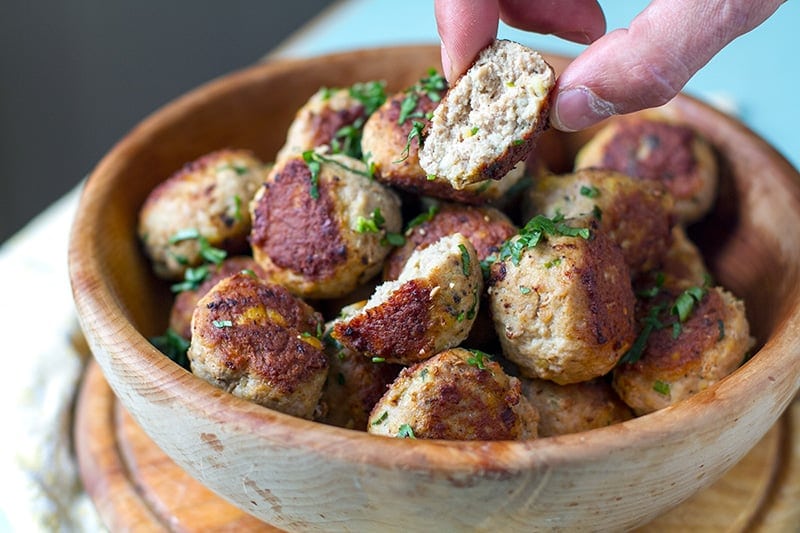 This recipe uses a clever ingredient to make the tastiest, softest meatballs which are grain-free, nut-free and Whole30 compliant. My favourite method from now on!

On the table in under 30 minutes and bursting with flavour, this Paleo, Keto + Whole30 egg roll in a bowl is sure to be a new favourite you add to your regular rotation. Gut healthy bone broth and apple cider vinegar are used in the sauce along with coconut aminos and seasonings, and the rest of the bowl is filled with shallot, garlic, cruciferous veggies, green onion and ground pork. Recipe from Real Simple Good.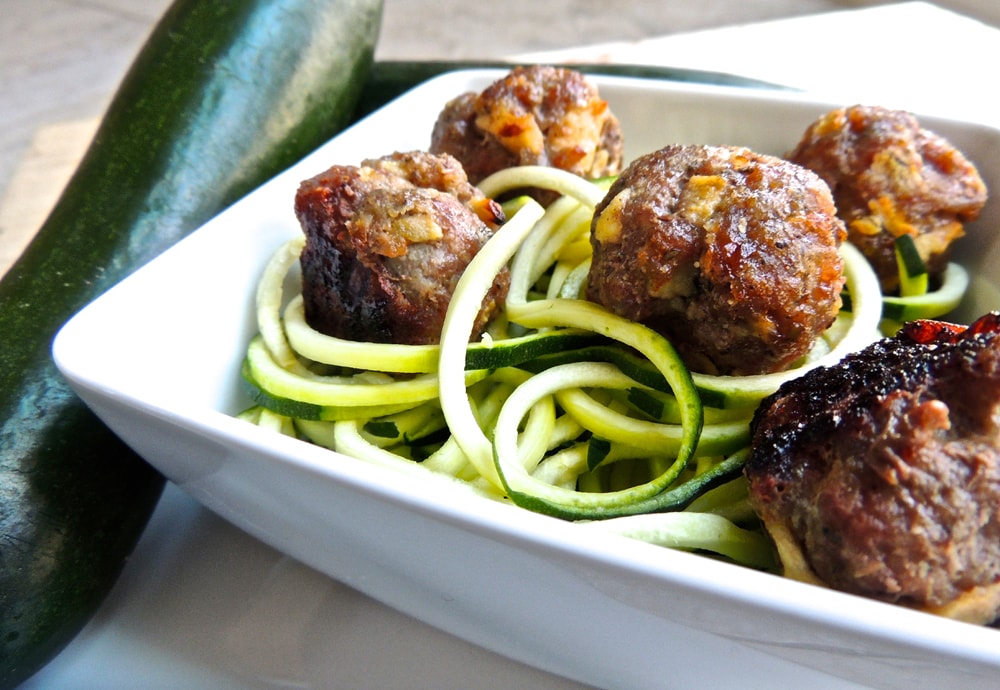 My favourite thing about these meatballs, or any meatballs for that matter, is that you can make a large batch and freeze some for later. Once defrosted, you can reheat them as they are or dress them up with a nice sauce, add to soups, curries and casseroles.

Pork-with-apples doesn't end at chops! Why not fill your pantry with this tasty autumn-themed meatloaf in case you need a slice of something to pull out for a quick lunchbox filler or snack? With the sweet apples, the fatty bacon, and just a little bit of spice, it's delicious hot or cold, and even better once it's had a day or two in the fridge for the flavor to develop. PORK AND APPLE MEATLOAF
---
Ground Lamb recipes

These ground lamb stuffed zucchini boats are served with Romesco-inspired red sauce and make for a wonderful dinner meal or can be prepared as finger-food or appetizers. They are paleo, Keto and Whole30 friendly.

I love cooking with lamb and recently I've been trying out some new lamb mince recipe ideas. These little morsels are great for a party but we like to eat them over dinner with some crunchy roast sweet potato and simple steamed greens.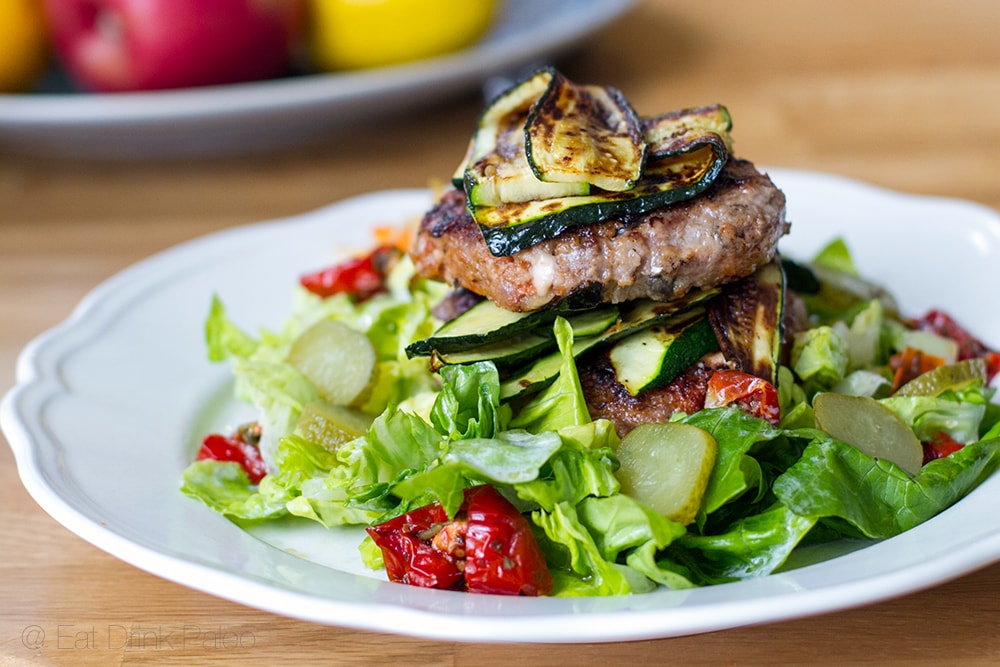 These lamb burgers are absolutely amazing and contain a little feta for extra flavour and saltiness. Perfect for a BBQ or can be grilled on the stovetop. They are served grilled zucchini and a salad with gherkins and sun-dried tomatoes but you could also make some sweet potato fries and grilled onions on the side.
---
Ground WILD MEAT Recipes (Elk/Venison, Bison, Boar)

This author named this Texas chili "Wild Thing" from the fact that it's made with bison, venison, and wild boar… although complemented with a product from a domesticated animal: pastured bacon. It's hearty, nutritious and a little different. Recipe from Fresh Planet Flavor.

Inspired by the Turkish manti dumplings, these ground elk (venison) and lamb meatballs are beautifully spiced and topped with yoghurt and chili oil. Can also be made with just lamb or other ground meat. Recipe from Laura's Wild Kitchen.

Not only does this recipe have all of the elements of great comfort food, but it's also incredibly easy to prepare and jam-packed with important nutrients. What's more, it's extremely versatile. The base of ground bison is flavoured with smoked paprika, organic spinach, garlic, rosemary and fennel. Recipe from Healing Gourmet.
---
GROUND Chicken mince recipes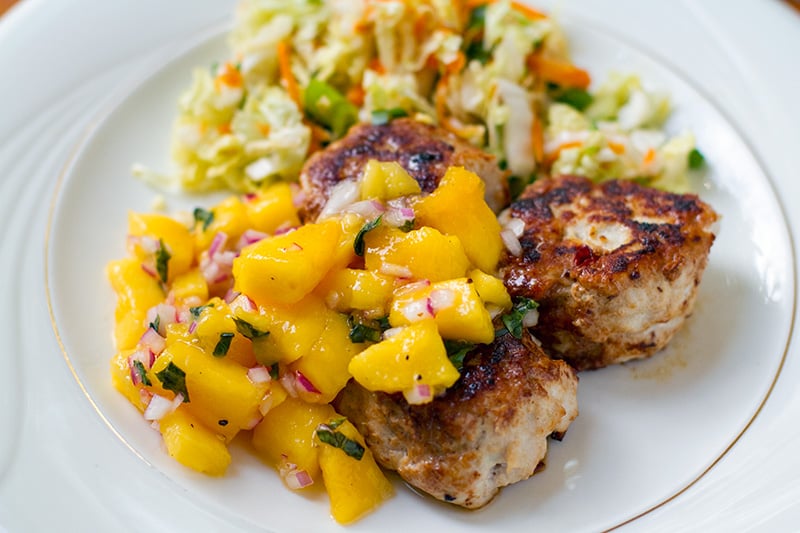 These protein-rich ground chicken rissoles (or patties) are topped with zesty mango salsa and served with an Oriental shredded cabbage for a complete paleo meal.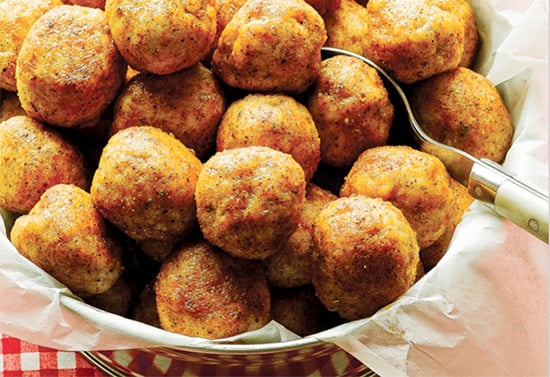 These paleo, fried chicken meatballs are from Melissa Joulwan's latest cookbook Well Fed Weeknights and they are finger-lickin good. I absolutely love this book! I am super happy that I can share this recipe with you guys. Served with garlicky collard greens, these scrumptious balls make a comforting weeknight dinner.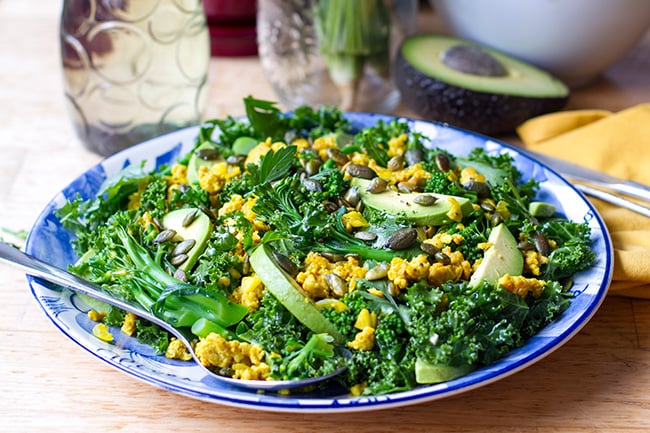 With its bright colours, fresh aromas and zingy flavours, this superfood loaded ground chicken kale salad is a nutritional powerhouse. It's also one of those meals that can be eaten for lunch or dinner and is great to take to a BBQ or serve at a dinner party.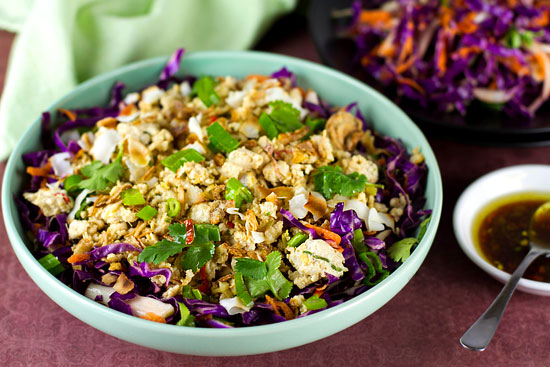 This chicken larb salad is like Pop Rocks Candy with layers of textures and amazing punchy flavours that unravel in your mouth with each bite. Originating in Laos and evolving through neighbouring cuisines, this salad is made with different types of minced meat, fish sauce, lots of fresh lime juice, chilli and raw vegetables. Herbs like coriander, Thai basil, and mint can be tossed through the salad.

This ground chicken casserole is the easiest, tastiest, low carb-iest dinner your whole family will enjoy! A delicious, crowd-pleasing way to feed the crew without dirtying a ton of dishes or spending too much time in the kitchen. It's so good, you won't even notice the low carb vegetables amidst the cream cheese, sauce and protein. Recipe from The Little Pine.
---
GrOUND Turkey recipes

It's a carrot cake but not as you know it! Made with ground turkey meat, this is a savoury and paleo friendly version that will impress your friends and family even more than the regular cake.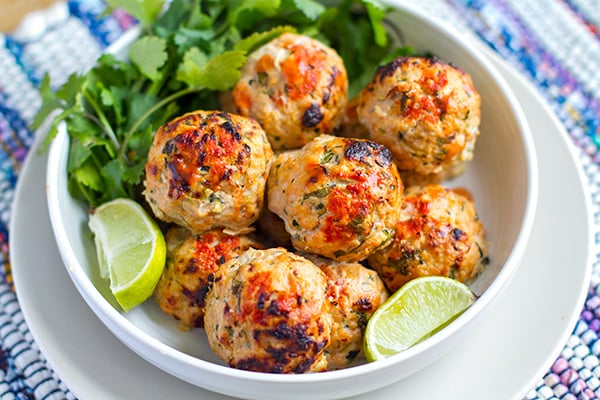 These healthy turkey meatballs hide some grated zucchini and are baked and drizzled with hot sauce for a little spicy kick. Simple to make, they are great as the main protein dish for dinner or lunch, or as a quick snack. Whole30, paleo, keto, gluten-free.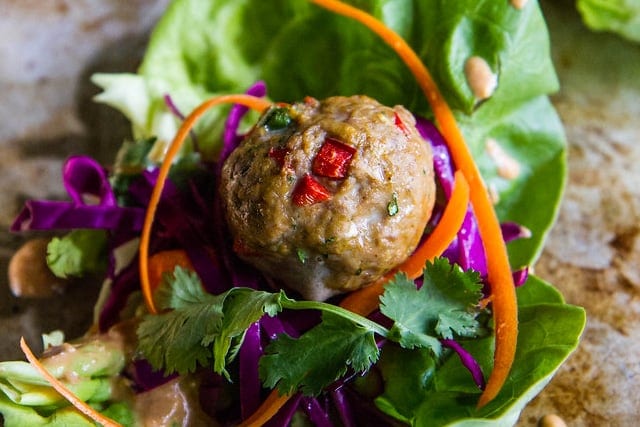 These delicious turkey curry meatballs are delicious on their own or wrapped in a crispy lettuce leaf with zesty Asian slaw and a little spicy sunbutter coconut dipping sauce. Recipe by Heather Cristo.

This turkey rissoles recipe is inspired by Thanksgiving but you don't need to wait till November to enjoy it. I wanted to create a simple dish using up ground turkey meat that can be enjoyed both during the festive season and any time of the year. The turkey mince patties are served with tart and flavoursome cranberry and pine nut pesto – it's that perfect combination of savoury and sweet. These are quick and easy to make so you'll have a healthy dinner on the table in no time.
---
GROUND Fish recipeS

Learn how to cook paleo salmon cakes with this nutritious, Whole30 friendly recipe. With hidden beets inside and a side of crunchy pink coleslaw, avocado and pickled onions, these patties make for a perfect, balanced meal.

These gorgeous paleo salmon fish cakes are perfect for a nutritious and tasty dinner. They are especially great of someone who is normally quite picky with fish, as the flavour is made more subtle with the use of root vegetables in the mix. The radish and celery salsa compliments the flavours of the fish cakes perfectly and provides a good dose of raw vegetables and fibre.
---
GROUND Beef mince recipes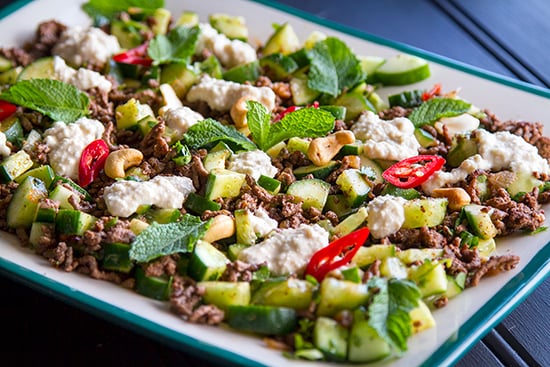 This all-in-one salad meal of spicy ground beef with cucumber is very popular with my readers. It's high in protein and low in carbs, so perfect for both paleo and keto diets.

One of the most popular recipes on the blog, my low-carb, gluten-free lasagna is a perfect meal to serve to friends and family. Make it without dairy for a paleo & Whole30 version.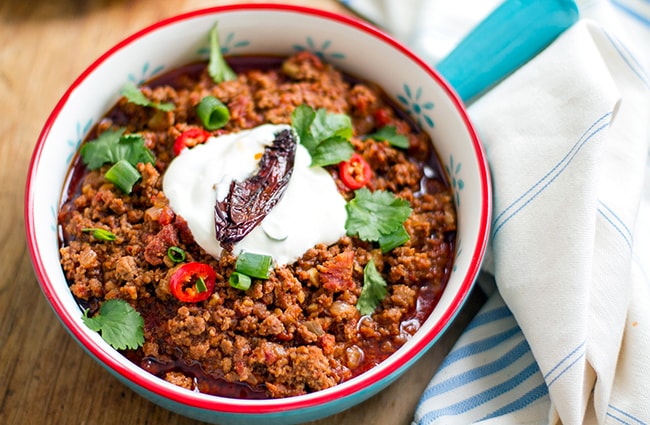 Learn how to make a hearty paleo beef chilli flavoured with chorizo and chipotle peppers. Slow cooker and stovetop methods and step-by-step photos included.

These Paleo Meatza Pies will rekindle your love of pizza! Meatza is a portmanteaus (two words smashed together to make a new one, like bromance and spork). The paleo meatza is like pizza but with a meaty crust. Recipe by Steph Gaudreau.

Loaded with vegetables and made with grass-fed beef, these Instant Pot sloppy joes are a healthier, more nutrient-dense version of your favourite comfort food. These can be made on the stovetop or in a slow cooker.

This delicious recipe is inspired by a naked burrito dish you can get from most Mexican joints. Essentially, it's a deconstructed paleo burrito bowl with grain- and legume-free substitutes like sweet potato instead of rice and beans. Hearty beef chilli is also accompanied by a zesty salsa and velvety avocado.

Shepherd's pie, also known as the Cottage pie, is a dish that pleases all ages and tastebuds. It's also quite inexpensive to make, even for a paleo version with grass-fed meat. My version with porcini and shiitake mushrooms is a little more gourmet but it's still as hearty and rustic as the traditional Shepherd's Pie.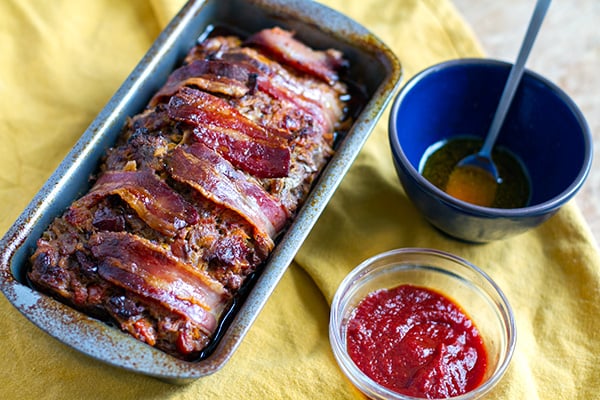 This savoury, hearty paleo meatloaf is made with the addition of balsamic fried onions, fibre rich carrots and a bit of bacon for extra magic. Serve with a side of ketchup or mustard!
Even more GROUND BEEF recipes