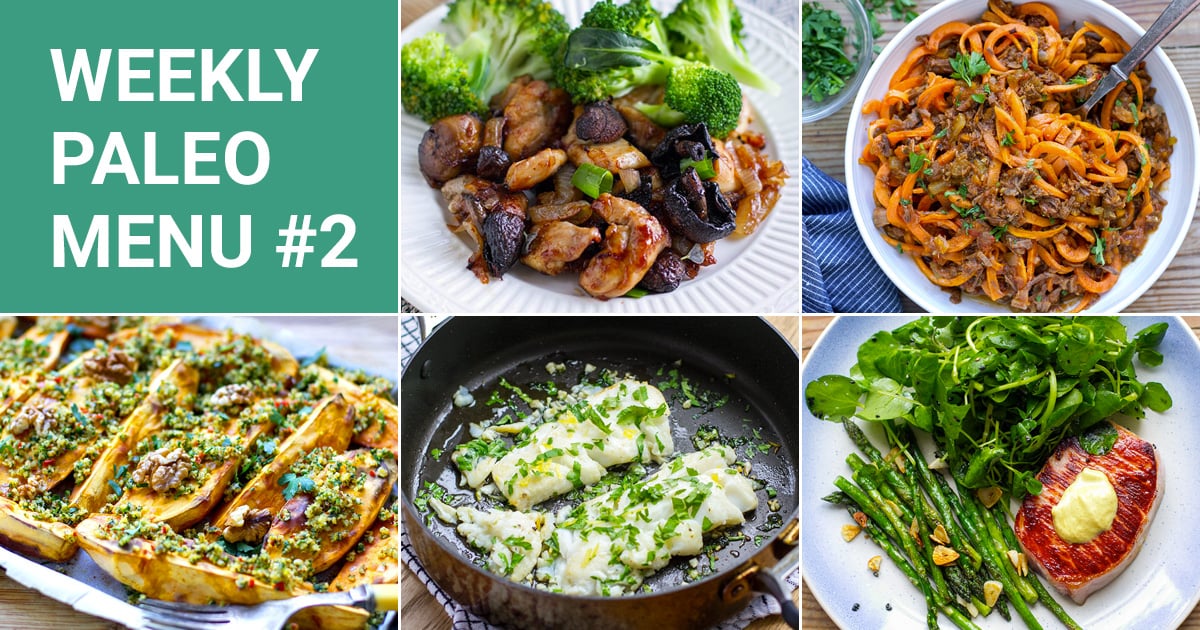 Last week, I started a new series of simple weekly paleo menus featuring some of my favourite dinners, breakfasts, snacks and/or desserts.
These menus are not as comprehensive as those in my free program and they don't come with complete shopping lists and all that jazz, but they will provide you with dishes you can use to build up a nutritious and balanced meal plan with.
In each weekly menu, I suggest 5 dinners, 1-2 breakfasts and a snack, condiment or dessert for the week ahead. I also provide some tips for meal prep, side dishes and substitutions.
---
Download this meal plan as a printable PDF with all of the recipes included.
I hope you enjoy this week's paleo menu plan. Leave your feedback, comments and suggestions below and don't forget to tag #irenamacri on social media, if you cook any of the dishes. Find me on Instagram at @irenamacri.
---

I often do my grocery shopping on the weekend and I always make sure that I buy some kind of fish. As I prefer to eat purchased fish and seafood as fresh as possible, I usually have it for dinner on a Monday. Having said that, you can also use frozen cod or other fish for this recipe. If you don't eat fish, you can use this recipe with sliced chicken breasts (increase the cooking time of the chicken to 5 minutes on each side).
Side dish: Stir-fried or steamed/lightly cooked broccoli and carrots, dressed with olive oil or butter and sea salt.
Meal prep tip: If using frozen fish, defrost it overnight in the fridge.
Main grocery items: fresh or frozen cod fillets or other fish fillets of choice, parsley, garlic, lemon; broccoli and carrots, or other vegetables of choice.
---

I love sheet pan dinners in which you can bake all the main ingredients of the meal in one go. This dish combines protein-rich chicken and nutritious mushrooms smothered in caramelised balsamic glaze.
Side dish: Cauliflower & parsnip mash or sweet potato mash (you could also bake some root vegetables or cauliflower at the same time as the chicken); plus, a quick green salad made with spinach or arugula/rocket and dressed simply with lemon juice and olive oil. I always enjoy something fresh and green on the side.
Meal prep tip: You can pre-cut the chicken thighs the day before and keep in an airtight container in the fridge.
Main grocery items: chicken thighs, mushrooms, cauliflower or/and root vegetable of choice for the mash, green salady bits, Balsamic vinegar.
---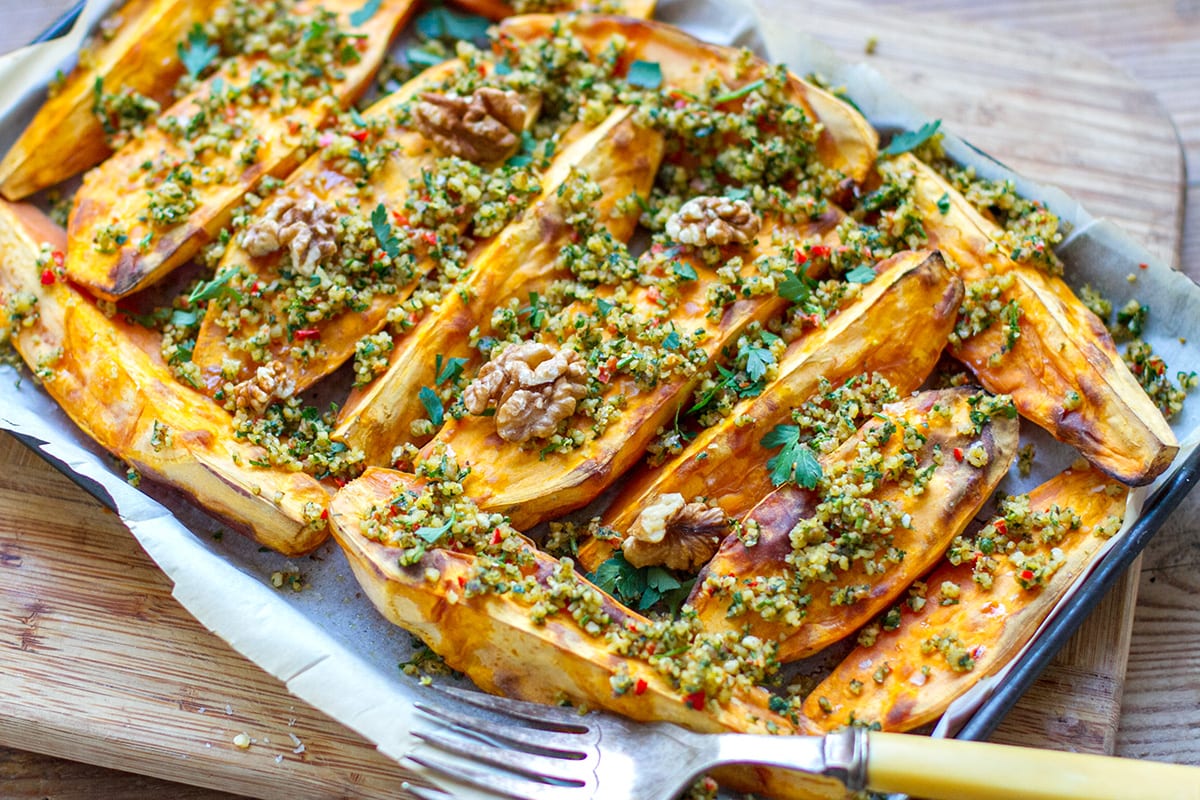 Just as in the first weekly menu, I am including a plant-based dinner. I think our bodies do well with a little break from meat, and protein in general, and it's an opportunity to eat more veggies and be a little more sustainable.
Side dish: As this dish is roasted and a little on the sweet side, I think it would go well with something raw and zesty, such as my 5-minute zucchini salad with lemon and mint.
Too hot to use the oven? Why not make a large mixed rainbow salad with nuts and seeds for dinner. You can even add a few sliced, raw mushrooms.
Main grocery items: sweet potatoes, walnuts, parsley, garlic, chilli, zucchini, lemon and mint (if making the salad as well).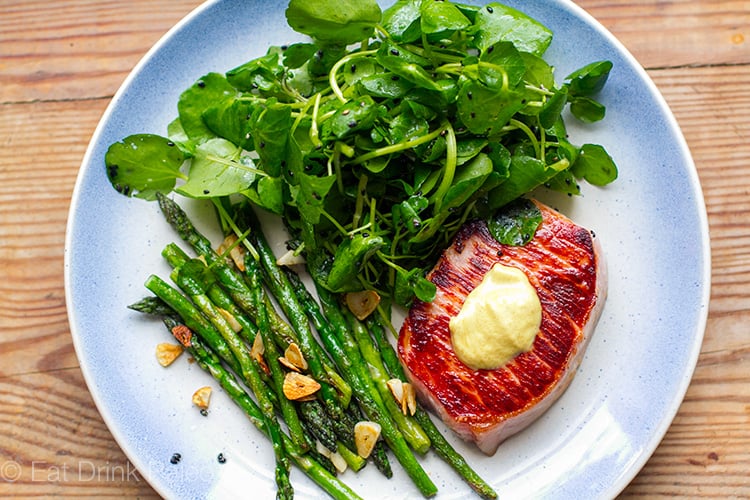 This is a very quick and easy dinner meal that is full of protein-rich pork steaks (or cutlets) and antioxidant-rich green vegetables. Watercress is one of the most nutrient-dense vegetables, but you can certainly use any other leafy salad. You don't really need to do much meal prep ahead of time for this meal.
Main grocery items: pork steaks or cutlets, asparagus (or other green vegetables like zucchini or broccoli), watercress or other green salad, mustard, garlic, lemon.
---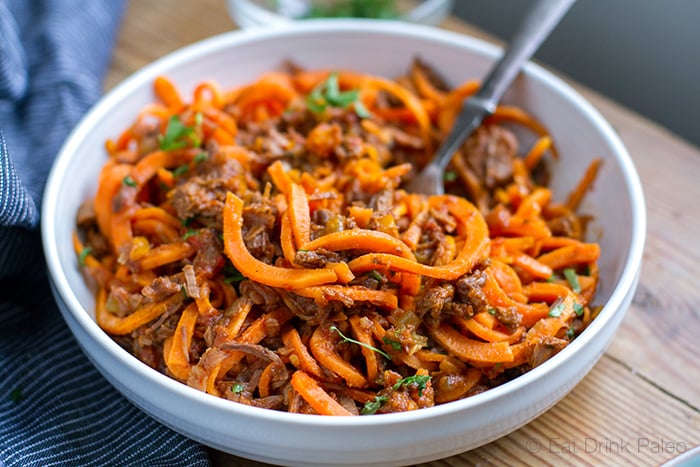 This is a hearty dish that is best prepared on the weekend or when you have a little extra time for cooking. For a more satiating meal, serve the ragu over roasted sweet potato noodles as in the picture above; if you make the ragu ahead of time or have any leftovers (or you want a lower-carb meal), then serve the meat with a variety of vegetables (see picture below).
Side dish: Sweet potato noodles and green leafy salad, if you like.
Meal prep: You can make the beef ragu ahead of time and either refrigerate it for 2-3 days or freeze it. Defrost overnight in the fridge.
Main grocery items: beef stewing steak, onions, carrots, tinned tomatoes, sweet potatoes, spices. Check the recipes for the rest of the ingredients.

---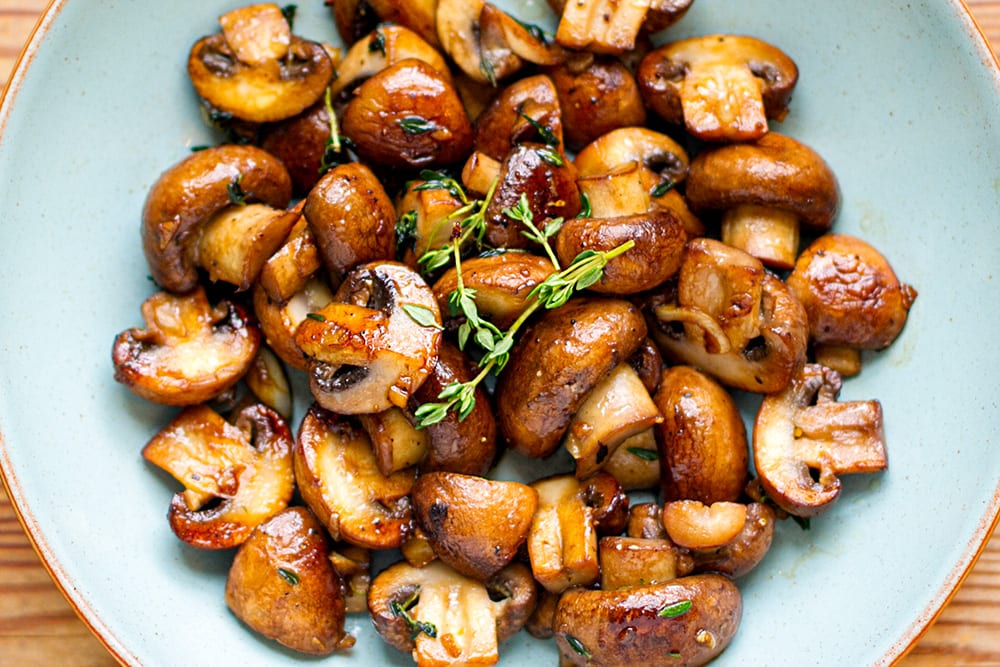 Mushrooms for breakfast are a staple in my kitchen and I know I'm not the only one. Yet, I've often witnessed my friends cook mushrooms incorrectly, or rather not in the best way they should be cooked. In this recipe (and video), I show how to make the perfect mushies. Serve with a couple of eggs, any way you prefer.
Main grocery items: mushrooms (different kinds if you have access to such), garlic, thyme and lemon; eggs.
---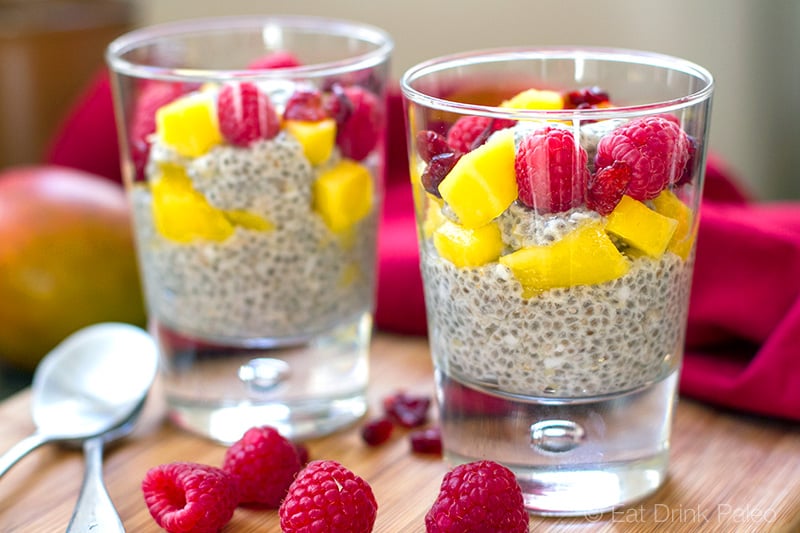 This is a great breakfast during summer or when you need something quick and easy (or a break from egg-based meals). I love the tropical flavours of coconut and mango, but you can also use almond milk and strawberries for something a little different (blend the almond milk and strawberries together and then soak the chia seeds in that mixture).
If it's cold where you are, try making a paleo-friendly porridge from this list of ideas.
Main grocery items: chia seeds, coconut milk (or other dairy-free milk), fresh mango, berries of choice.
---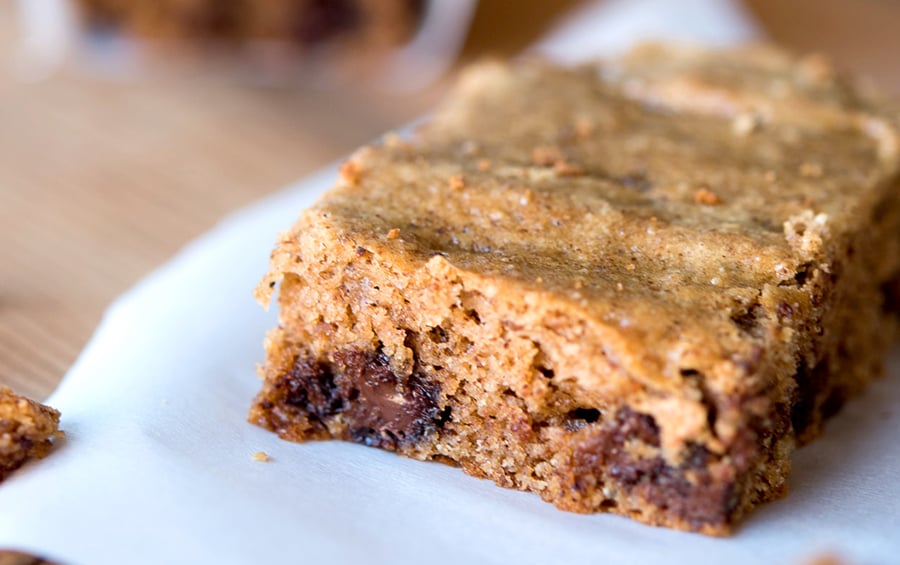 This brownie-like slice could be your weekly treat/dessert or a snack, especially if you're very active and need a few extra calories and carbs.
If sticking to a low-carb paleo diet or trying to stay on track with weight loss, I suggest to only enjoy a slice of this as a treat on one of the days (maybe 2 maximum but spread them through the week and enjoy on the most active days). You can freeze the rest for later or share with family and friends. This is a great recipe for using up ripe bananas!
Main grocery items: bananas, almond butter, tapioca flour, egg, coconut oil and chocolate chips.
Want a more structured, custom-designed paleo program with shopping lists, full recipes and weekly know-how reading material? Check out my free paleo plans here.
Want more pre-planned paleo dinners for the week? You can also find similar menus on my mate Melissa Joulwan's site here.
SAVE THIS PALEO MENU PLAN TO PINTEREST