Coconut oil is often considered a bit of a 'miracle oil' in the nutrition world. As its popularity has grown so have the questions about its various benefits, types, uses, storage and applications. It's a staple in paleo and keto diets but there are many more uses of coconut oil in and out of the kitchen. I have put together this useful reference guide to answer the most common questions about the coconut oil and to give you new ideas on how to use this fantastic ingredient.
---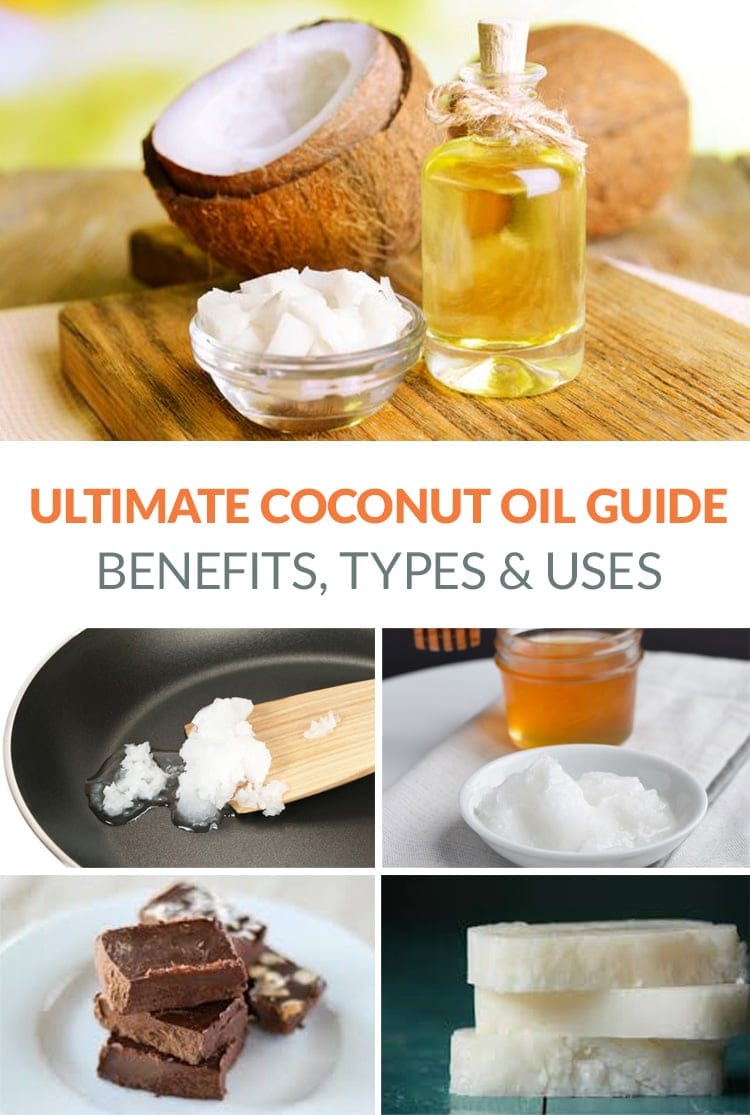 So, what is coconut oil?
Coconut oil is an edible oil, that is extracted from the meat or kernel of coconuts, which is primarily used in cooking. For many parts of the world and including places such as the Philippines, it is the most commonly used cooking oil.&
The oil, comprising of up to 95% saturated fat is said to have many health benefits, including anti-inflammatory properties, antibacterial and may aid in weight loss. Unlike other highly saturated and unsaturated fats, virgin coconut oil is made up of 70-85% medium chain fatty acids (MCFAs) – which are sometimes also referred to as medium chain triglycerides (MCT).
The saturated fat content in coconut oil makes it a good heat-stable oil for cooking and prolongs its shelf life. Coconut oil is a very versatile oil and is also known to be used as engine fuel, an engine lubricant, skin moisturiser, soap, herbicide and as sand fly repellent!
Benefits of coconut oil
Coconut for weight loss
Coconut oil is high in MCFA's (MCT) which are easily oxidized lipids and are not stored in adipose tissue (fat tissue), unlike long chain fatty acids. MCFA's are able to be utilised for energy and increase thermogenesis. Studies have shown that when a diet rich in MCFA's is consumed, more fat loss occurs than with a diet rich in olive oil which is high in long-chain fatty acids (LCFA).
A diet containing MCFA's has also been shown to be more satiating than a diet containing LCFA's. Meaning you feel fuller for longer and are less likely to binge on either sugary snacks or eat between meals.
Coconut oil and cholesterol
Although for many years saturated fat has been associated with raised LDL cholesterol and an increased risk of coronary heart disease (CHD). We know now that this is not the case, with a recent meta-analysis of 21 studies highlighted that "there is no significance for concluding that dietary saturated fat is associated with an increase of CHD or CVD" Siri-Tarino et al, 2010.
Coconut oil contains approximately 50% lauric acid and a diet rich in this has been shown to produce more favourable cholesterol levels than a diet rich in trans-fats.
Another study showed that coconut oil consumption was associated with higher levels of HDL (good) cholesterol, especially amongst pre-menopausal women.
Anti-ageing and skin health benefits of coconut oil
Virgin coconut oil has antibacterial, antifungal and antiviral properties and has been shown to be beneficial for people suffering from acne (applied topically and taken internally).
It helps wounds heal and gives collagen a boost as well, which provides support for the underlying structure of your skin
Coconut oil can be used as a natural oil cleanser. It can be used to gently remove makeup, including waterproof mascara and leaves skin feeling fresh, hydrated and clean.
Coconut oil can also be used to hydrate the skin and increase skin surface lipid levels, which helps to plump up the skin and reduce signs of ageing. It should be noted that all skin is different and sensitive skin may react with coconut oil, so only use it if it works for you.
Coconut oil and Alzheimer's prevention
Coconut oil for the prevention of Alzheimer's came to media attention with the story of Dr Mark Newport in 2008 and testimonies of the benefits of coconut oil for Alzheimer's can be found everywhere.
Alzheimer's is now often referred to as type 3 diabetes as it "corresponds to a chronic insulin resistance plus insulin deficiency state that is largely confined to the brain" de la Monte et.al (2008). It is hypothesized that the rise of Alzheimer's is linked with rising obesity, type 2 diabetes and statin use.
According to Dr Newman "In Alzheimer's disease, the neurons in certain areas of the brain are unable to take in glucose due to insulin resistance and slowly die off…if they have access to ketone bodies (from coconut oil), they could potentially stay alive and function". (2008)
Coconut oil as an antioxidant
Coconut oil is a known antioxidant, which may be in part due to the phenolic compounds found in the oil. It has been found that these compounds in higher levels in virgin coconut oil when compared with refined, deodorised and bleached coconut oil (RDB coconut oil). For this reason, it would be better to try to always buy virgin coconut oil.
Be aware
Many of the studies which highlight the potential benefits of coconut oil on lipid profiles have been conducted on population groups where the oil has been traditionally a staple. These studies do not, therefore, reflect how other population groups might respond to a sudden increase in the consumption of coconut oil.
It is not always a case of 'a little bit is good, so a lot must be great'. Coconut oil consumption should always be a part of a varied diet and should not be eaten in extreme amounts.
Some people may react to the use of coconut oil on the skin and it is not suitable for everyone. Monitor if you are using it as a skin cleanser or moisturiser and discontinue use if irritation or continual breakouts occur.
---
Types of coconut oil
Refined coconut oil
Made from dried coconut, also known as copra; the standard end product made from the dried kernel (meat) is RBD oil, which stands for refined, bleached and deodorised. The reason the oil has to undergo this process is that the dried copra is not fit for consumption and the oil needs to undergo processes to filter our impurities and to make it more stable; it's a pretty common way to mass-produce coconut oil.
Because it's refined, it's fairly tasteless and doesn't smell like coconut; it can withstand higher cooking temperatures before it reaches its smoke point; great for deep-frying foods without the flavour of coconut.
It's not as great as the virgin, completely raw coconut oil but still has the same beneficial medium chain fatty acids; from what I read, it's very close in its nutritional value to virgin coconut oil so it's more about the extraction method and what chemicals have been applied.
Most of the coconut oils available in grocery stores and vitamin stores are refined unless they specifically state otherwise; not all refined oils are created equal so try to get good quality, non-hydrogenated (yep, even coconut oil can be hydrogenated or partially hydrogenated but mainly in tropical, Asian countries), and refined using natural, chemical-free process like steam or diatomaceous earth.
Refined oil is great if you're on the budget as it's usually cheaper. It's also good for things which require lots of oil like deep-frying, using it as a bath oil or in soaps, or using it as a body moisturiser.
I love Biona Coconut Oil Cuisine and use it in cooking all the time.
Unrefined coconut oil
Usually labelled as 'virgin' or 'extra-virgin', this coconut oil is made from the first pressing of fresh, raw coconut using mechanical means without the addition of any chemicals; depending on the extraction method, the flavour can be mild to very intense (more heat exposure during extraction, more coconut flavour in the oil).
Good raw, unrefined, virgin coconut oil should have a very mild coconut flavour and scent.
The difference between 'virgin' and 'extra virgin' is, well, pretty much none existent as far as I've researched, it's more of a marketing trick to get you to pay more.
Virgin, unrefined oil is more superior to refined coconut oil.
In Australia, I love coconut oil from Niulife. Outside of Australia, I tend to buy Merchant Organic's Coconut Oil.
Extraction methods
Cold-pressed, expeller-pressed or centrifuged are methods of extracting oil from dry or fresh coconut and can be used for both refined and unrefined varieties. All methods can create a good, healthy oil.
Expeller-pressed and cold-pressed don't always mean 'raw' as sometimes these oils are heated to rather high temperatures during the extraction process, which is not a problem as coconut oil is a highly stable fat and will not go rancid. It does, however, mean that the flavour will be more coconutty. If you want more mild and delicate coconut oil, look out for a centrifuged oil which is less likely to be exposed to heat during extraction.
---
Buying coconut oil
There are many brands and types of coconut oil and they vary in price depending on the source, production method, packaging and the marketing team. Super expensive doesn't always mean the best, although it does often indicate the quality of ingredients and the purity.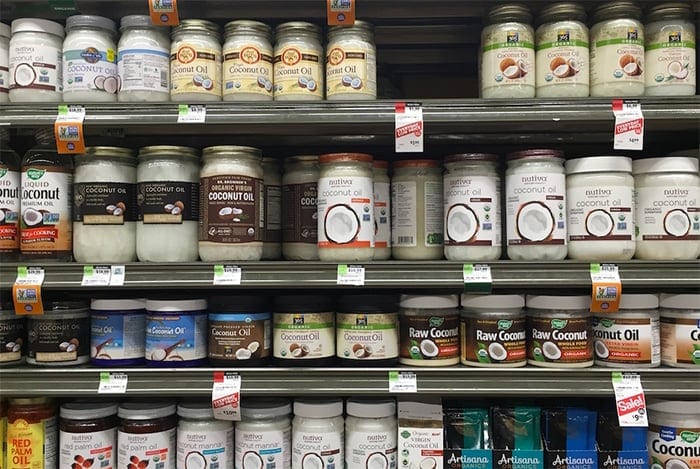 I always recommend to try a few brands and to find out as much as you can about the manufacturing process. There are many great brands out there and regardless of where you are, here are a few things to look out for:
1) Colour – white colour when it's solid and colourless when liquid, any discolouration might mean contamination and inferior quality.
2) Aroma and flavour – virgin, unrefined coconut oil should smell and taste like coconut but should not be overpowering and strong, if it smells roasted or smokey it means it's been exposed to a lot of heat and it might not retain as many nutrients; and if it's odourless and neutral tasting then it's most likely refined and treated.
3) Price – the coconut oil in most stores can get quite pricey and doesn't always mean superior product. It's always a good idea to buy in bulk as the oil is stable and will last for at least 12 months. You can try a few different brands and make sure you like the smell and taste before you commit to buying a big batch. You can also share the shipping costs with friends and family and save even more money.
I love Biona Coconut Oil Cuisine (refined, mild and odourless) and use it in cooking all the time. For raw/unrefined/viring coconut oil, I love coconut oil from Niulife (Australia). Outside of Australia, I tend to buy Merchant Organic's Coconut Oil.
Storing coconut oil
Coconut oil can be stored out of the fridge, away from direct sunlight, for up to two years. It will stay liquid in temperatures above 25C (75F) and will turn into butter and solid texture in lower temperatures or if refrigerated. If the oil is solid and you need to use it in a liquid form, apply low-level heat and it will transform very quickly.
How to use coconut oil?
If you have never used coconut oil before, start off slowly and just assess how your body reacts to it. Introducing it in the diet too quickly can result in gastrointestinal upset and diarrhoea. Most adults can usually tolerate somewhere between 2-4 tablespoons per day, but again, see how much suits you as an individual.
There are hundreds of ways you can use coconut oil – in cooking, as part of your skincare routine, as part of flu and cold treatment, or to rub on cuts and bruises. I've put together a few examples of how you can use it.
Coconut oil as a food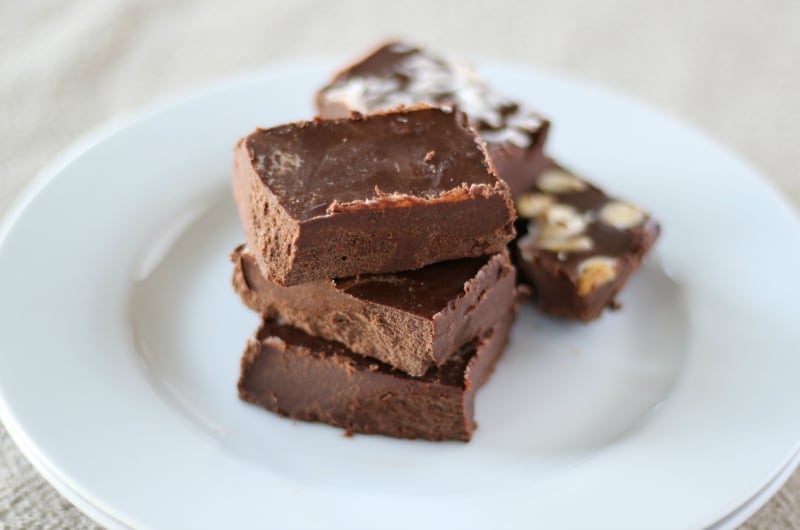 I use coconut oil in cooking as it's very heat-stable. I fry and deep-fry in it, rub it on my roast meats, stir-fries and sauces. It's really good for Asian cooking as its flavour is very complimentary.
It is a solid most of the time at room temperature or when refrigerated and is, therefore, a great substitute for butter or margarine and can be used for dips, spreads, in baking and desserts. Use a 1-to-1 ratio when substituting other oils or butter for coconut oil. I use it in my grain-free granola recipe, cherry ripe chocolate truffles, or when pan frying my meatballs.
It can even be used to make mayonnaise, I would use a good quality refined coconut oil for that.
Add a couple of teaspoons to smoothies, juices, tea or coffee.
Refrigerate it and eat as is by scrapping some with a teaspoon. The taste is slightly sweet and subtle, it really is quite nice and doesn't have that oily texture you might expect, more like white chocolate.
Mix some coconut oil with cacao & honey for a quick energy boost before a workout.
Coconut oil is great for making keto and paleo-friendly fudge and fat bombs.
Coconut oil FOR skin & hair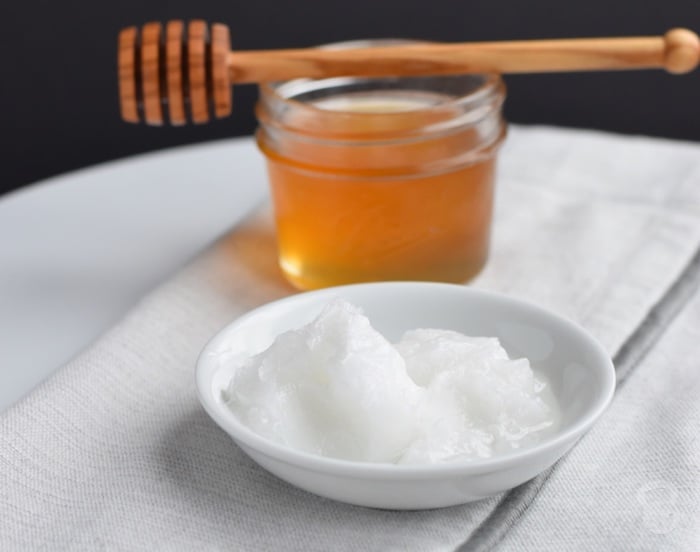 Use it as a face or body moisturiser. Many women use it to improve and to prevent the appearance of stretch marks.
Use it as a massage oil or bath oil, we add 4-5 tablespoons to a hot tub and your skin is wonderfully soft and moist after.
Use coconut oil to make natural homemade soap, deodorant, toothpaste, and even a bug repellent.
Use it to make this DIY honey and coconut face mask or this nourishing hair mask.
Rub it into dry hair and wrap with a towel for a couple of hours before washing with shampoo.
Use a little on your hair to remove the fizz.
Helps to heal skin after a sunburn. Make sure to apply coconut oil after the initial heat burning sensation is gone.
Believe it or not but rubbing some coconut oil on the skin will also protect it from the sun, it has SPF4.
Can be used as a naturally antibacterial skin cream, an aftershave lotion, and to improve the appearance of cellulite.
Mix with salt or sugar for a great skin exfoliator or to rub the dead skin off your feet.
Use as a safe baby lotion.
Use on your hands after doing the dishes to avoid dry skin.
Use on cuticles to help nails grow and rub into elbows to help with dry elbows.
Other Uses OF COCONUT OIL
It can be used as a natural treatment to get rid of head lice. Full instructions here.
Rub a little on wounds and cuts to promote healing and avoid infection.
Given its antifungal properties, the oil can be used on feet to fight athlete's foot or tor fungus.
Use to season cast iron skillets and frying pans.
Applied externally, it can help pets struggling with skin issues.
You can make a homemade vapour rub by mixing half a cup of coconut oil with a few drops of eucalyptus and rosemary oils to rub on the chest and throat.
Coconut oil can even be used as a sexual lubricant, although it can damage latex condoms.
Some have used topically to kill yeast or yeast infections.
Rub on cold sores to speed healing and prevent bacteria from growing.
Using coconut oil in your cooking and in the home is so easy!! It is more or a case of what can't you use it for! Coconut oil is so versatile and had hundreds of uses.
---
References
ALSUntangled, Group. "ALSUntangled 15: Coconut Oil." Amyotrophic lateral sclerosis: official publication of the World Federation of Neurology Research Group on Motor Neuron Diseases 13.3 (2012): 328.
De Roos, Nicole M., Evert G. Schouten, and Martijn B. Katan. "Consumption of a solid fat rich in lauric acid results in a more favorable serum lipid profile in healthy men and women than consumption of a solid fat rich in trans-fatty acids." The Journal of Nutrition 131.2 (2001): 242-245.
Feranil, Alan B., et al. "Coconut oil predicts a beneficial lipid profile in pre-menopausal women in the Philippines." Asia Pacific journal of clinical nutrition20.2 (2011): 190.
Liau, Kai Ming, et al. "An open-label pilot study to assess the efficacy and safety of virgin coconut oil in reducing visceral adiposity." ISRN pharmacology2011 (2011).
Marina, A. M., et al. "Antioxidant capacity and phenolic acids of virgin coconut oil." International Journal of Food Sciences and Nutrition 60.S2 (2008): 114-123.
Newport, Mary T. What If There Was a Cure for Alzheimer's Disease… and No One Knew? http://www.coconutketones.com/whatifcure.pdf, July 2008.
Prior, Ian A., et al. "Cholesterol, coconuts, and diet on Polynesian atolls: a natural experiment: the Pukapuka and Tokelau island studies." The American journal of clinical nutrition 34.8 (1981): 1552-1561.
Siri-Tarino, Patty W., et al. "Meta-analysis of prospective cohort studies evaluating the association of saturated fat with cardiovascular disease." The American journal of clinical nutrition 91.3 (2010): 535-546.
St-Onge, Marie-Pierre, and Aubrey Bosarge. "Weight-loss diet that includes consumption of medium-chain triacylglycerol oil leads to a greater rate of weight and fat mass loss than does olive oil." The American journal of clinical nutrition87.3 (2008): 621-626.
Suzanne, M., and Jack R. Wands. "Alzheimer's disease is type 3 diabetes—evidence reviewed." Journal of diabetes science and technology 2.6 (2008): 1101-1113.
Takeuchi, Hiroyuki, et al. "The application of medium-chain fatty acids: edible oil with a suppressing effect on body fat accumulation." Asia Pacific journal of clinical nutrition 17 (2008).