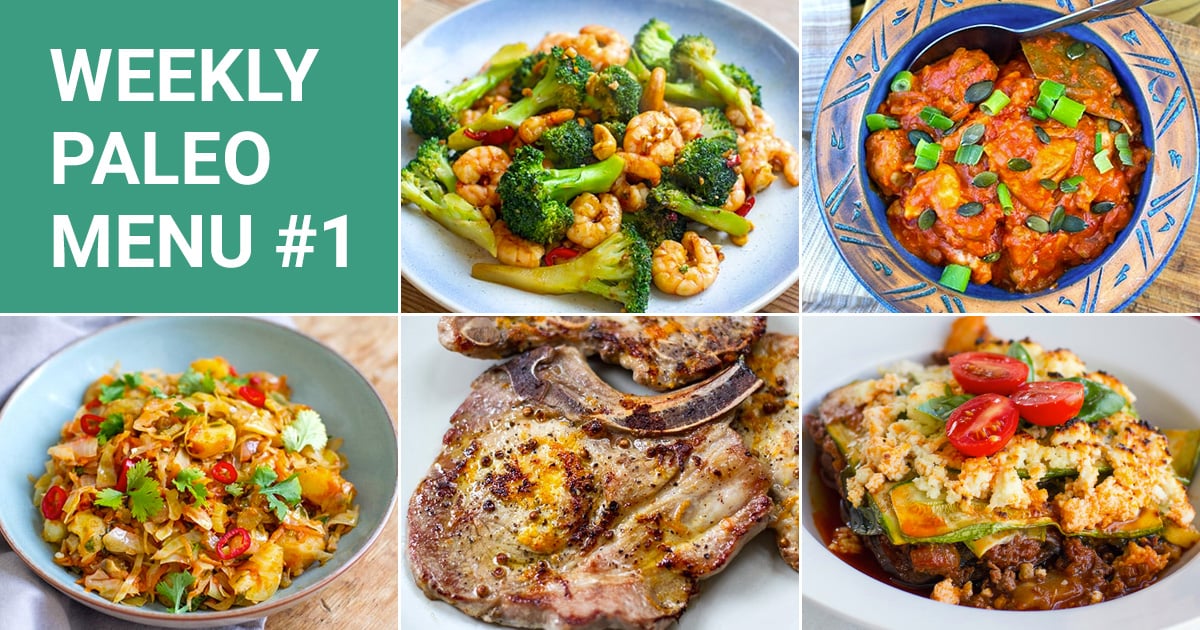 Deciding on a week's meal plan doesn't come easy to everyone, either due to time restrictions or not having the energy to look up new and exciting dishes to try. As a result, most people either don't plan their meals ahead of time (which can get you off track very quickly) or stick to the same dishes over and over again.
That's why I want to help you guys with weekly meal planning by providing ideas and tips using both my existing and new recipes and giving you a chance to discover some dishes from the blog that you might have missed.
While I already have fully custom-designed, free meal plans available, I want to start a new series of simple weekly paleo menus featuring some of my favourite dinners, breakfasts, snacks and desserts.
I was inspired by my fellow bloggers Melissa Joulwan, who does a weekly roundup of 5 paleo dinners you might like to cook, and Allison at Prep Dish, who shares weekly meal plans with her subscribers.
These menus are not as comprehensive as those in my paid programs and they don't come with shopping lists and all that jazz, but they will provide you with dishes you can use to build up a nutritious and balanced meal plan with. I will be suggesting 5 dinners, 1-2 breakfasts and a snack/condiment/dessert for the week ahead. How does that sound? Let's try it out with this Weekly Paleo Menu #1.
---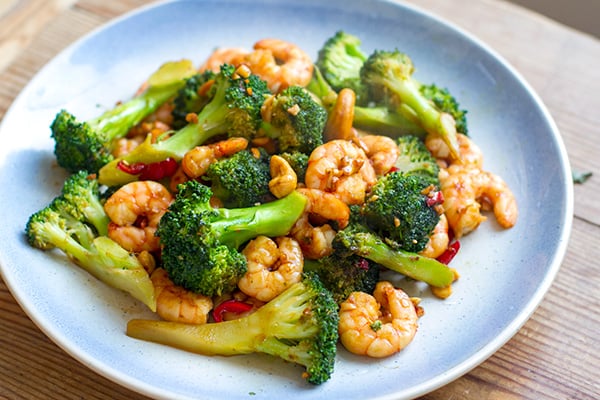 This meal is perfect for a busy weeknight and I often have it on a Monday night for two reasons. If you do your groceries on the weekend, you want to use up fresh fish or seafood as soon as possible (unless you freeze it), and since the weekend is when most of us often overindulge, this meal is really good for resetting and getting back on track. It's low-carb, light and full of nutrients.
Not a fan of seafood? Try my equally quick and easy chicken & cabbage stir-fry, or simply replace the prawns with chicken.
Meal prep tip:  I often make a batch of my go-to stir-fry sauce, which you can use in this stir-fry whenever you need it. You can pre-cut the broccoli and de-shell the shrimp ahead of time if using raw, fresh seafood.
---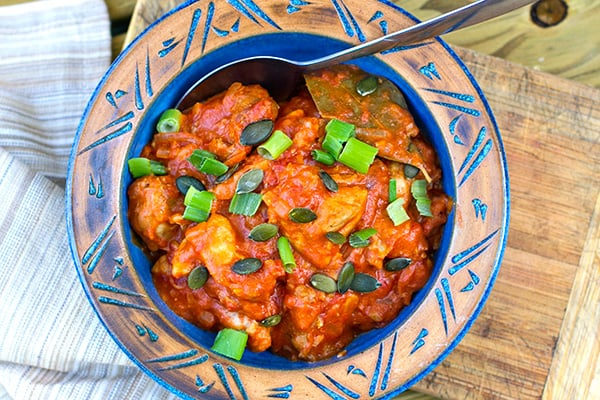 Speaking of Mel Joulwan earlier, this is a delicious recipe from her cookbook Well Fed 2. It's creamy and rich, without any dairy or thickeners, and uses a little secret ingredient that makes it so irresistible. Cooking time is about 1 hour.
Side dish: zucchini noodles (get extra for the lasagna later on) or cauliflower rice.
Meal prep tip: The stew can be made ahead of time and kept in the fridge for about 2 days or in the freezer for much longer. Reheat when needed.
---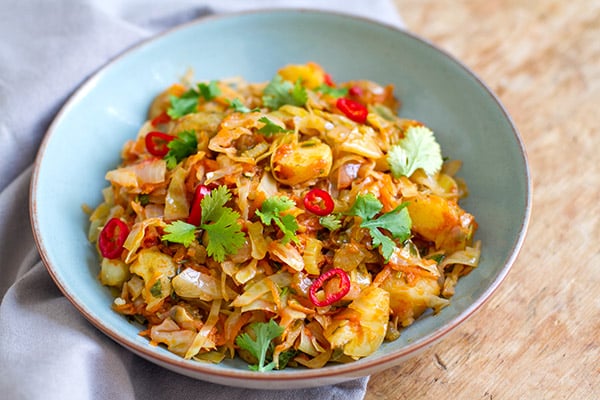 I like to include a few plant-based dishes in my weekly meal plan, and this recipe is perfect as it's both filling and tasty. Cabbage and potatoes are full of nutrients, too! Chilli can be omitted, and potatoes replaced with sweet potatoes.
Side dish: baby spinach salad with your favourite paleo salad dressing. Spinach is also used in the lasagna, so you can get a bit extra when shopping.
Meal prep tip: This dish can be made ahead of time and it keeps well in the fridge for up to 3 days.
---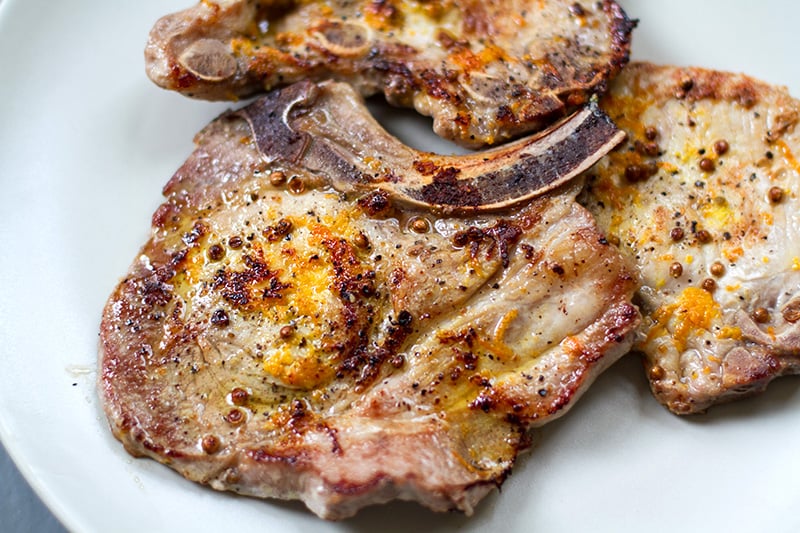 This recipe can be done with either pork cutlets, steaks or diced pork. Chicken or turkey meat would also work well with the seasonings. These are very quick to prepare so all you need is a side dish and the dinner is ready.
Side dish: I think these would go really well with a cabbage slaw salad. I have quite a few slaw salads on the blog, but you can try this one. Red pickled onions (featured below) are also delicious as a condiment.
Meal prep tip: You can marinade the pork ahead of time, and even freeze the cutlets until the night before.
---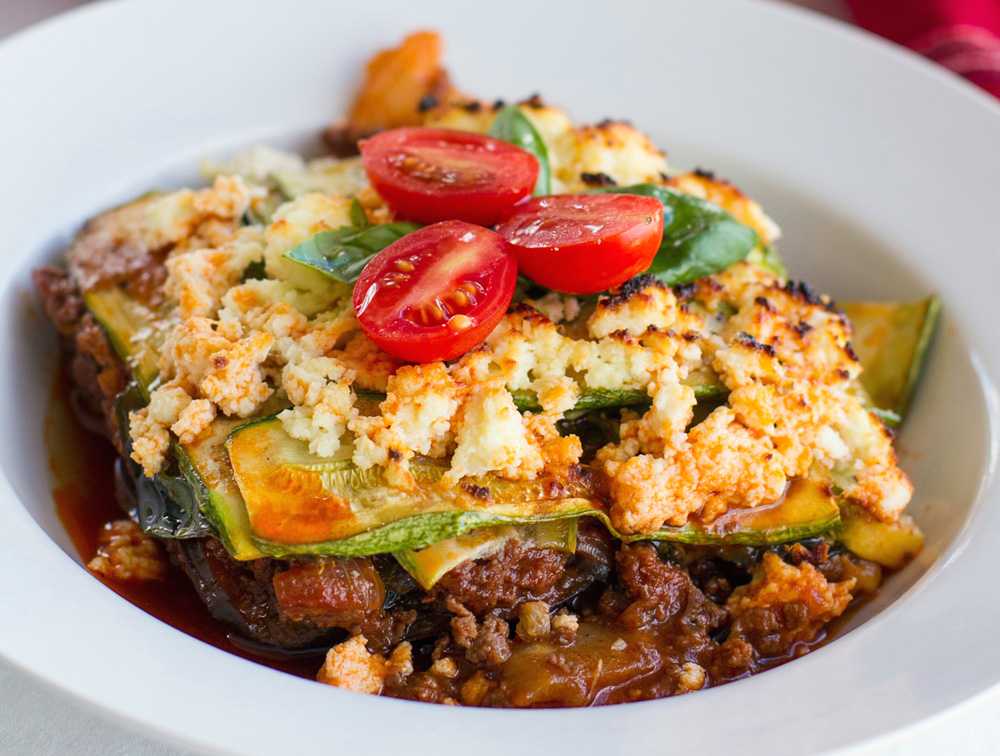 This one-pot meal is AMAZING but does reserve it for the weekend or the night you have a bit of spare time as it does take a little effort and time. It's not hard by any means but involves a bit of prep. You can make it with or without dairy (in this case, I used some ricotta and Parmesan on top). Make a big batch and enjoy the leftovers as they are super yummy!
Side dish: not really needed but you can always serve a green leafy salad!
Meal prep tip: To speed up the prep time, make the beef sauce ahead of time and either freeze it (defrost the night before in the fridge) or keep in the fridge for a couple of days max.
---
Breakfast 1: Scrambled eggs with pickled onions & salad

Scrambled eggs are quick to make and you can make the meal more interesting and nutritious by adding a simple green salad and berries. I love to top the eggs with pickled red onions (featured below).
---
Breakfast 2: Breakfast Casserole (of your choice)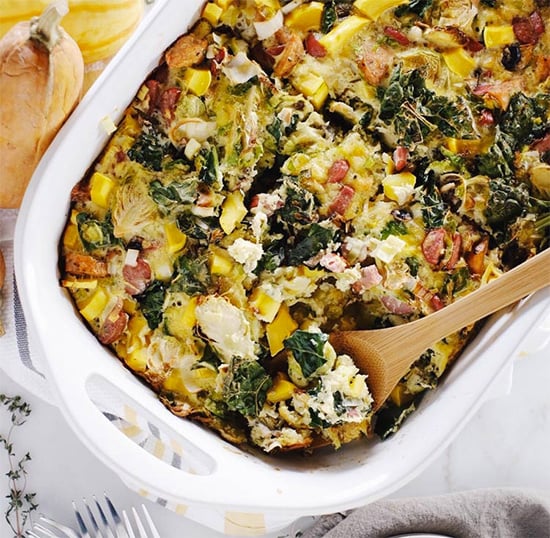 I have a great collection of breakfast casseroles to choose from here. You can make a big batch of your favourite egg-based casserole on a Sunday and enjoy it for a quick and easy breakfast during the week. The above autumn breakfast casserole from Real Simple Good is made with squash, sausage and kale or spinach.
---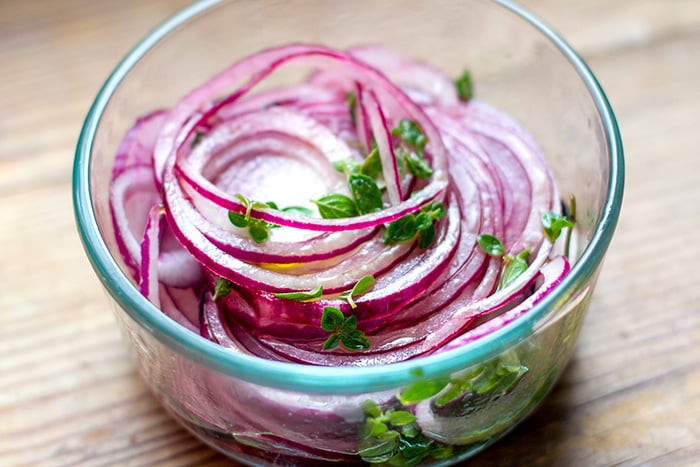 These marinated red onions are one of my favourite condiments and can be used in many (some surprising) ways in the kitchen. Make a batch over the weekend and enjoy it throughout the week in salads, on top of eggs or as a condiment with meat or fish.
---
Want a more structured, custom-designed paleo program with shopping lists, full recipes and weekly know-how reading material? Check out my paleo plans here.