Free Paleo Diet Plan (Reset & Reintroductions)
Want to lose weight, gain energy and beat the sugar monster? Try my free paleo diet meal plan program including a 4-week reset and 4 weeks of reintroductions. Get healthier and learn about your body's food sensitivities with this free paleo reset.
Why Try The Paleo Diet?
There are many reasons to try the paleo diet, yet most people think it's too hard to follow or they feel overwhelmed by all the conflicting information out there.
That's why I created a custom-designed paleo restart plan to help you gain all the health and wellbeing benefits while eating delicious food and learning about real food, minus the stress!
I've worked with leading experts in wellness and nutrition to create balanced paleo meal plans and guides to help you get healthy and fit in a way that works for YOU.
Irena Macri xo
---
As Seen On
---
Some Of The Paleo Benefits Include
Weight loss & healthy weight maintenance
Increased energy and motivation
Reduced sugar and junk food cravings
Improved digestion
Stronger immune system
Reduced pain and inflammation
Better relationship with food
Better sleep, clearer skin, improved mood
---
4-Week Paleo Reset + 4-Weeks Of Reintroductions
Whether you're a total paleo newbie or you're trying to build your own, personalised paleo protocol, my program helps to reset and fuel your body with delicious meals and real food.
The program is divided into two phases: 4-Week Reset and 4-Week Reintroductions. Both come with balanced, nutritionist-approved weekly menus, recipes, shopping lists and recommended reading to help you get the most from this way of eating.
You can choose to do the full program in one go or take it week by week.
4-Week Reset is 100% paleo (no grains, legumes, sugar, or dairy)
Weekly meal plans, shopping lists, recipes, and meal prep.
Tone up with simple weekly fitness challenges.
Learn about paleo nutrition and wellness with weekly reading guides and bonus resources.
4-Week Reintroductions will help you customise the paleo diet to suit your needs.
Reintroductions: alcohol, dairy, pseudograins, properly prepared legumes and rice. Weekly meal plans and recipes are provided.
Download all meal plans and reading material to view on your device or to print out.
Bonus Resources & Guides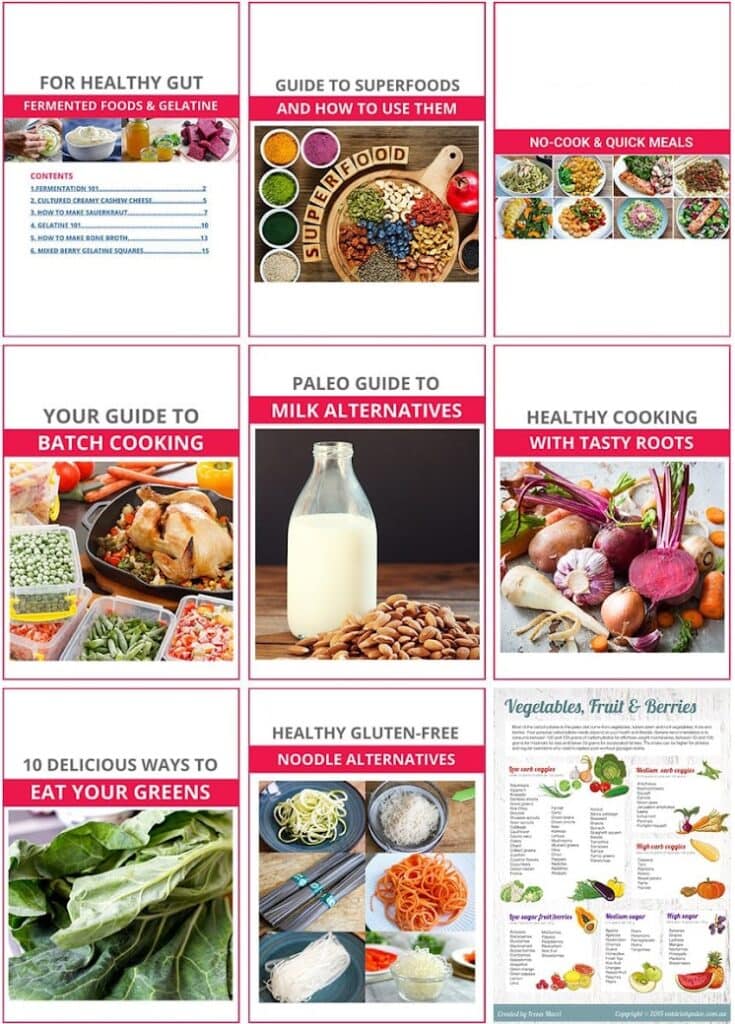 For Healthy Gut: Fermented Foods & Gelatine
Guide to Superfoods & How To Use Them
No-Cook & Quick Meals Recipes
Your Guide To Batch Cooking
Paleo Guide To Milk Alternatives
Healthy Cooking With Tasty Roots
10 Delicious Ways To Eat your Greens
Gluten-free Noodle Alternatives
Fruit & Vegetable Carbohydrate Cheat Sheet
---
Paleo Testimonials & Success Stories
"I have lost 7kg having been unable to do so for a few years despite trying other programs. I feel healthier and happier than I have for a long time – thank you."
Brownyn, Australia
"I have noticed physical changes such as weight loss and clearer skin but also mental changes. I have so much more energy and my sleep has improved so much. I feel happier and I look forward to the day. The meal plans and recipes are easy to follow and simple to prepare."
Jayde H, USA
---
"It is gold!! Pure gold! The "guarantees" it says it will do are 100% true, if you stick to what it says and suggests.
Loved the community! Everyone was honest and encouraging! The layed out weeks with meal plans, shopping lists, articles. Okay seriously I loved it all! Digestion is greatly improved. I was 134 pounds before program and I am down to 124."
Hannah J, USA
"The reset plan has improved my health in more ways than I expected. My goal was to eliminate joint pain. I got a lot more; better sleep, more energy, greater confidence – overall a HAPPIER body.
For anyone looking to improve their overall health in a way that is affordable and that fits easily in with everyday life, give the full reset and reintroductions a go.
Susan M, Australia
"Found the meal plans and recipes to be delicious and nutritious. I enjoyed reading all the articles about health and well being that supplemented the weekly food and exercise plans. Found that I learnt a lot along the way and was encouraged to try foods and activities that I had never experienced before. Feeling great and plan to keep to this style of eating, exercise and adequate sleep."
Maryann, Australia
"I have lost around 4kg, which is really the icing on the cake. My main reason for doing the full 8 weeks was to get inspiration and take the guess work out of providing healthy meals for my family, and I have achieved that. Our lunches are much better – not just an after-thought. I don't even need to put a huge amount of effort into them – because I now have the knowledge and inspiration to put something wholesome, but easy, together."
Kathryn, Australia
---
Learn From The Experts
I've engaged the world's leading experts to bring you the best learning material.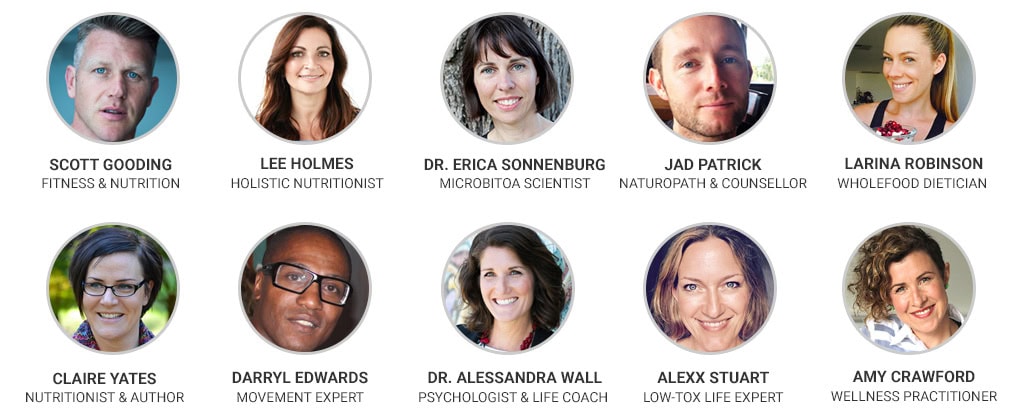 ---
How To Access & Use The Plan
Register your email address below to access the free plans.
Check your inbox and confirm your email address!
Receive the Welcome email with the links to the plan.
All material is FREE and you can download the PDFs to your device, read on a laptop or print them out. You don't have to pay for anything!
Your email will be used to deliver regular check-ins during the program. You can contact team@cookedandloved to pause the email check-ins.
You will also receive Irena's editorial newsletter with the latest healthy recipes and articles. You can unbsubscribe at any time.
Save the PDF files to your device, read them on a laptop or print out.
Start the plan when you're ready. All plans begin on a Monday, so give yourself a few days prior to prepare (read Your Starter Pack)
Join my private Facebook group for support and guidance.
---
---
Frequently Asked Questions About Paleo Meal Plan
It's free? What's the catch?
Yes! The whole program is completely free. It used to be paid but after a few years of running it, I decided that EVERYONE should be able to access it. So many people have benefited from the plan already and I am thankful for their support in purchasing it in the past.
However, I always felt it's a shame that I can't help more people. For some, it is cost-prohibitive to buy online programs. Others feel like they can get a lot of similar content for free.
While I realise that the quality and volume of the content deserve to be paid for, I know that I will find more fulfilment and reward if more people are able to use it.
My readers and followers can always support me in other ways. I've published printed cookbooks and recipe eBooks and I run ads on my website. Keep coming to the blog and I'll be grateful!
I do ask for your email address but it's used to send you program emails and my editorial newsletter. I don't share it with any third parties or make any money of it. That's a pinky promise!
What is your nutritional philosophy?
The nutritional guidelines underpinning my plans are inspired by real food, paleo, and primal philosophies. I believe in clean, natural, nutrient-rich, anti-inflammatory and non-processed foods. During the "Reintroductions" plan, I bring in foods like dairy, white rice, pseudograins, and legumes. The meal plans are 100% gluten-free and low in sugar. All meal plans have been reviewed and approved by a qualified nutrition expert.
How will I access the content?
You will receive a Welcome email and links to download all your meal plans and bonus reading materials. You can view all PDF files on your laptop, phone, tablet or print them out for your convenience. All meal plans and recipes come with images and clear instructions.
How many people is the meal plan for?
The plans and the shopping lists are devised for two people and take into consideration leftover meals that can be used for lunch. Simply increase or decrease the amount of food as needed.
Are these paleo plans suitable for families and kids?
My meal plans provide a shopping list suitable for two people. While I recommend serving your children real food, I also suggest checking in with a paediatrician when eliminating foods from the diet. Having said that, many of the past participants have succesfully completed the plans together with their partners or families.
I live in [country x]. Do you cater for metric / imperial measures?
Absolutely. My readers and customers come from all over the world (Australia, USA, Canada, UK etc) and I cater for all types of measures in the recipes. Names of foods can also be different from one country to another. This is why I even have an ingredients glossary. So in a nutshell, I've got you covered!
Are lentils and legumes (or dairy, butter, rice) allowed? I do well with them and include them in my modified diet.
These foods are reintroduced during my 4-Week Reintroductions Plan. I do suggest following the eating guidelines to observe any potential reactions you may be unaware of with these foods. There are certain foods I do not reintroduce that I recommend cutting out throughout all plans, namely wheat, refined sugar and processed soy.
Is my weight loss goal achievable?
I recommend beginning with a realistic goal of 0.5-1kg per week. You can also experiment with portion sizes and dropping the snacks, if needed.
Will the meal plan be adjustable if me or my family are allergic to shellfish or nuts?
The allergies won't be an issue. I generally offer substitutions for protein as most dishes are quite versatile, so you'll be able to work around that. I provide nut-free options.
And yes, you should consult with your health care professional before starting a new meal plan.
Can I do the program if I follow the autoimmune protocol (AIP)?
Yes! I provide substitutions for every meal to make this easy for those who wish to follow the meal plan on AIP or try out AIP.