4-Week Paleo Reset Plan
Take me to program Welcome Page | Take me to 4-Week Reintroductions Plan
Before You Begin
Read through this Starter Pack PDF, which includes the reading material and tasks you need to tick off before you begin any of my plans. Make sure to go over the Paleo Food Guidelines part of this PDF.
Start preparing yourself both physically and mentally. Get your vital stats checked, set up your kitchen, organise groceries and do the meal prep from my weekly meal plans.
Start cutting down on processed foods, refined carbohydrates, alcohol and coffee.
Now is the time to think about your WHY and set some realistic goals.
---
During The 4-Week Reset
Follow the paleo food guidelines.
Learn the basics of nutrition and real food from your reading material.
Use provided weekly meal plans, recipes and shopping lists or create your own meals.
Focus on improving your sleep.
Follow my weekly fitness challenges to get the most out of the plan.
Learn from wellness experts and implement simple healthy habits.
Use your Survival Kit to help you overcome obstacles.
Find bonus guides to healthy eating below after the meal plans.
Share your journey in my Facebook group.
Once you finish the reset, you can continue with the 4-Week Reintroductions Plan and then design your own exit strategy.
---
Week 1
Eat paleo, no caffeine, and no alcohol. This is the cleanest, strictest week! Focus on setting the right mindset, learning the basics of real food nutrition and prioritising sleep to cope with detox. Use the survival guide to get through this week. Your fitness challenge is a 30-minute daily walk.

---
Week 2
Eat paleo, no alcohol, but coffee is back (yay!). Continue to learn about nutrition and healthy living habits. Your fitness goals for this week are 30 minutes of walking a day plus a simple plank challenge.
---
Week 3
Eat paleo, no alcohol. Focus on tracking and improving your sleep. We will also be learning about stress, how it affects us and what to do about it. Your fitness challenges are 30-minute walks, holding that plank a little longer, plus adding daily squats.
---
Week 4
Eat paleo, no alcohol. This week we will learn about environmental toxins and how to avoid them. The goal for this week is to get to the finish line. Stay focused and motivated. This week's fitness challenge includes walking, planks, squats and push-ups. You should be feeling stronger and fitter than ever!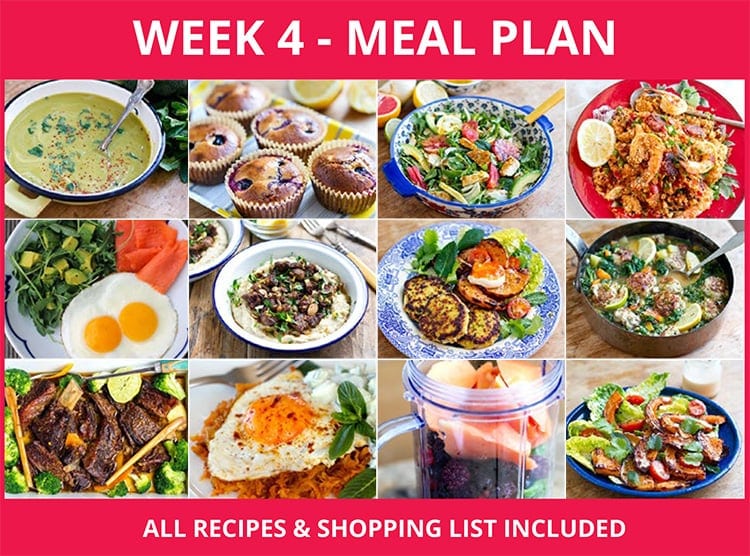 ---
Bonus Material